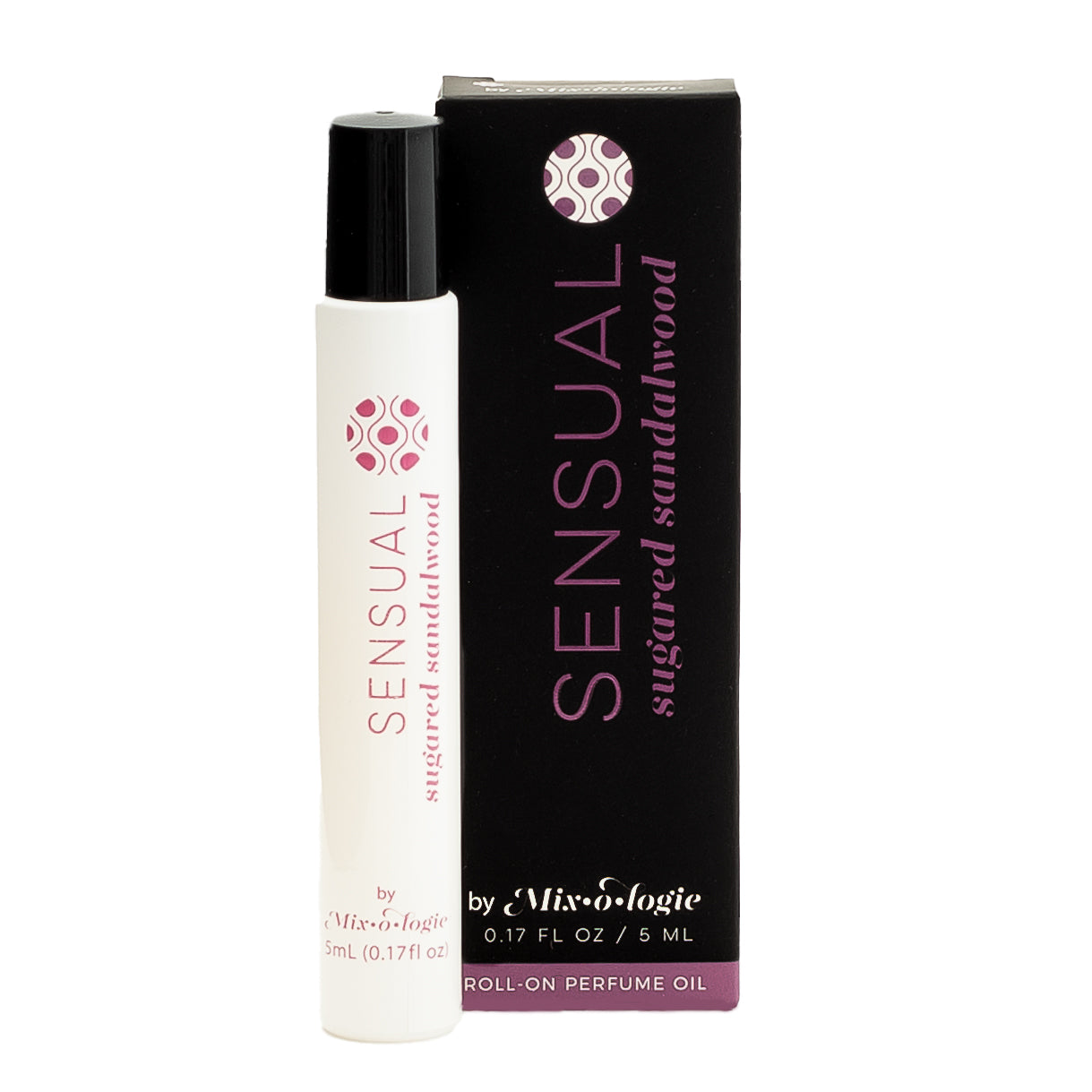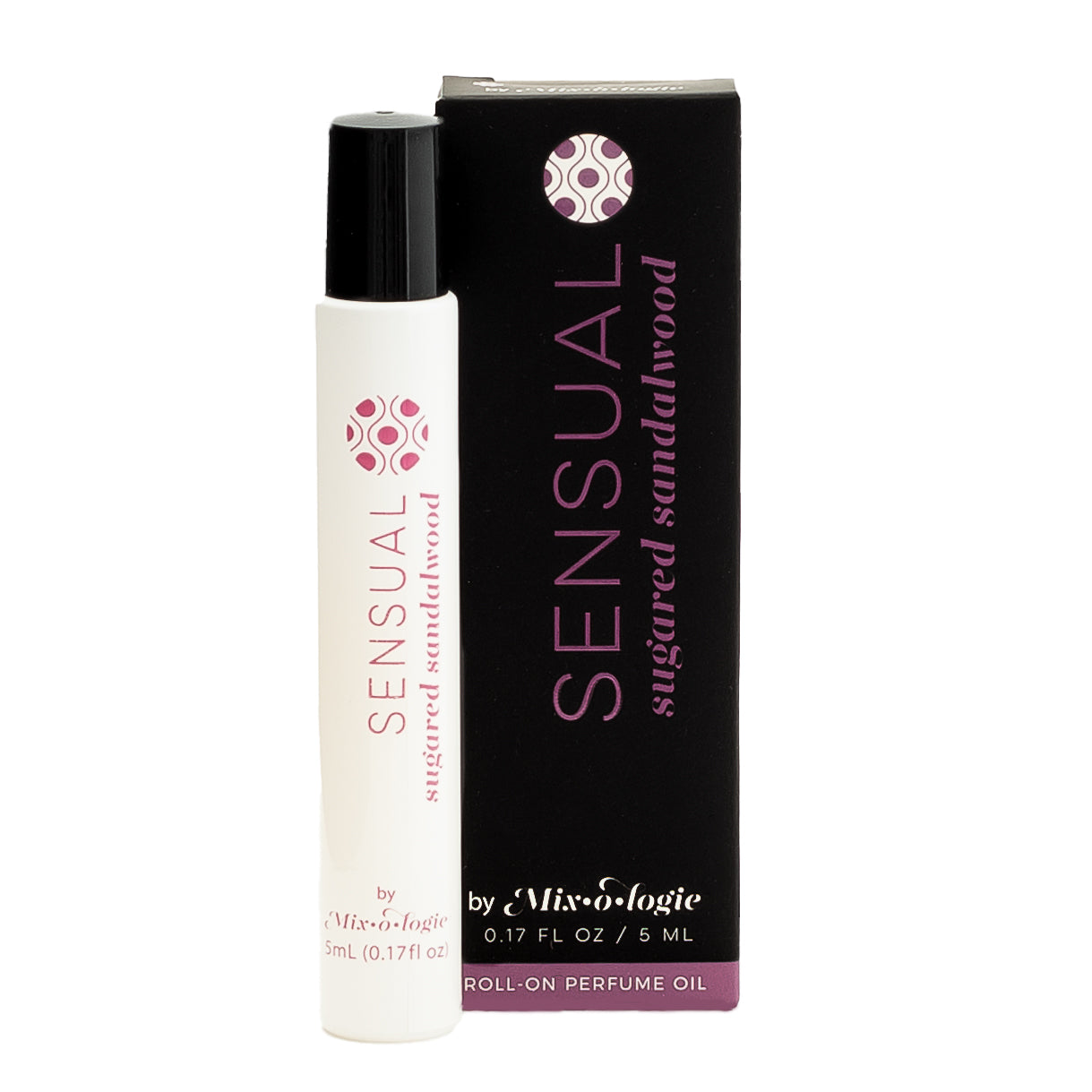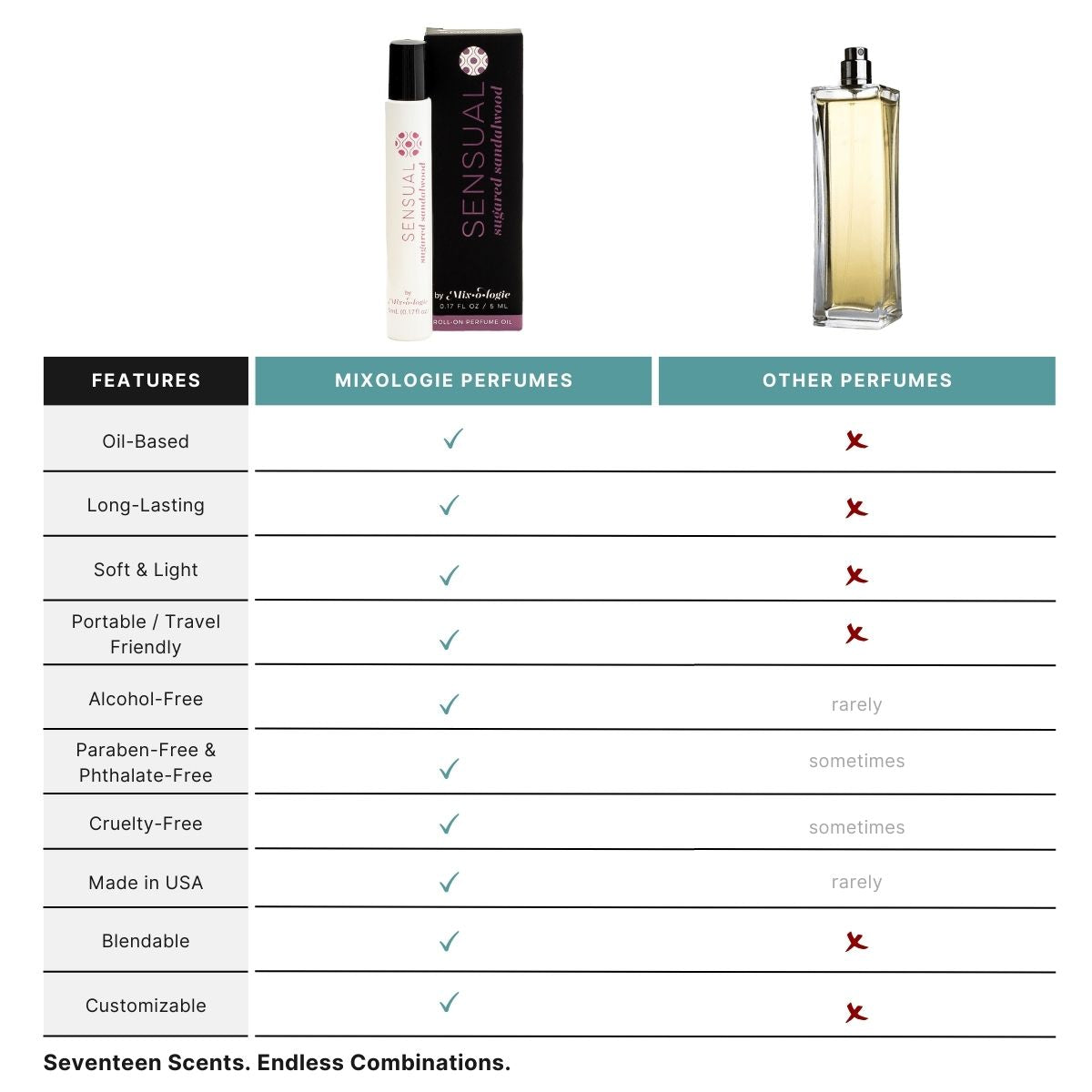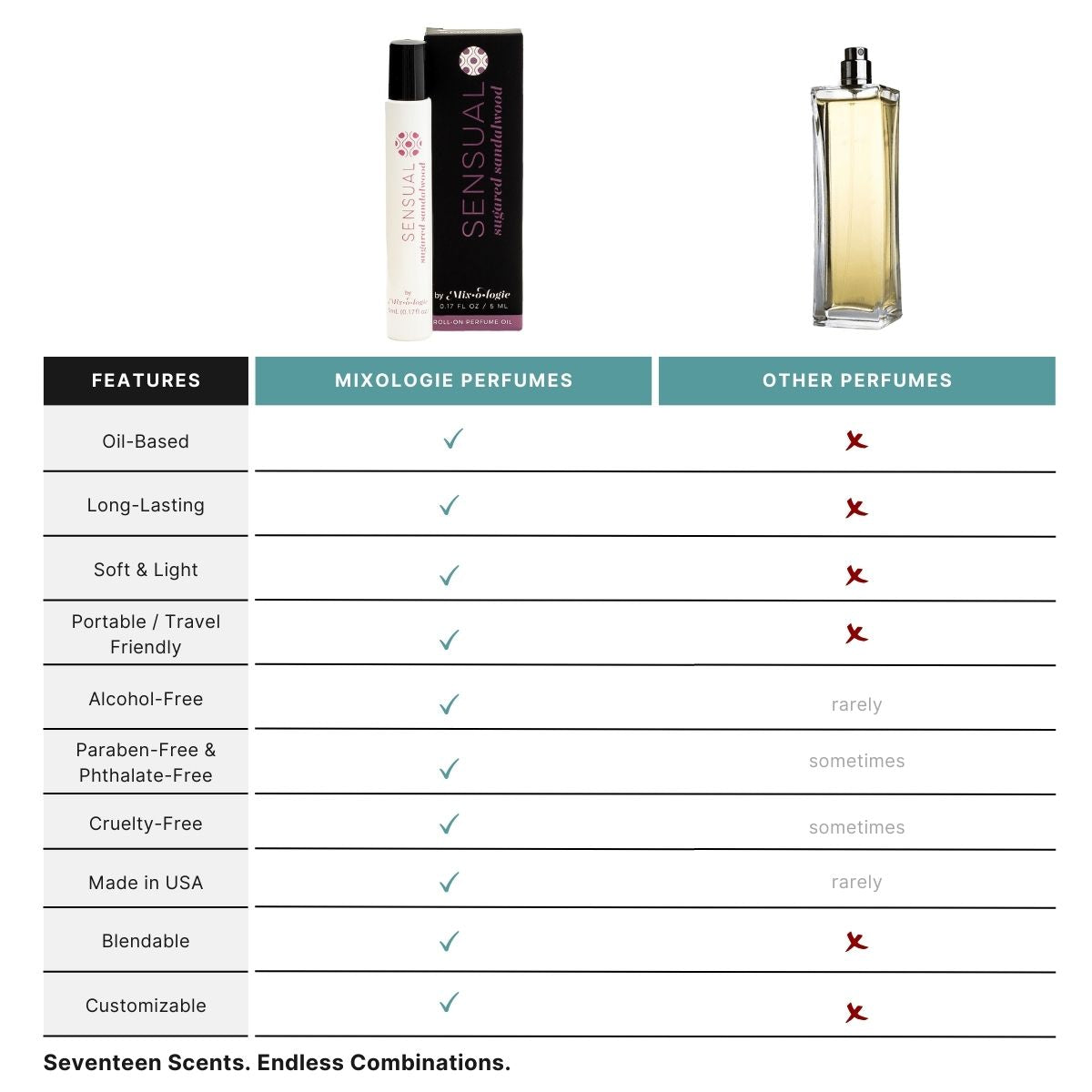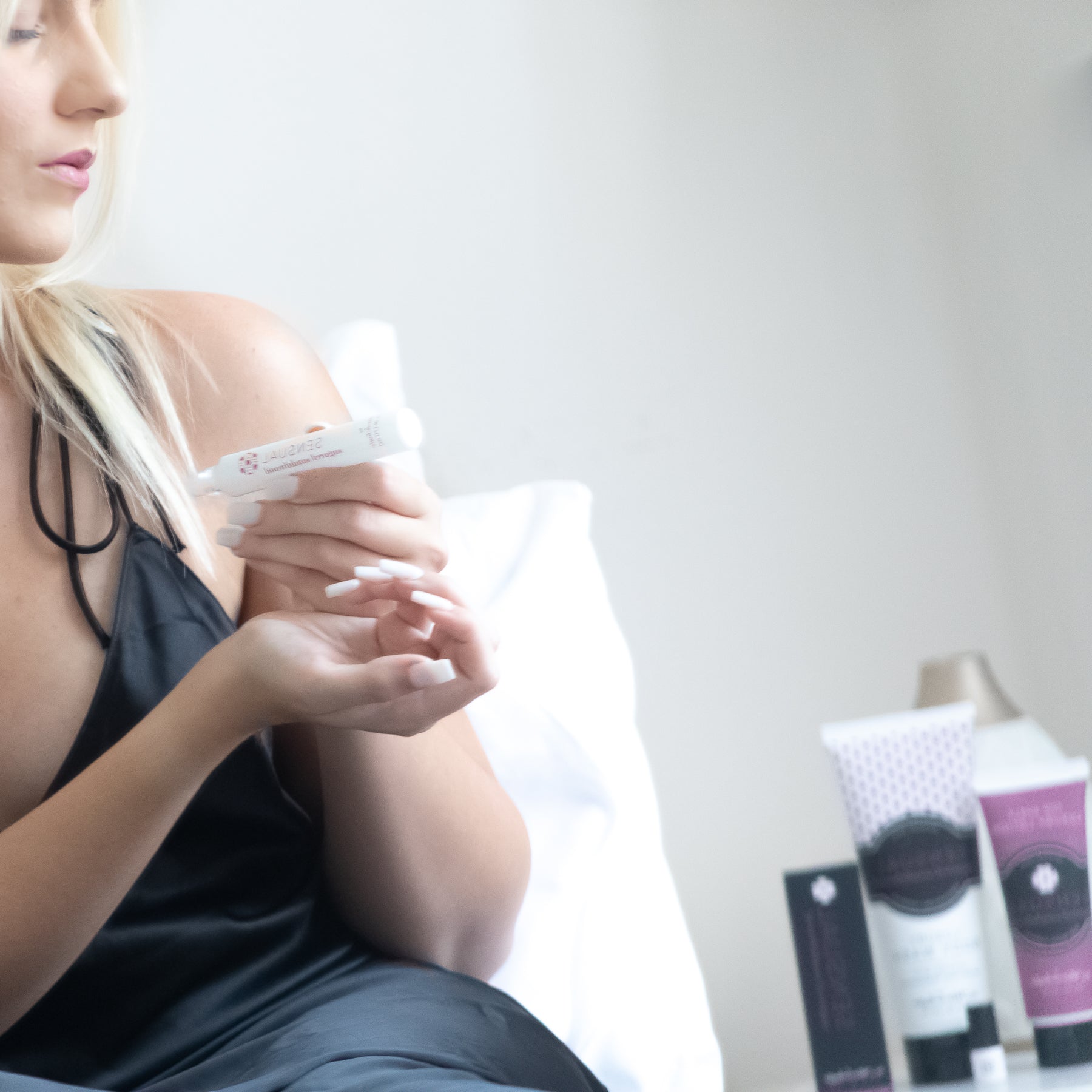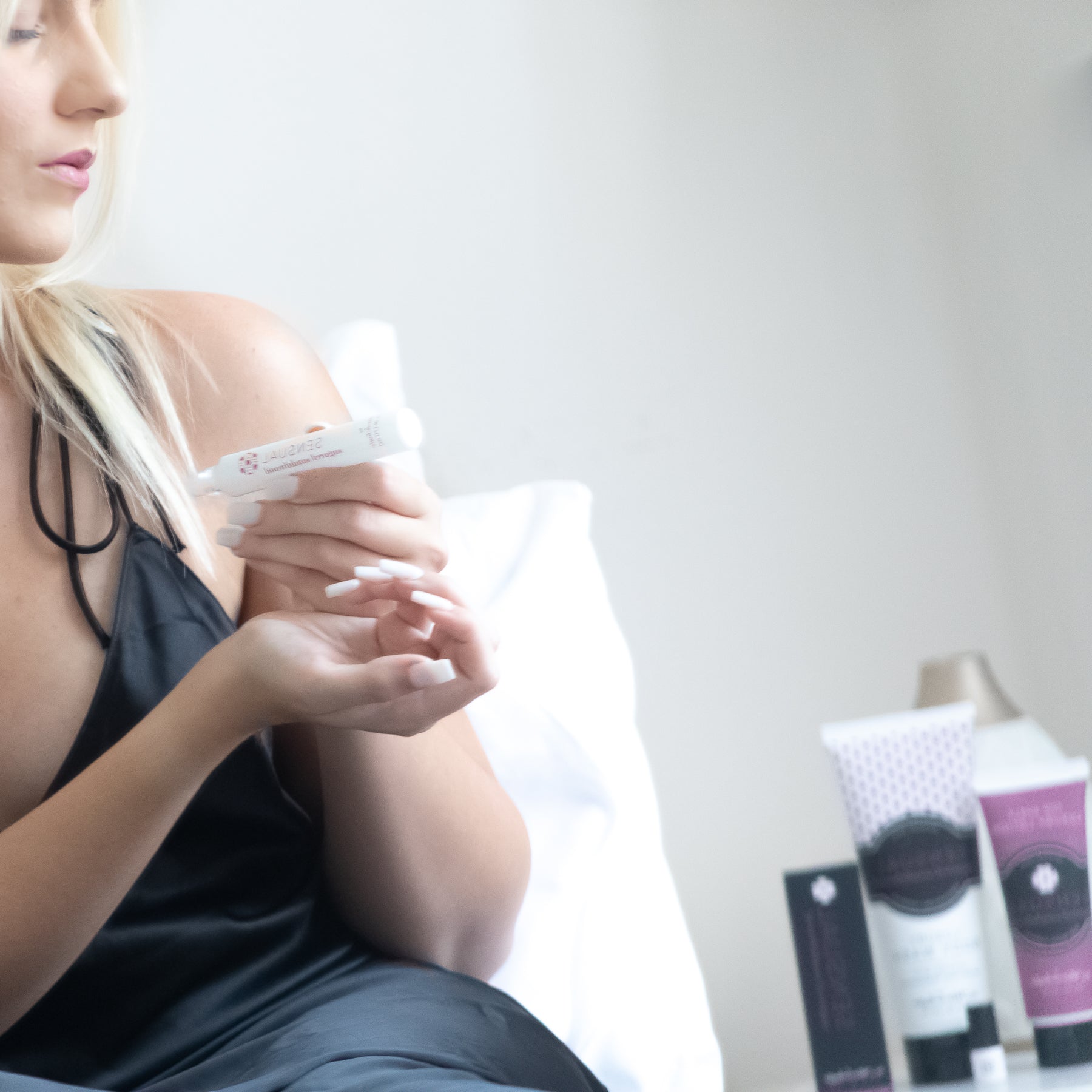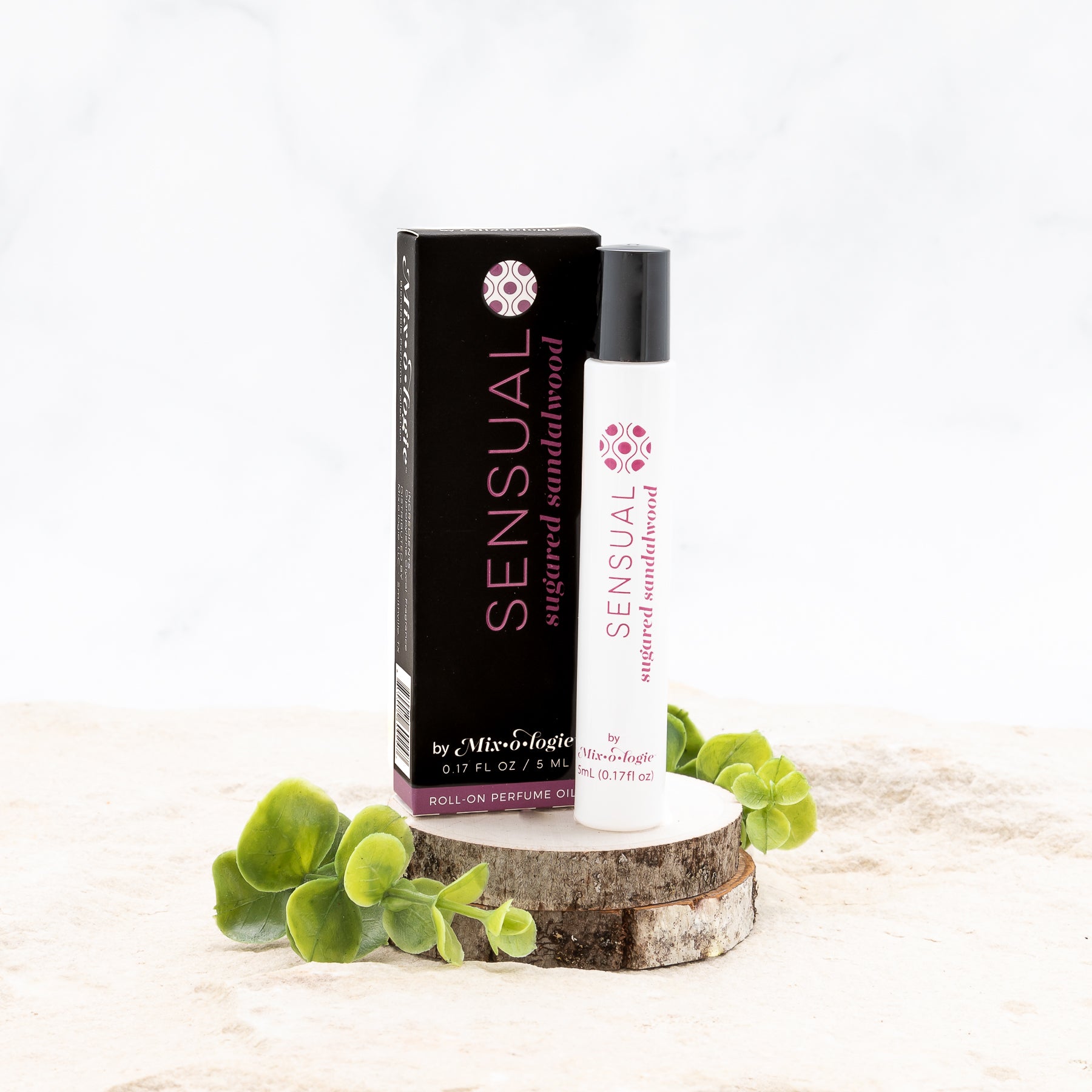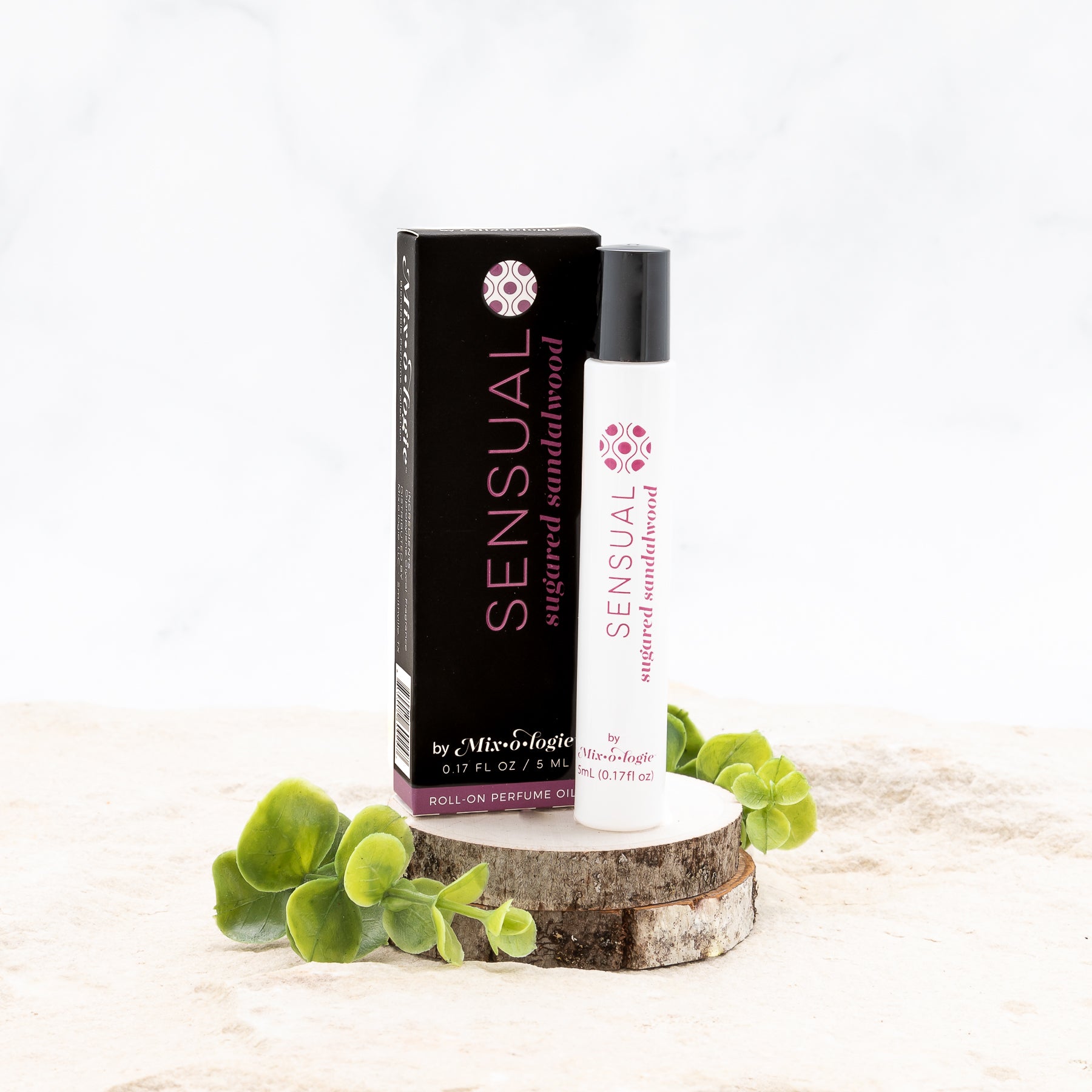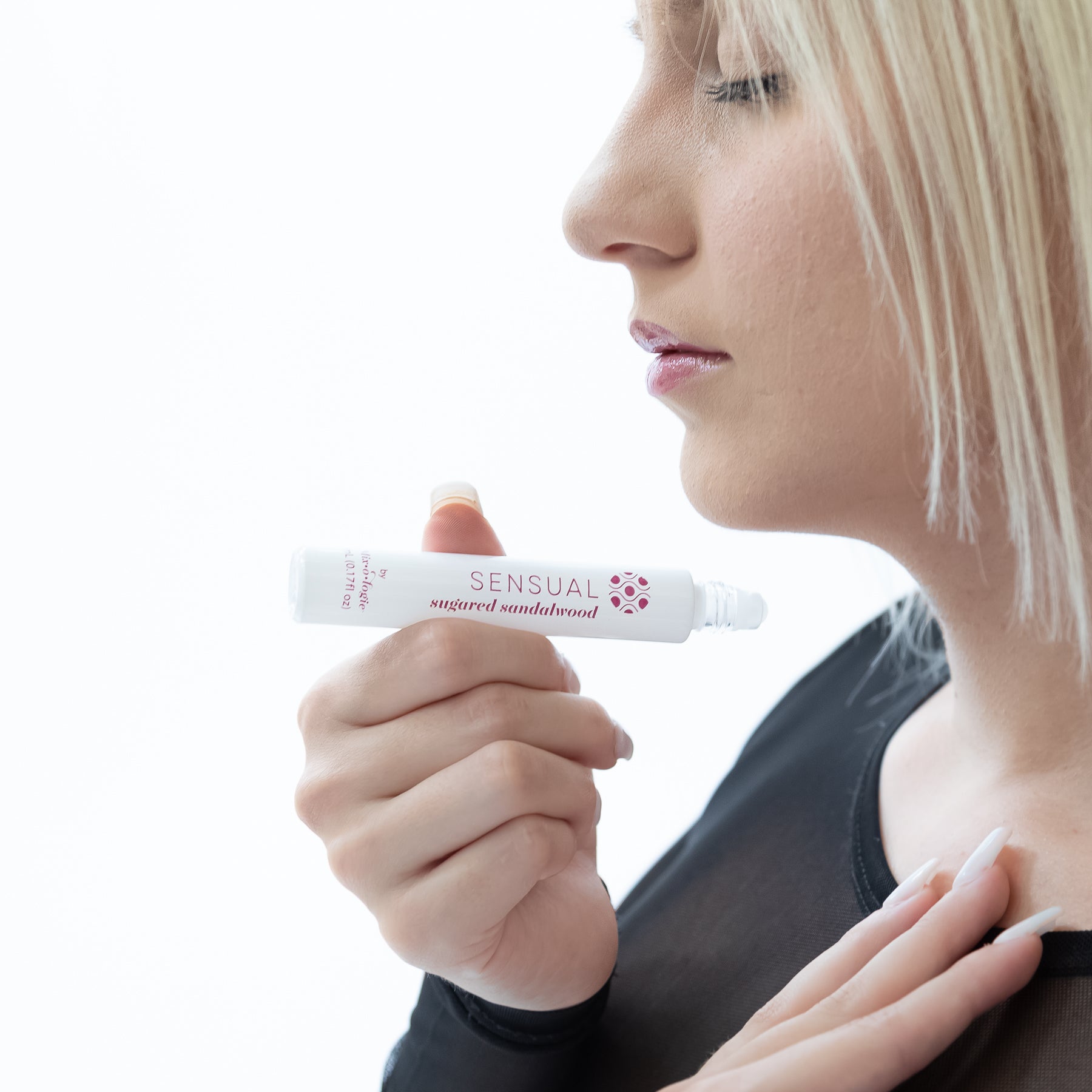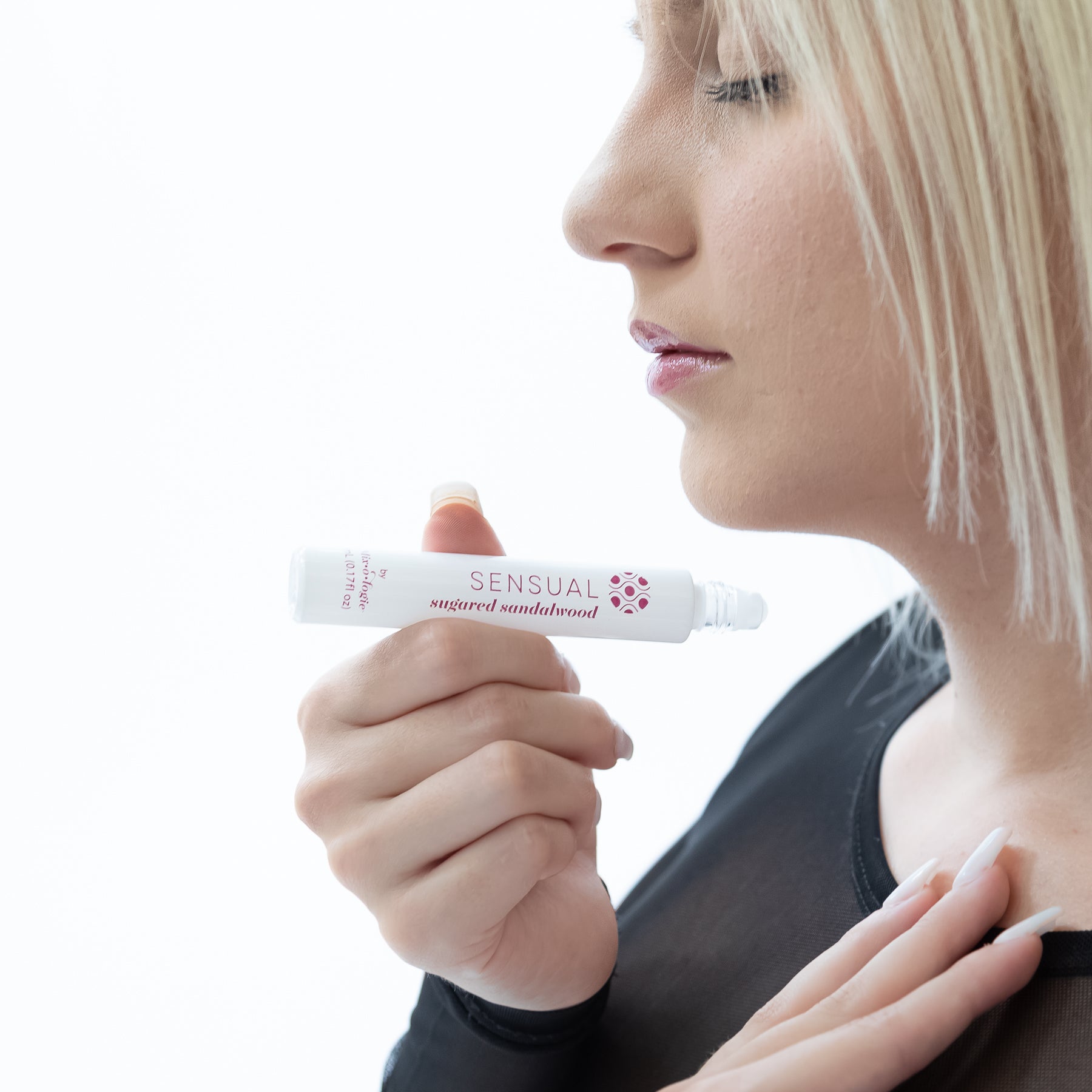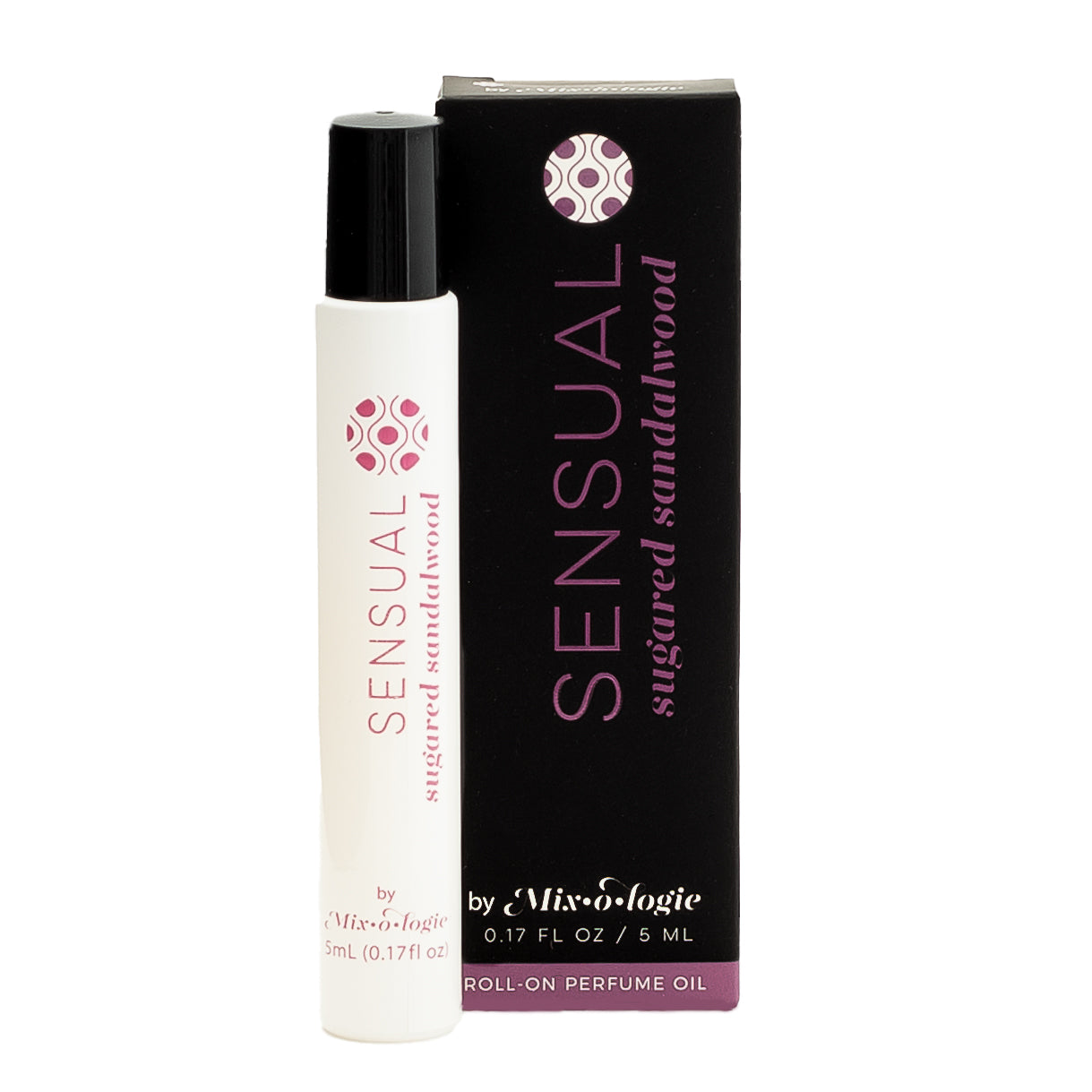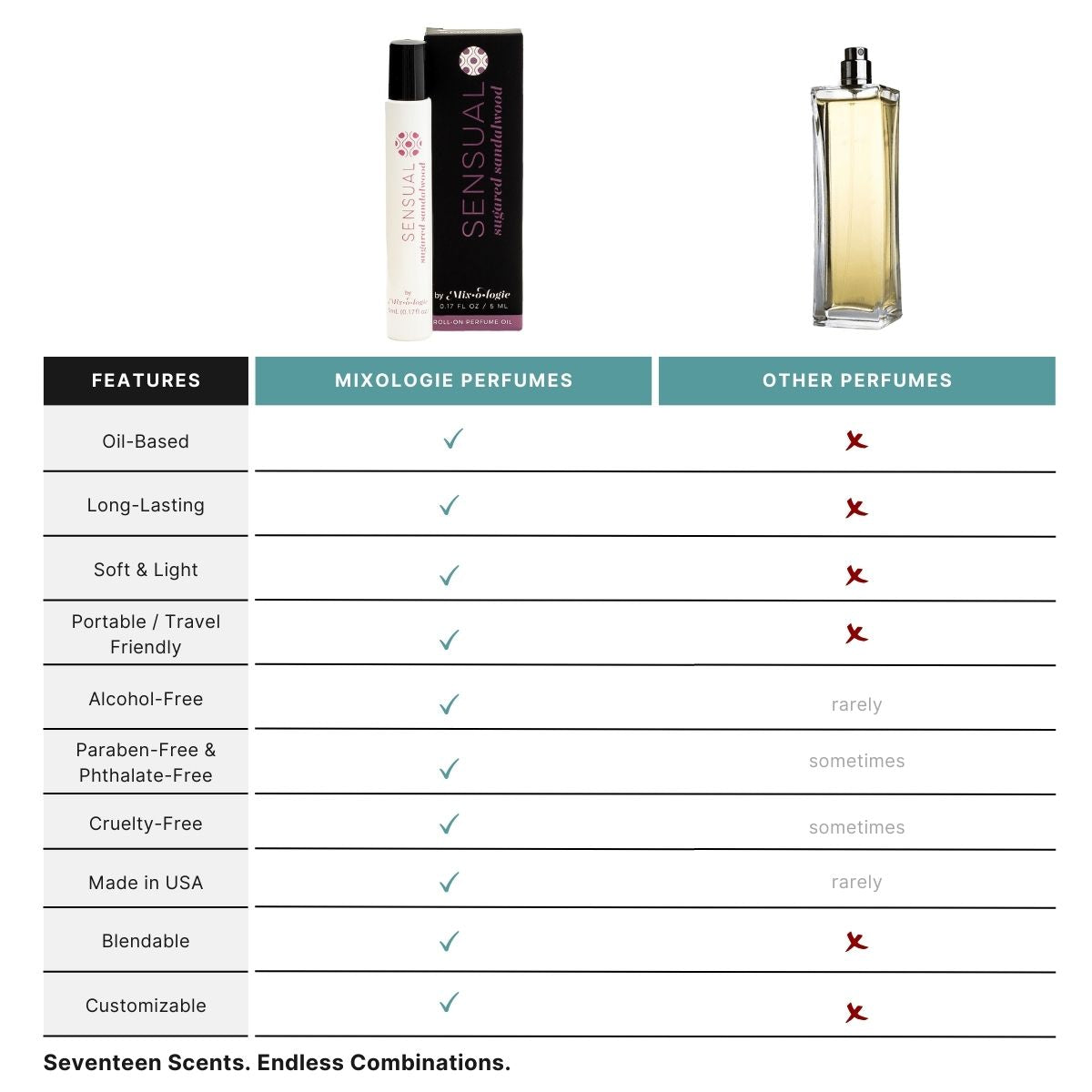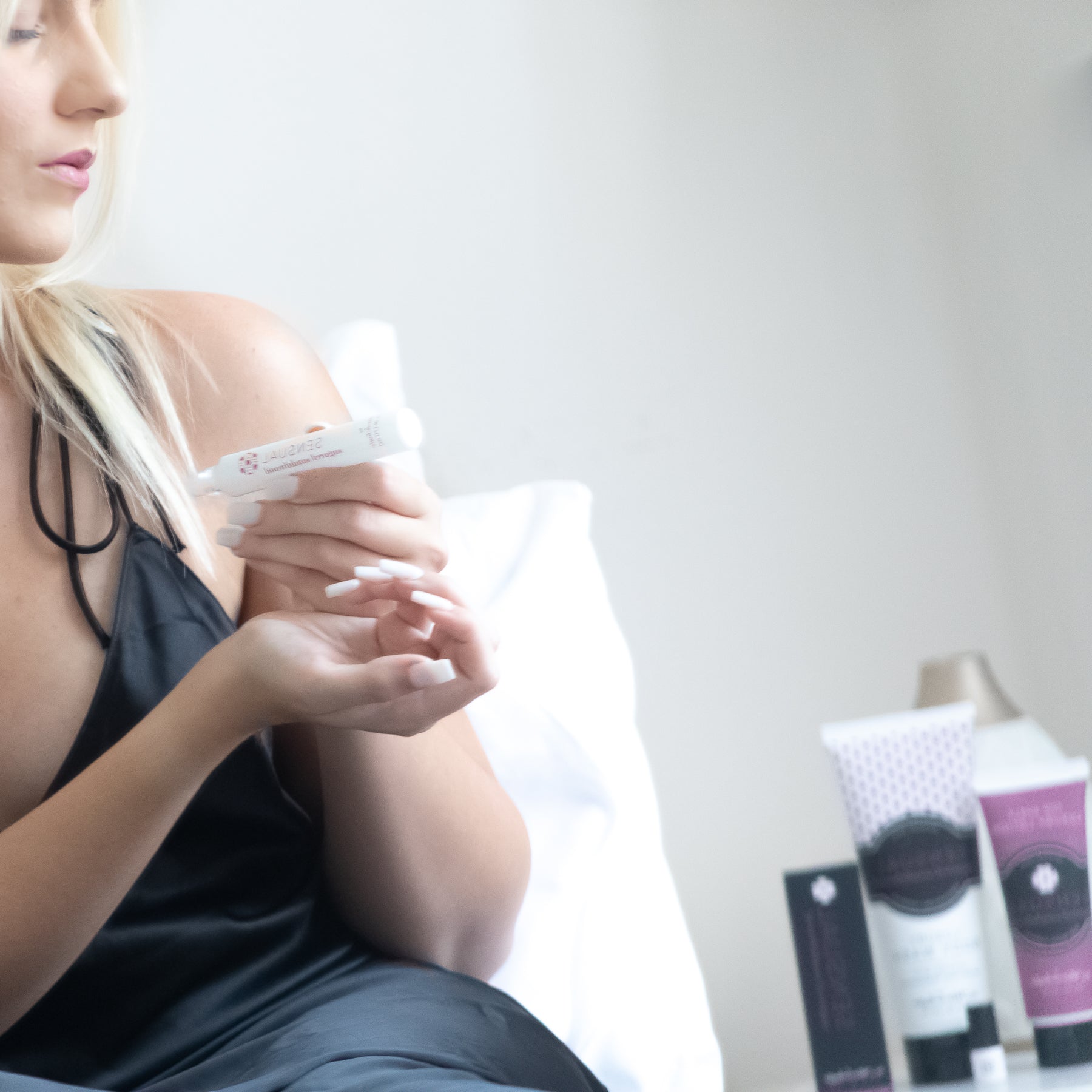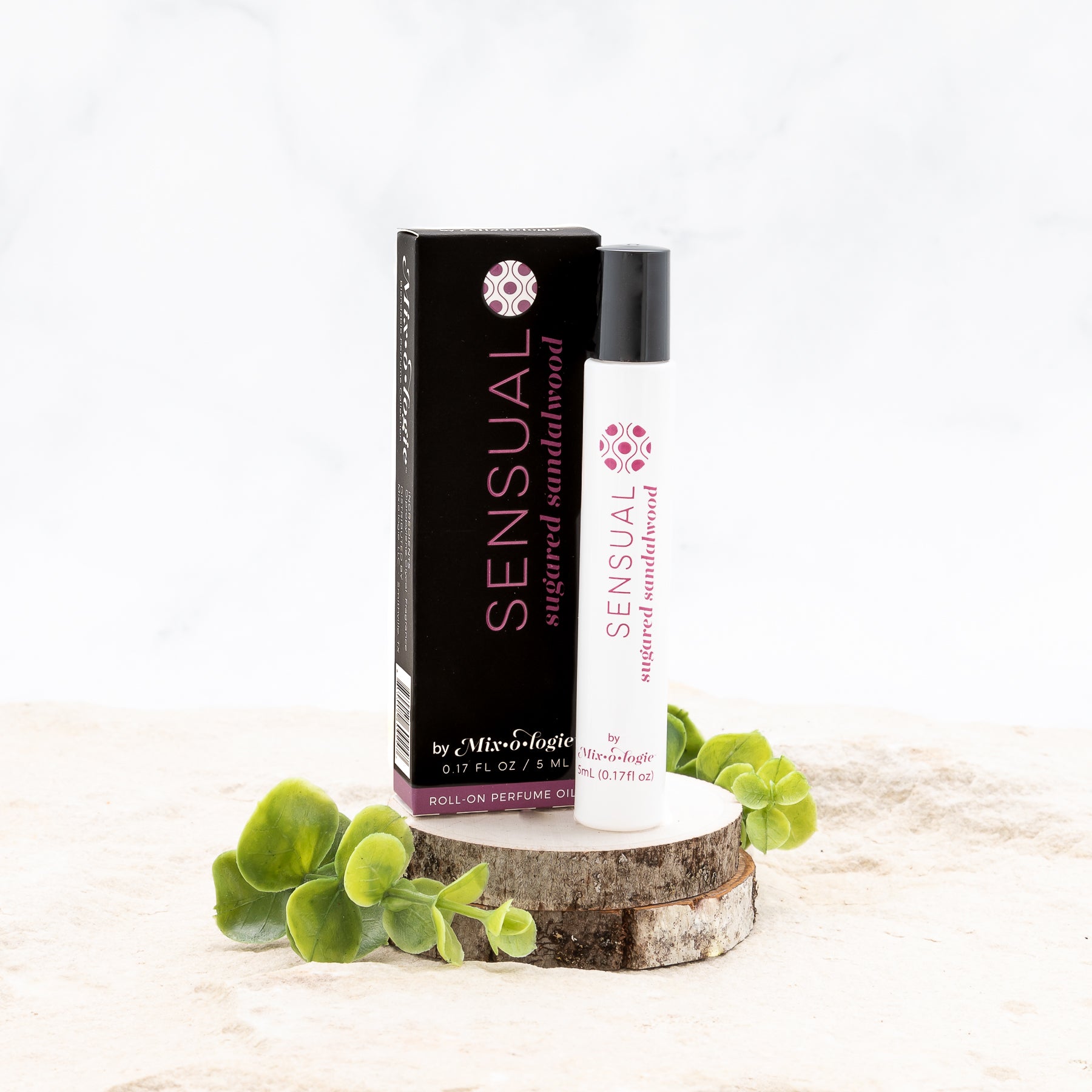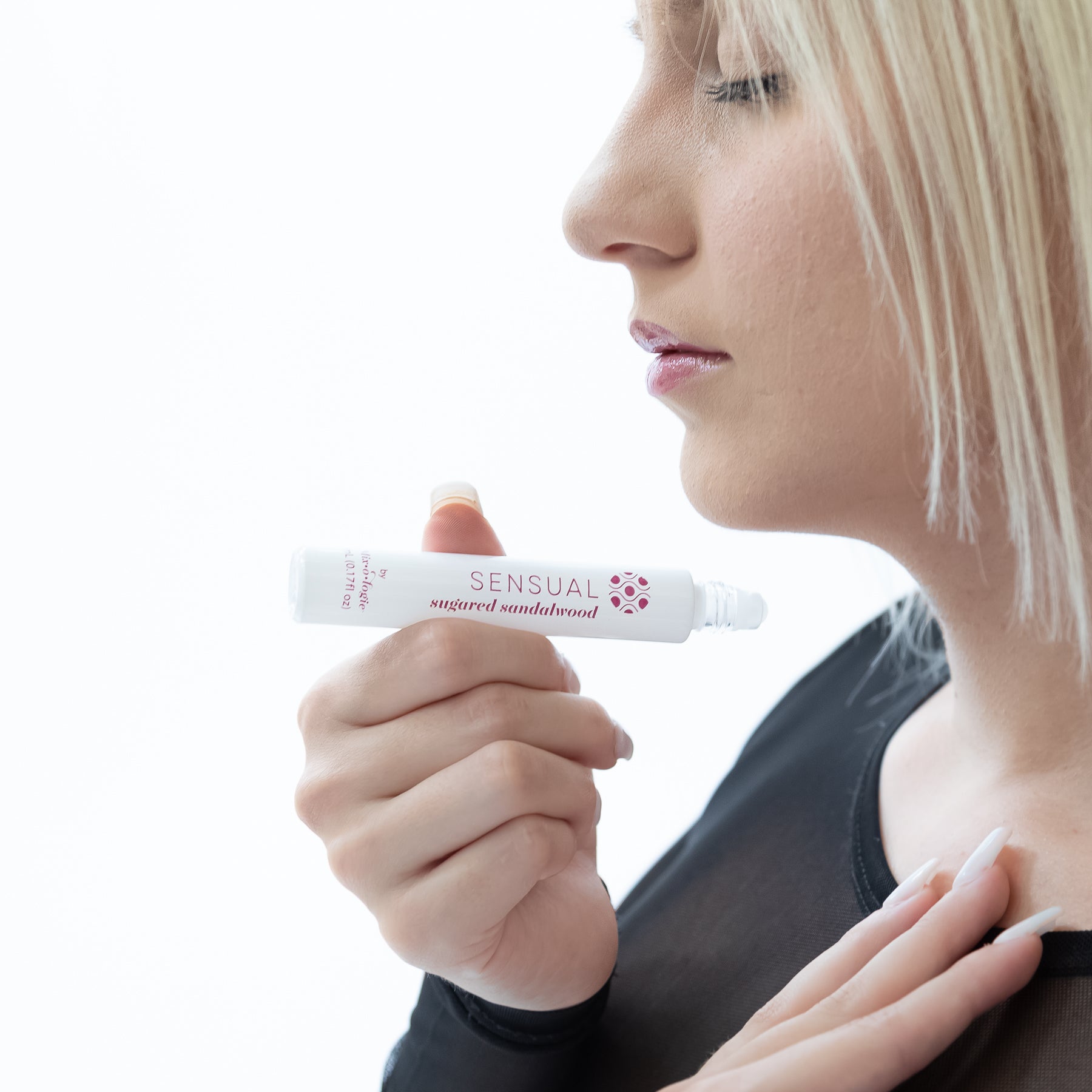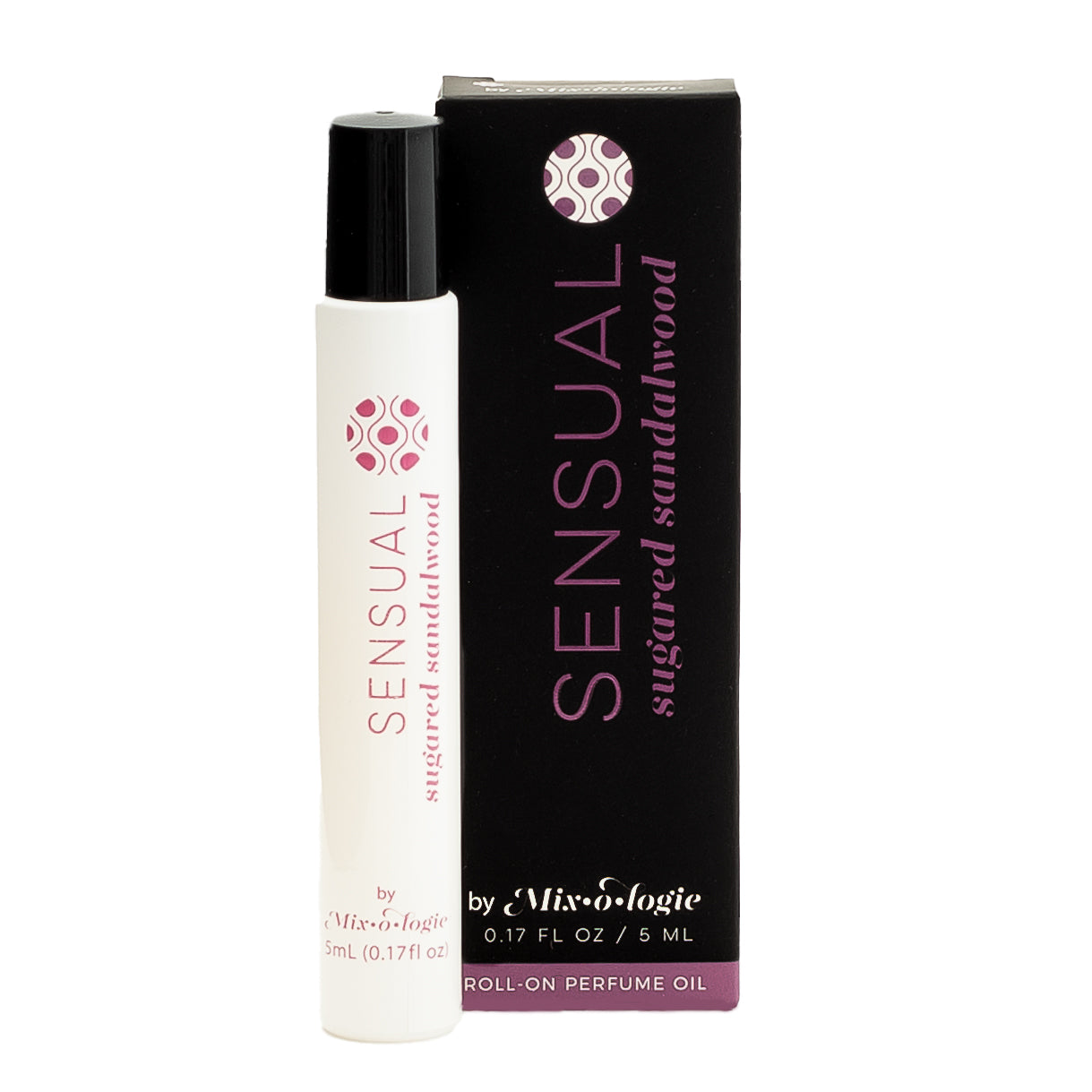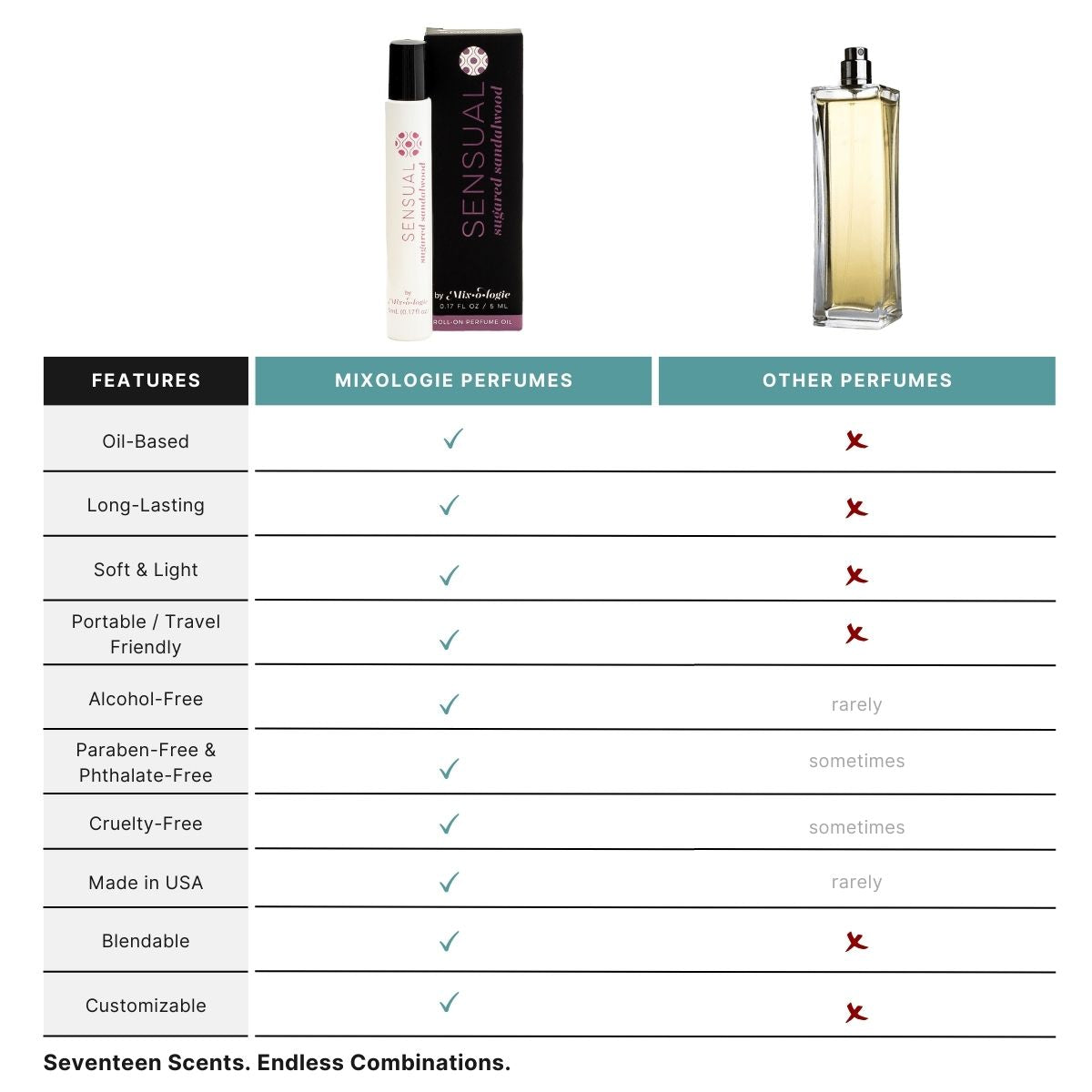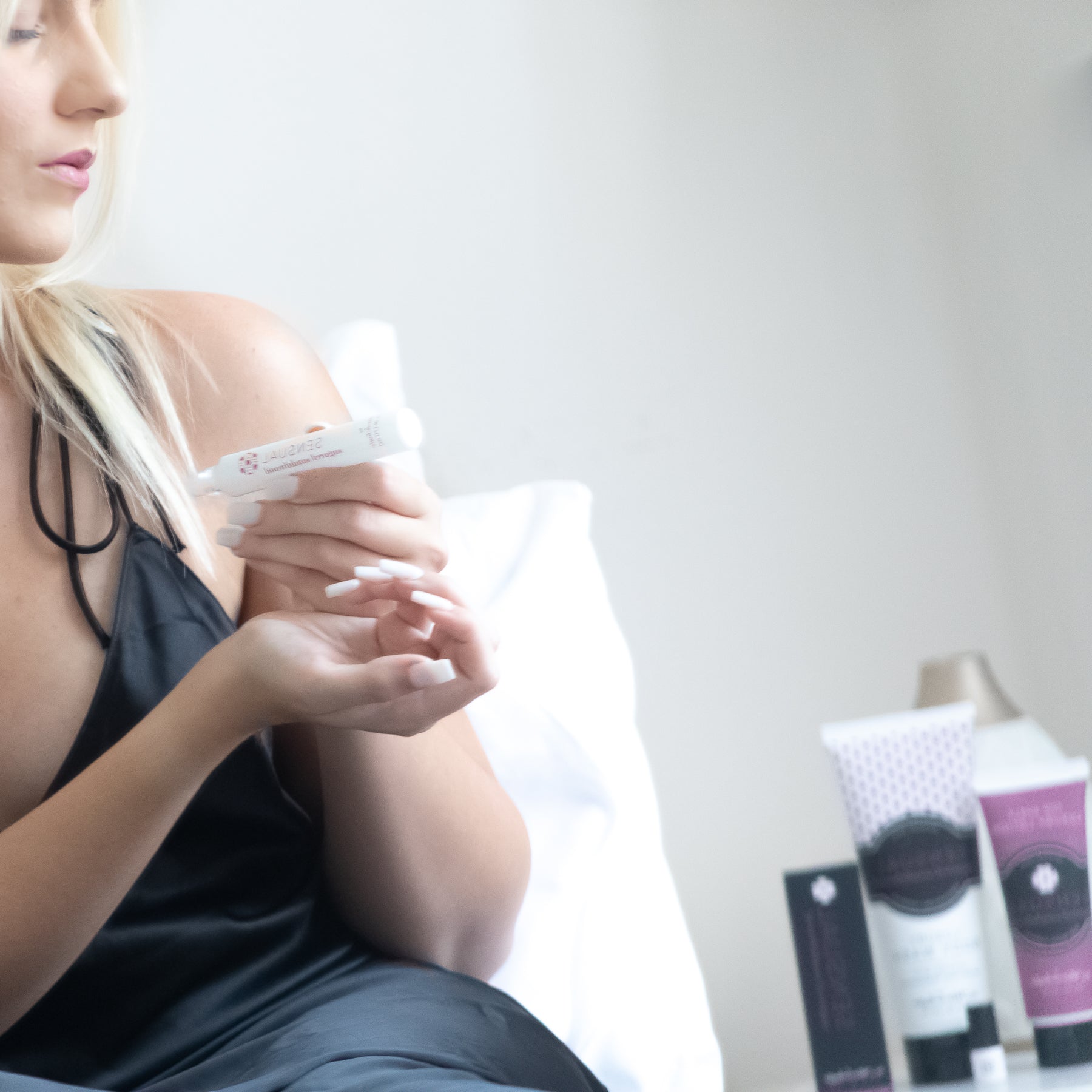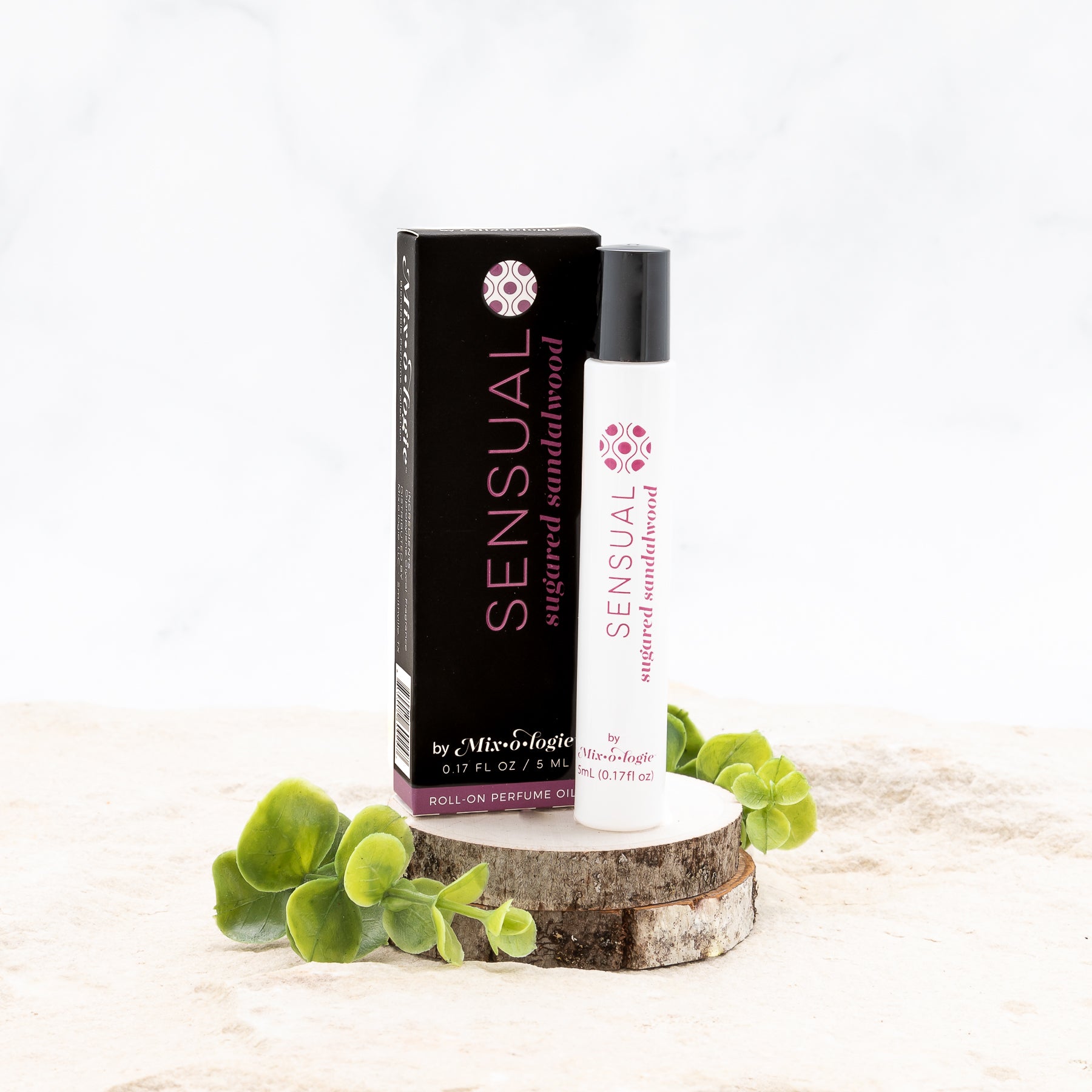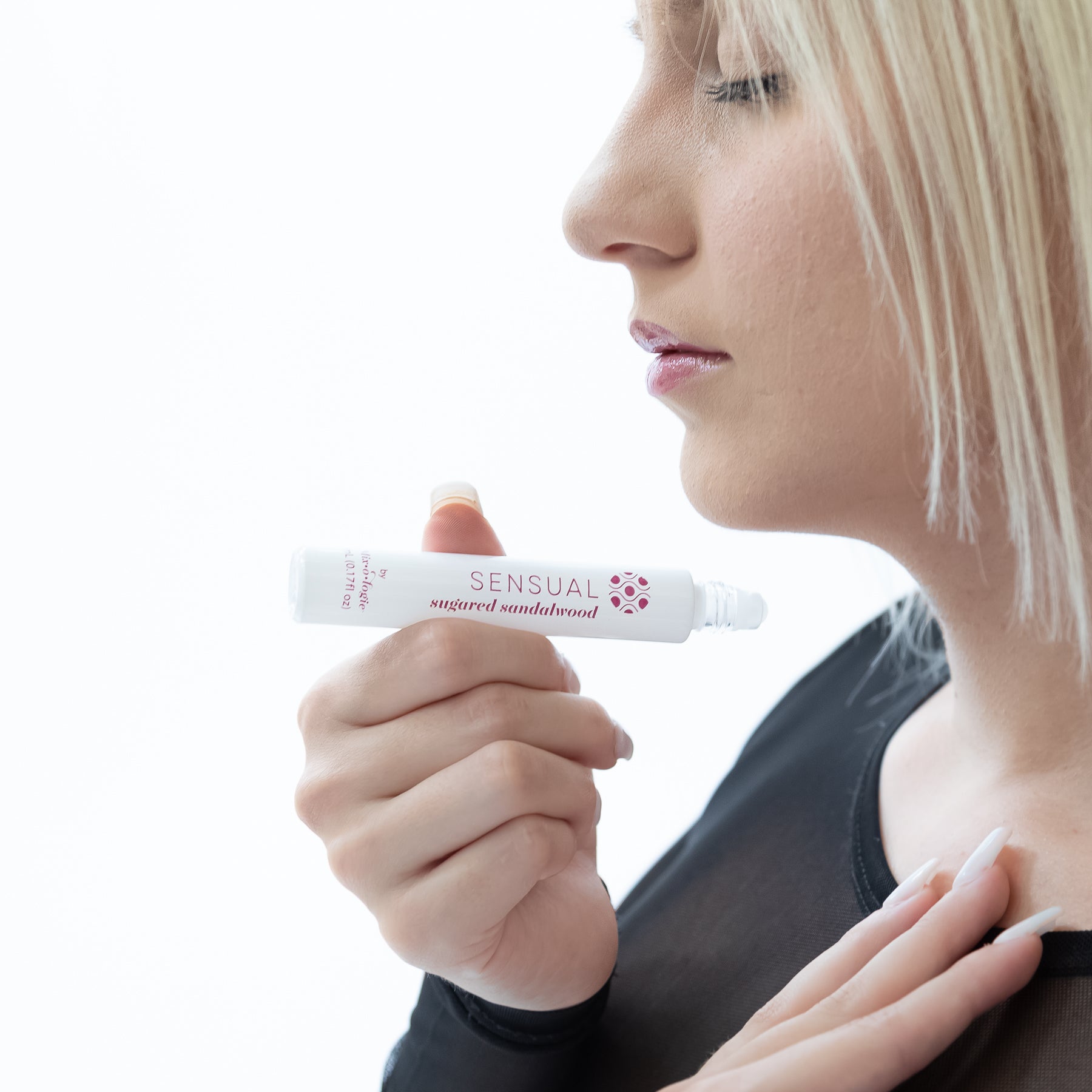 Sensual (sugared sandalwood) Rollerball
Get your happy on! The seductive sweetness of neroli, lush raspberry, pink grapefruit, purple iris, and candied violet beautifully balance the sensual touches of white musk, sandalwood, and velvety peach.
Top Notes: grapefruit, lush Raspberry, candied violet
Middle Notes: Damask rose, purple Iris, Patchouli, Neroli Blossom
Base Notes: Vanilla, Peach, Musk, Sandalwood
ROLLERBALL PERFUME OIL (5 mL)
Mixologie fragrances are made only with oils (no alcohol), so they aren't overpowering like a spray perfume can be - and they last all day.  Ideal for people who are sensitive to other fragrances.  Enjoy the convenience and portability of a rollerball perfume made only with oils and feel good about what you put on your skin.  Clean ingredients matter. 
Ingredients:  Dipropylene Glycol, Fragrance Oils
Alcohol-Free
Paraben-Free
Phthalate-Free
Cruelty-Free
Inspired to get creative? You found the right brand. With Mixologie, creating custom blends is a habit that you just might become addicted to. Every scent in the Mixologie collection was expertly crafted to make customizing a scent for your body chemistry easy and fun. Mixing is simple. You do it right on your skin with the rollerball applicators. Experiment with different notes to find what brings out the best in your body chemistry. Layer. Blend. Love.
OUR MORE-THAN-SATISFACTION GUARANTEE:
If you aren't completely over-the-moon for your Mix•o•logie product, send it back to us and we'll give you store credit or a full refund. No hassling.  We just want happy (great smelling) customers.
Excellent product
I am so happy & satisfied with my sandalwood rollerball! I use it daily as aroma therapy & it has a wonderful calming effect. Great value too.
We're so happy to hear you are loving your rollerball Dorothy! Thank you for taking the time to leave a review! :)
This smells AMAZING!!!!
I get complements all the time when I wear Sensual! It smells wonderful!! I also LOVE that samples are included! If I don't use them, I put them in gifts that I give, that way they can get hooked like me!!!
We're excited to hear that you have found your signature scent, Venessa! Thank you for the awesome review and for sharing the samples & spreading the love! :)
Soft and Sassy!!!!
Don't let the "sugared" fool you!!! I'm an older woman and have always drifted towards woodsy scents. Bought the Try Me Kit and discovered the Sensual scent. I'm hooked!! It's so soft yet has a little bit of sass. I sometimes also mix it with the Crisp Vanilla. Bought both in the Rollerball. I'm so, so happy with my purchase!! Thank you Mixologie!!!
Aww Thank Youuu Cindy! We are so happy you found your scent and created an awesome blend! :)
Love
Love this sent. Now I have a little one for on the goattached to my purse.
Mmmmmm
Absolutely love this scent! Hard to describe but it is lovely! Bought the roller ball and a lotion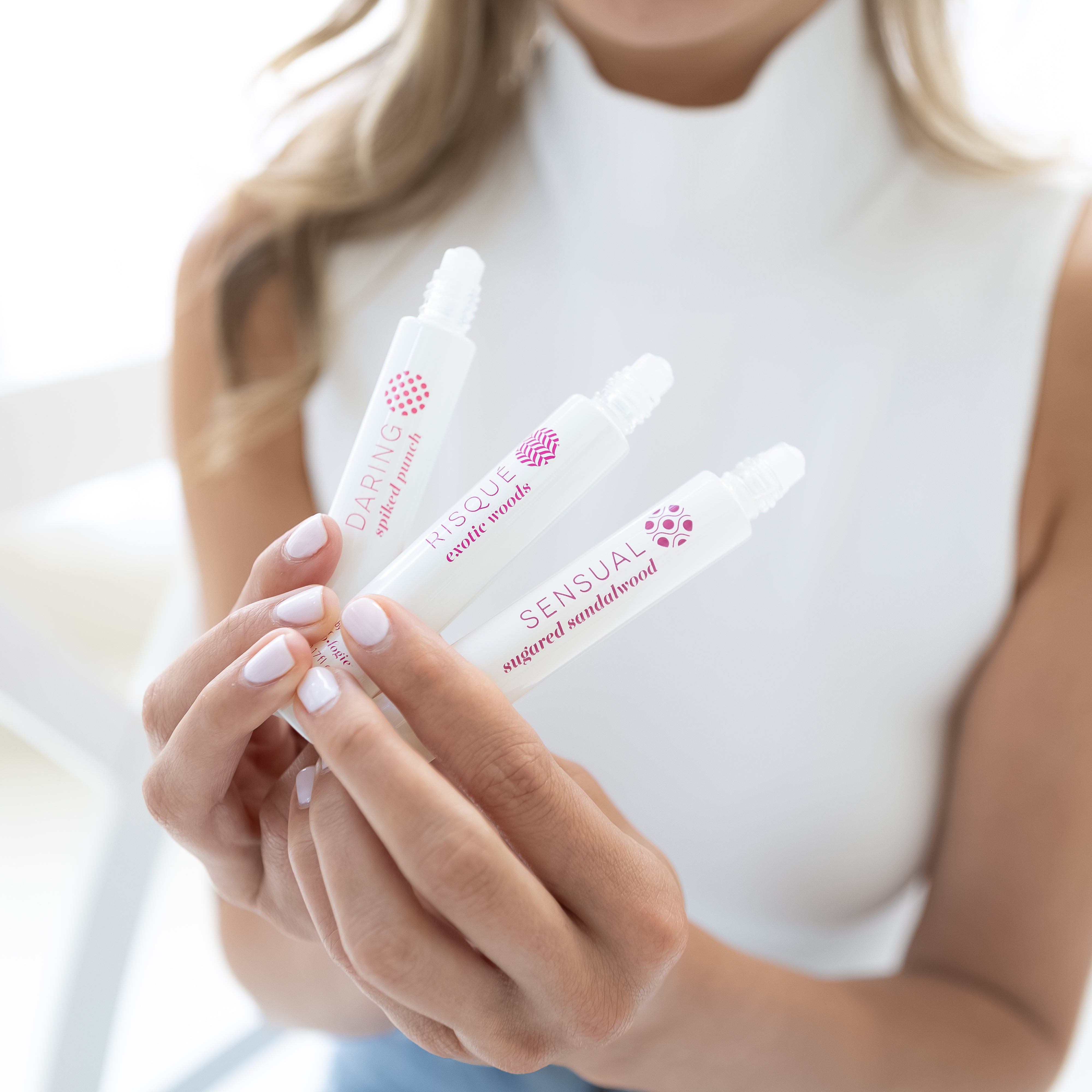 Mix & Match
The Art of Customization
With Mixologie, you hold the palette to your personalized scent masterpiece. Blend, mix, and find your signature.
⭐⭐⭐⭐⭐
See Why Our Customers Love Us
I love the scents, they're beautiful, fresh and light. Every time I order 1 rollerball I get samples of other scents that I fall in love with so my collection is growing!
-Roxanne
This is either my 9th or 10th order of this. To say I love it is an understatement. You have a light fresh scent all day! I love and I mean I love the sultry fragrance!!! Thank you Mixologie!!!!
-Lea
I'm obsessed with this fragrance, it's not too overpowering but still smells so amazing! I've been spraying it on all of my clothes and the scent lasts for so long - especially if you pair it with the rollerball perfume! If you want to smell amazing and get a million compliments, do yourself a favor and buy this!!!
-Colleen
Smells are so great. Ordering is great and mail service is fast!
-Pamela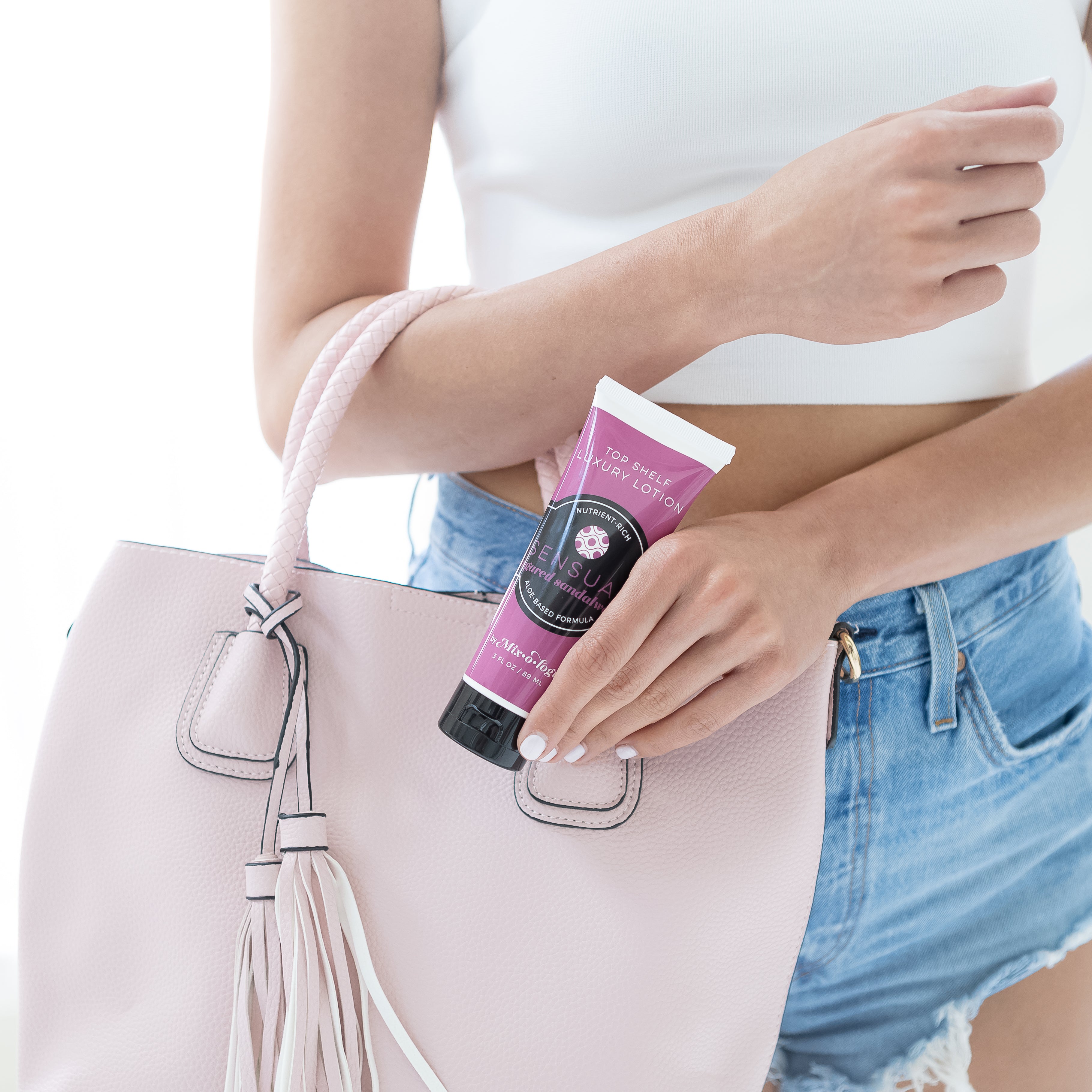 Portable Perfection
Designed for the modern individual on-the-move. Compact, chic, and fits right into your lifestyle.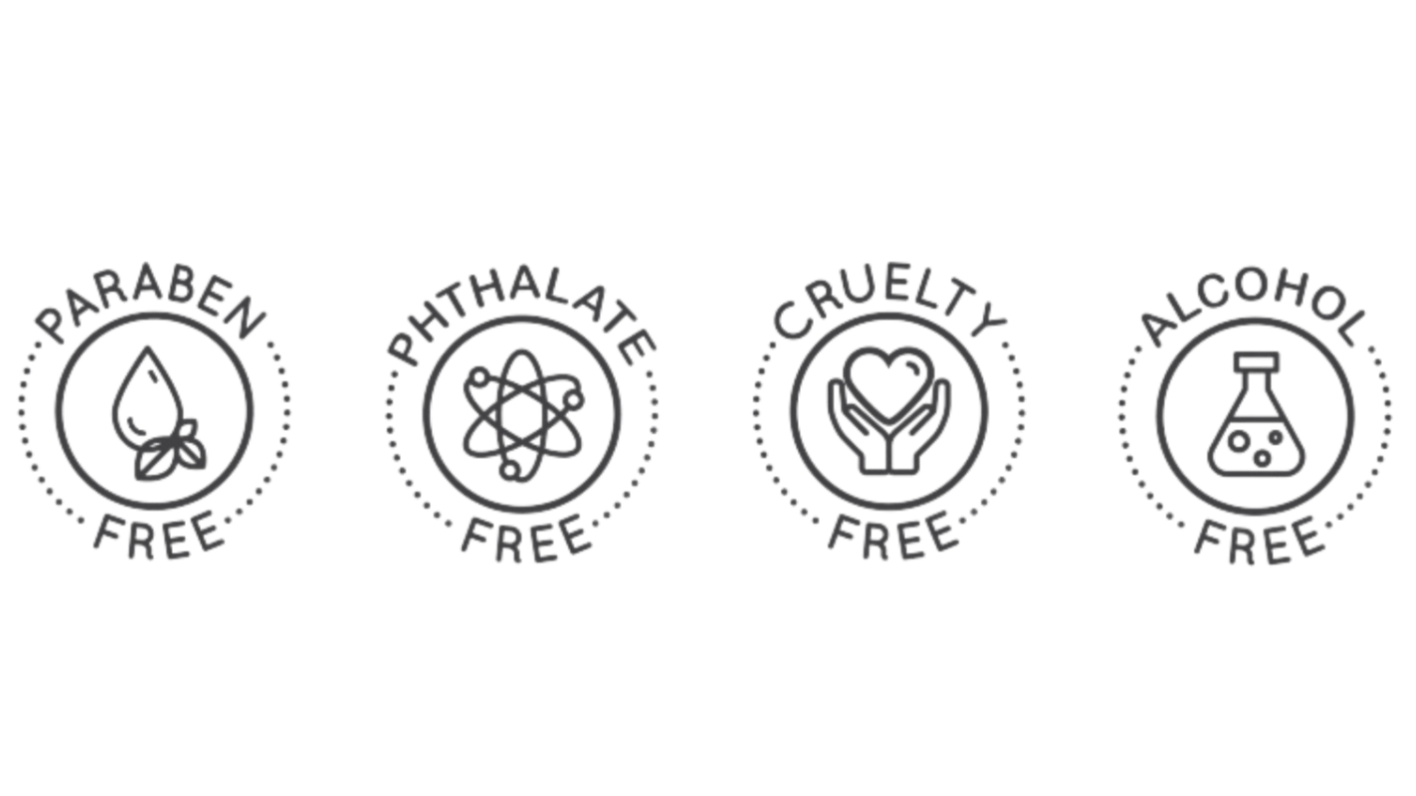 We Care About Our Ingredients, Because we care about our customers
Beauty & Conscience in Every Drop
We're not just about delightful fragrances; we're about making a difference: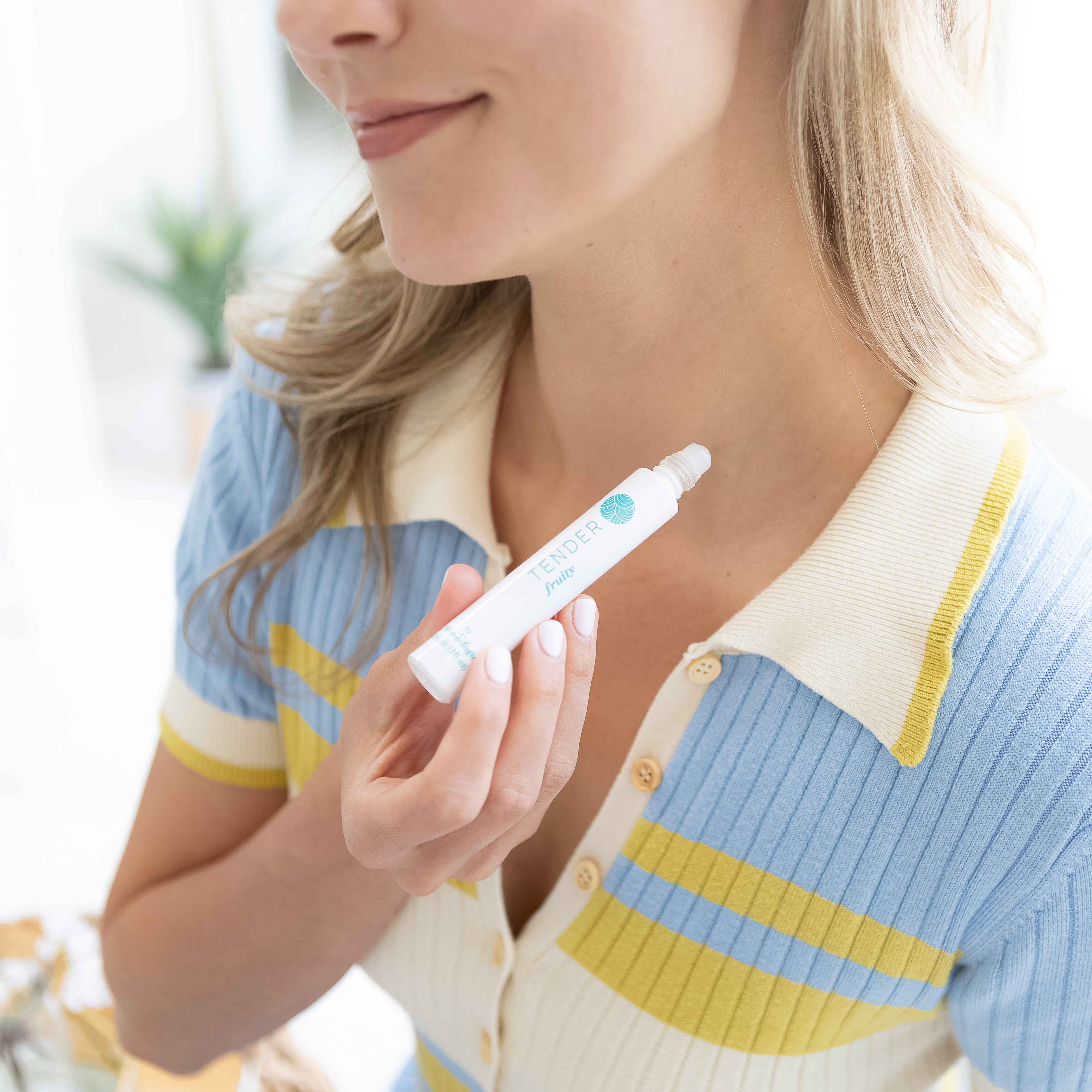 Alcohol-Free Elegance:
Our pure-oil based formula guarantees that you're wearing a scent that stays all day without overpowering the senses.