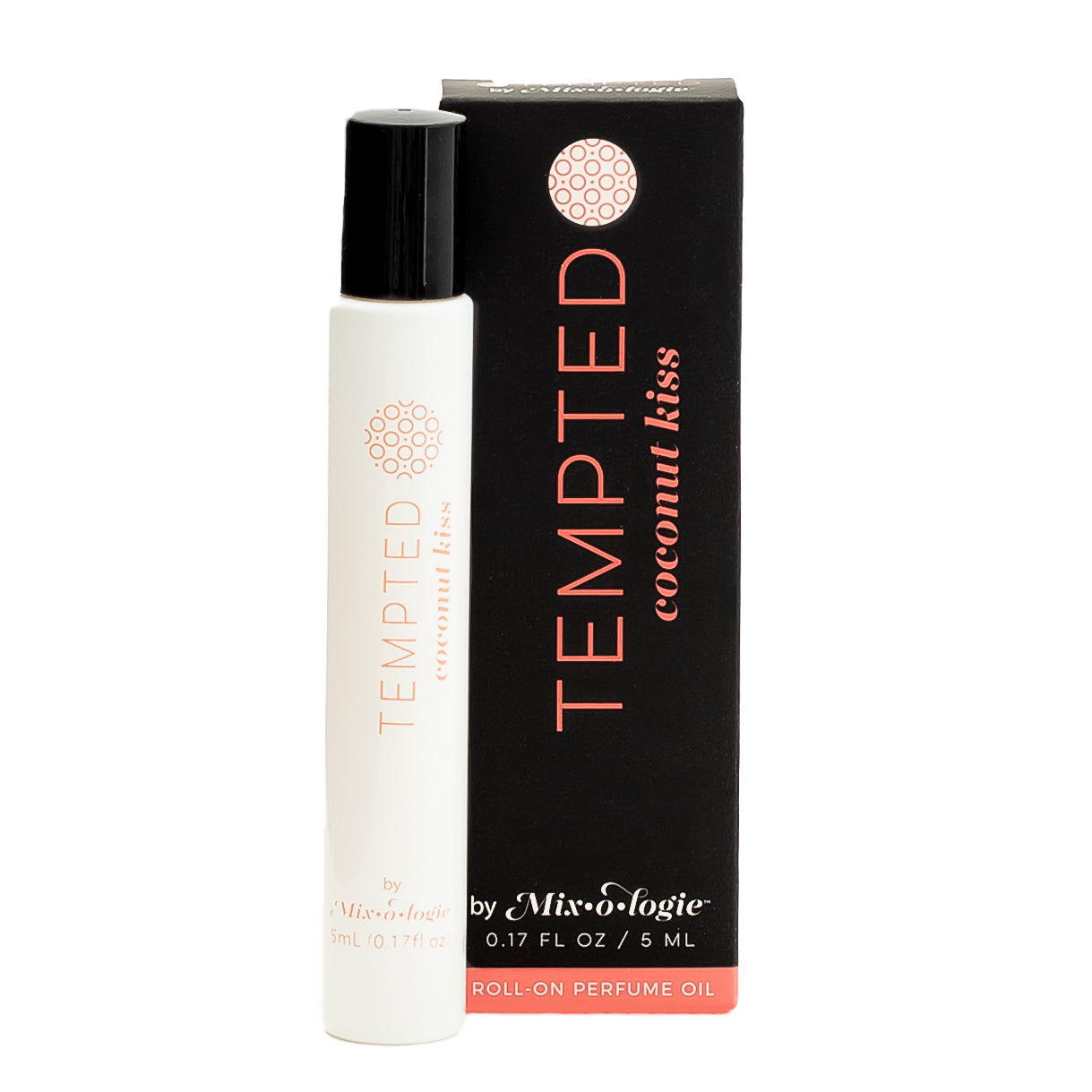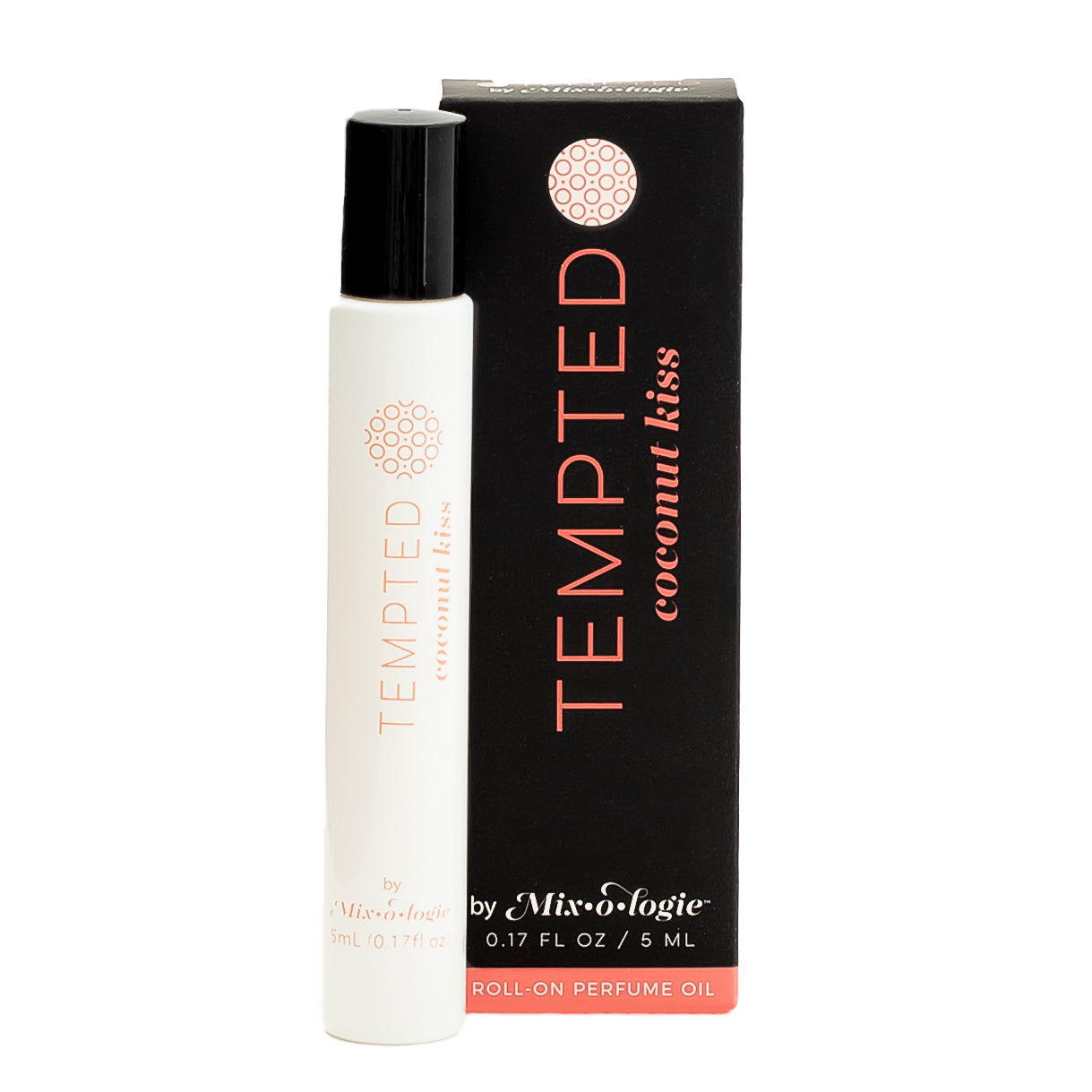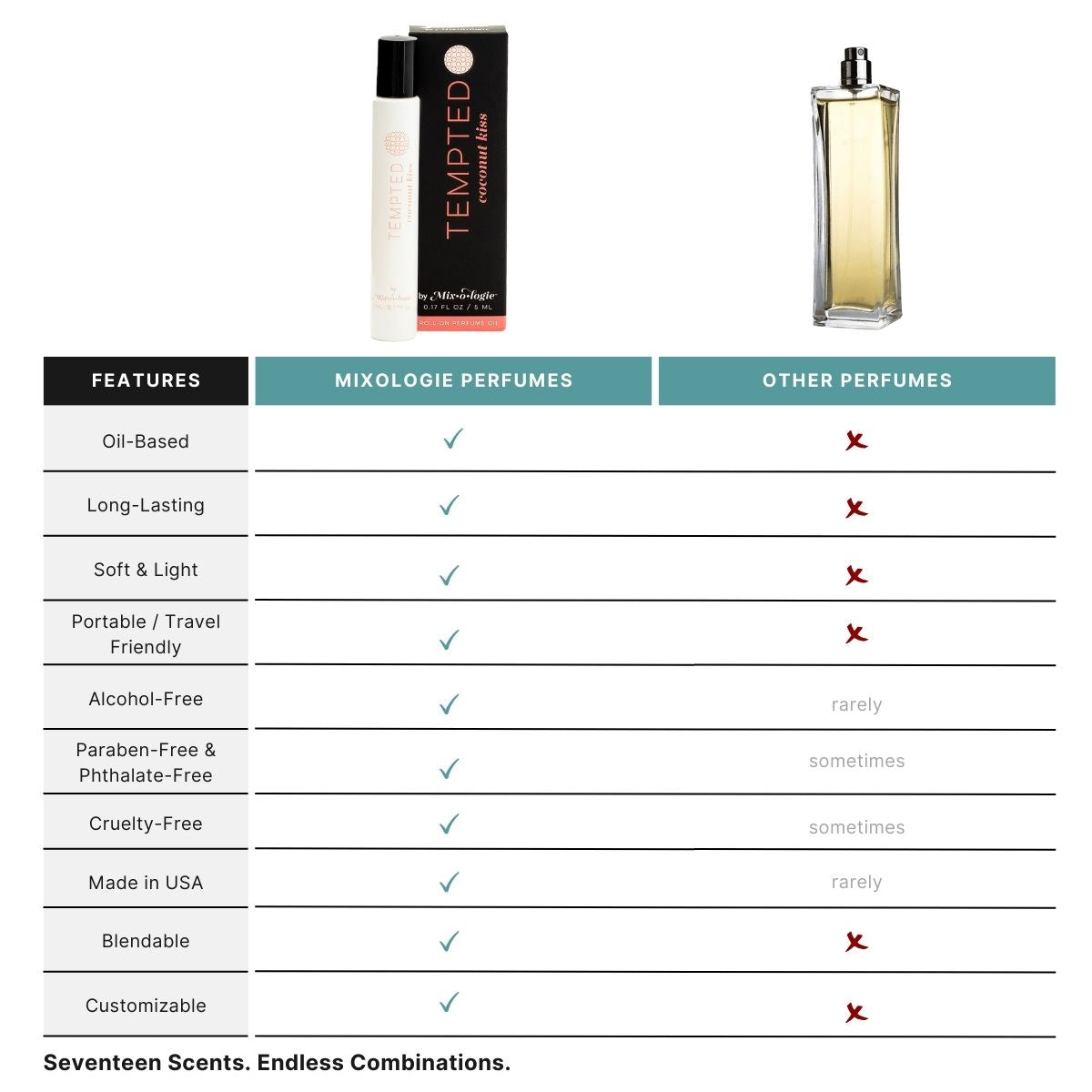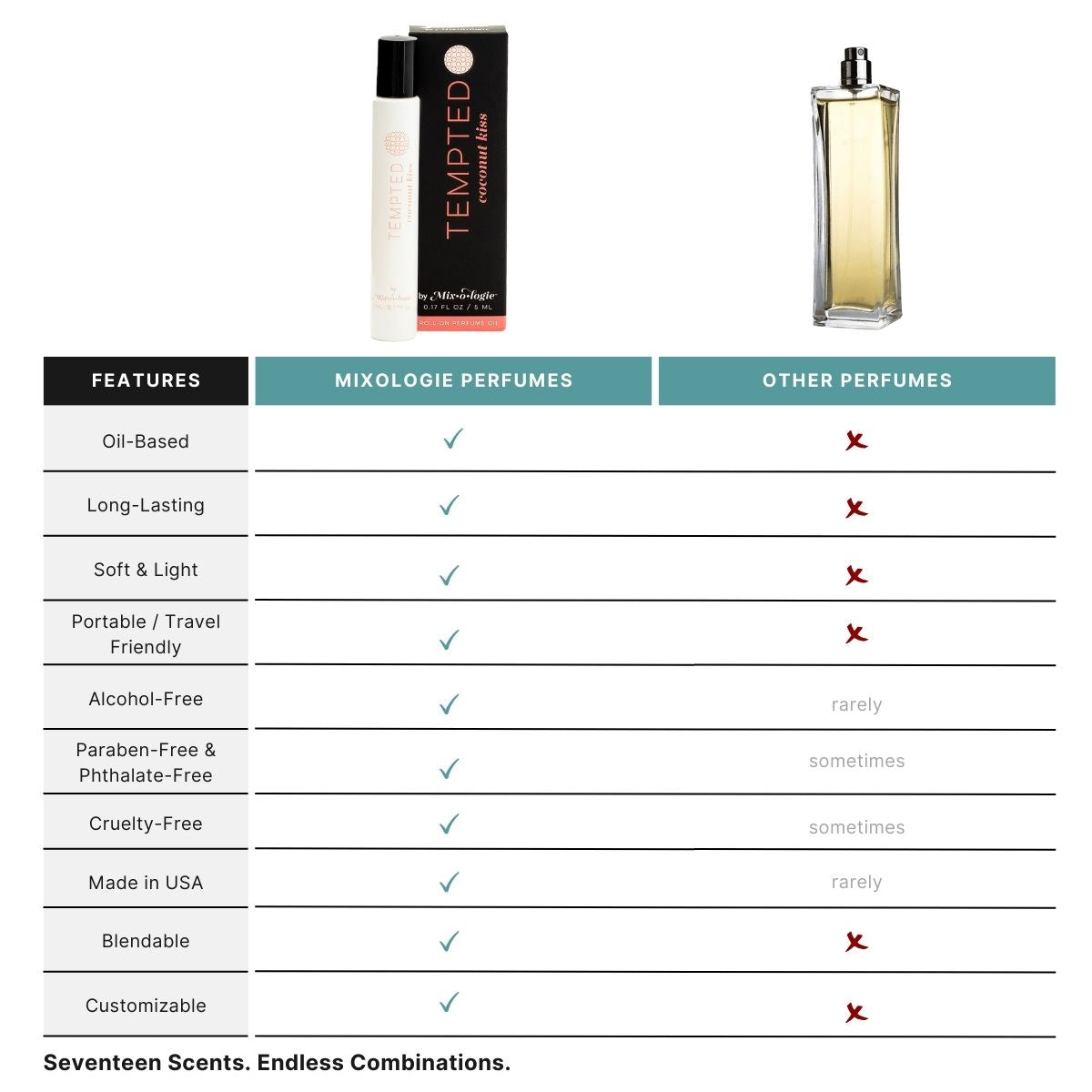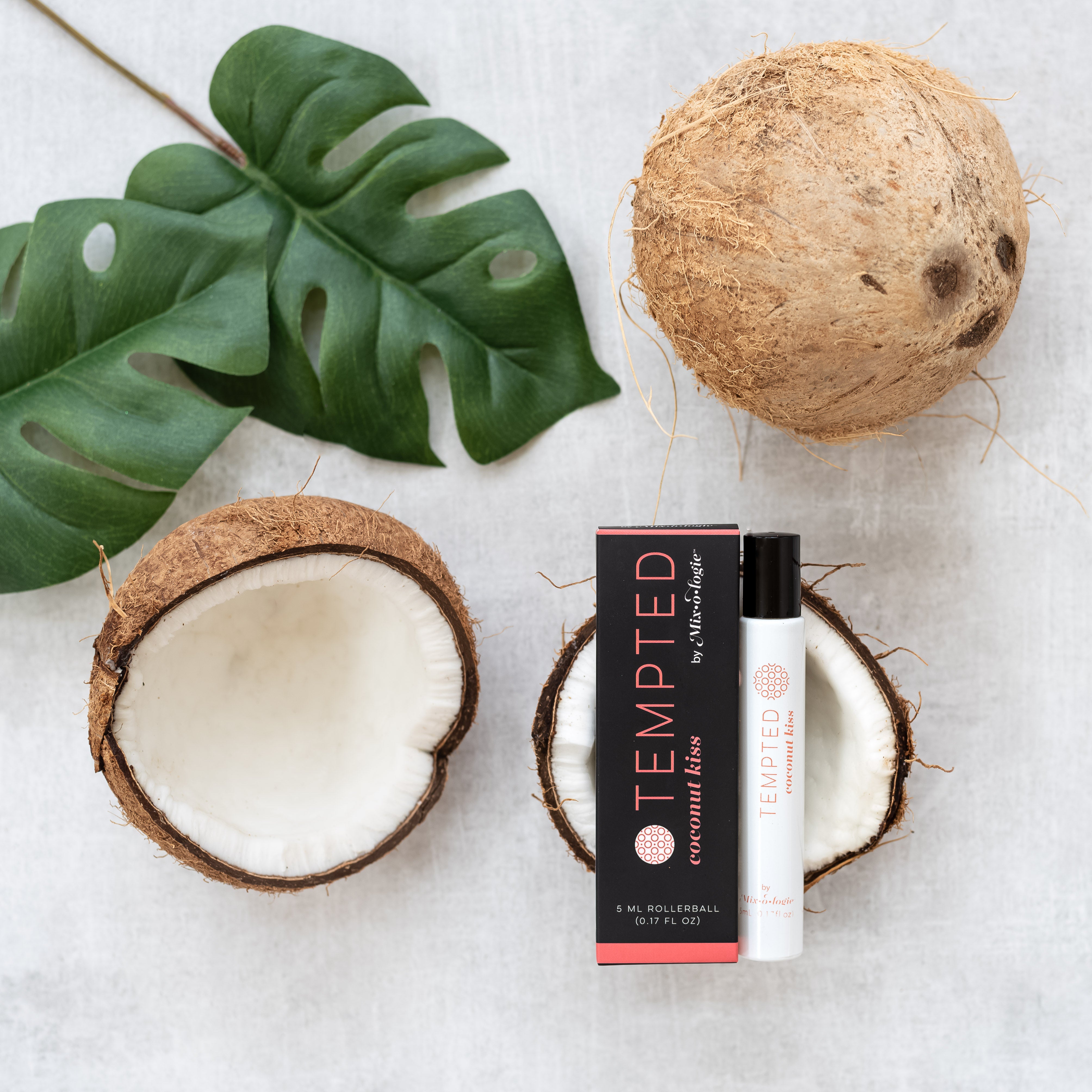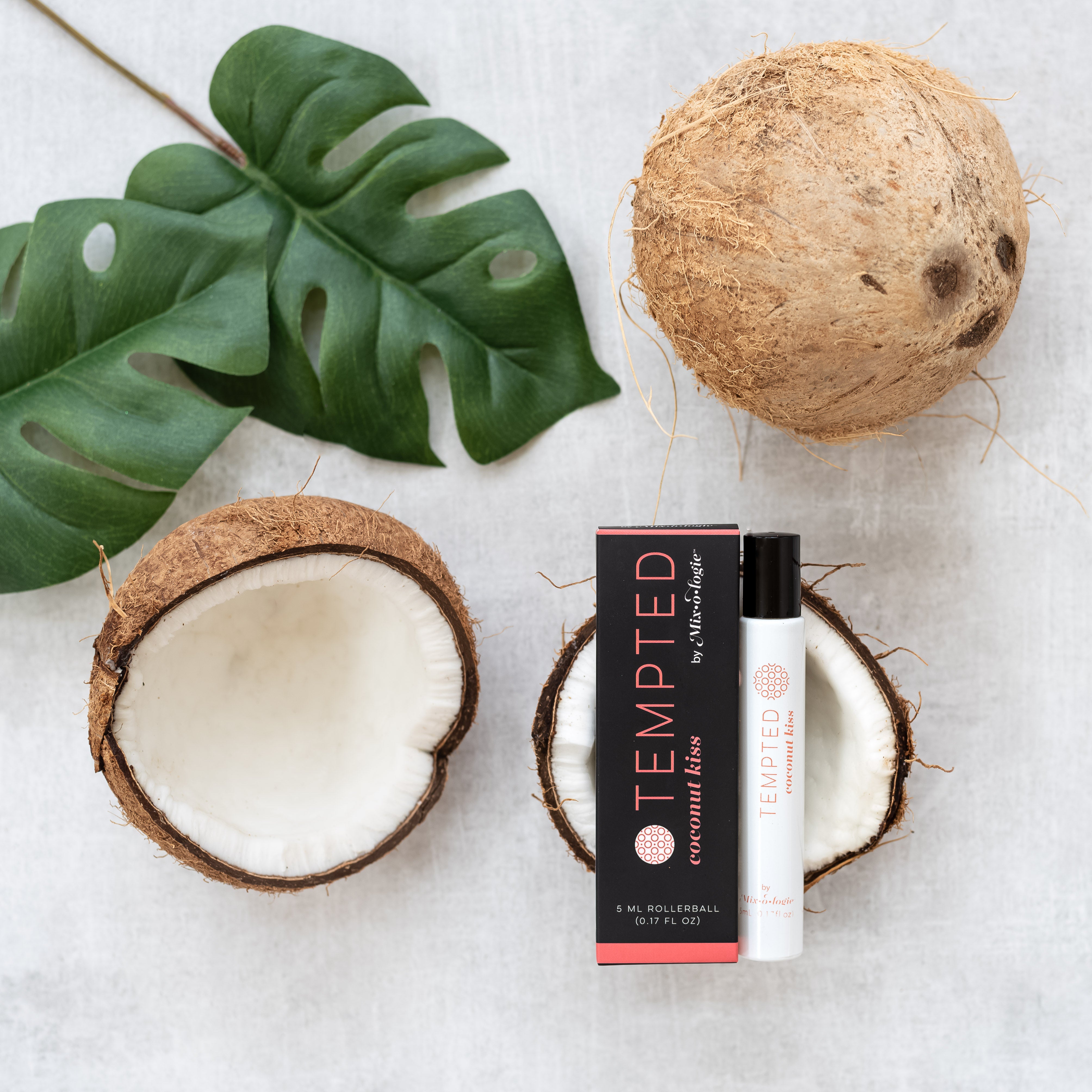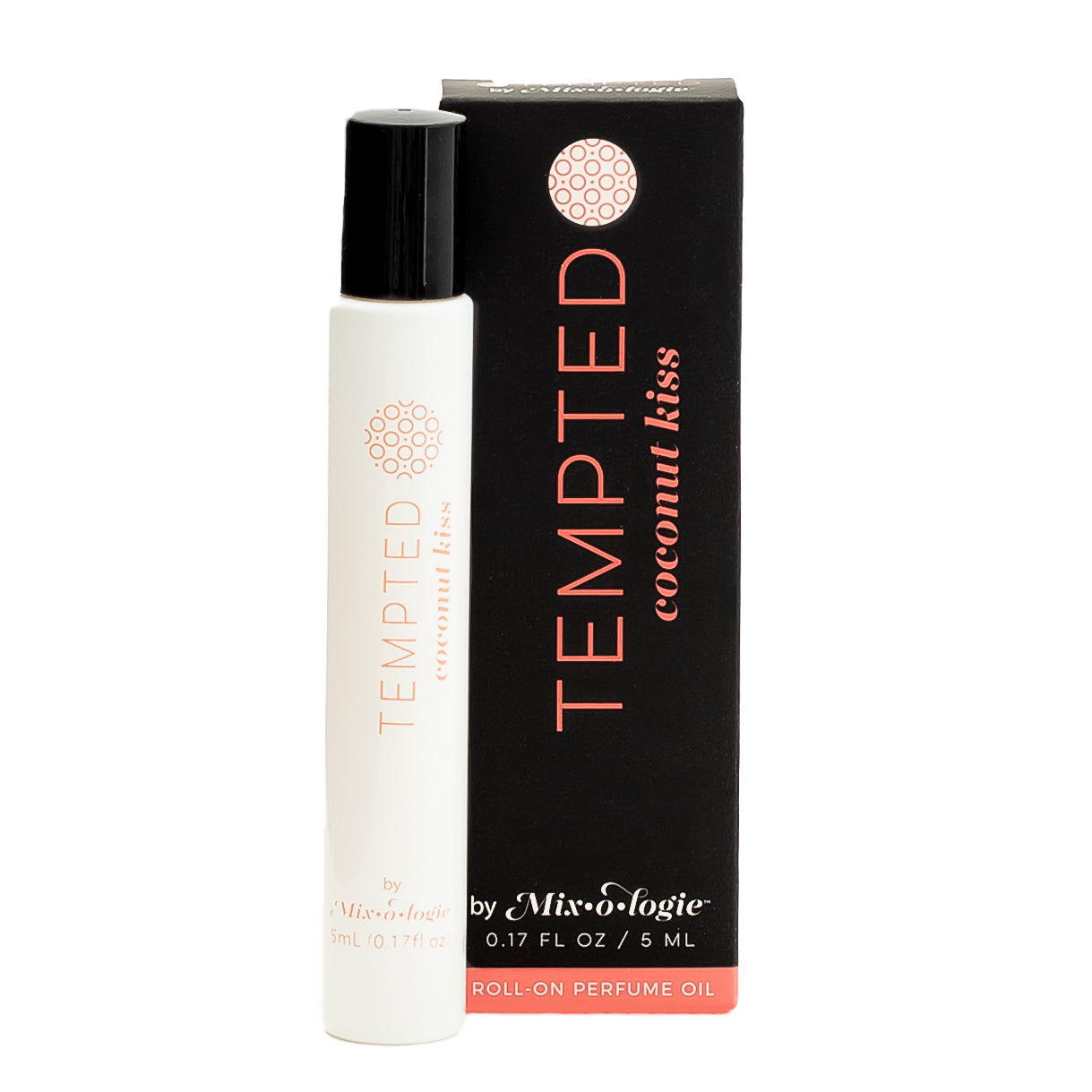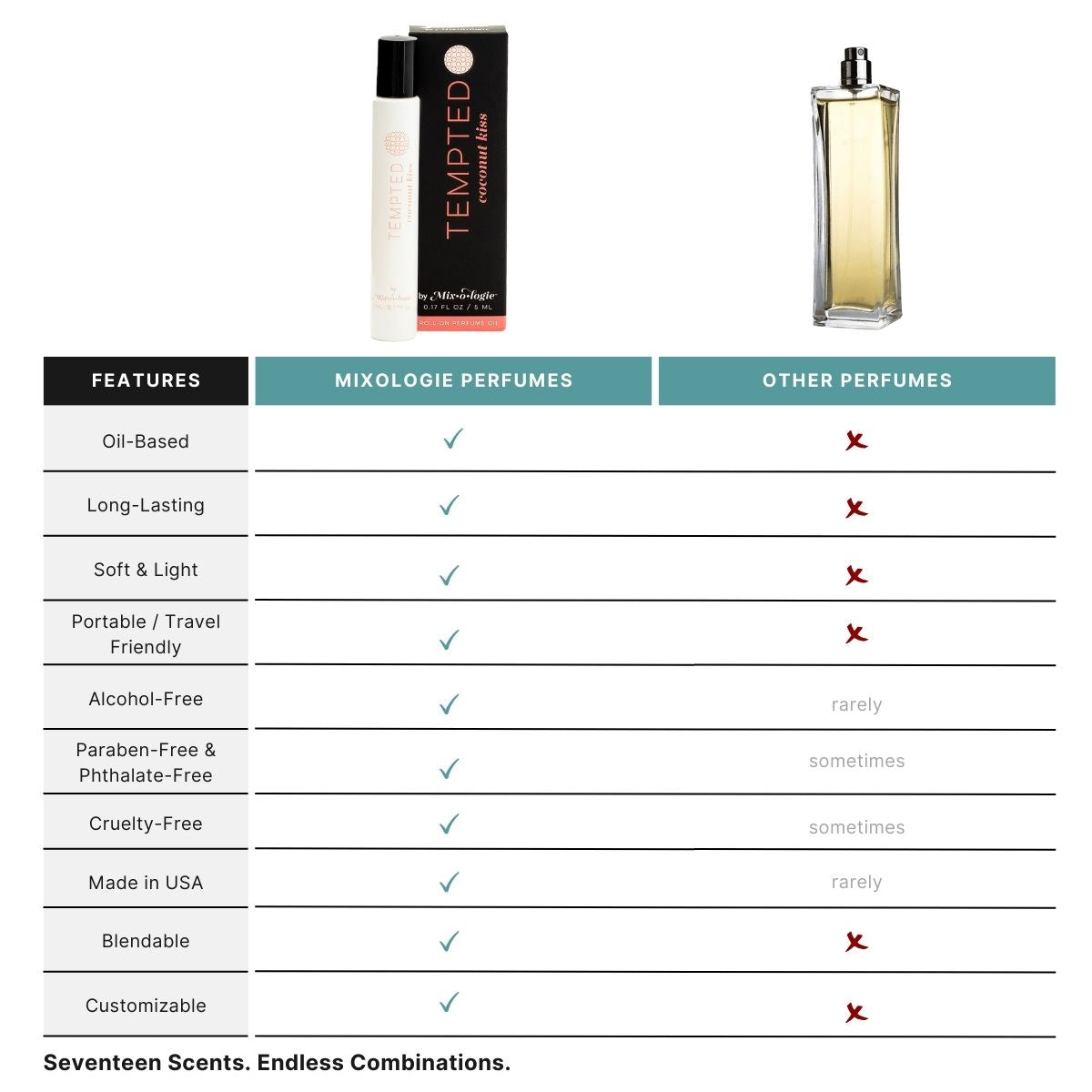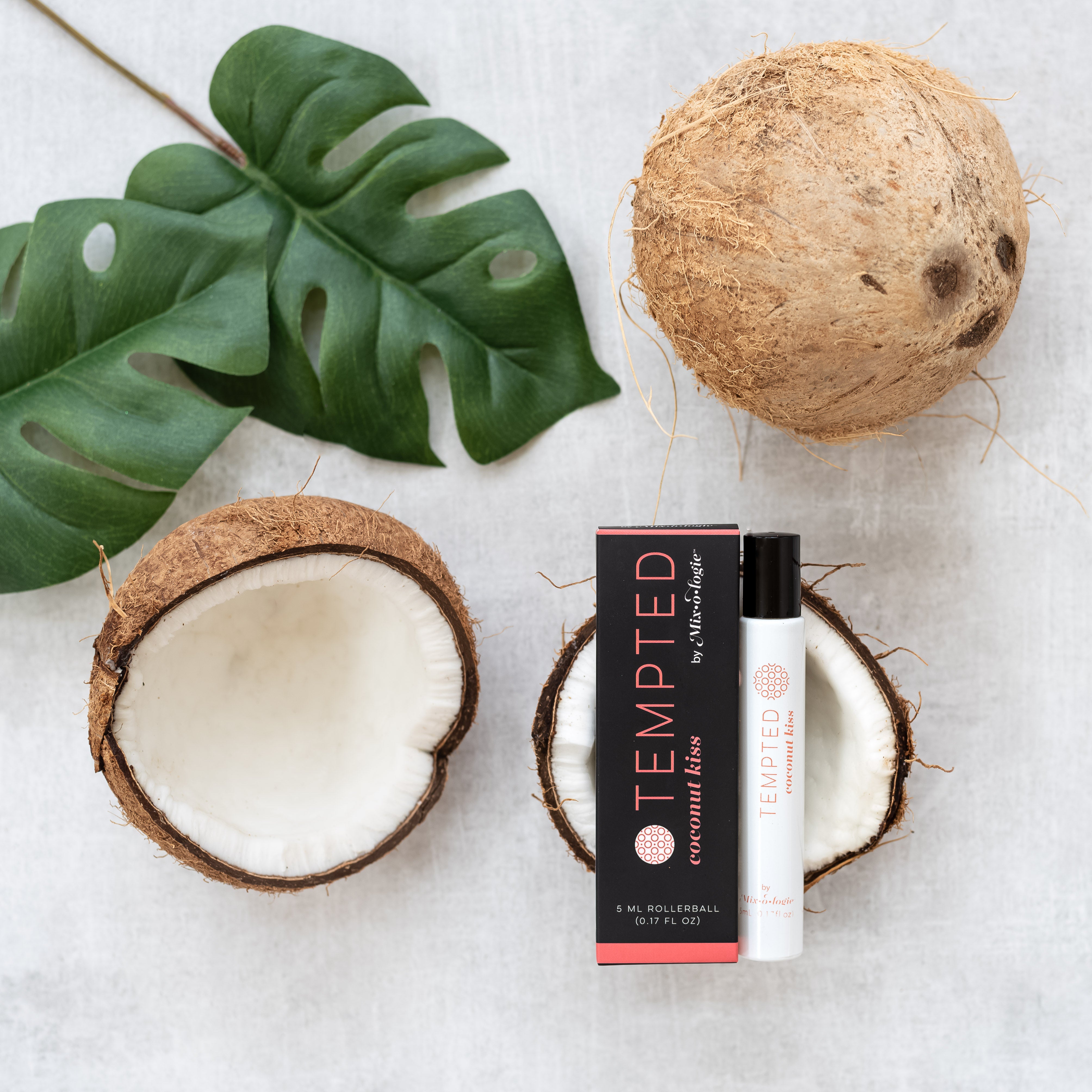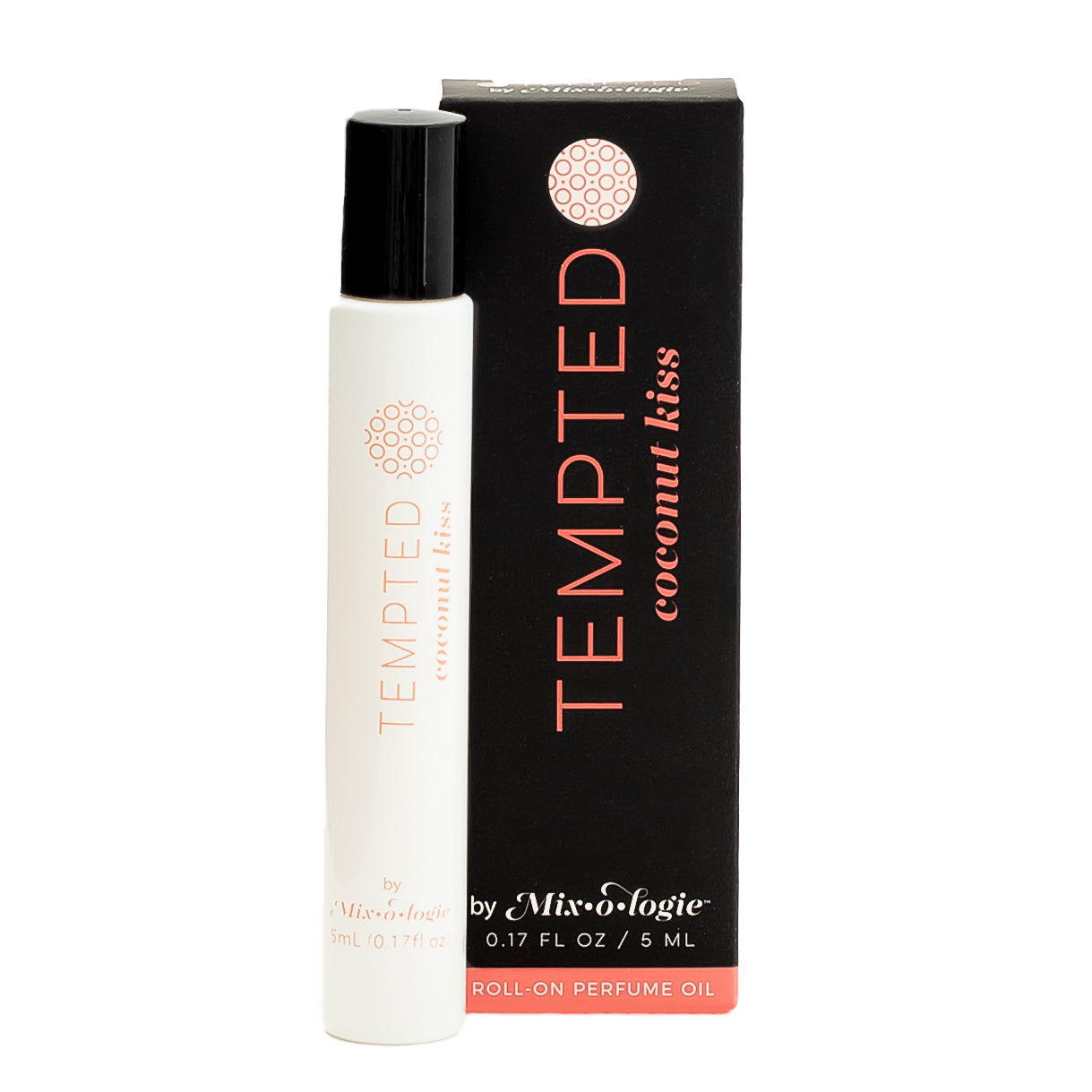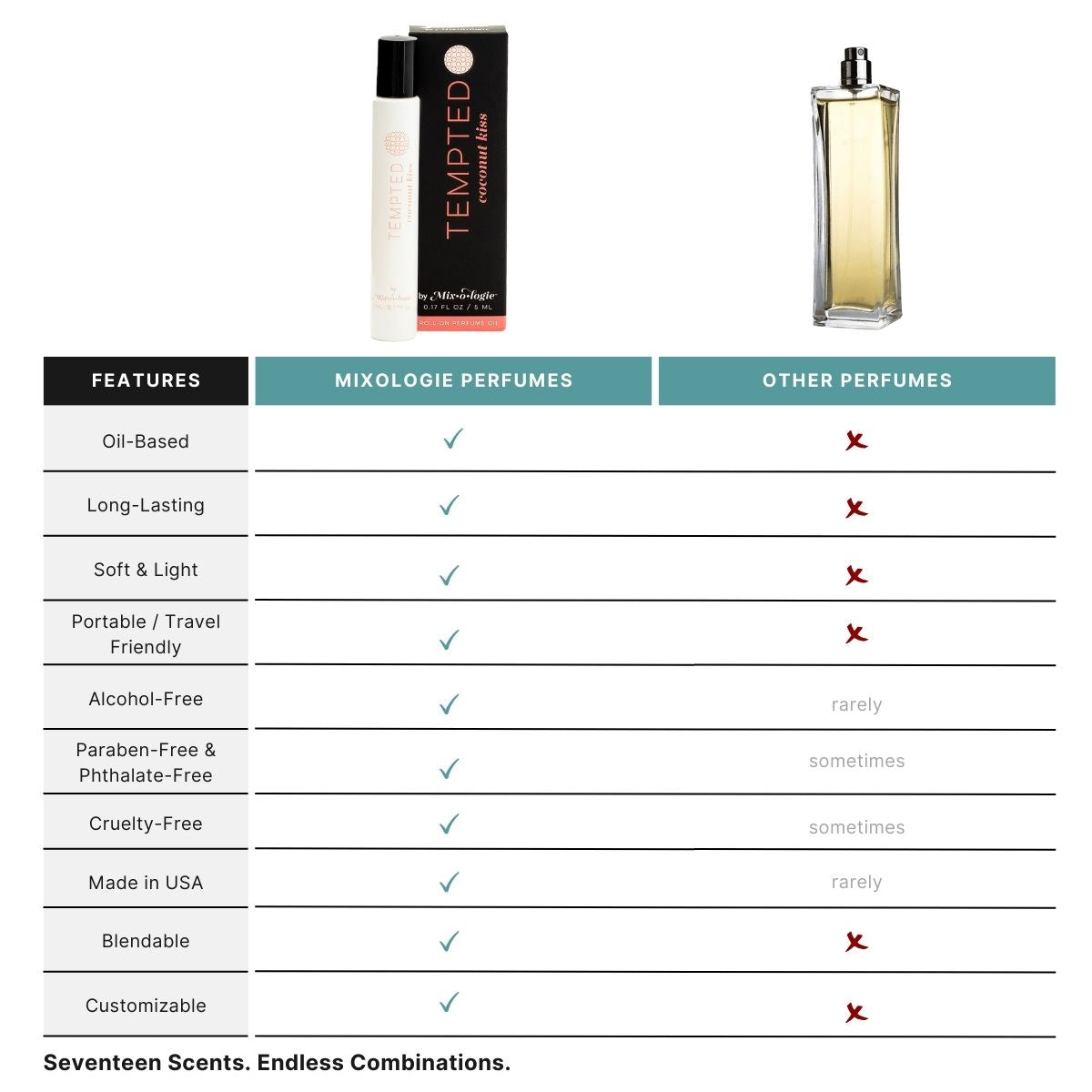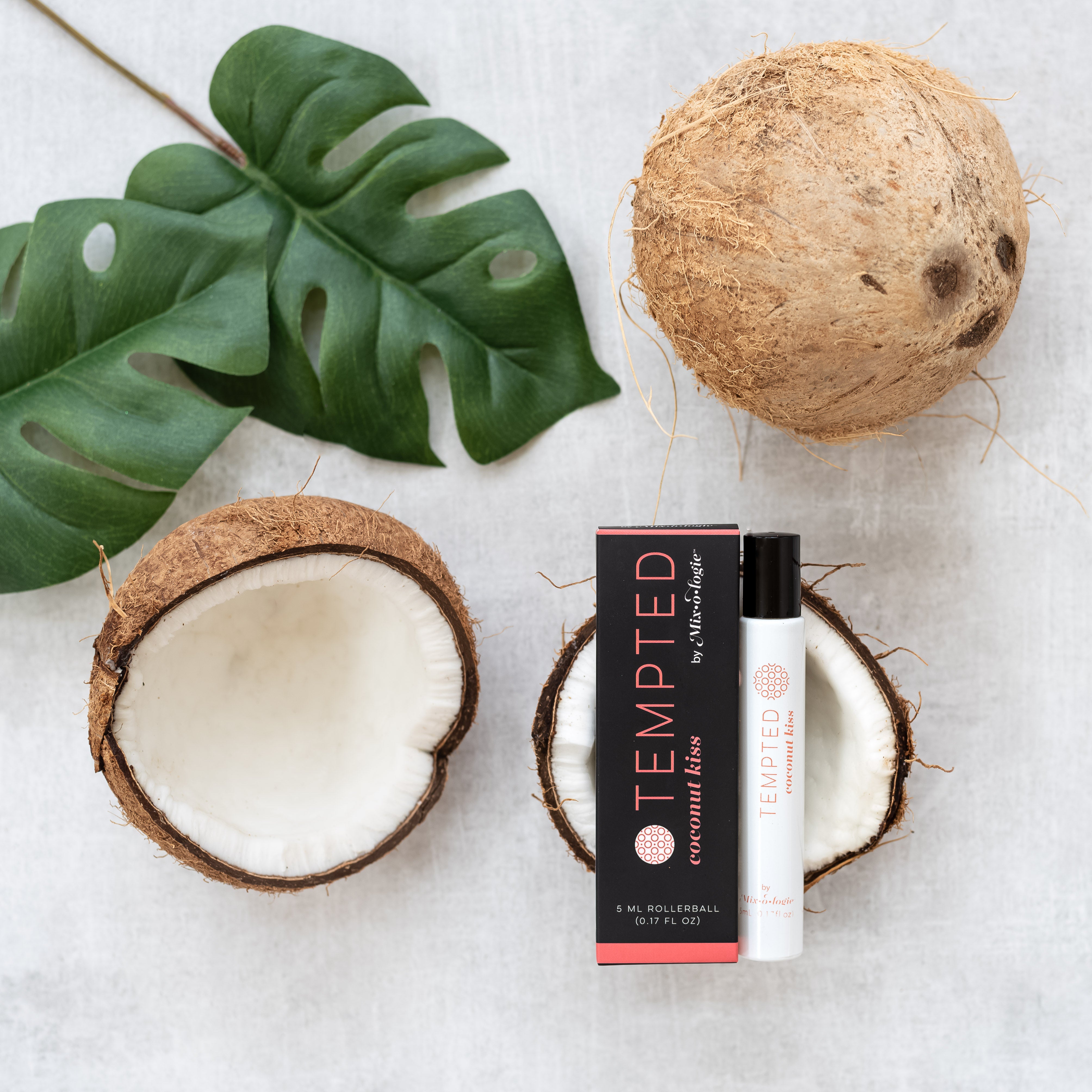 Tempted (coconut kiss) Rollerball
Hello, the BEACH is calling, and you're going to want to answer.  The scent also known as "beach in a bottle."  Get your tropical glow on with sugared pineapple, sun-kissed citrus and creamy coconut caressed by island breezes and swaying palms.  
Think Pina Colada meets White Sandy Beaches…and you're right in the middle of it all.
Top Notes: orange, pineapple
Middle Notes: swaying palm leaves, fresh coconut
Base Notes: white sand, driftwood, musk, vanilla
ROLLERBALL PERFUME OIL (5 mL)
Mixologie fragrances are made only with oils (no alcohol), so they aren't overpowering like a spray perfume can be - and they last all day.  Ideal for people who are sensitive to other fragrances.  Enjoy the convenience and portability of a rollerball perfume made only with oils and feel good about what you put on your skin.  Clean ingredients matter. 
Ingredients:  Dipropylene Glycol, Fragrance Oils
Alcohol-Free
Paraben-Free
Phthalate-Free
Cruelty-Free
Inspired to get creative? You found the right brand. With Mixologie, creating custom blends is a habit that you just might become addicted to. Every scent in the Mixologie collection was expertly crafted to make customizing a scent for your body chemistry easy and fun. Mixing is simple. You do it right on your skin with the rollerball applicators. Experiment with different notes to find what brings out the best in your body chemistry. Layer. Blend. Love.
OUR MORE-THAN-SATISFACTION GUARANTEE:
If you aren't completely over-the-moon for your Mix•o•logie product, send it back to us and we'll give you store credit or a full refund. No hassling.  We just want happy (great smelling) customers.
Love 💕
I Love them such a Great Gift 🎁 and love for myself perfect for your Purse .
We totally agree Amber! The keychain rollerballs really do make the perfect gift, and are convenient enough to go anywhere! Thank you for the great review! :)
Love this scent
This is one of my top two rollerblading scents, it's truly a delicious scent, and I love how long the scent lasts!
What a fun review, Thank you Kathy! :)
Subtle & Perfect
I have been searching for the perfect tropical scent. This one is perfect with the subtle coconut & citrus scents. Even better, they last all day long! I have gotten so many compliments since I started wearing this!
Not too sweet, the perfect mix of tropical scents and lasts all day long!!!
This perfume is the perfect mix of beachy coconut and sweet citrus - I'm obsessed! Not only does it smell amazing, but the scent sticks around all day long. It's super humid where I live and even when I'm walking around outside all day, I can still smell the delicious coconut scent! I've gotten so many compliments on how I smell since I started wearing this perfume - do yourself a favor and buy it!!!
We're so thrilled to hear that you are enjoying Tempted so much! It is one of our favorites too, which is why we have SO many products available in this scent! Thank you for taking the time to write a rave review, it means so much to the Mixologie Team! :)
Subtle & Perfect
Tempted has a light, beachy fragrance that is attractive but not overpowering. I definitely prefer the rollerball--it lasts a long time, both when you apply it (much longer than the spray) and in the bottle. This is the second bottle I've purchased. Lovely!
Hi Alice!
We are thrilled to hear you are loving Tempted. Thank you so much for taking time to leave a review! And you're right! The body mists are much lighter, we're so glad you have found what works best for you. :)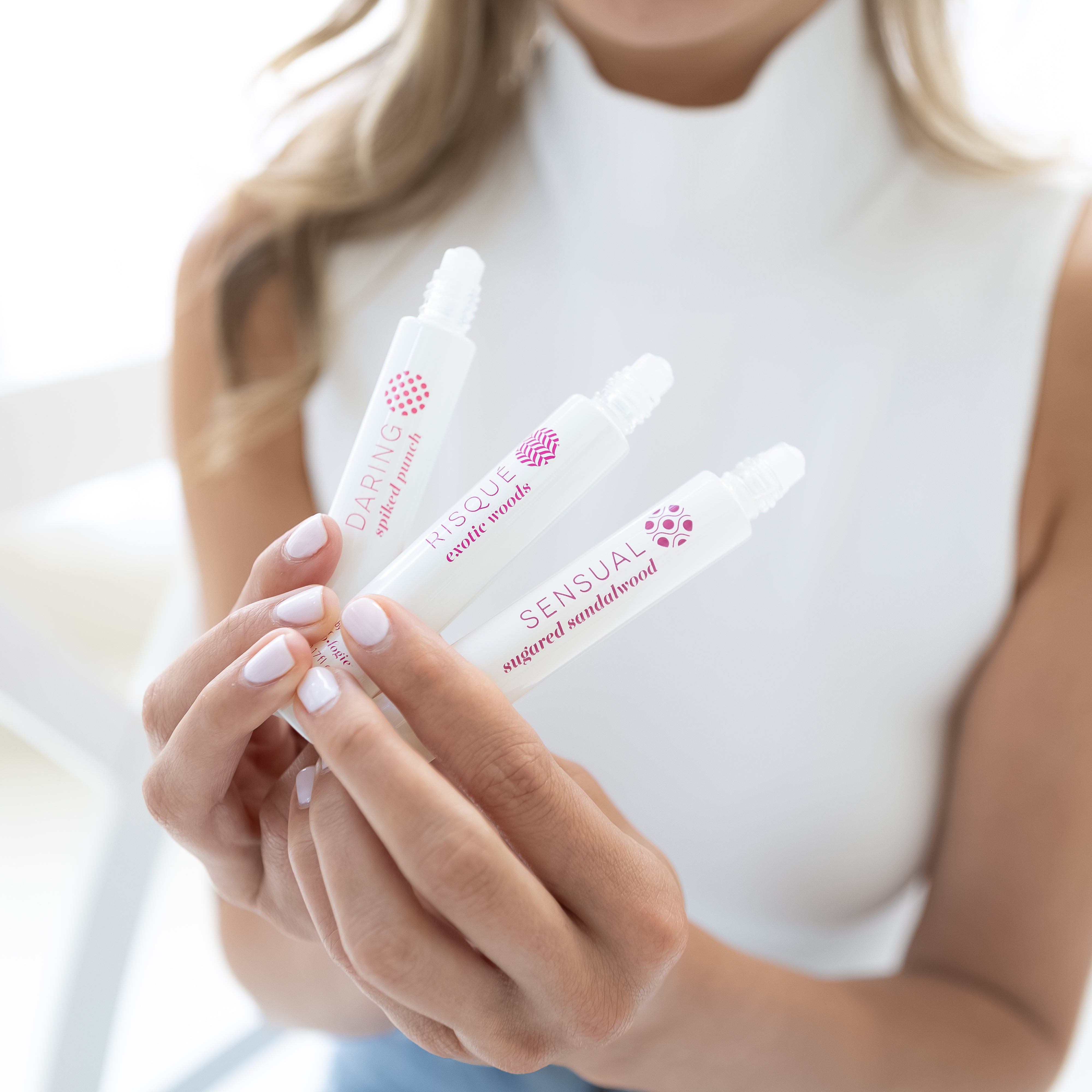 Mix & Match
The Art of Customization
With Mixologie, you hold the palette to your personalized scent masterpiece. Blend, mix, and find your signature.
⭐⭐⭐⭐⭐
See Why Our Customers Love Us
I love the scents, they're beautiful, fresh and light. Every time I order 1 rollerball I get samples of other scents that I fall in love with so my collection is growing!
-Roxanne
This is either my 9th or 10th order of this. To say I love it is an understatement. You have a light fresh scent all day! I love and I mean I love the sultry fragrance!!! Thank you Mixologie!!!!
-Lea
I'm obsessed with this fragrance, it's not too overpowering but still smells so amazing! I've been spraying it on all of my clothes and the scent lasts for so long - especially if you pair it with the rollerball perfume! If you want to smell amazing and get a million compliments, do yourself a favor and buy this!!!
-Colleen
Smells are so great. Ordering is great and mail service is fast!
-Pamela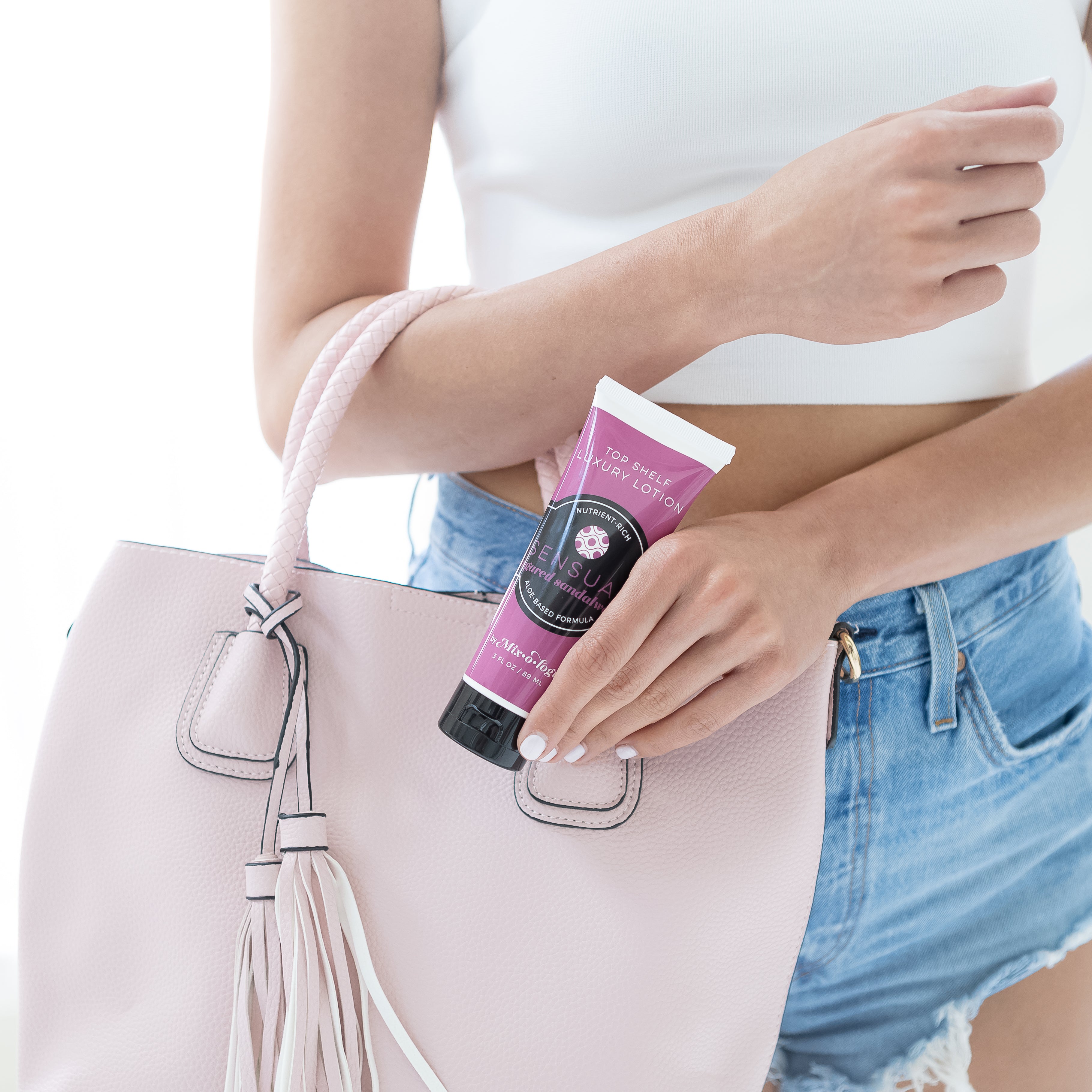 Portable Perfection
Designed for the modern individual on-the-move. Compact, chic, and fits right into your lifestyle.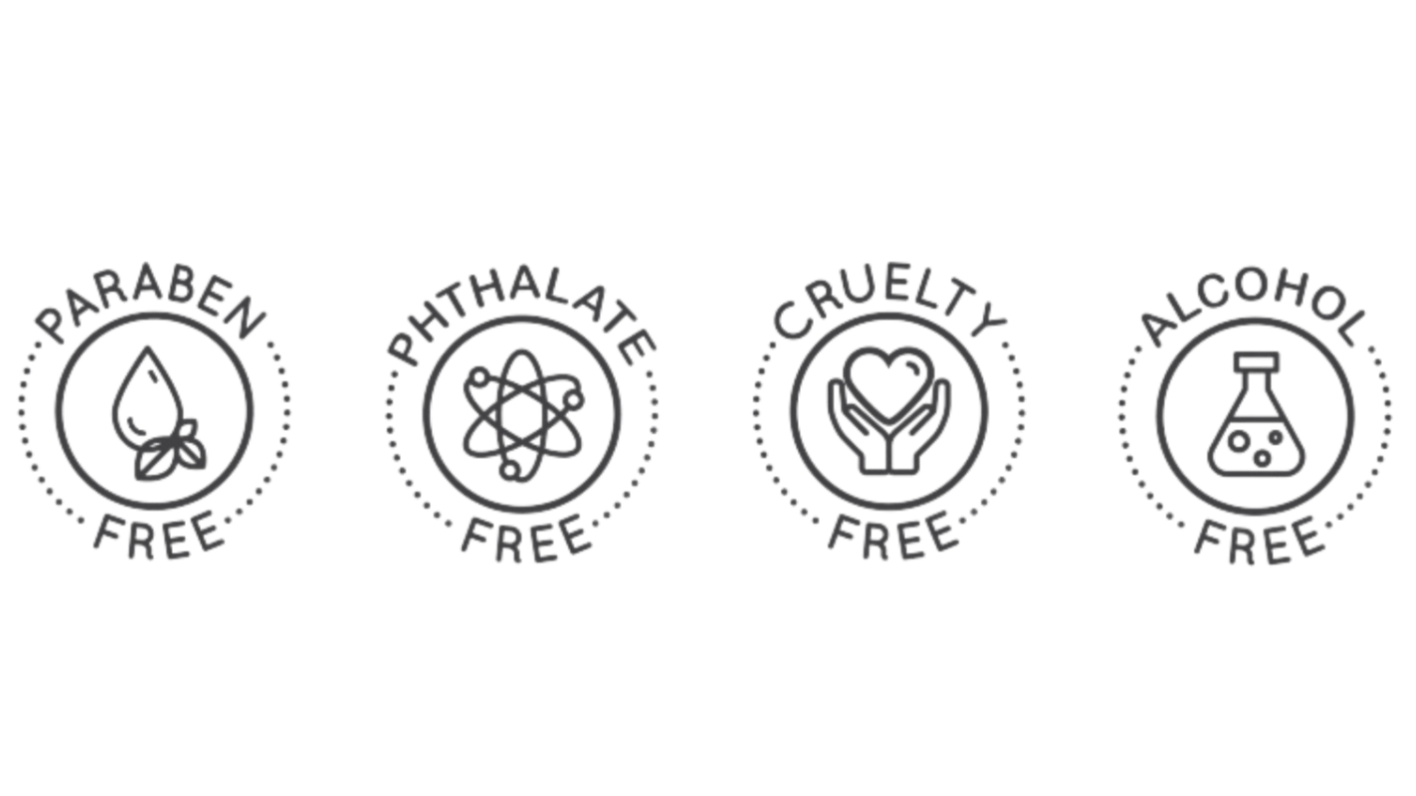 We Care About Our Ingredients, Because we care about our customers
Beauty & Conscience in Every Drop
We're not just about delightful fragrances; we're about making a difference: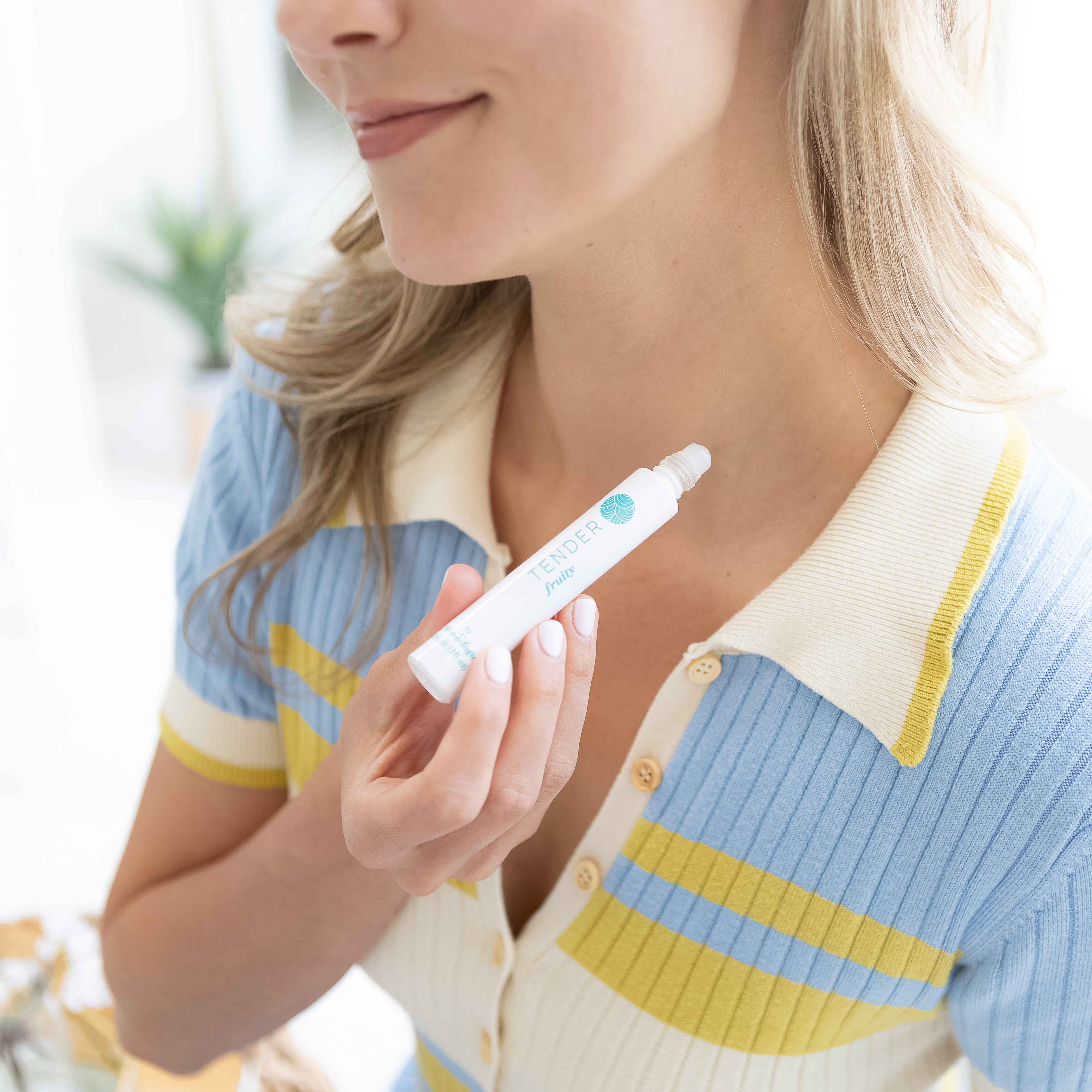 Alcohol-Free Elegance:
Our pure-oil based formula guarantees that you're wearing a scent that stays all day without overpowering the senses.