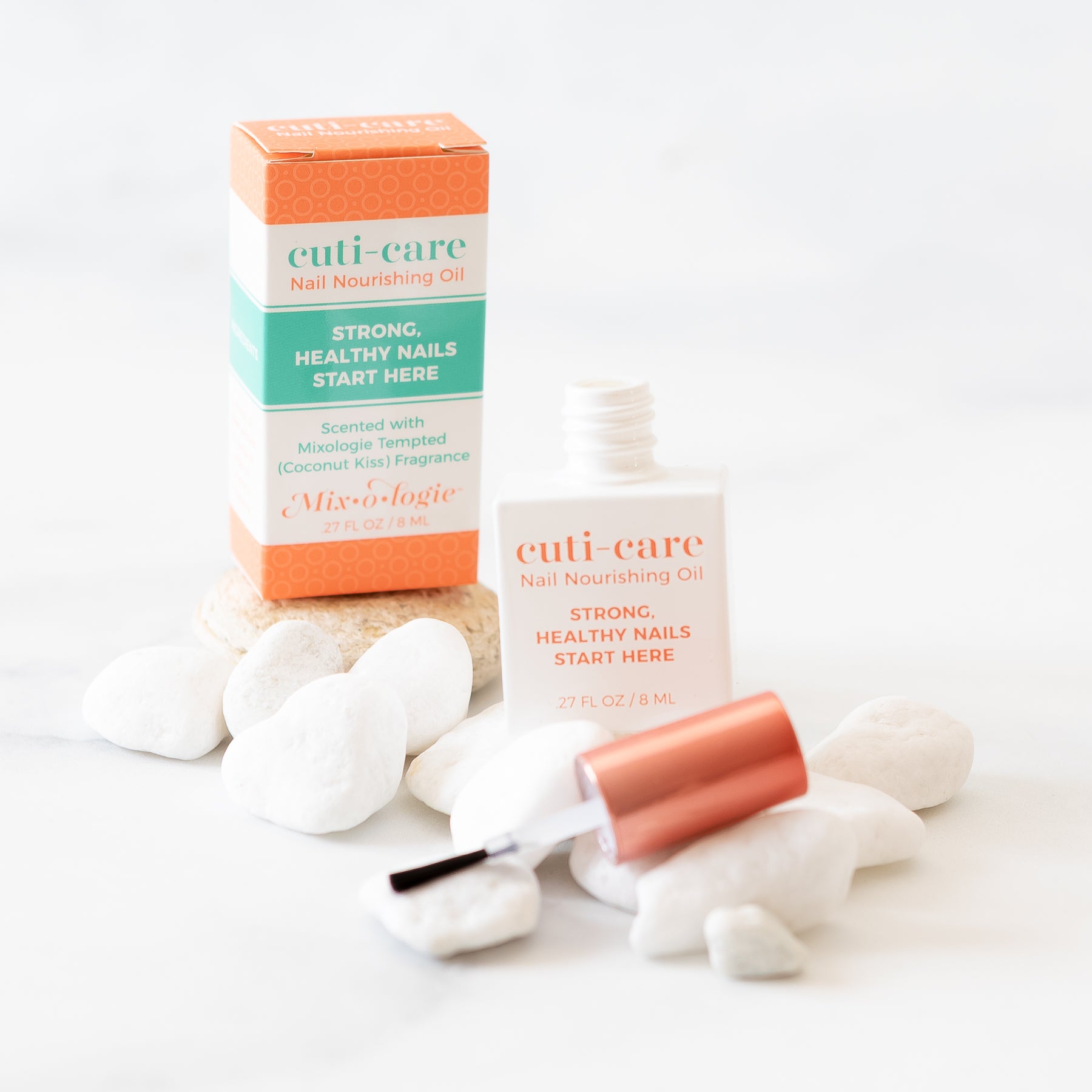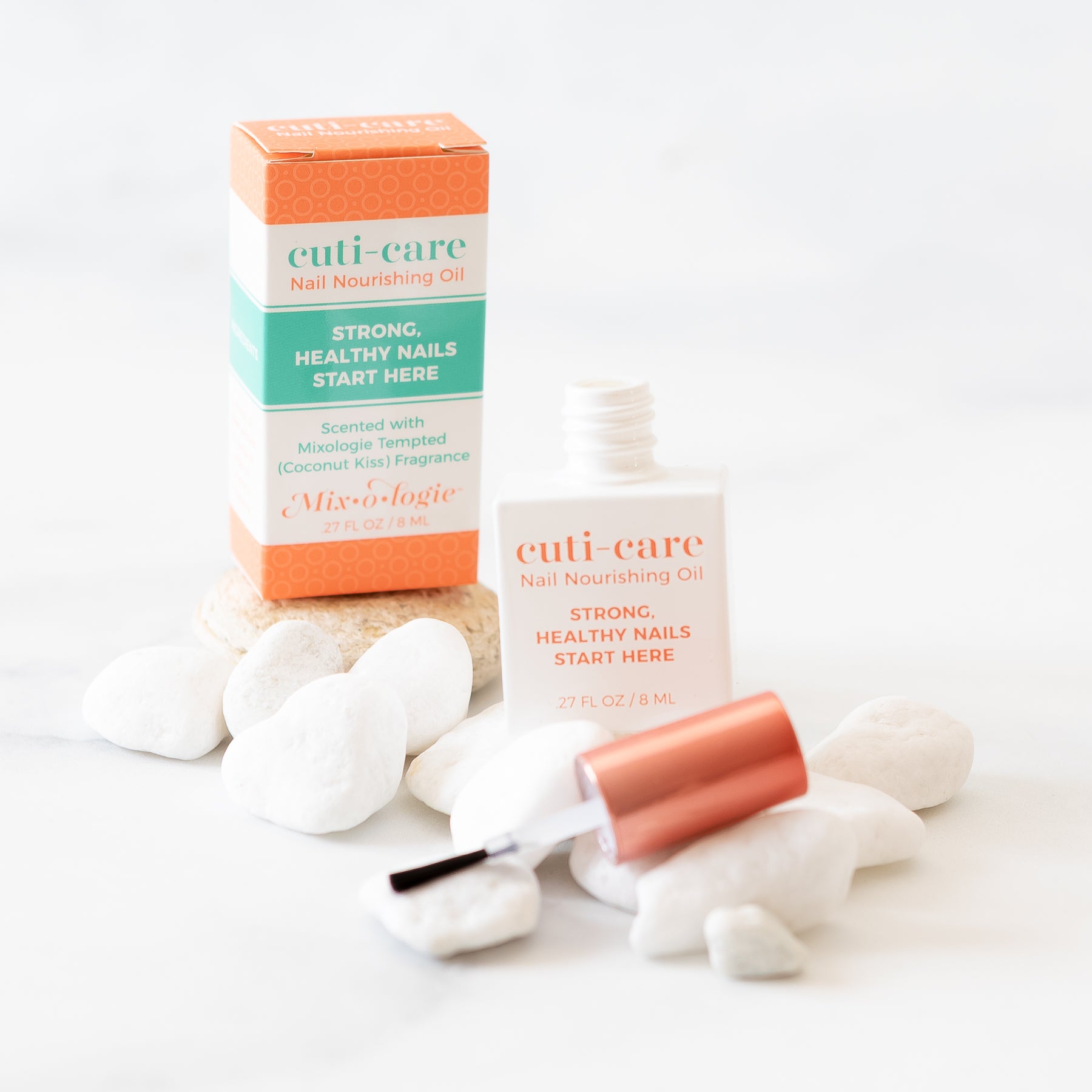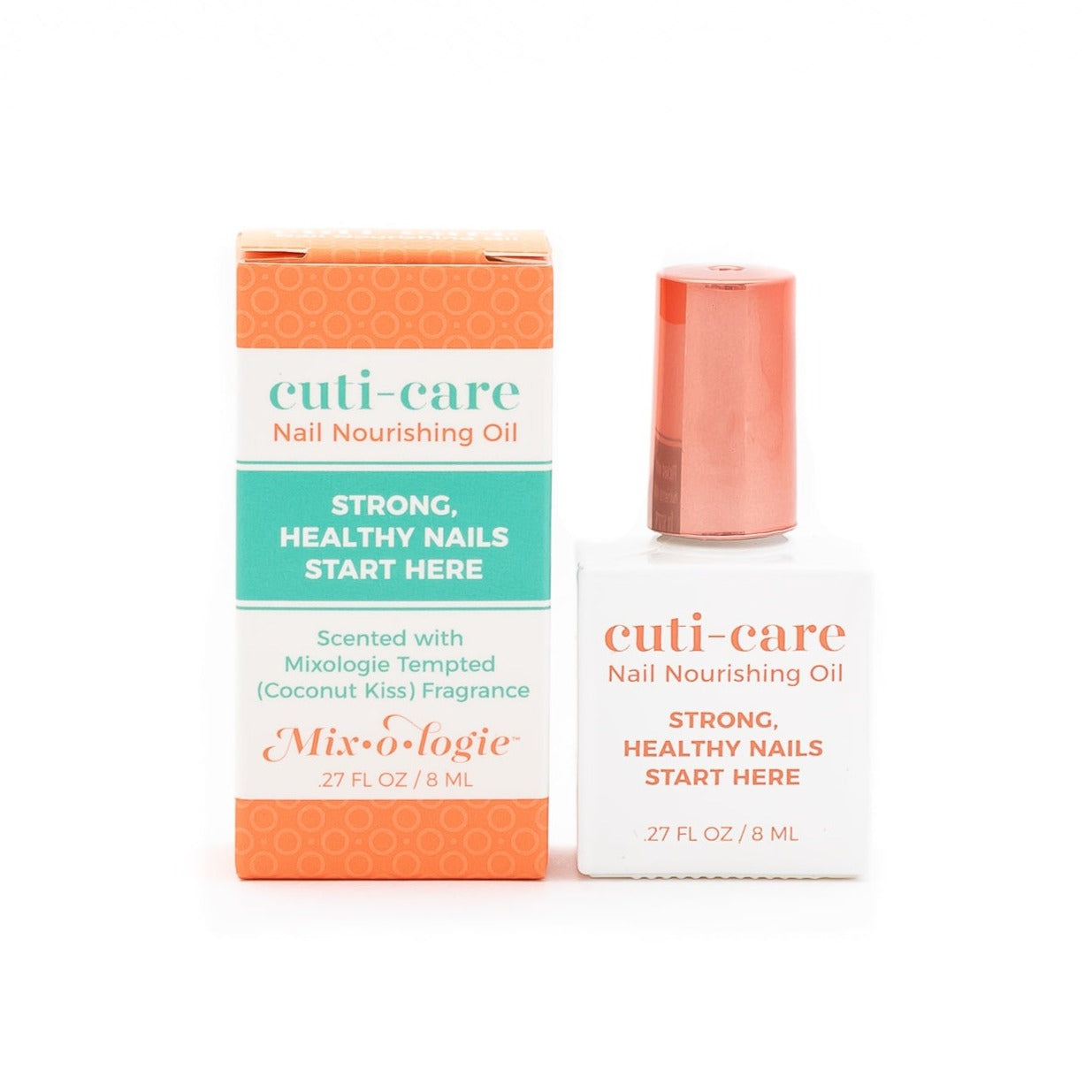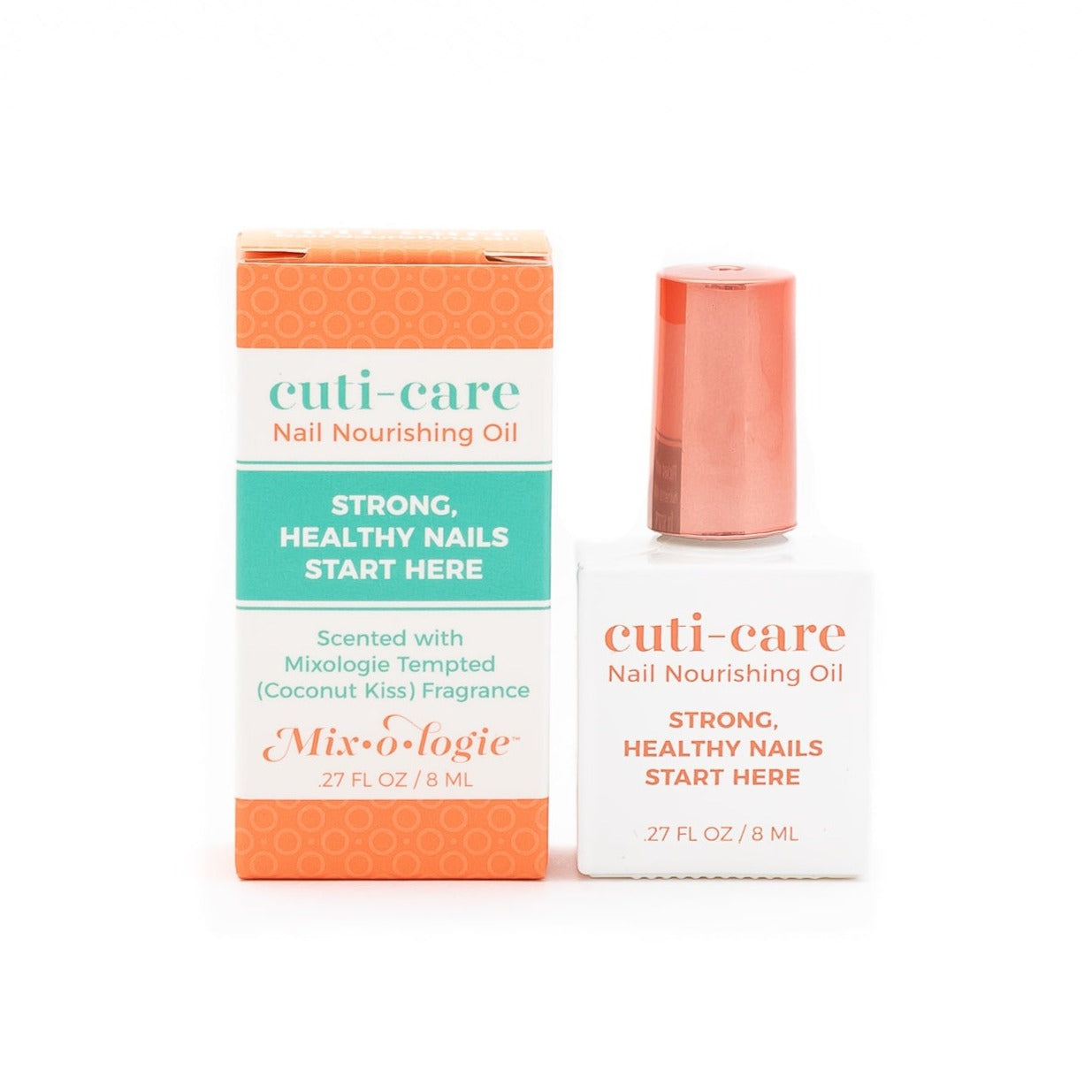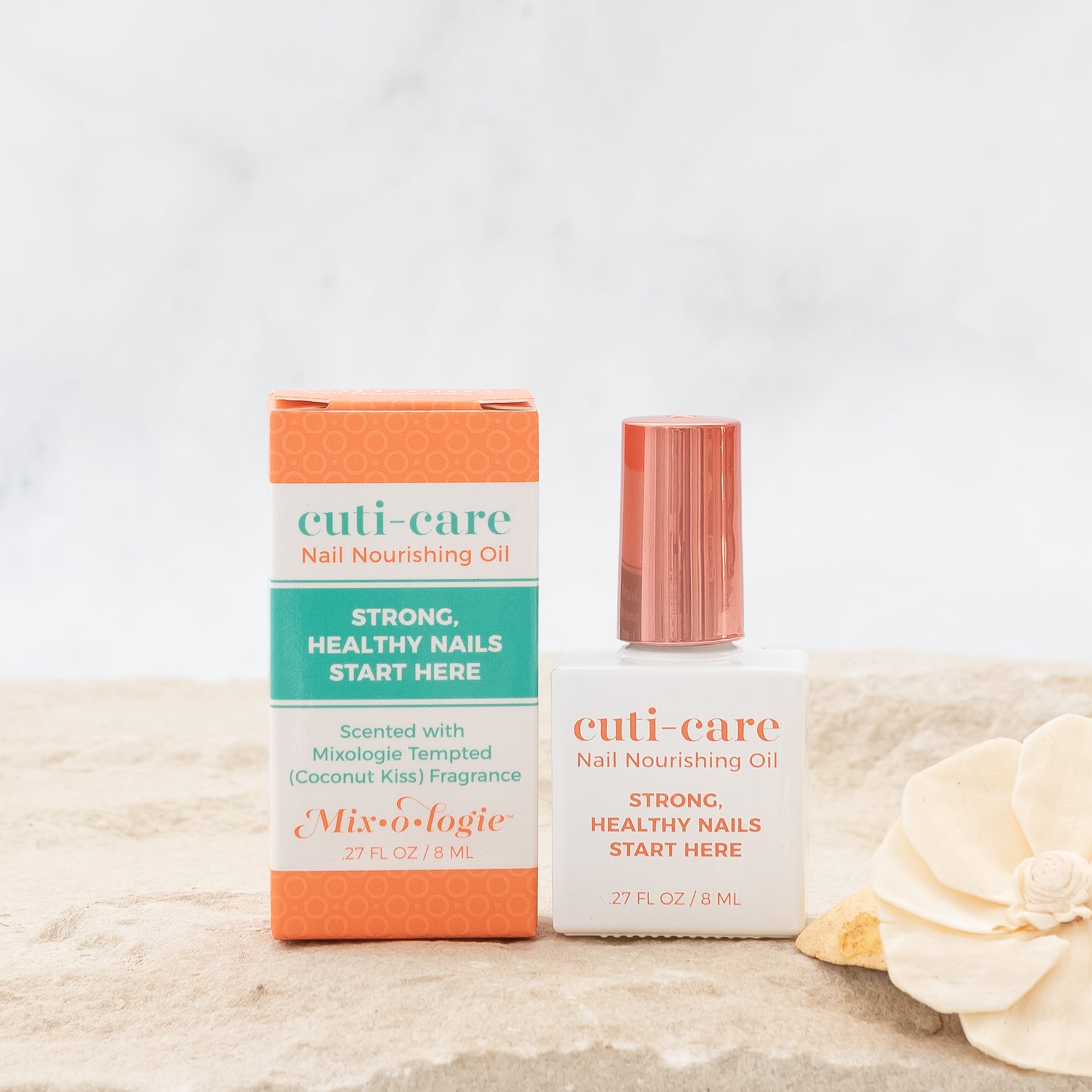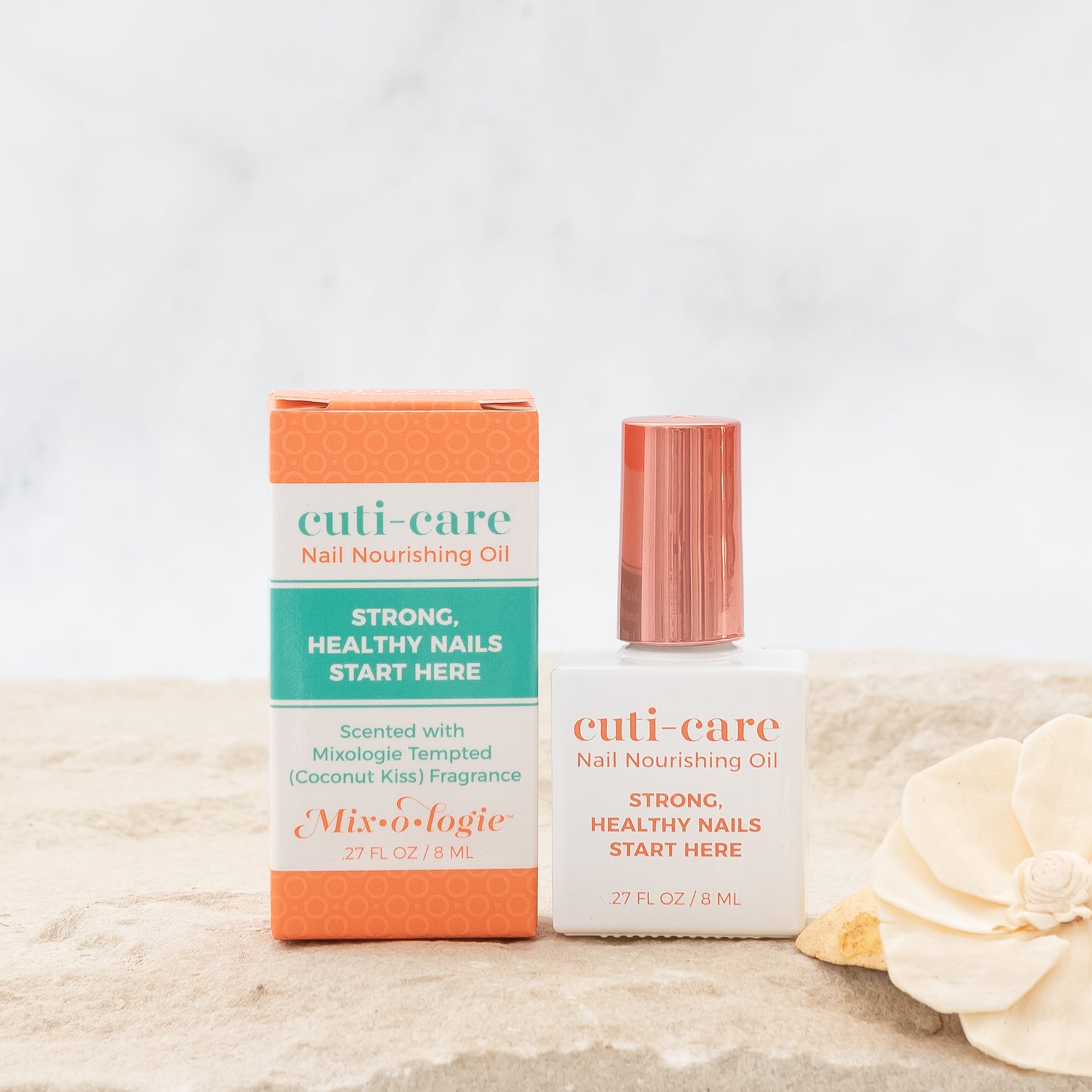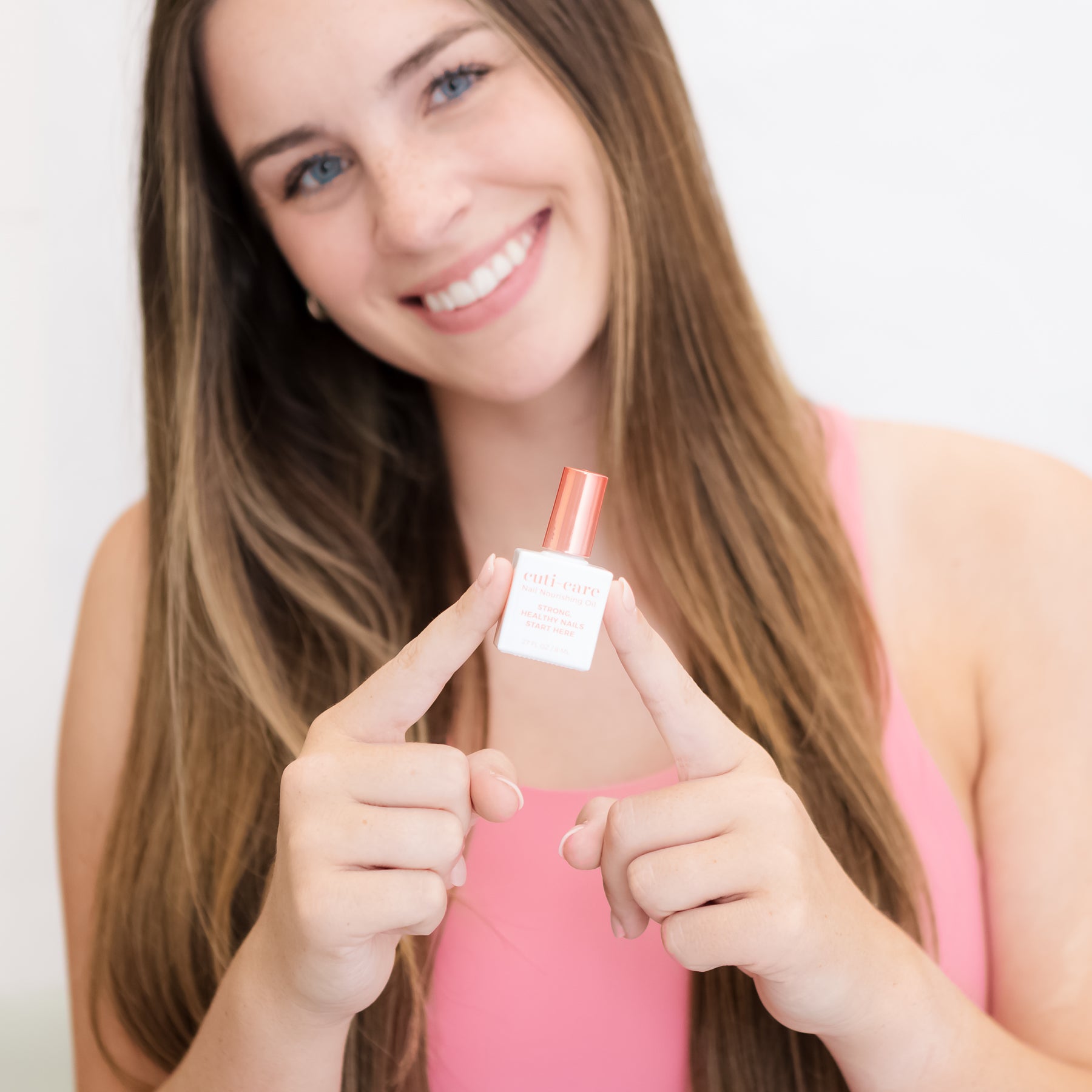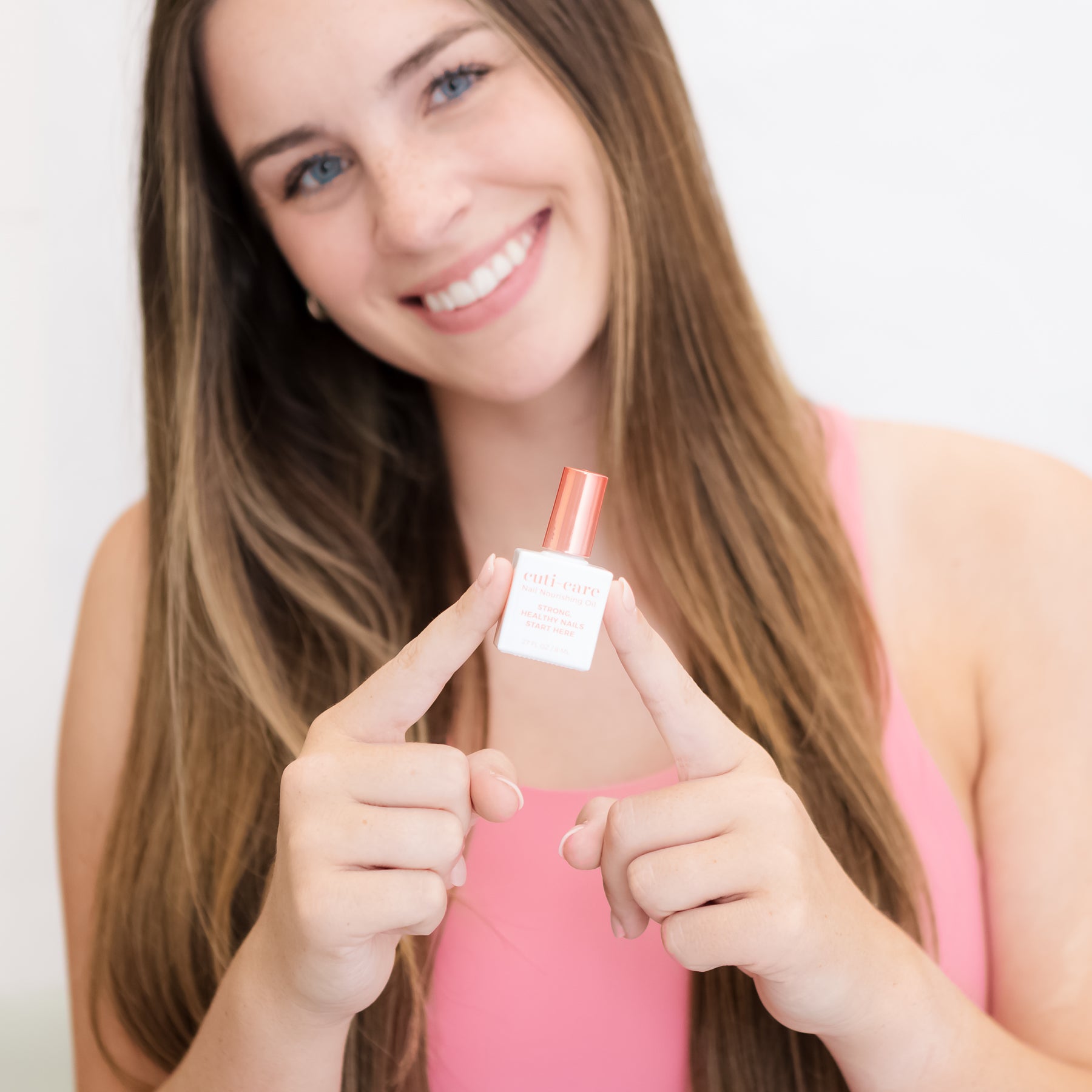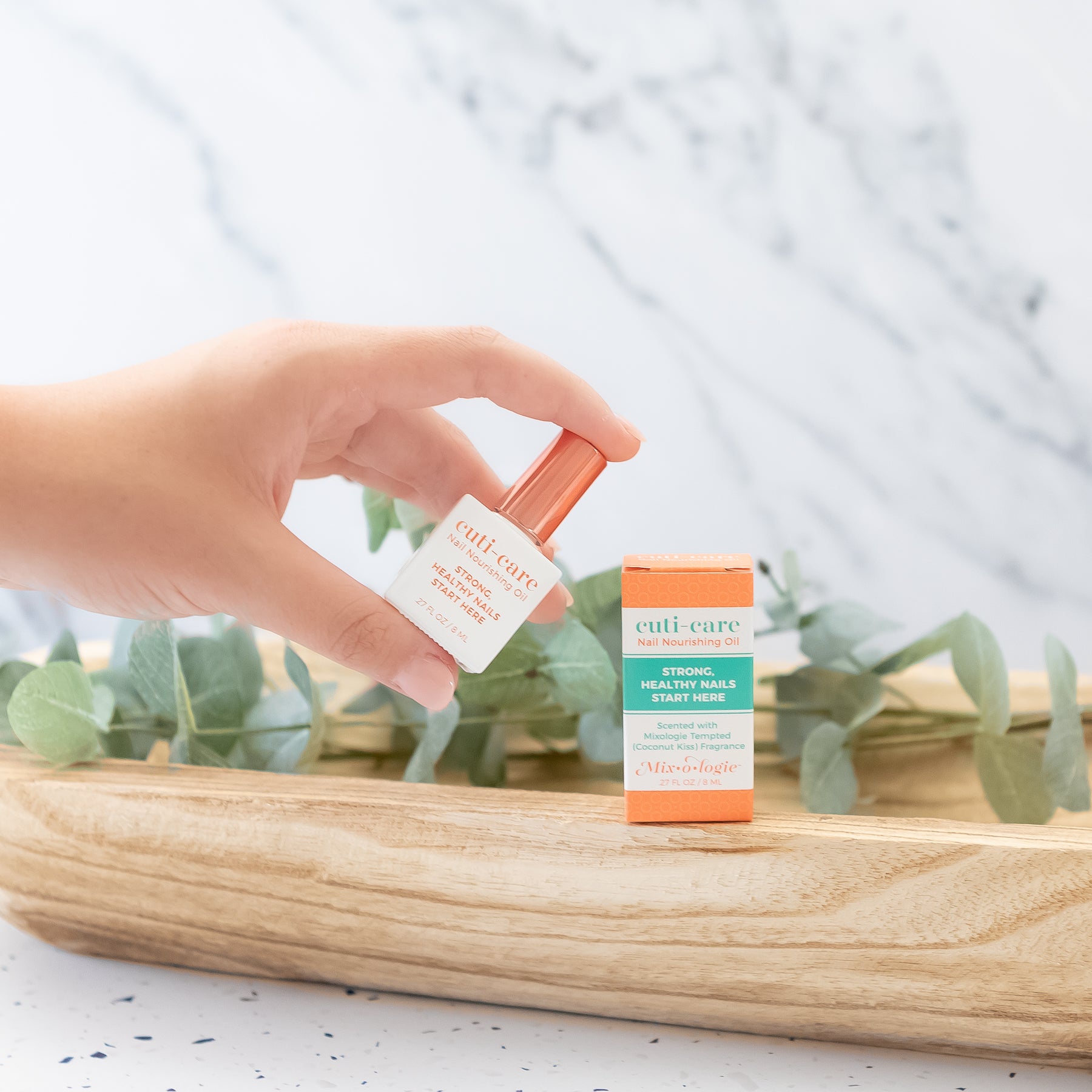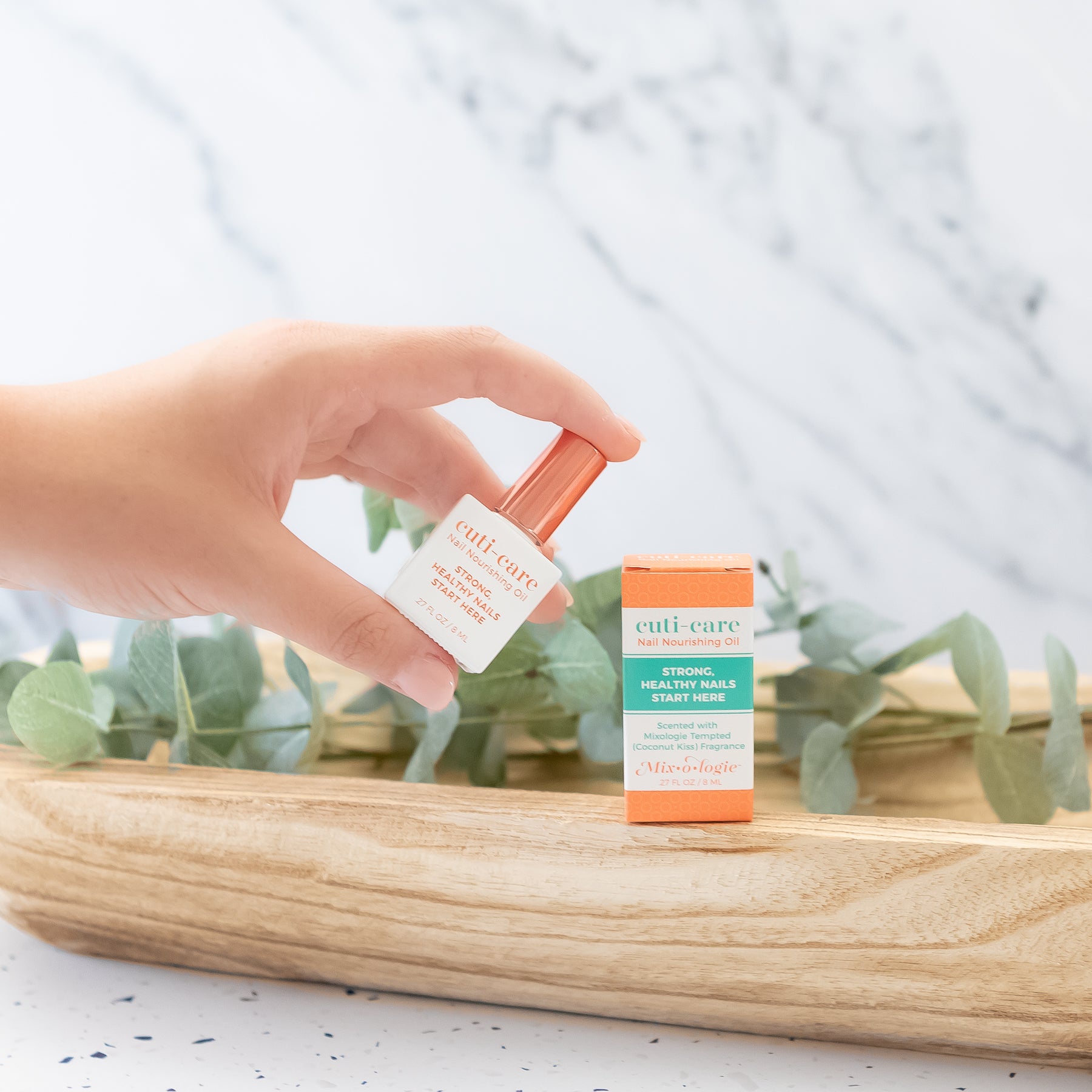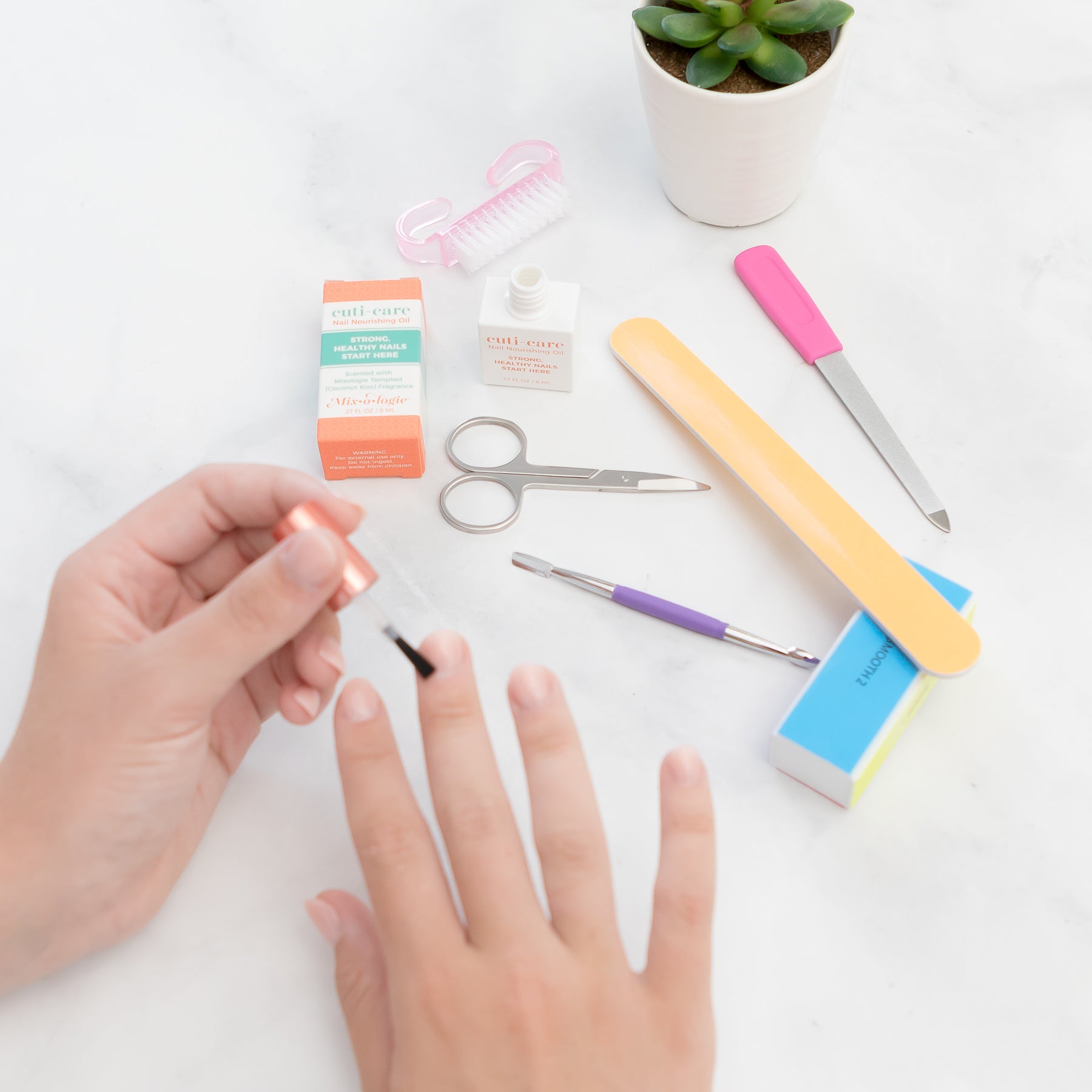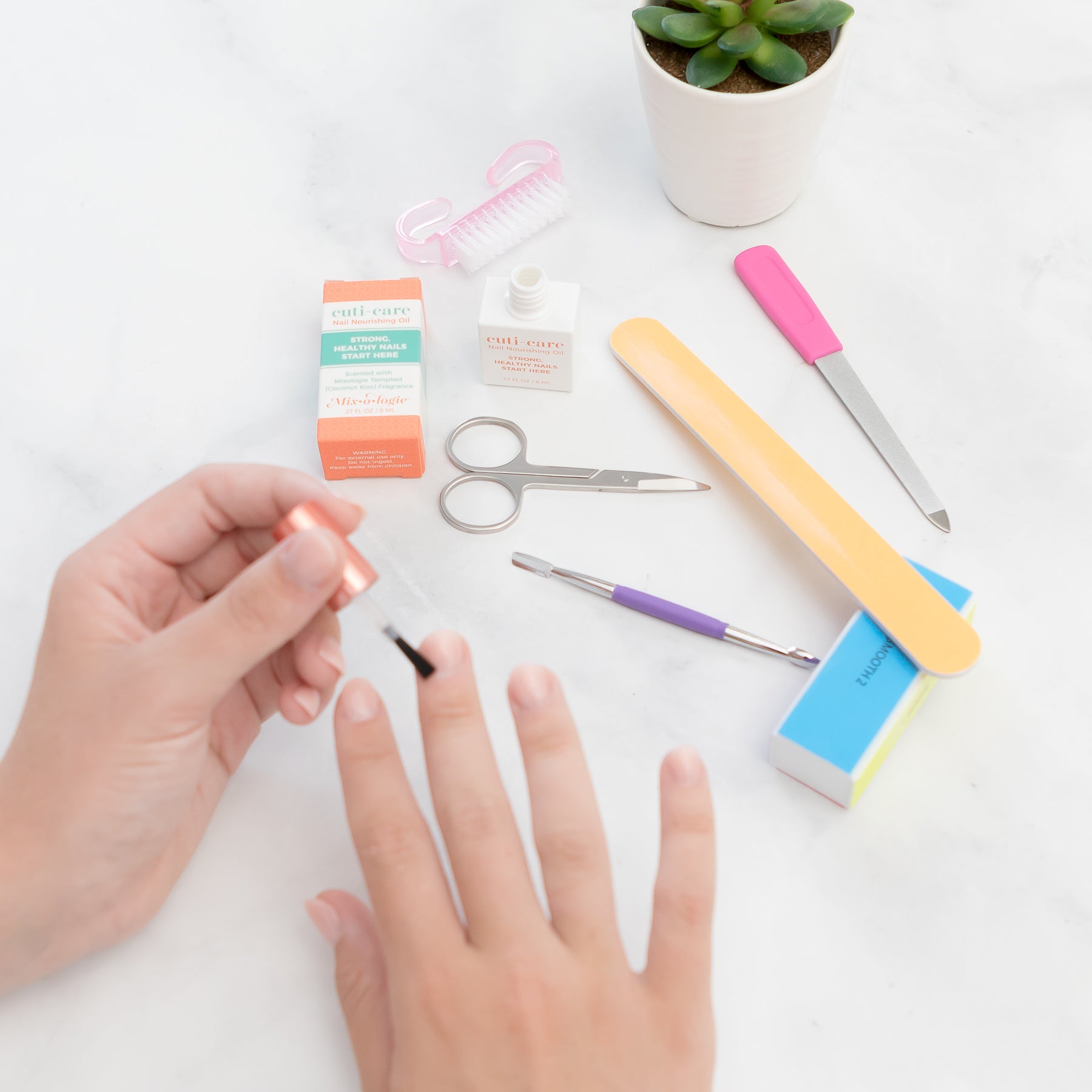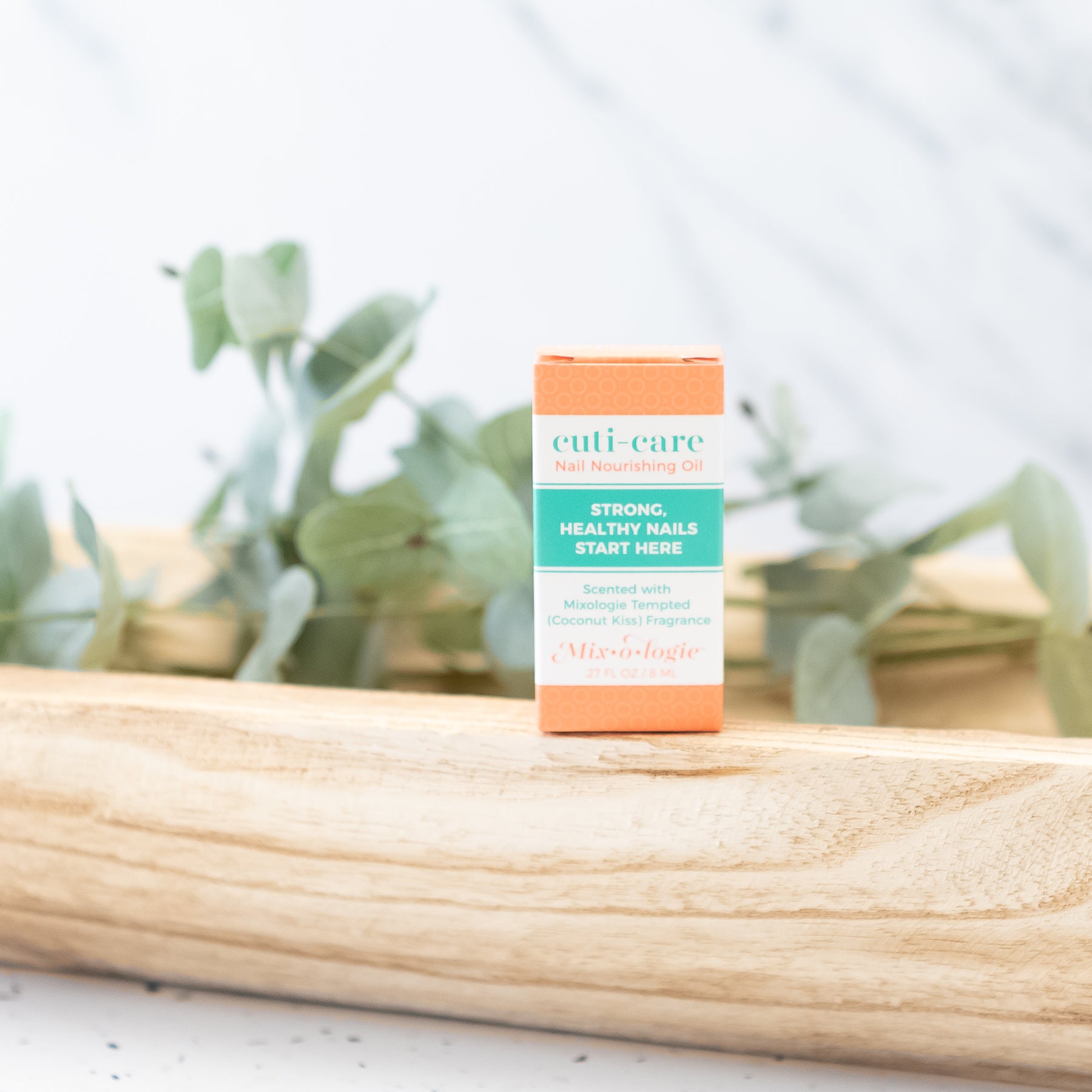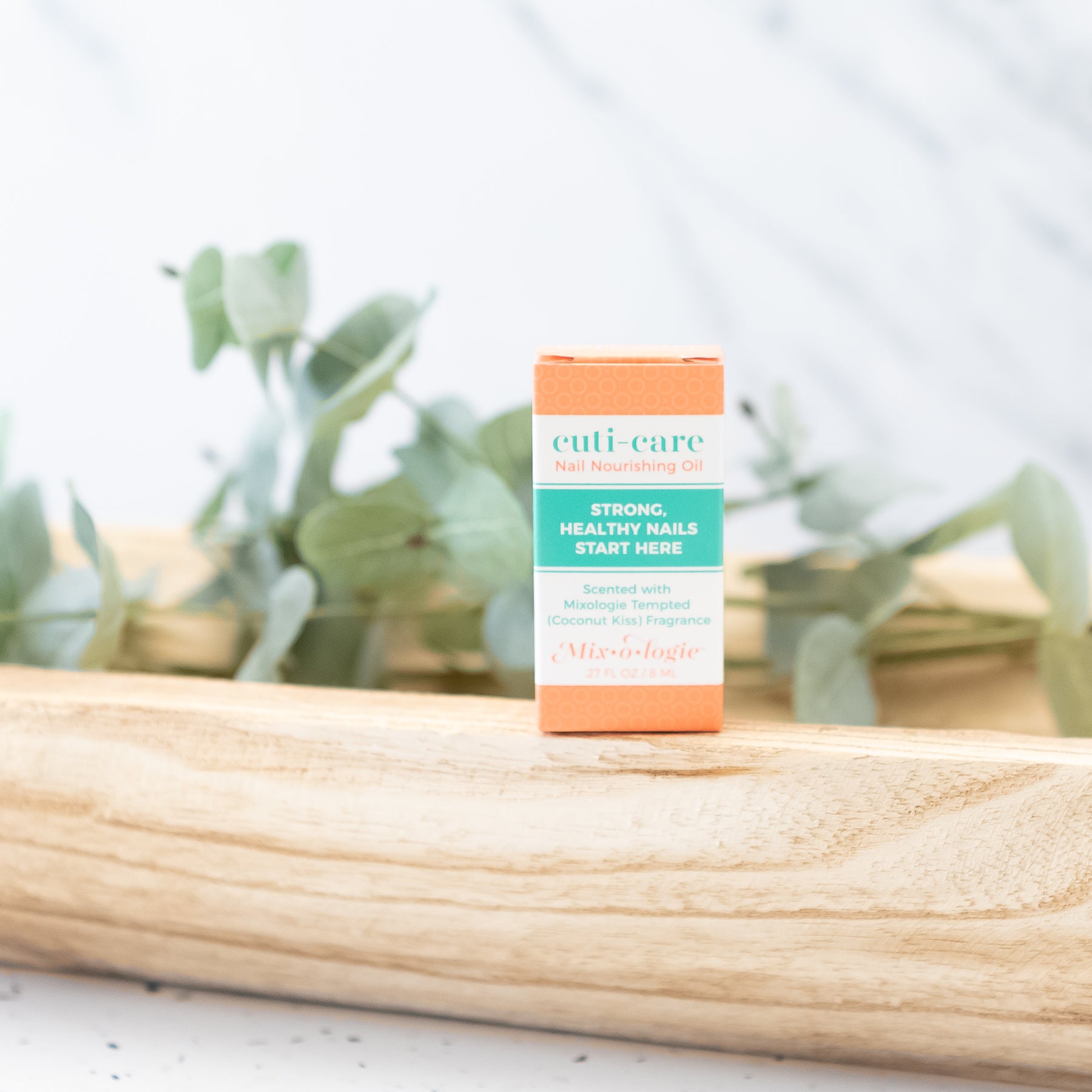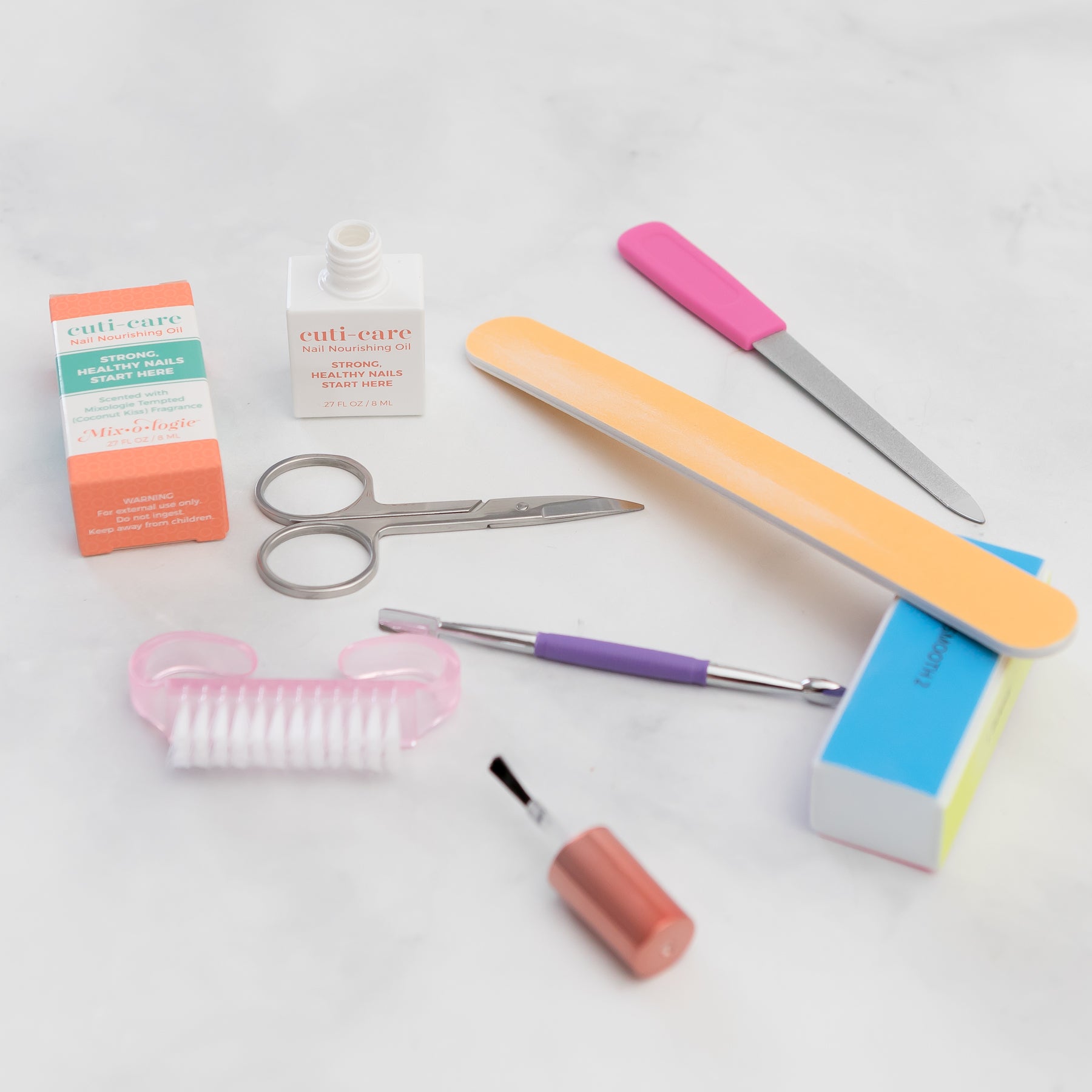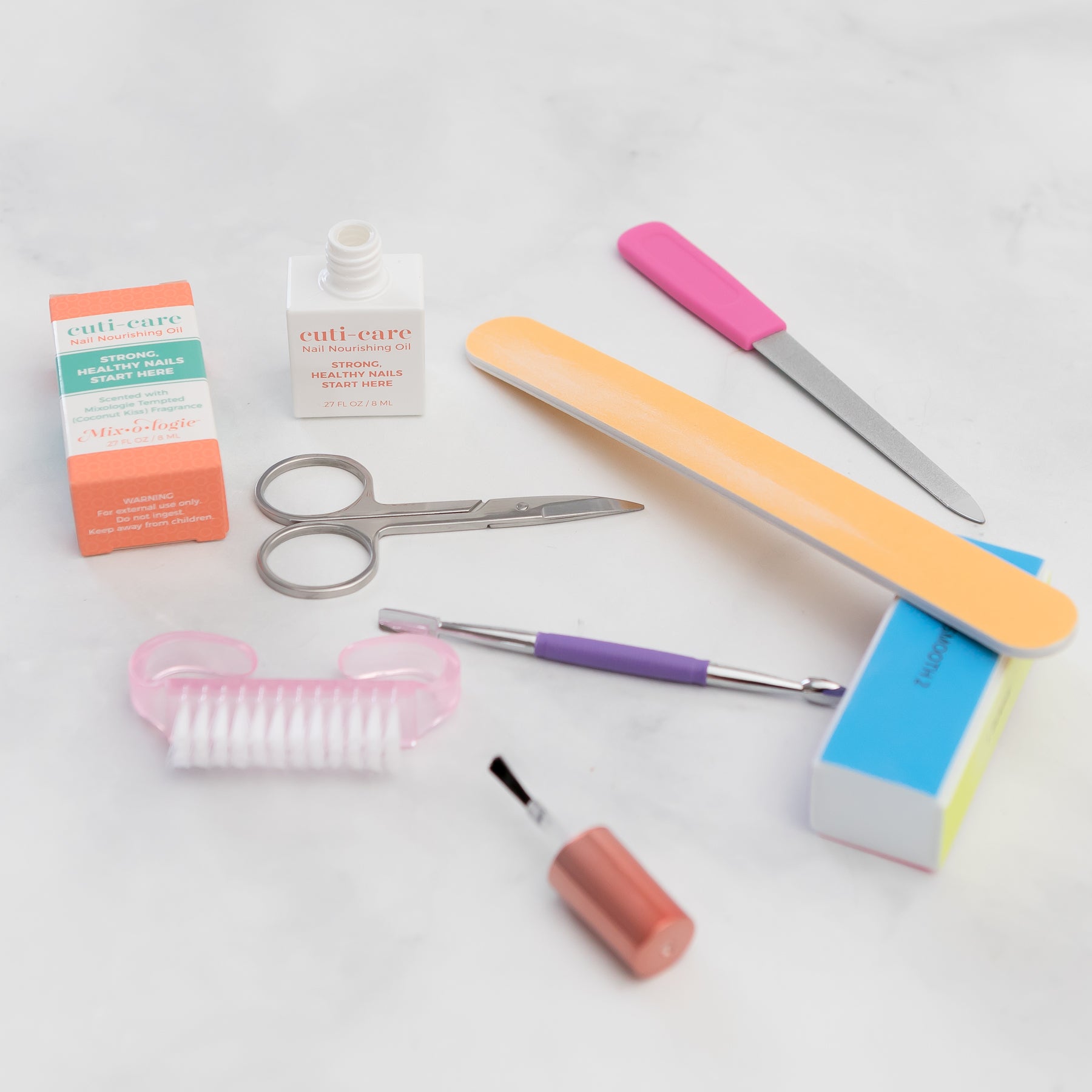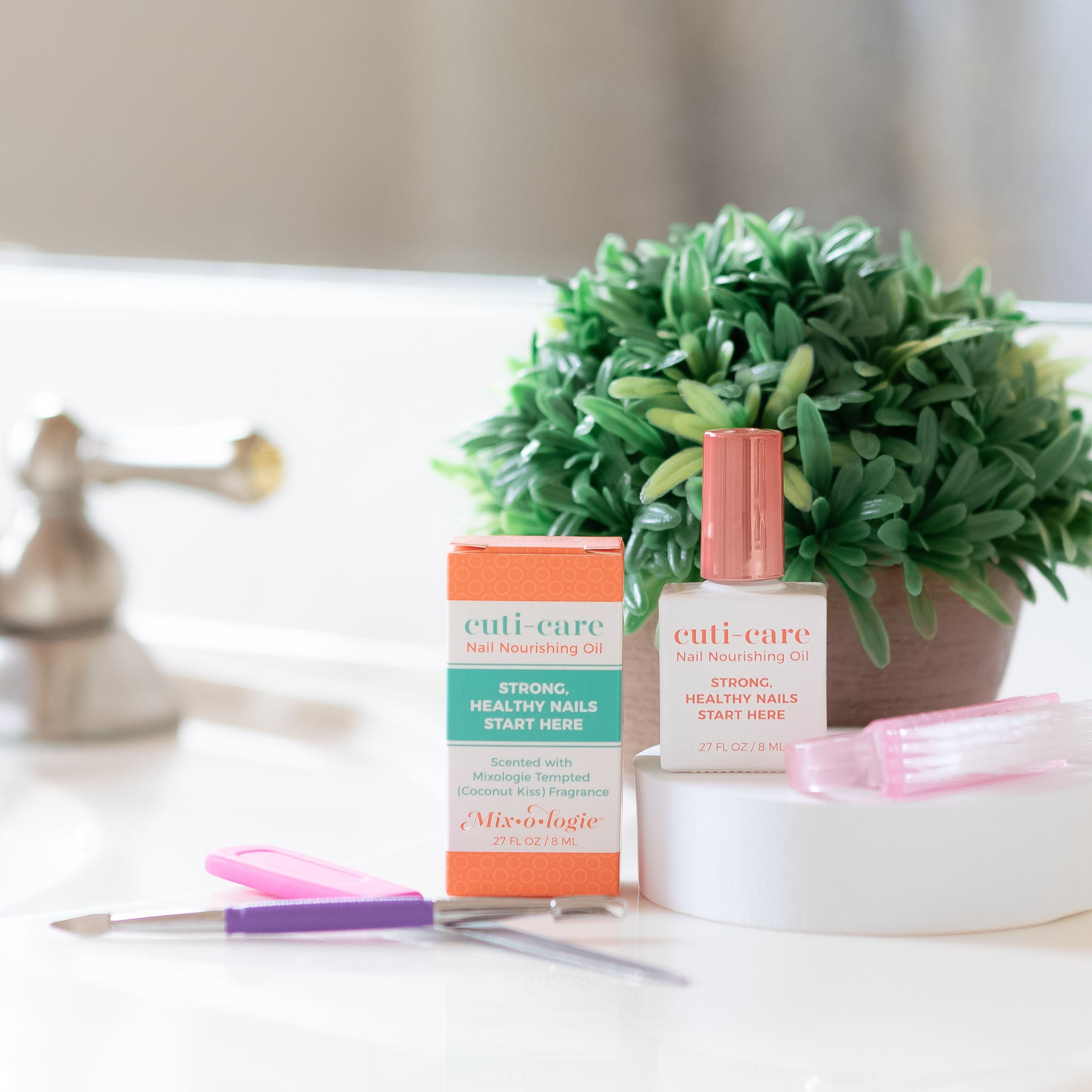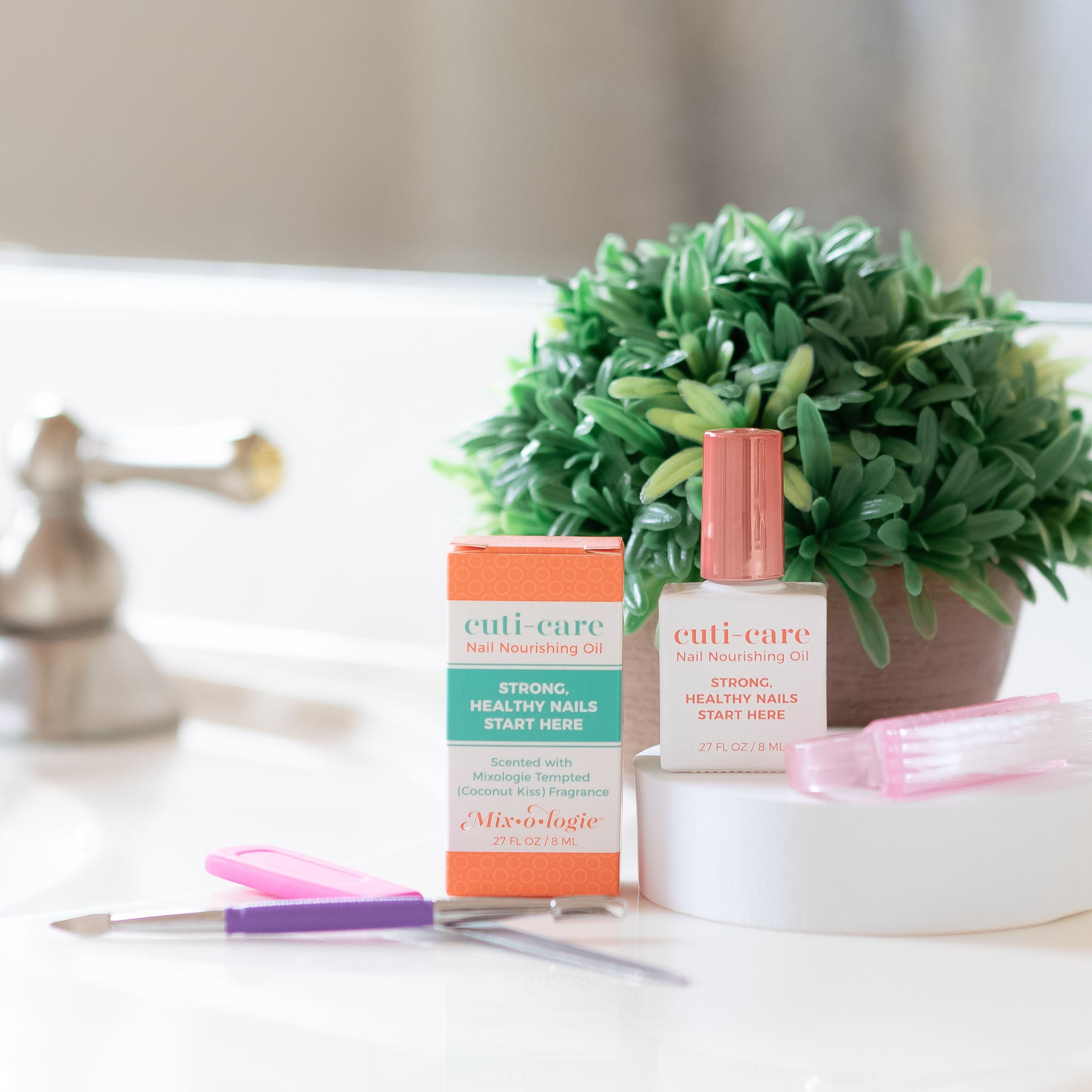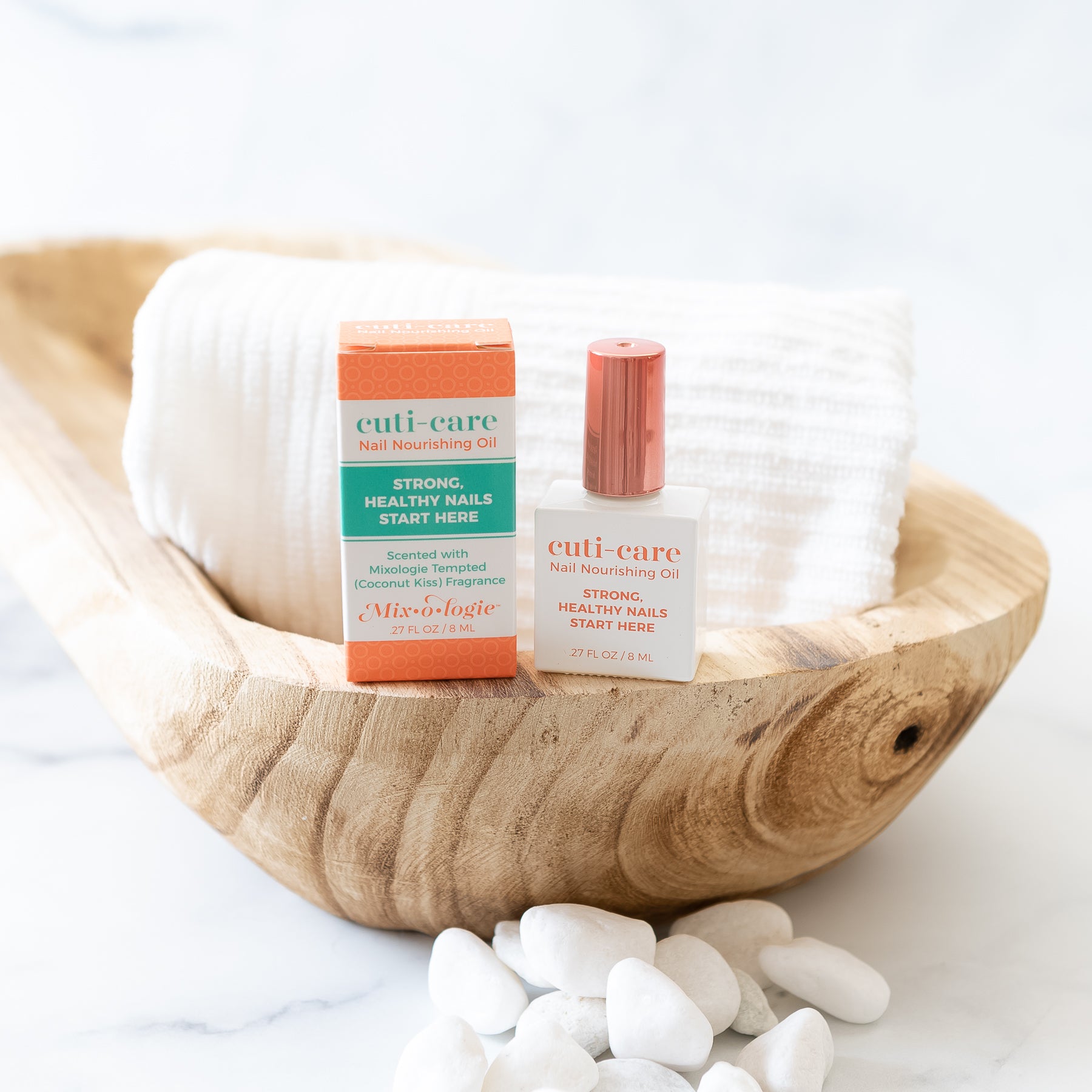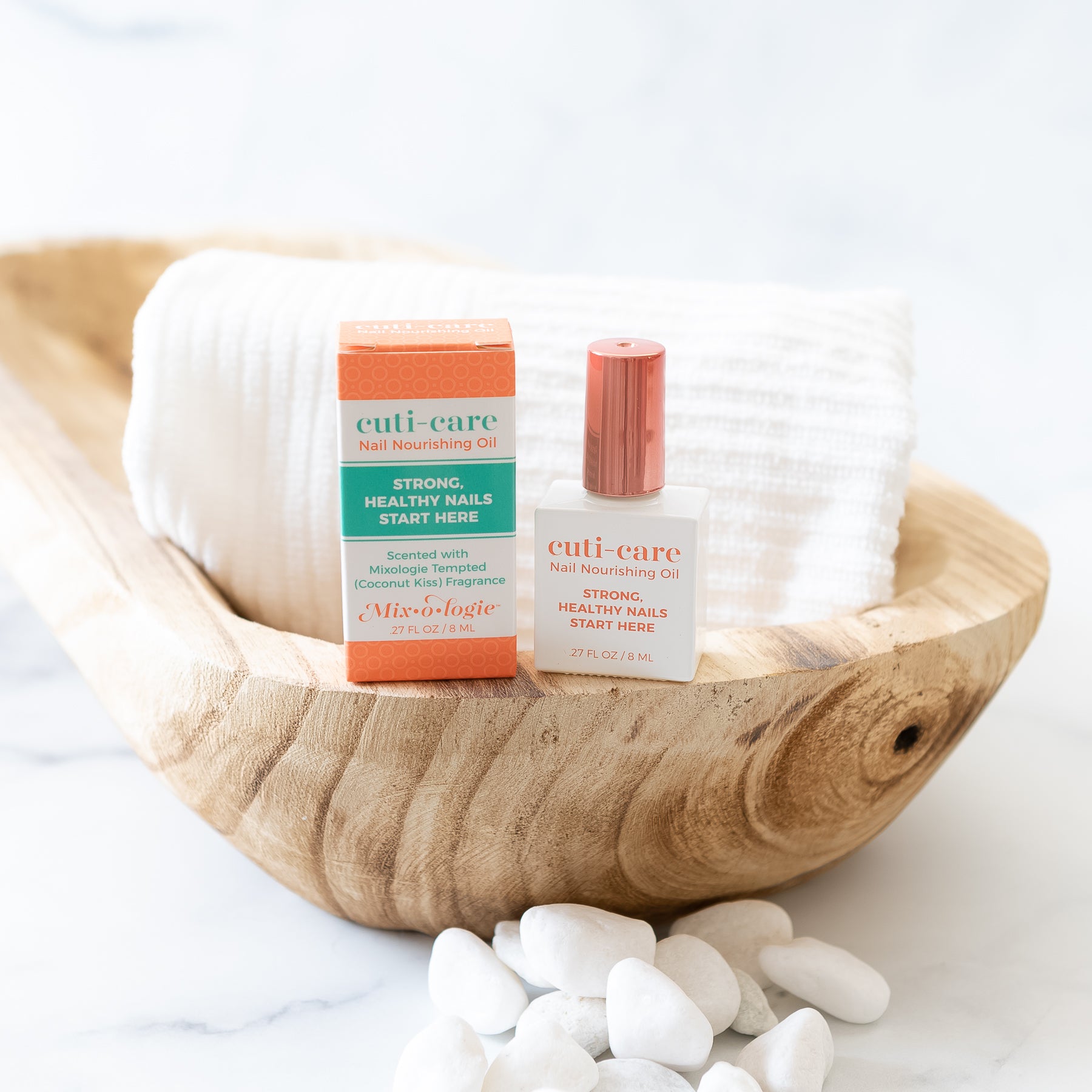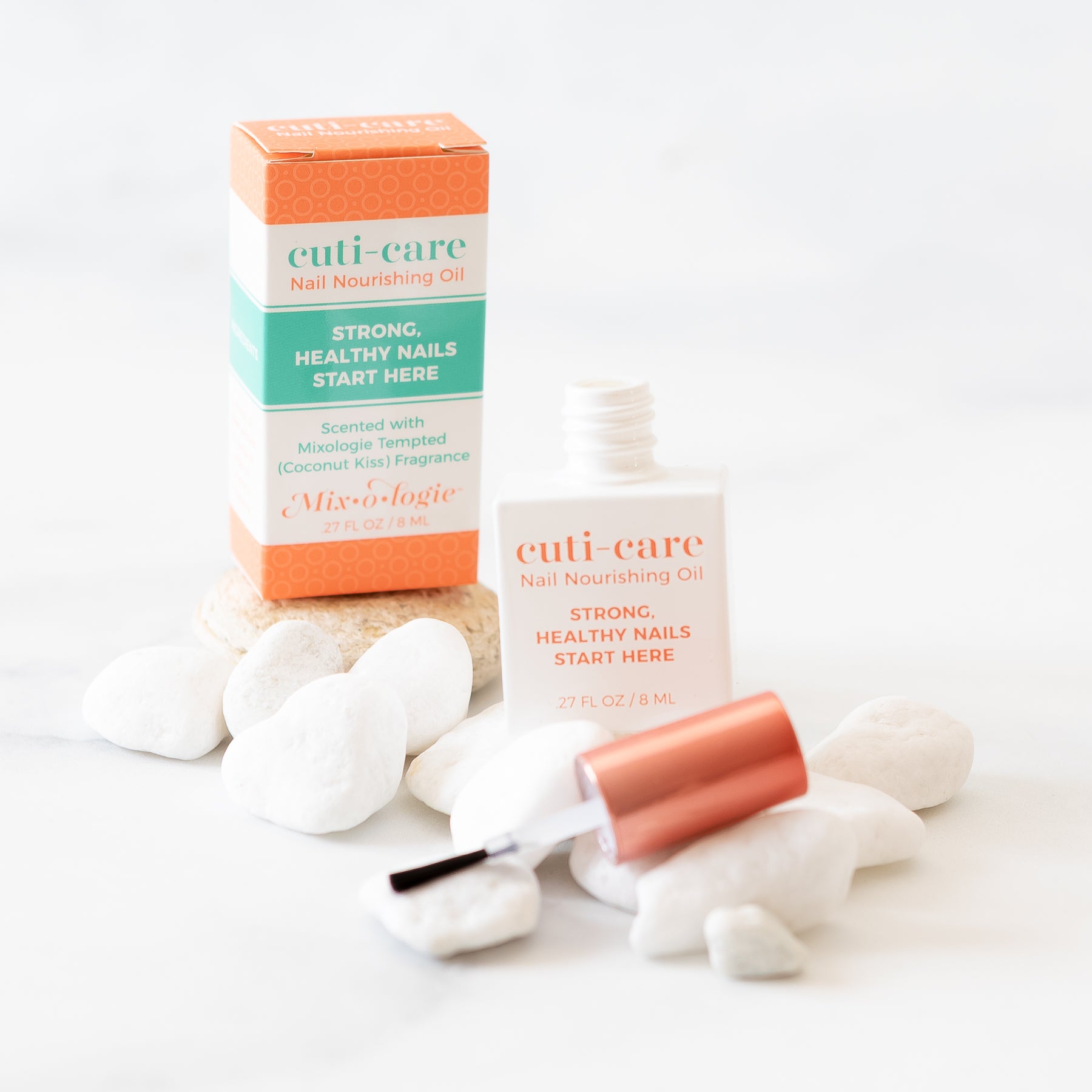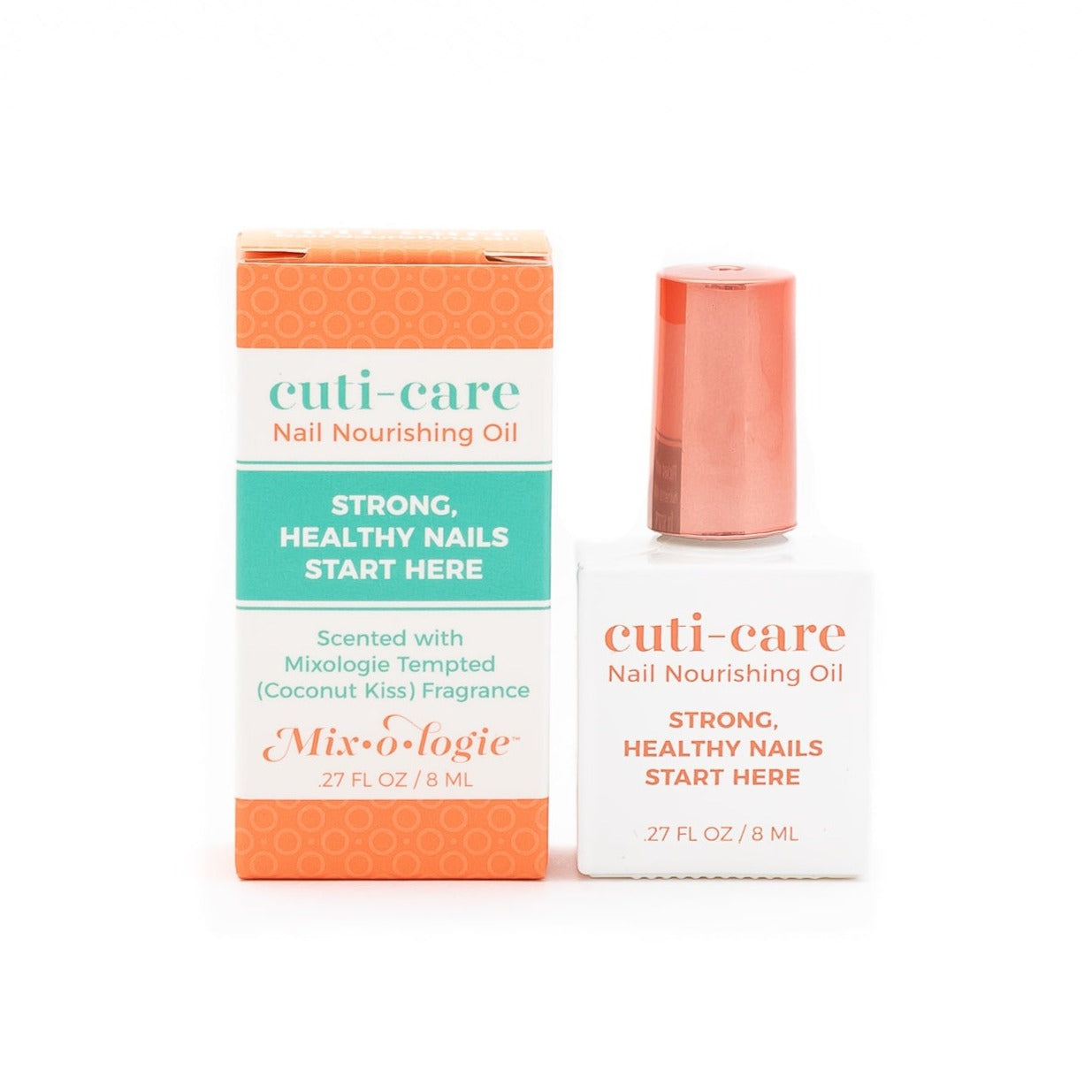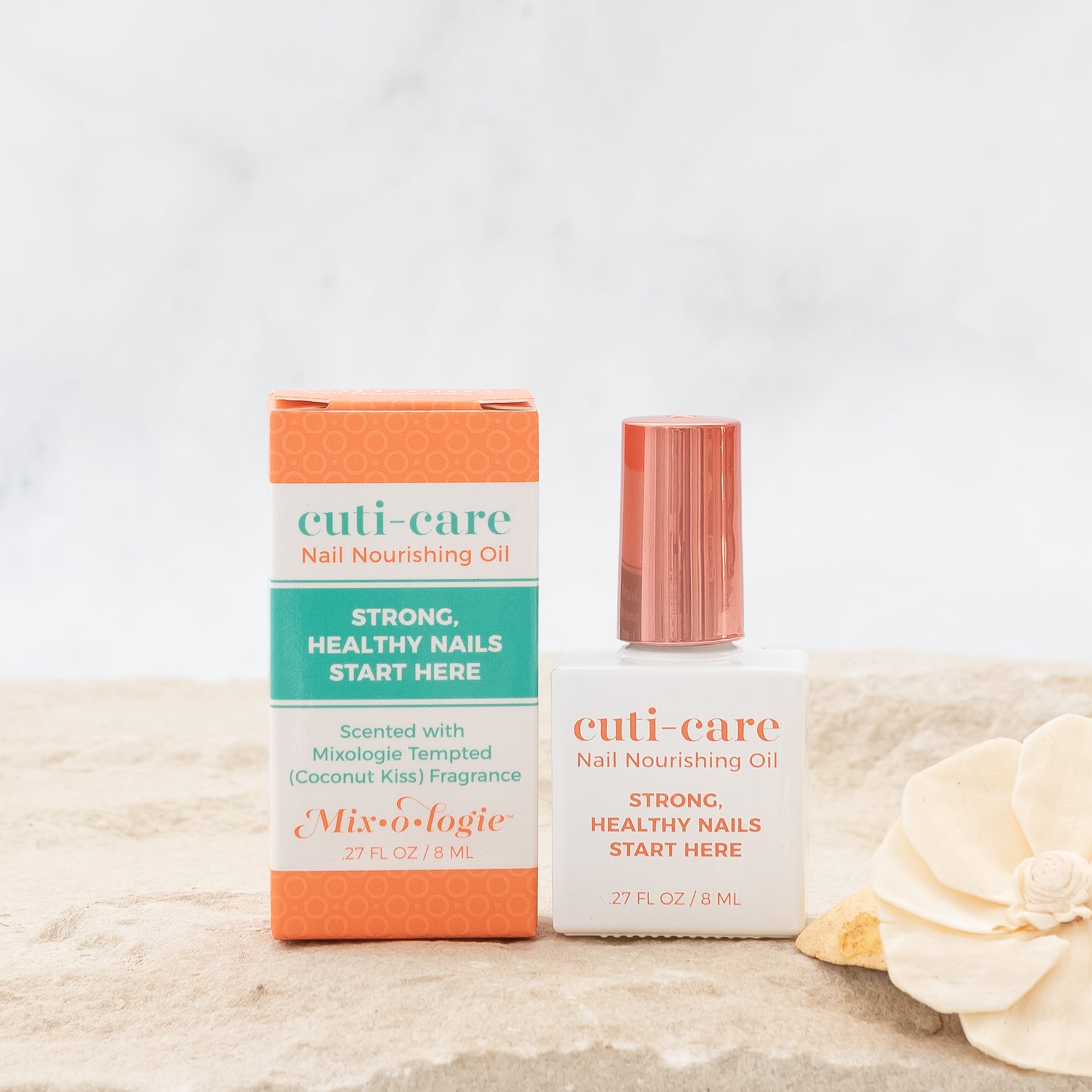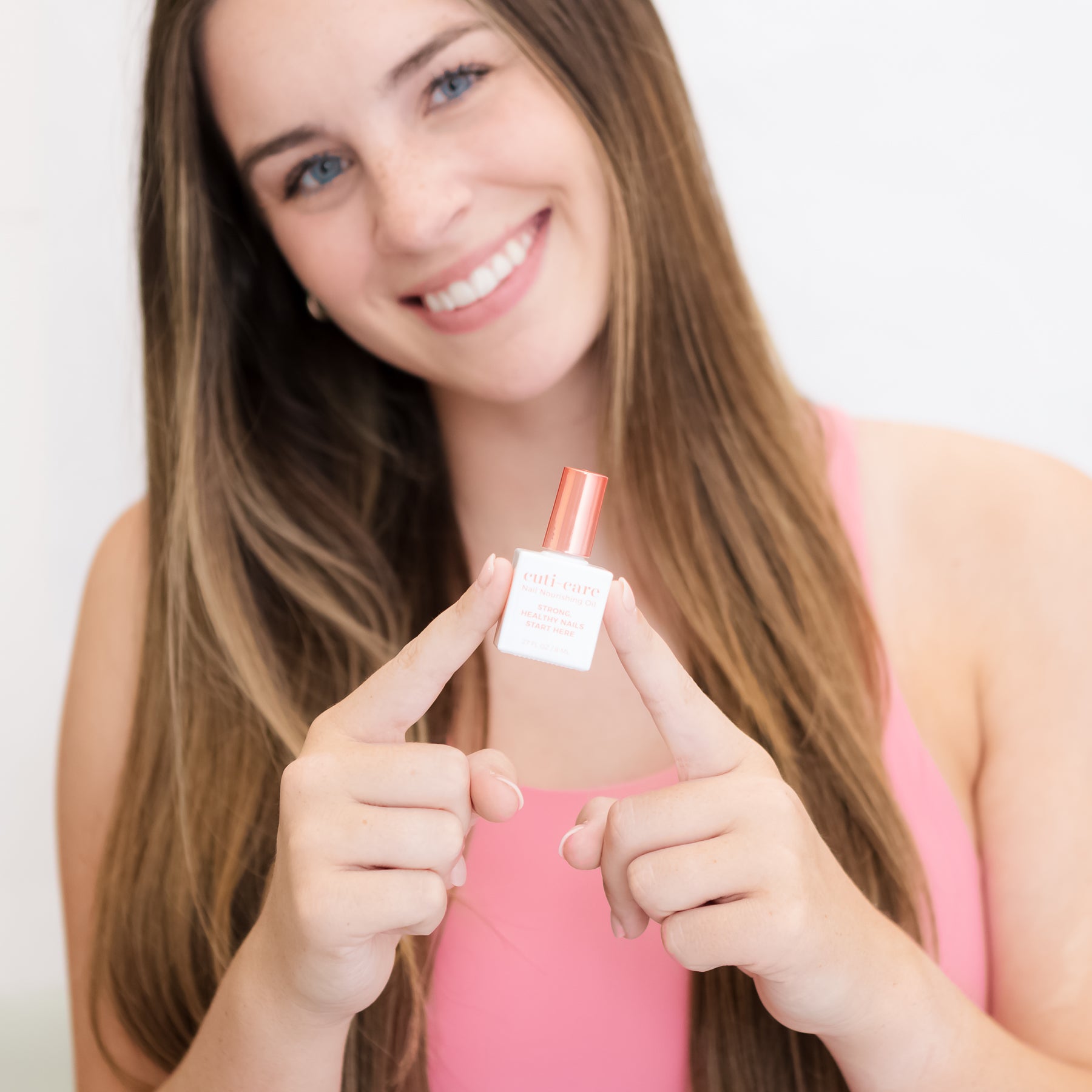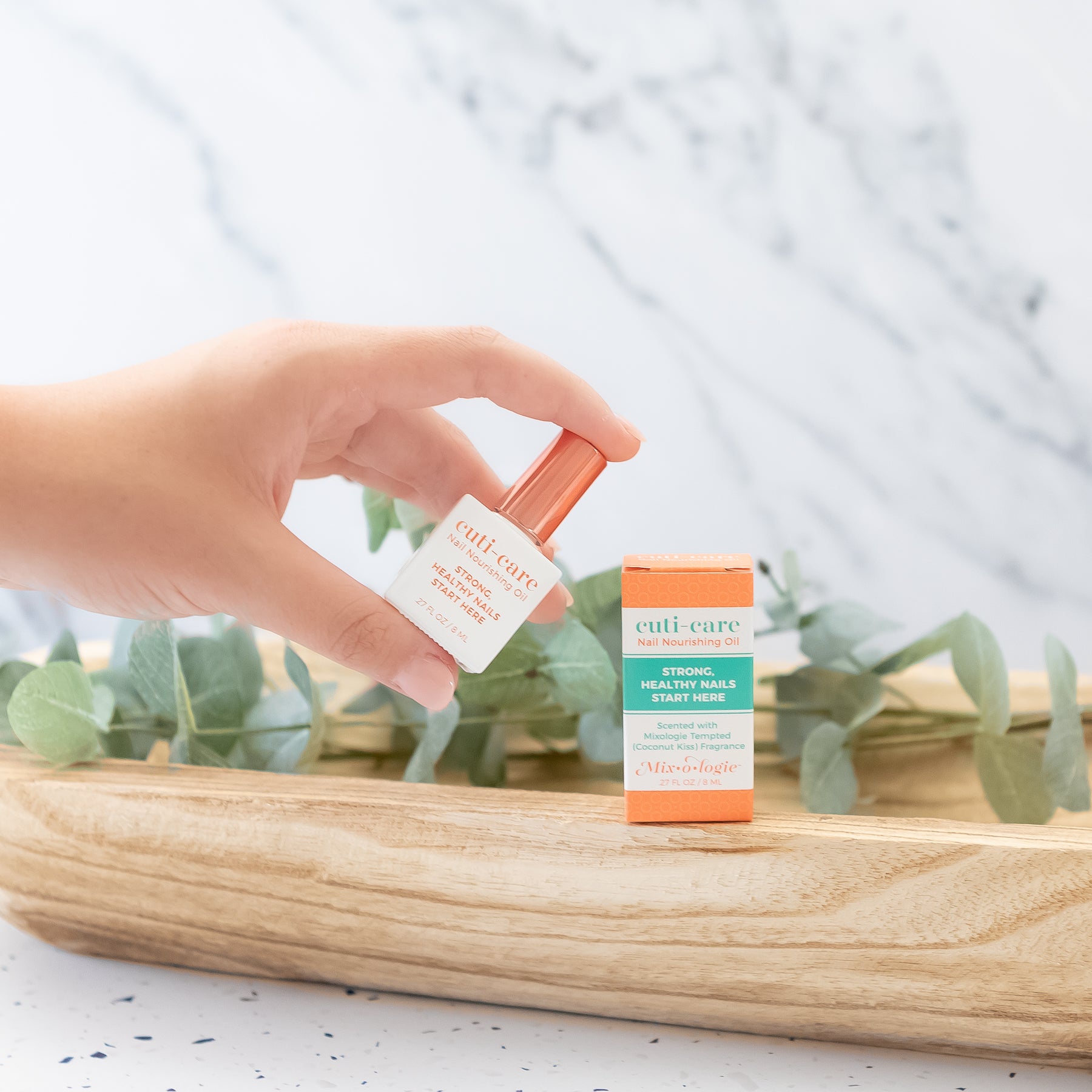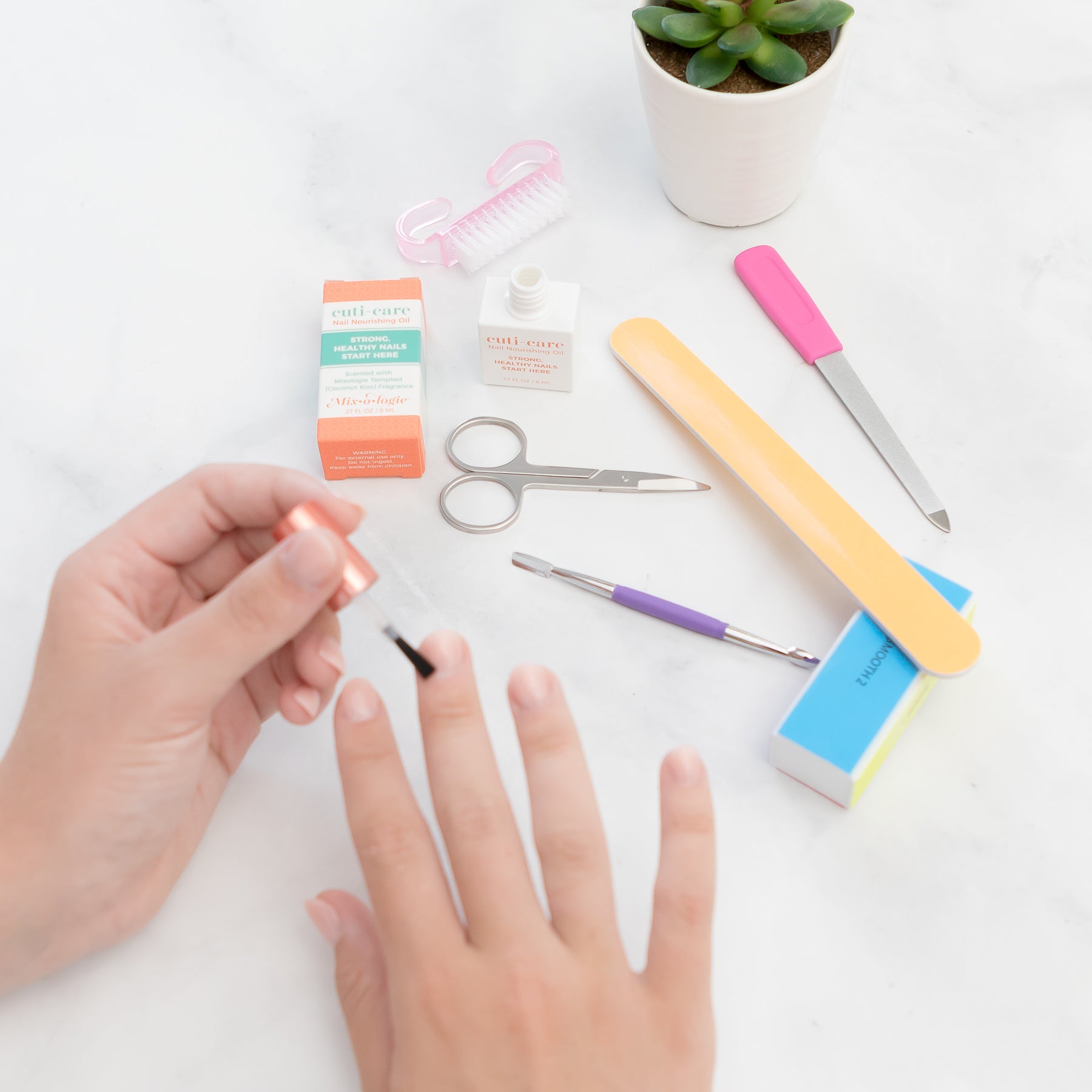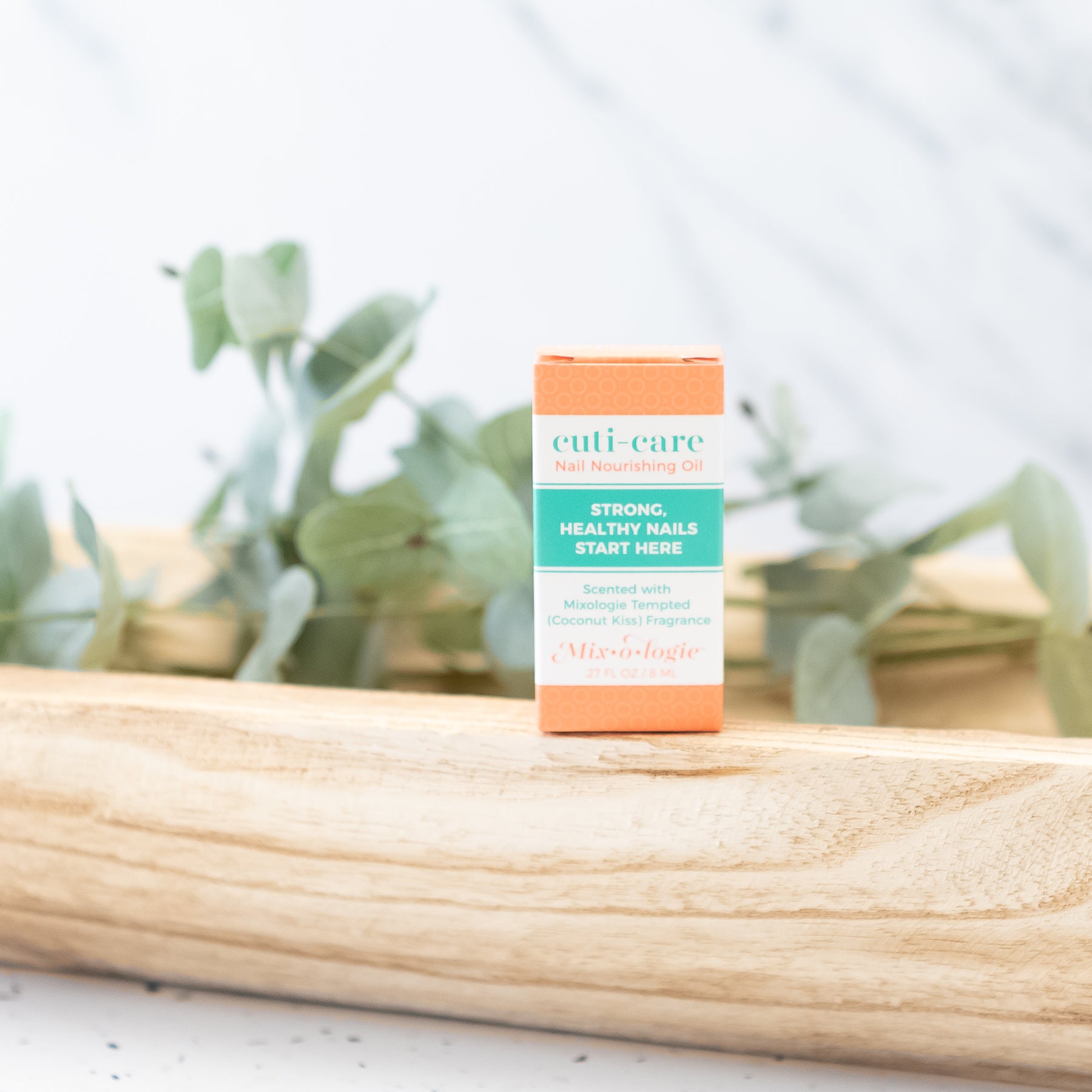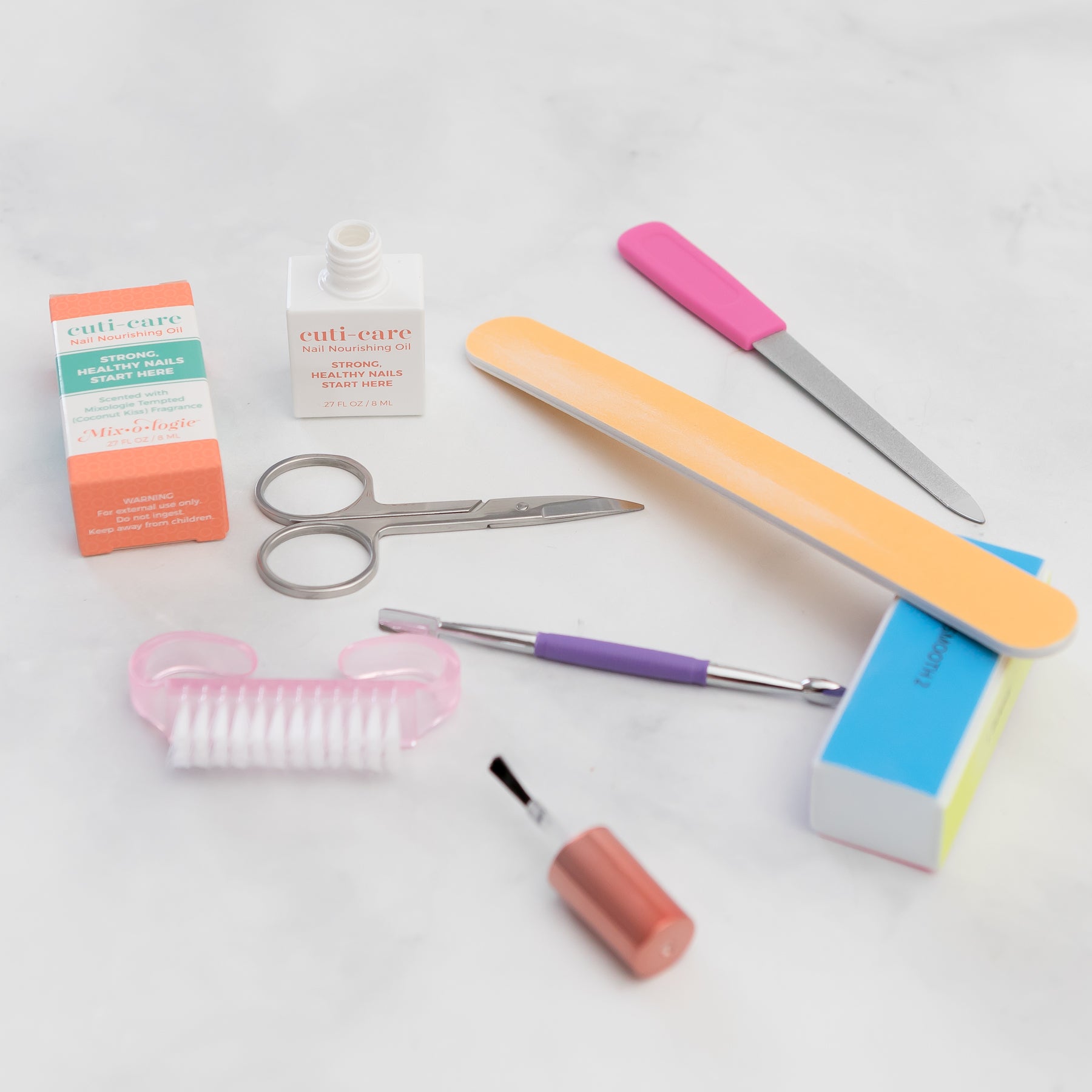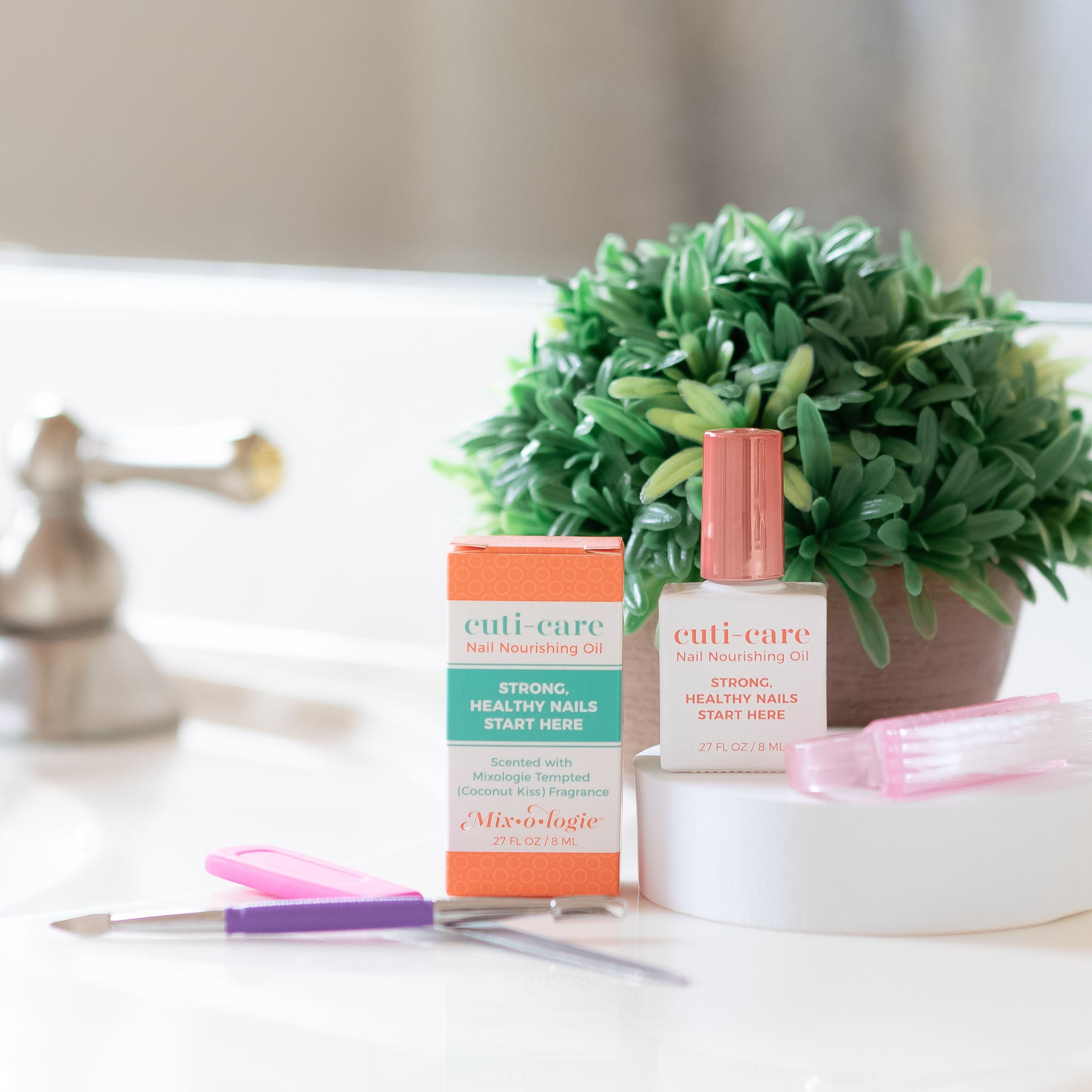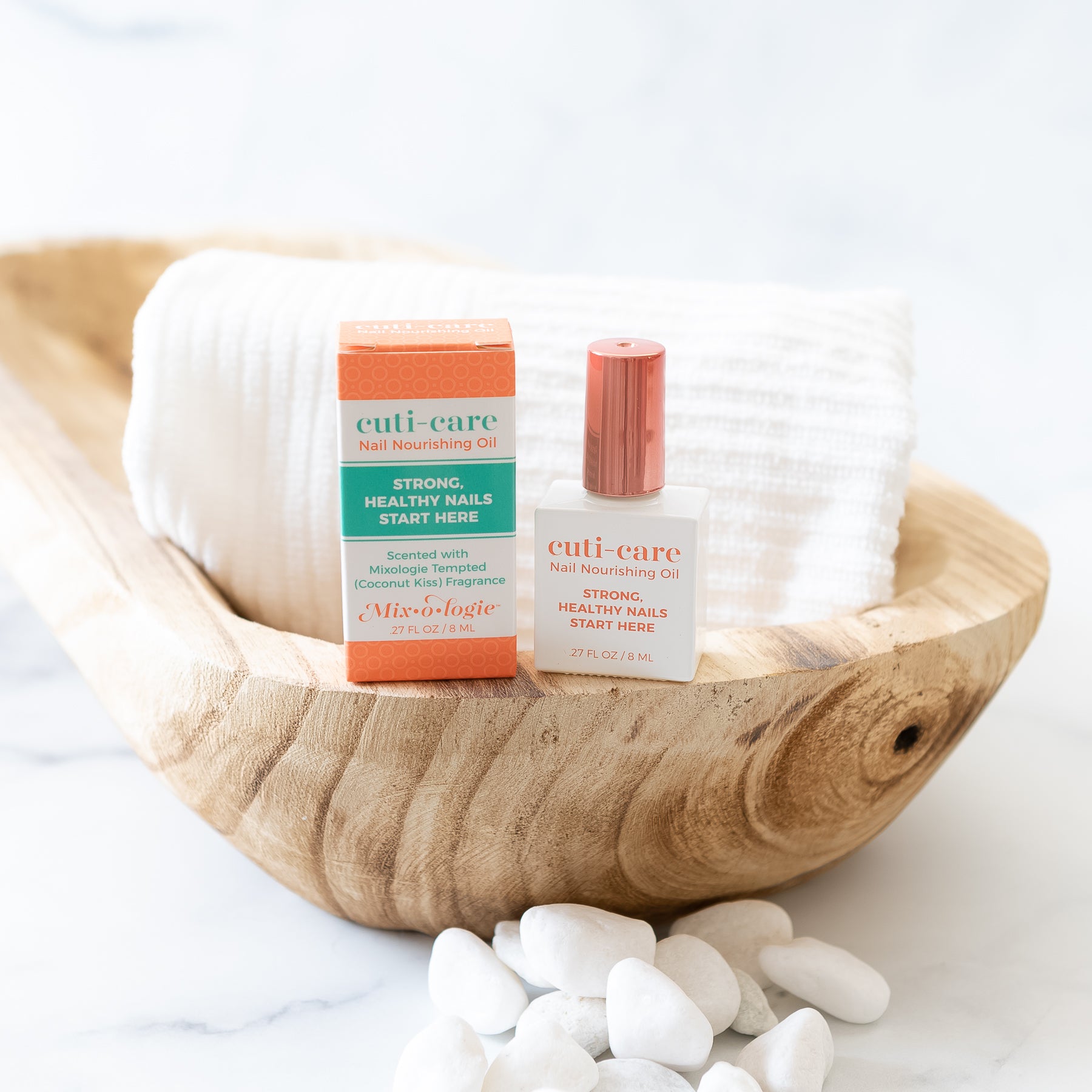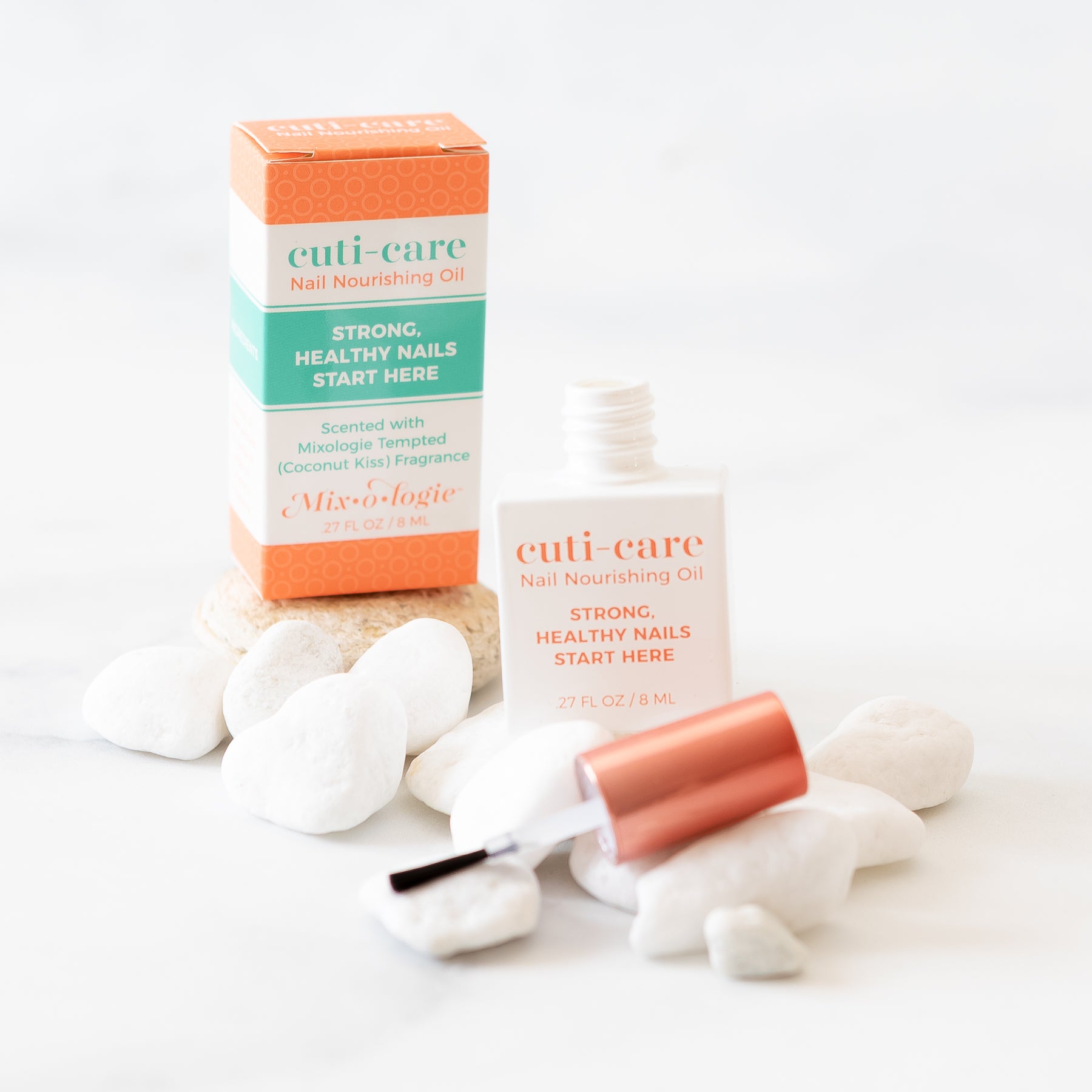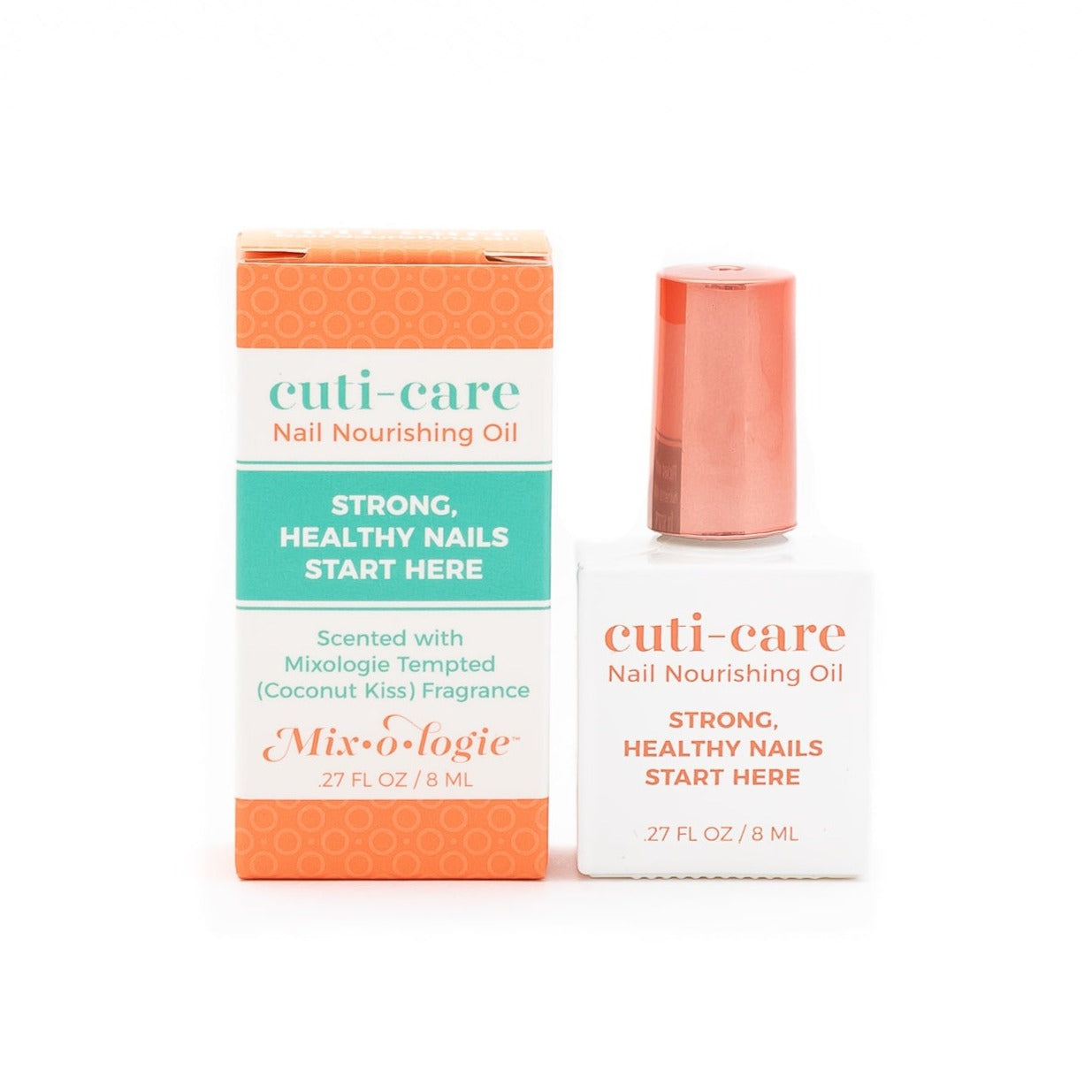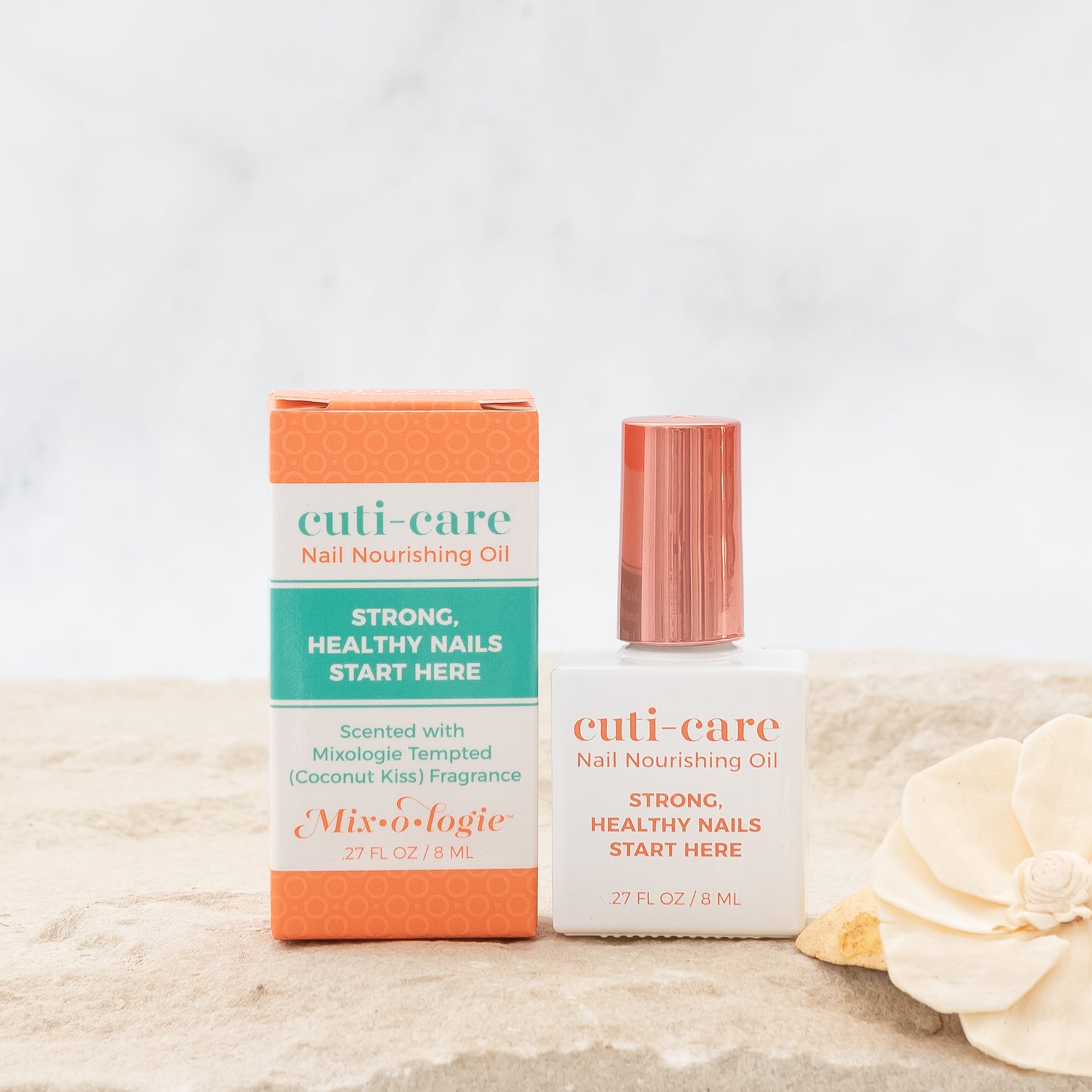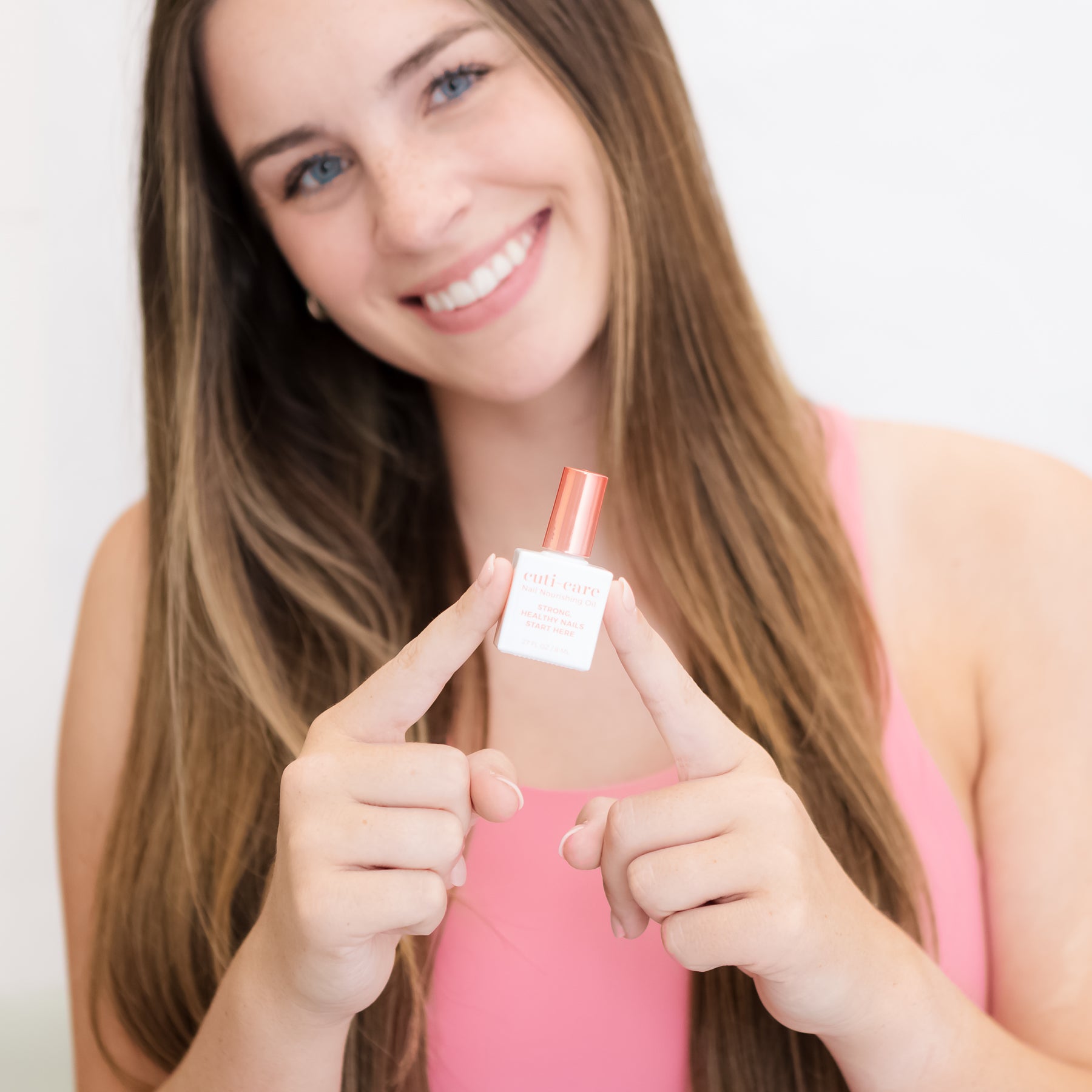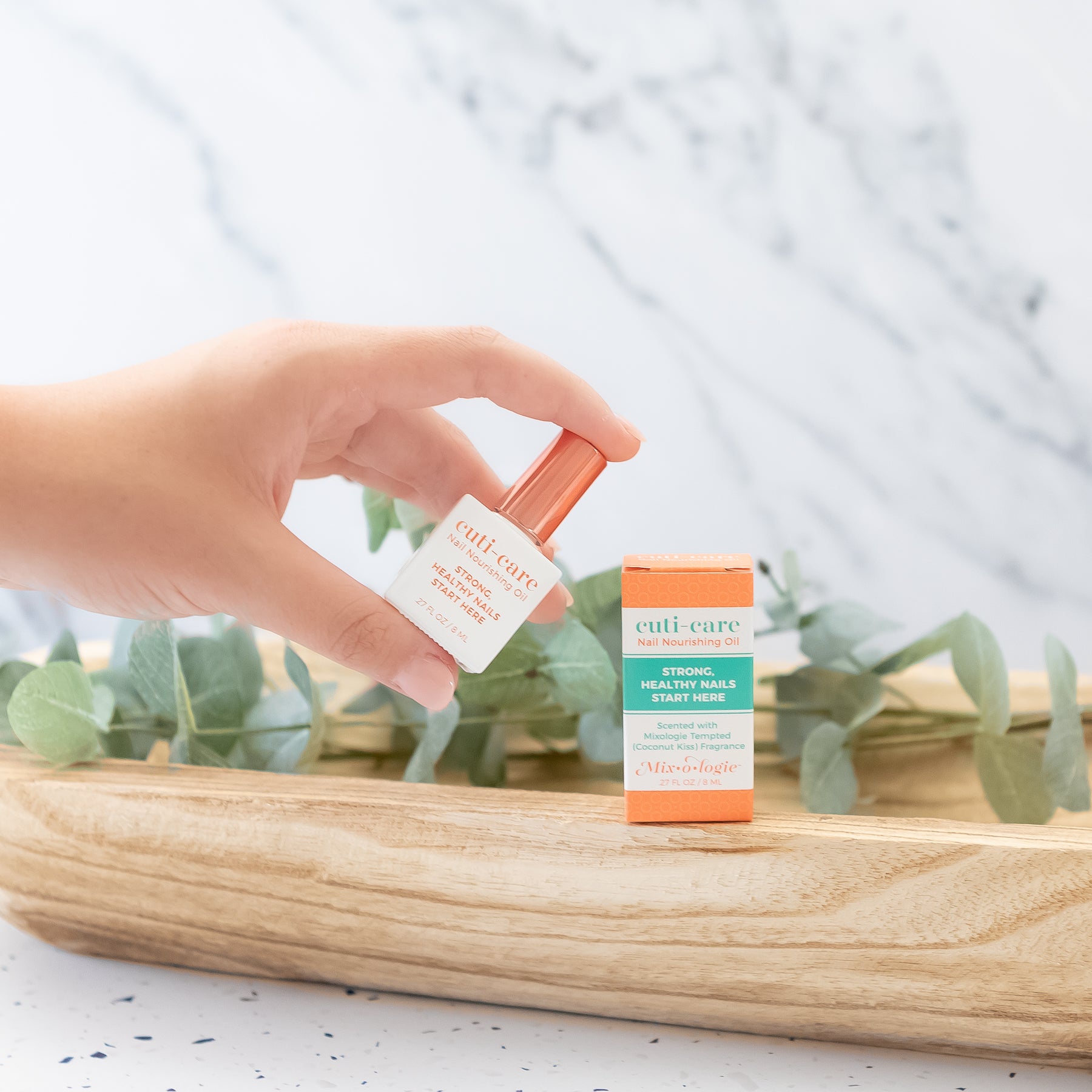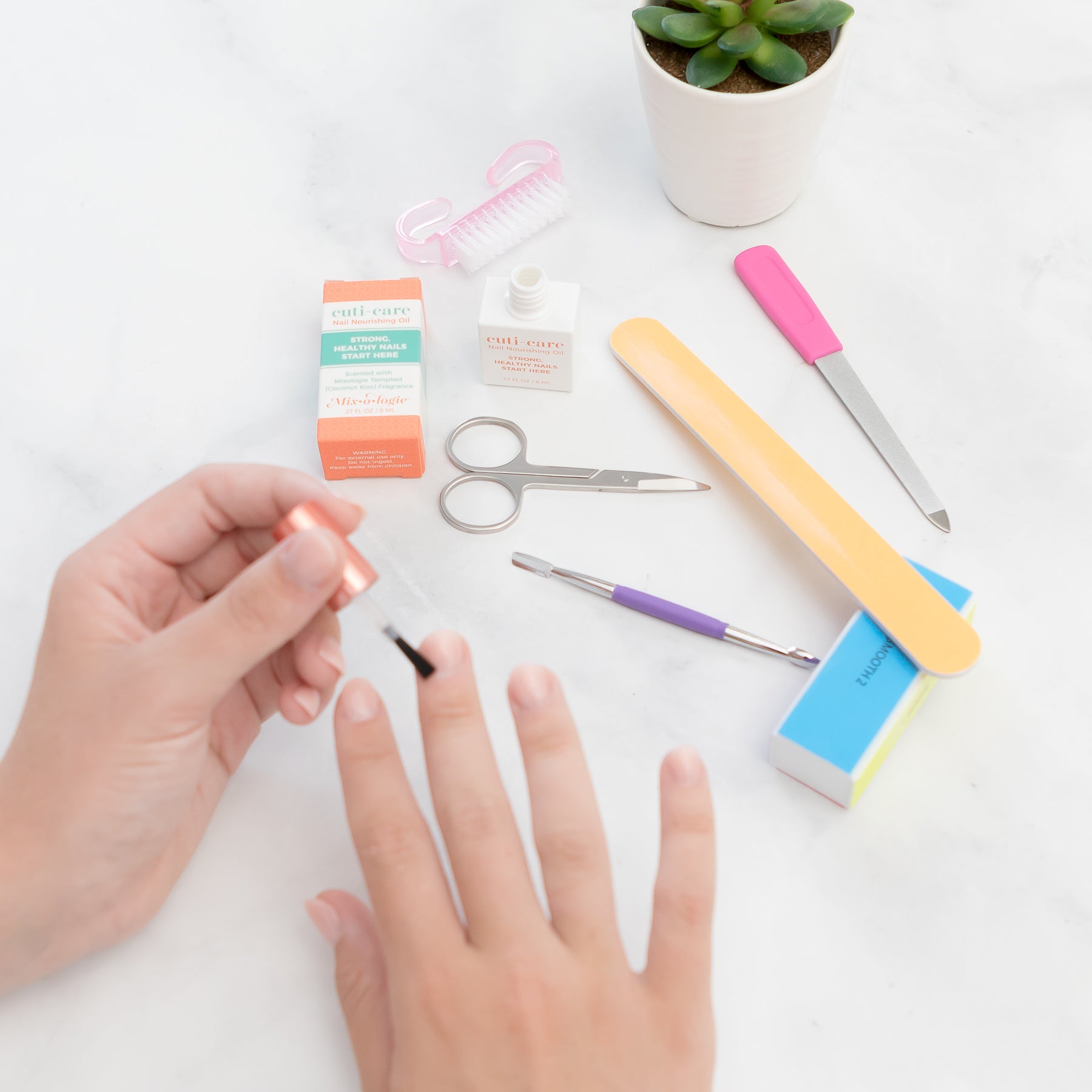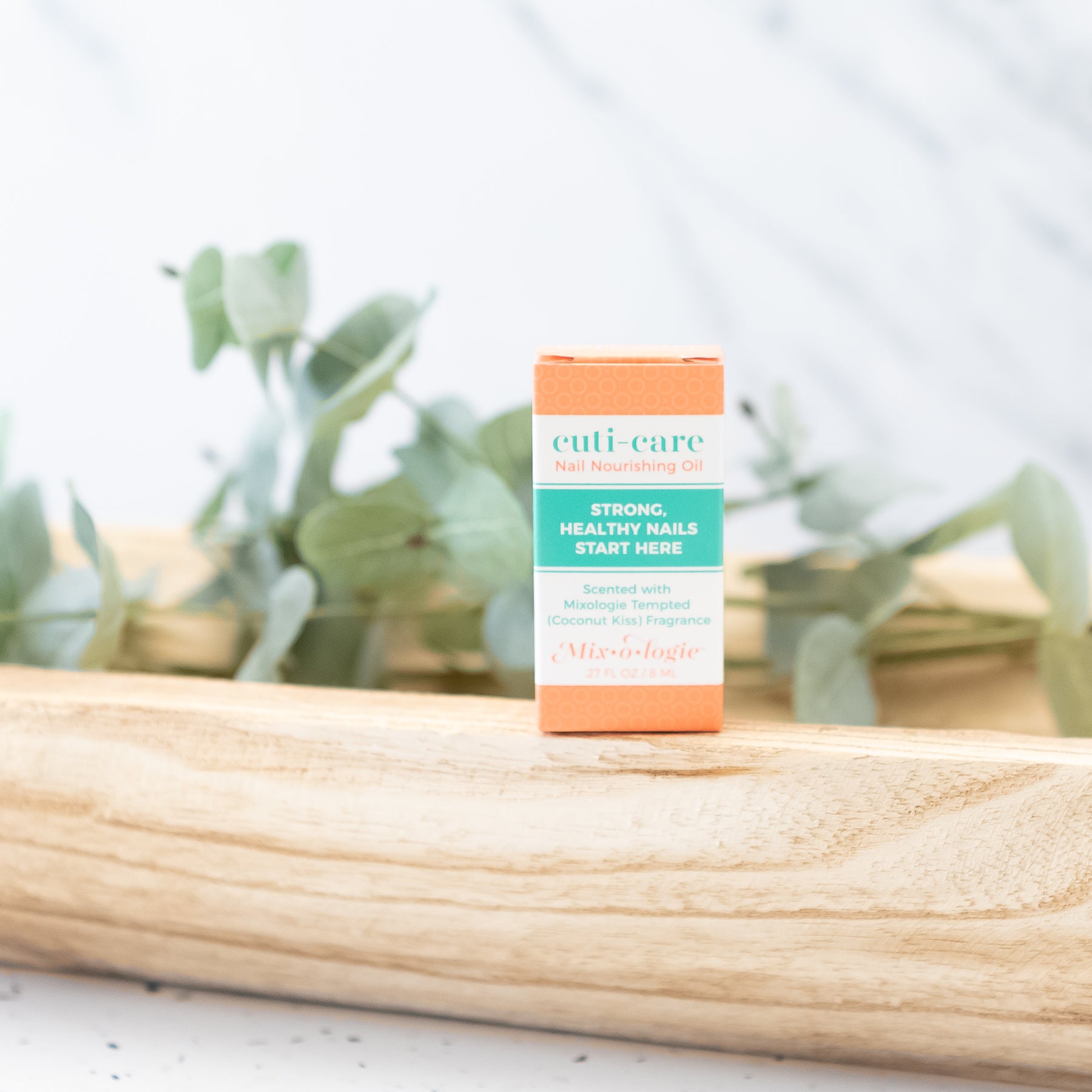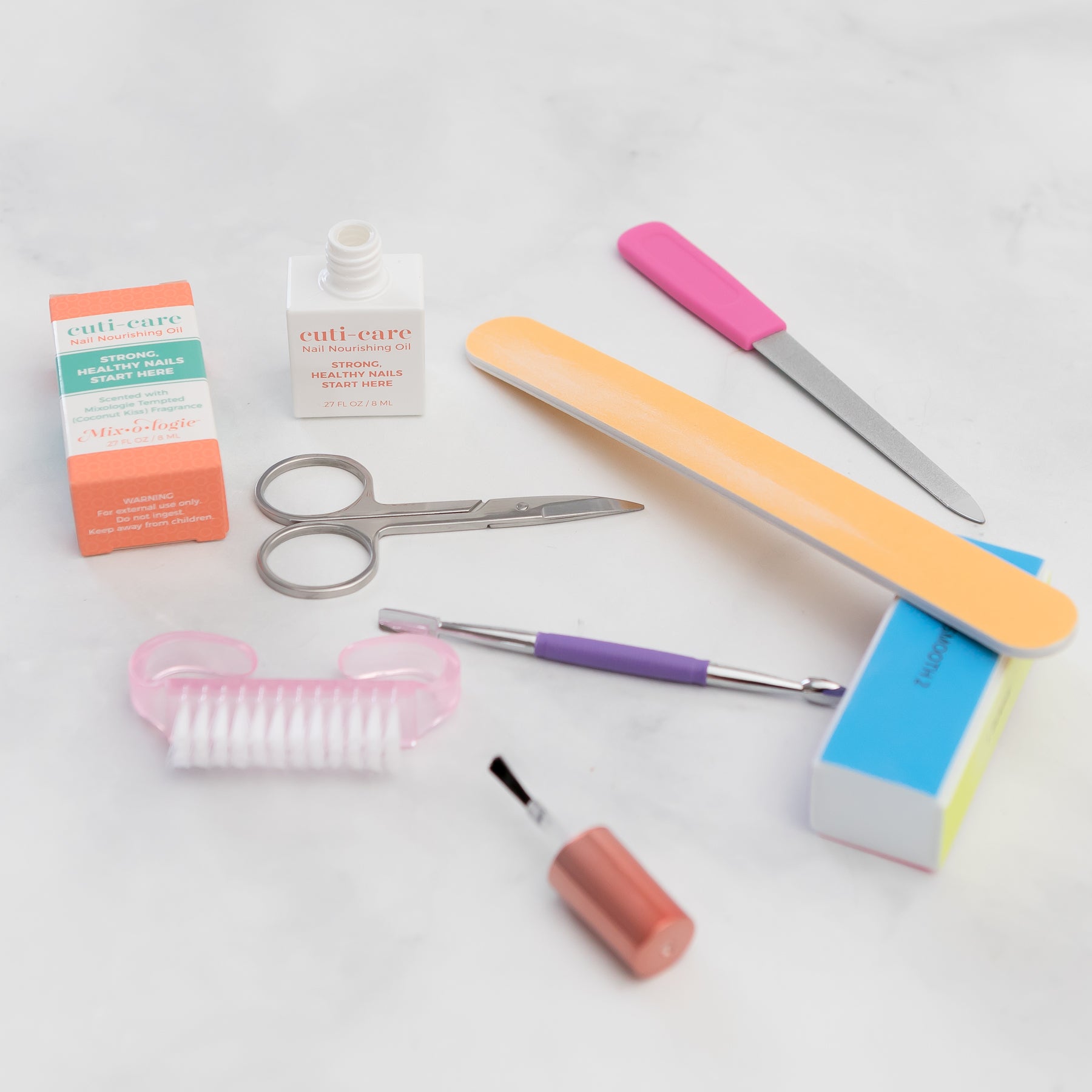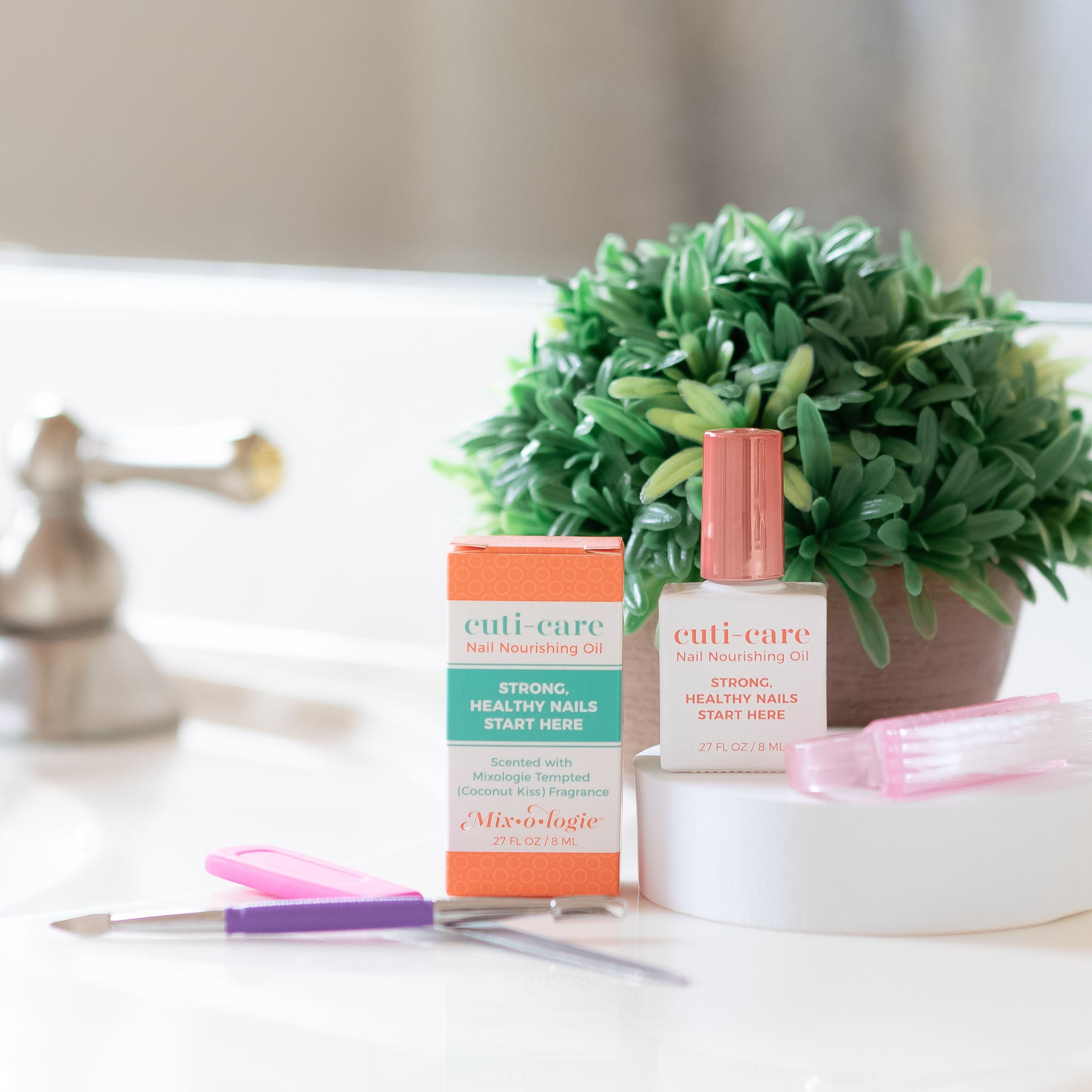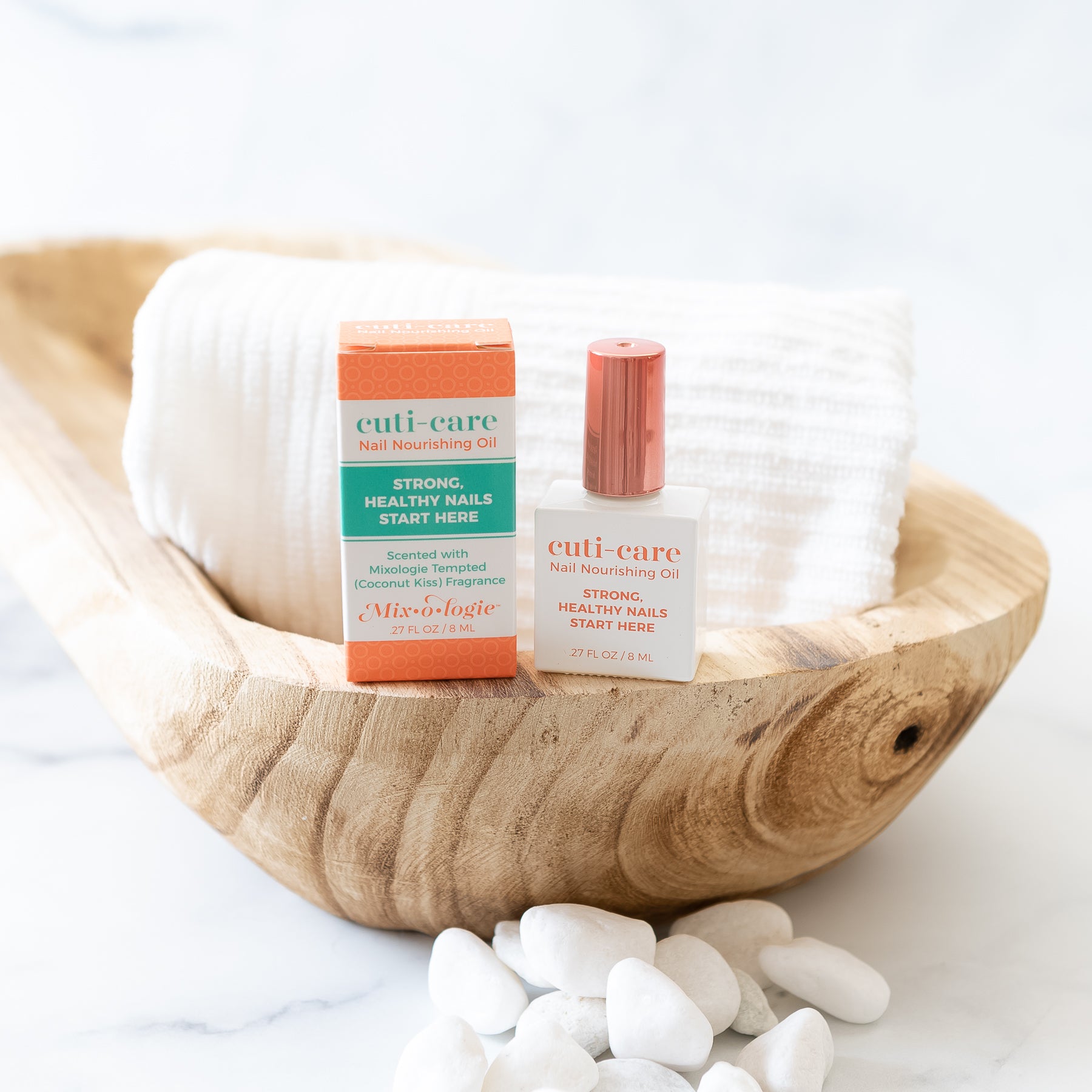 Cuti-Care Nail Nourishing Oil
Strong, Healthy Nails Start Here.
Softens cuticles to create the ideal environment for nail strength and growth.  
Packed with nutrients vital for strong, healthy nails.
Massage a few drops into each cuticle daily for best results.
Scented with Mixologie's Tempted (coconut kiss) fragrance - 
Hello, the BEACH is calling, and you're going to want to answer.  The scent also known as "beach in a bottle."  Get your tropical glow on with sugared pineapple, sun-kissed citrus and creamy coconut caressed by island breezes and swaying palms.  
Think Pina Colada meets White Sandy Beaches…and you're right in the middle of it all.
8 mL bottle
Ingredients:
Coconut oil, Sweet Almond oil, Jojoba oil, Argan oil, Vitamin E, Fragrance
 Benefits of Daily Use:
Hydrates the cuticles, strengthening weak and vulnerable nail plates.

Daily use keeps the skin and nails supple, which can prevent hangnails and nail breakage.
Creates the ideal environment for nail growth.

Just as with hair, long nails are healthy nails.
Adds shine. The rich oils coat the skin and amplify the shine while protecting your mani from premature chipping or cracking.
Beautifully scented with a sweet blend of pineapple and coconut fragrances to encourage daily use.
Cuticle review
This is a great smelling product. It's helped my cuticles so far.
My favorite cuticle oil!!
I love everything about this cuticle oil!! My nails look great and the smell is amazing 🥰
Cuticle oil
It works like wonders. Keep my cuticles moist all day. Highly recommend buying
Great Product!
I work in a warehouse packing boxes, so my nails are always dry and damaged. This cuticle oil saved me. I'm honestly not a fan of the fragrance Tempted but this stuff is amazing. My cuticles and nails are soft yet strong. Would definitely recommend.
Great Product
I have been using this just at night and I have noticed a big difference in the way my nails feel - stronger and I have even used on my toenails and it has really helped the dryness of the fall season!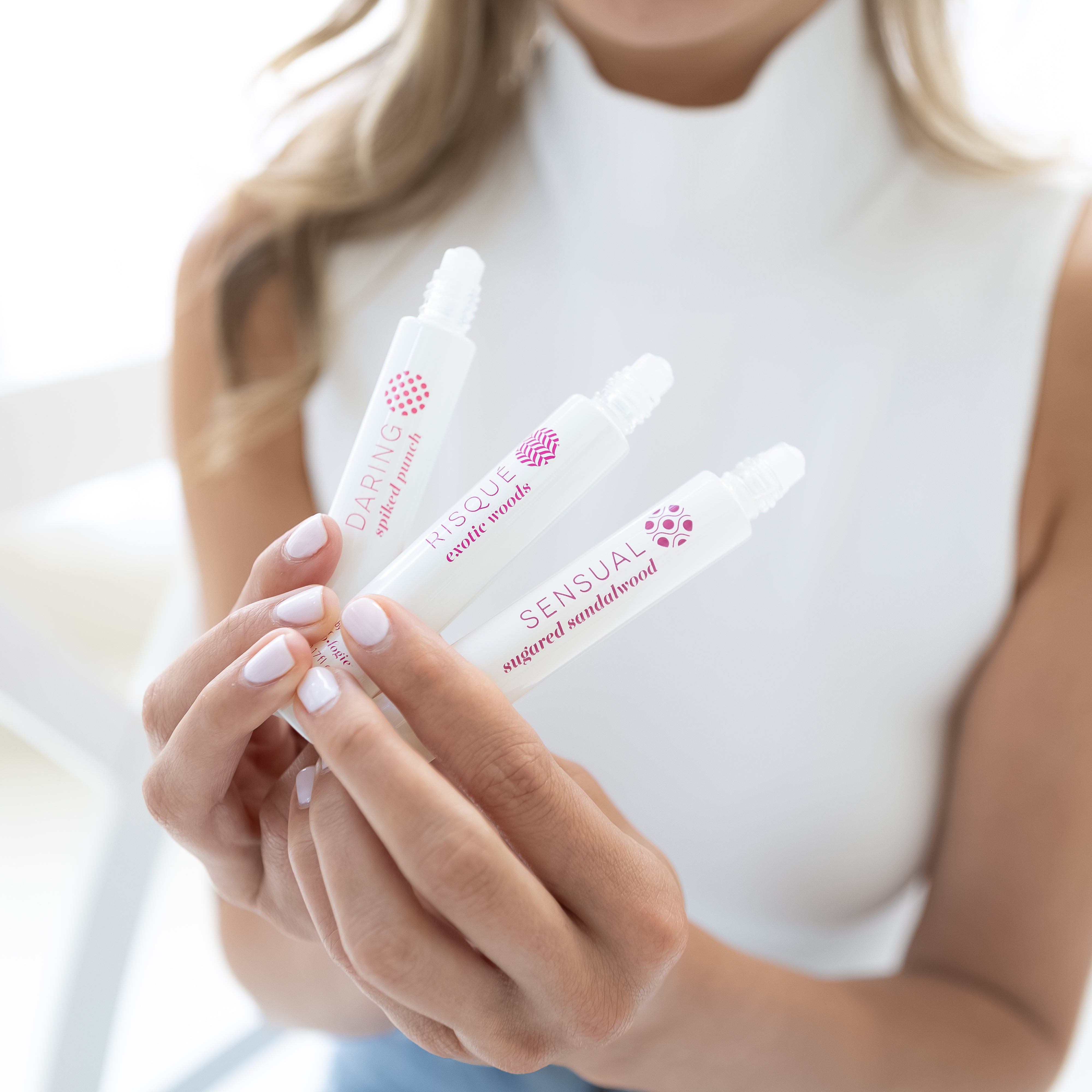 Mix & Match
The Art of Customization
With Mixologie, you hold the palette to your personalized scent masterpiece. Blend, mix, and find your signature.
⭐⭐⭐⭐⭐
See Why Our Customers Love Us
I love the scents, they're beautiful, fresh and light. Every time I order 1 rollerball I get samples of other scents that I fall in love with so my collection is growing!
-Roxanne
This is either my 9th or 10th order of this. To say I love it is an understatement. You have a light fresh scent all day! I love and I mean I love the sultry fragrance!!! Thank you Mixologie!!!!
-Lea
I'm obsessed with this fragrance, it's not too overpowering but still smells so amazing! I've been spraying it on all of my clothes and the scent lasts for so long - especially if you pair it with the rollerball perfume! If you want to smell amazing and get a million compliments, do yourself a favor and buy this!!!
-Colleen
Smells are so great. Ordering is great and mail service is fast!
-Pamela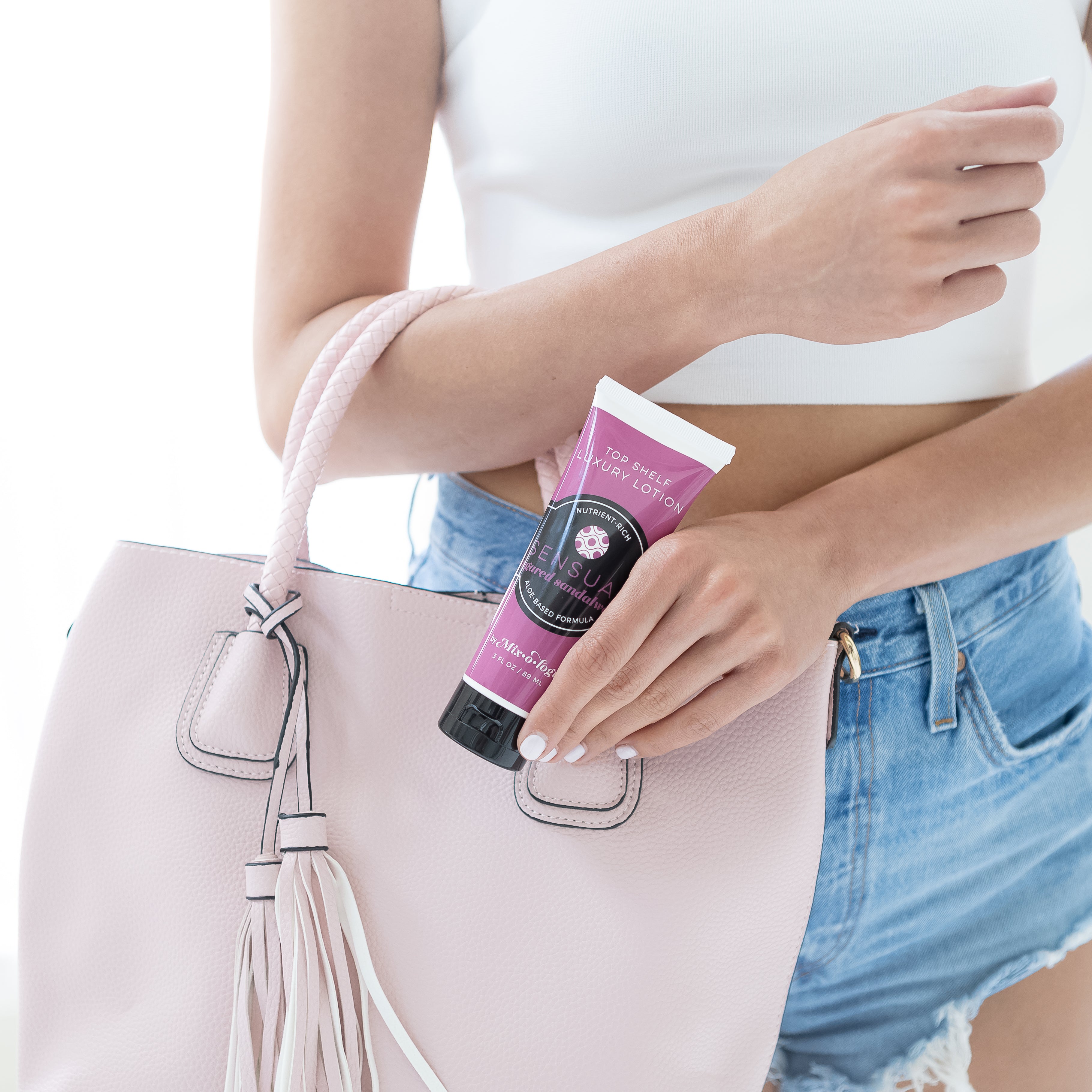 Portable Perfection
Designed for the modern individual on-the-move. Compact, chic, and fits right into your lifestyle.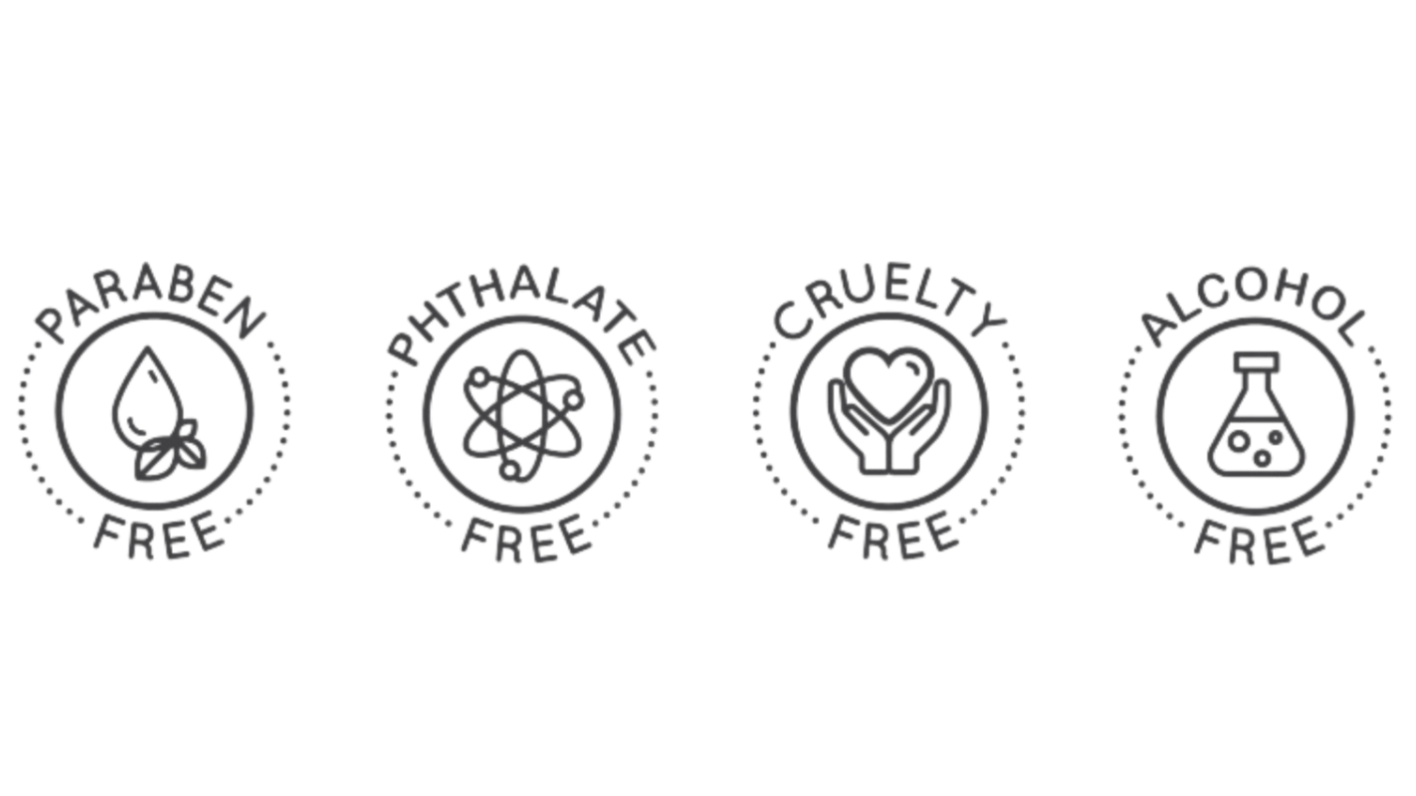 We Care About Our Ingredients, Because we care about our customers
Beauty & Conscience in Every Drop
We're not just about delightful fragrances; we're about making a difference: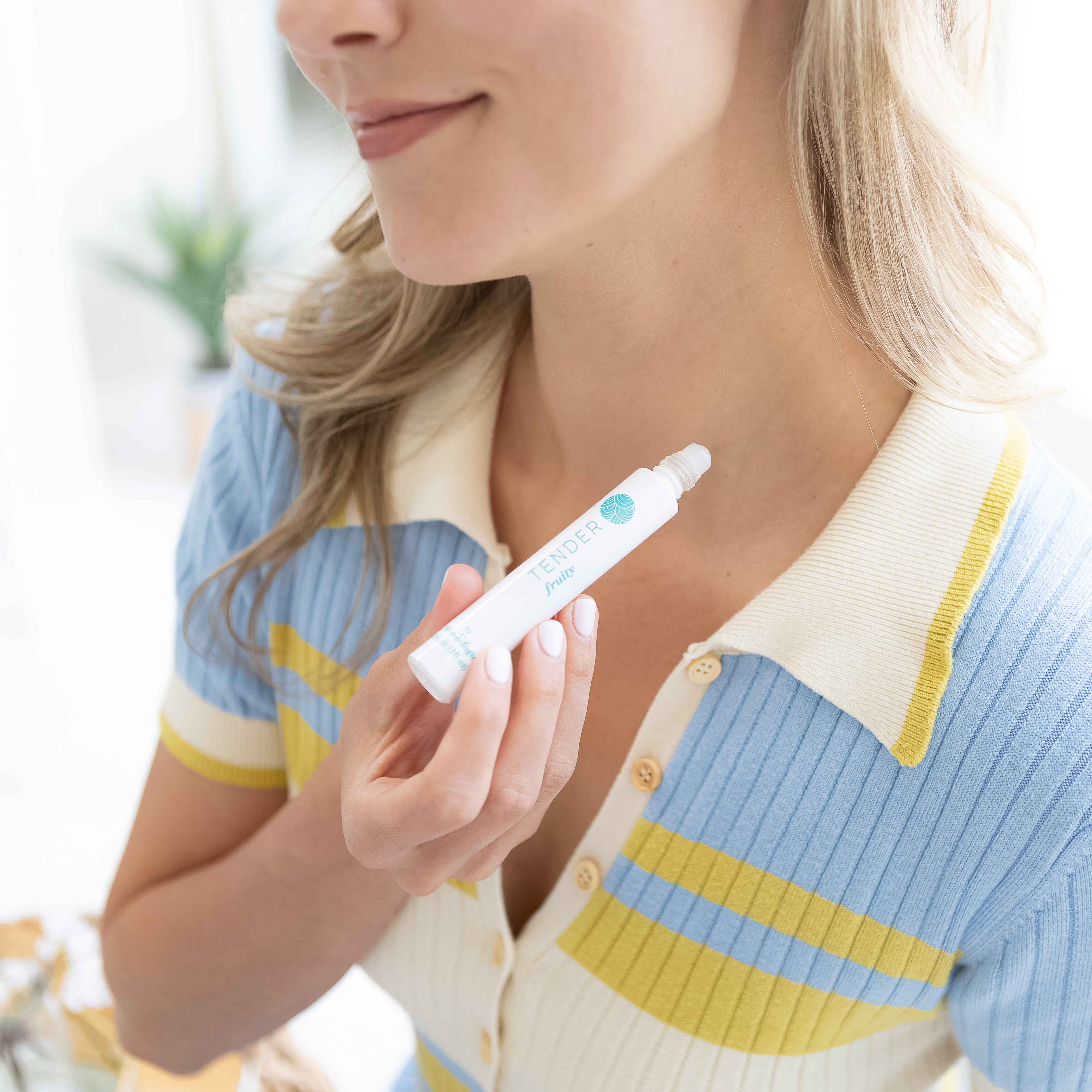 Alcohol-Free Elegance:
Our pure-oil based formula guarantees that you're wearing a scent that stays all day without overpowering the senses.