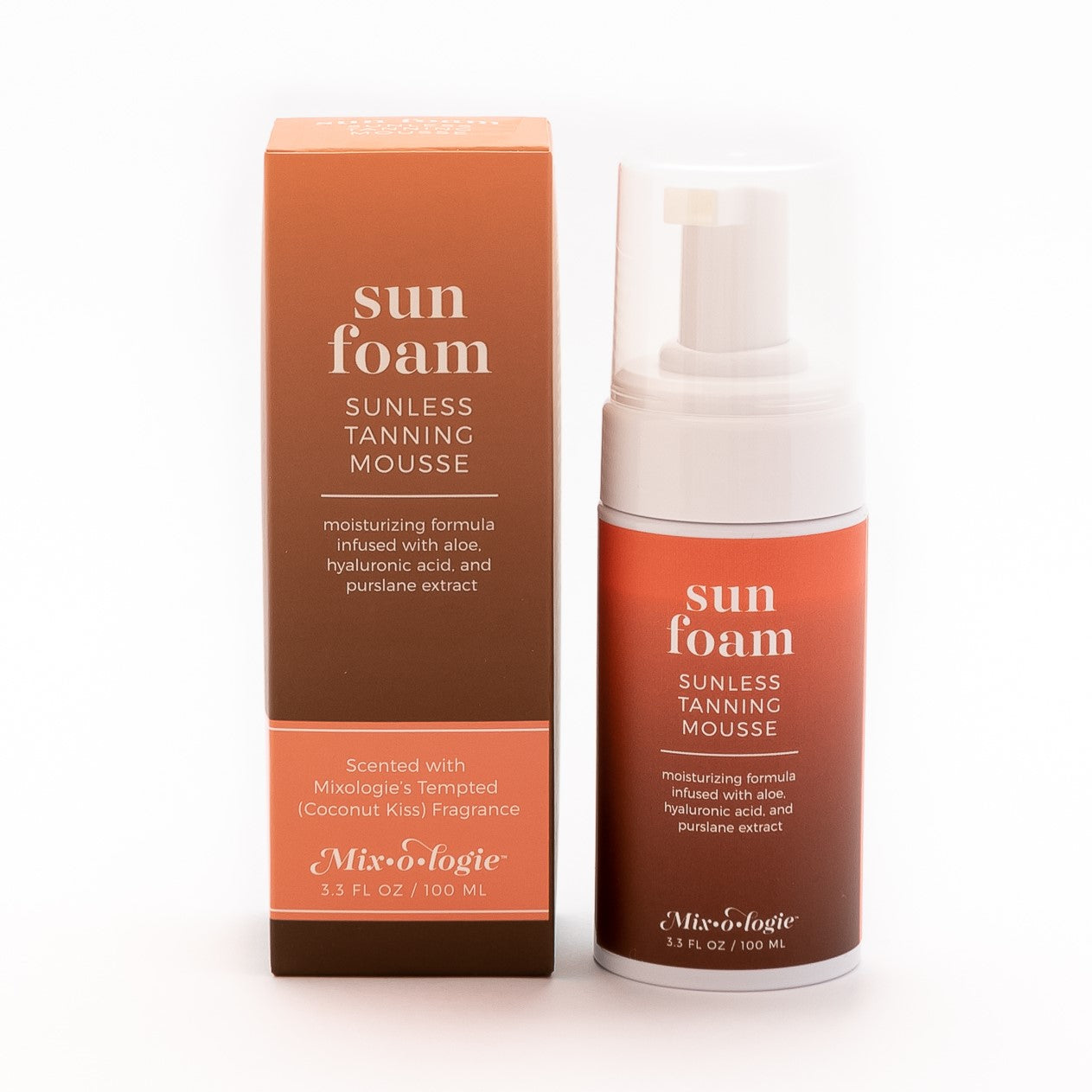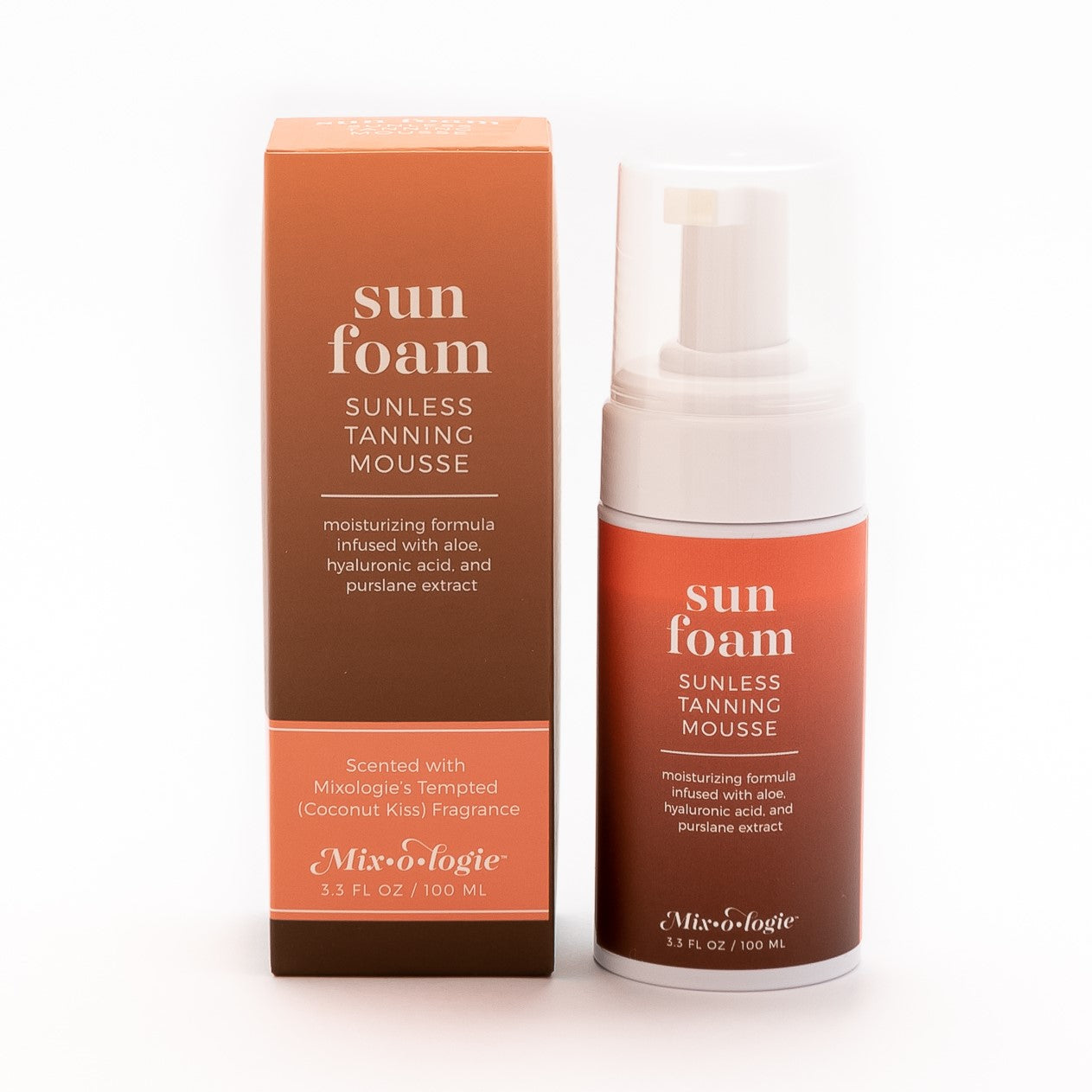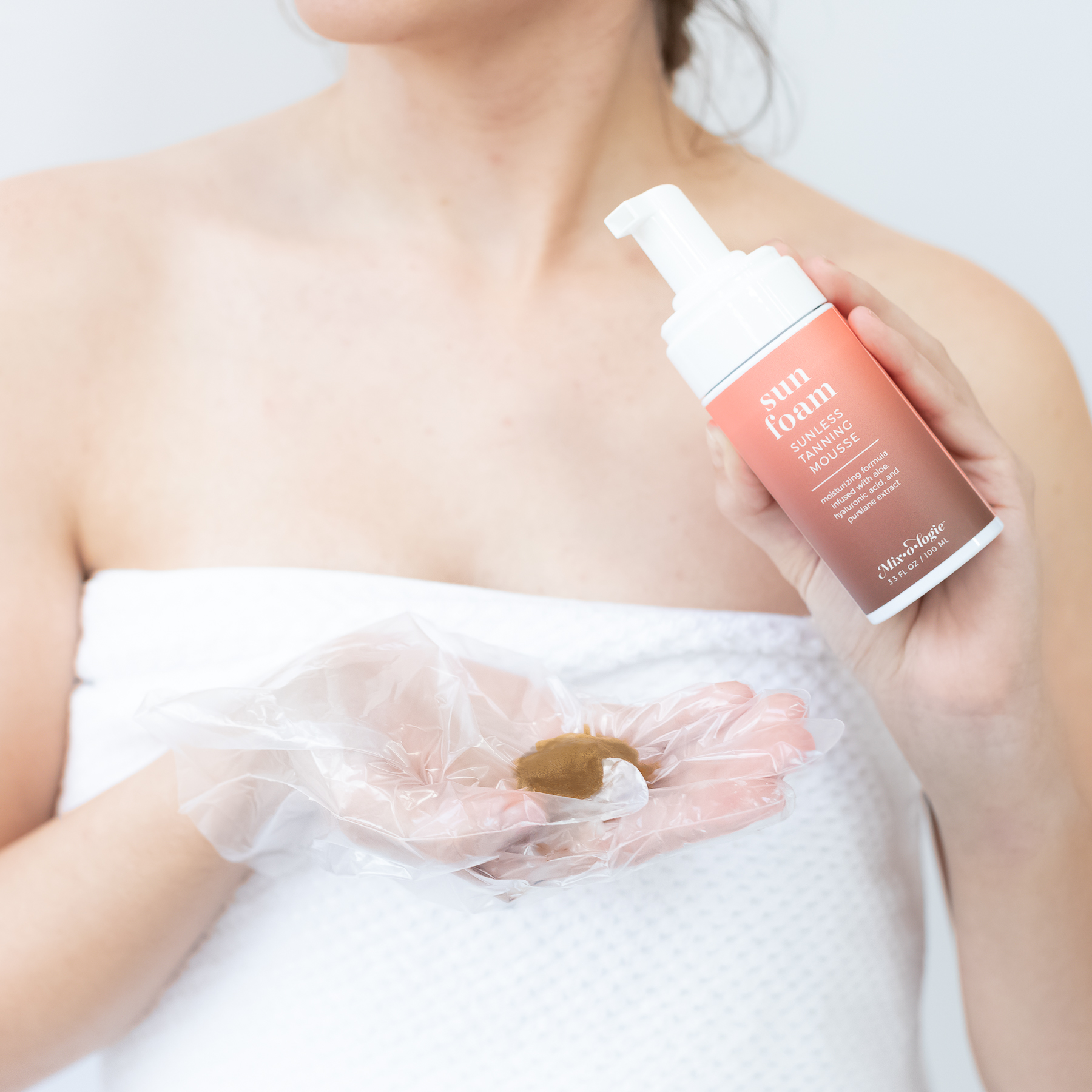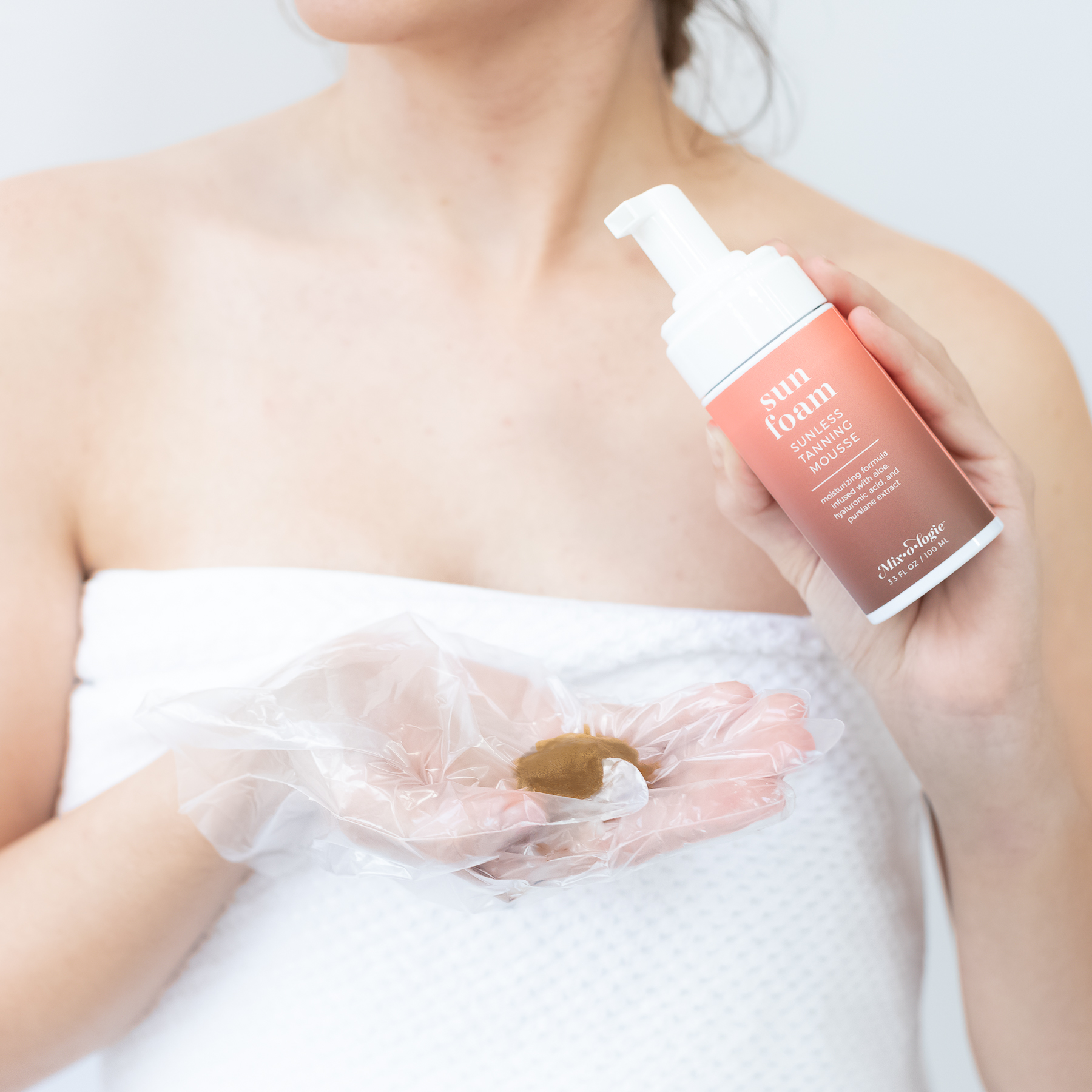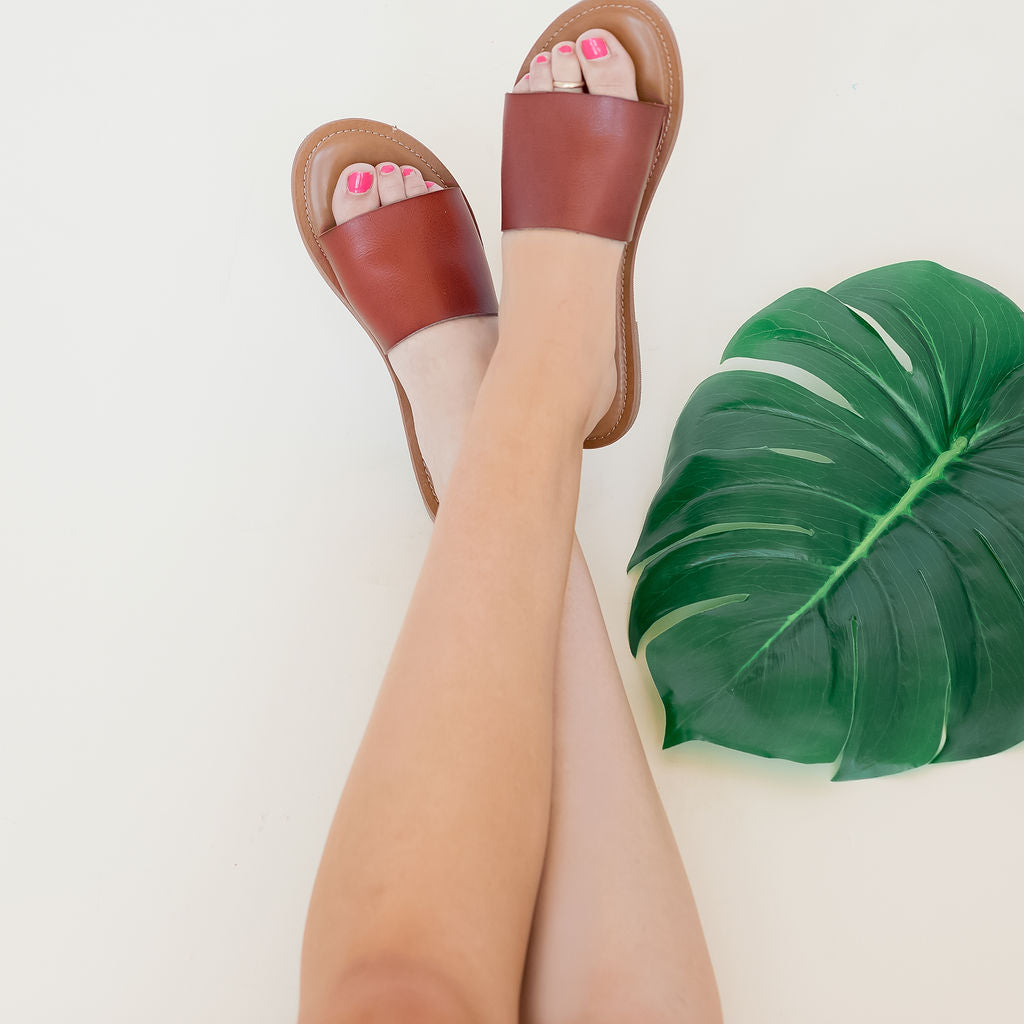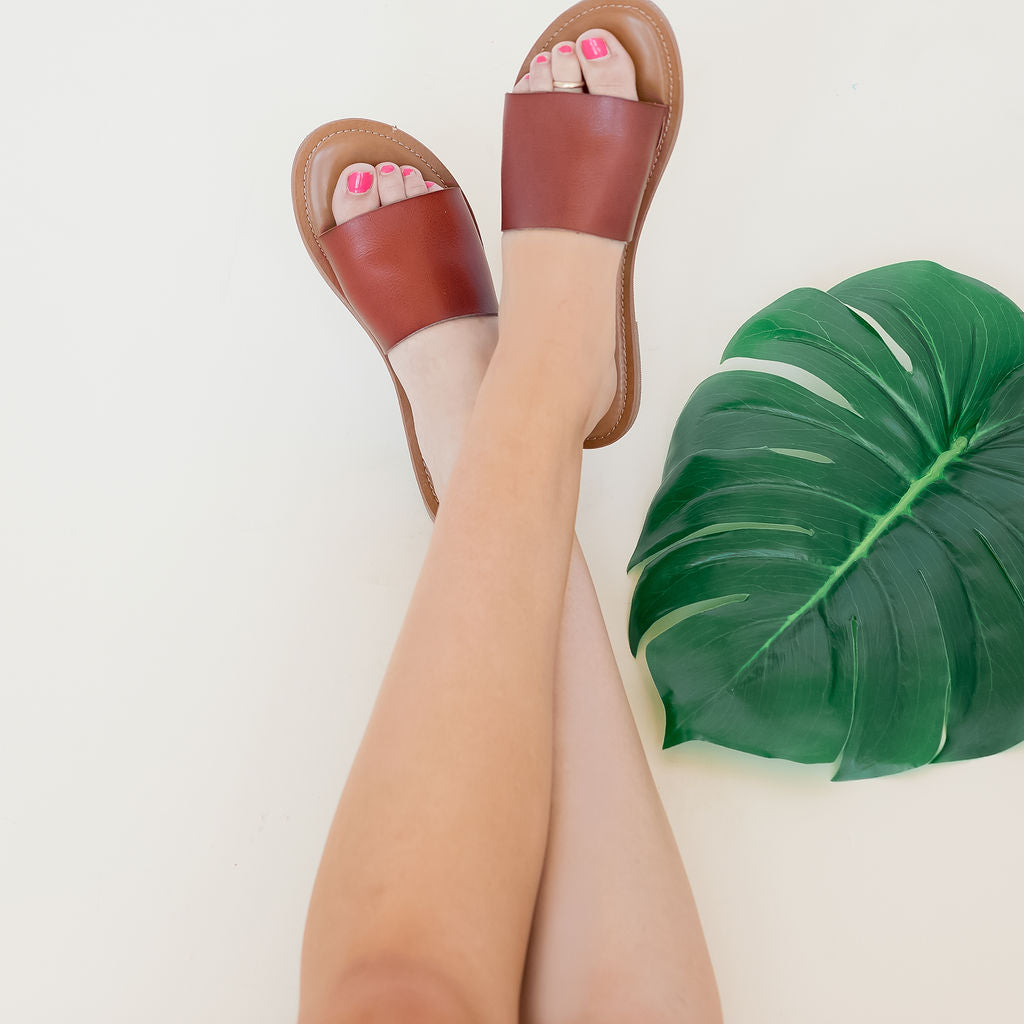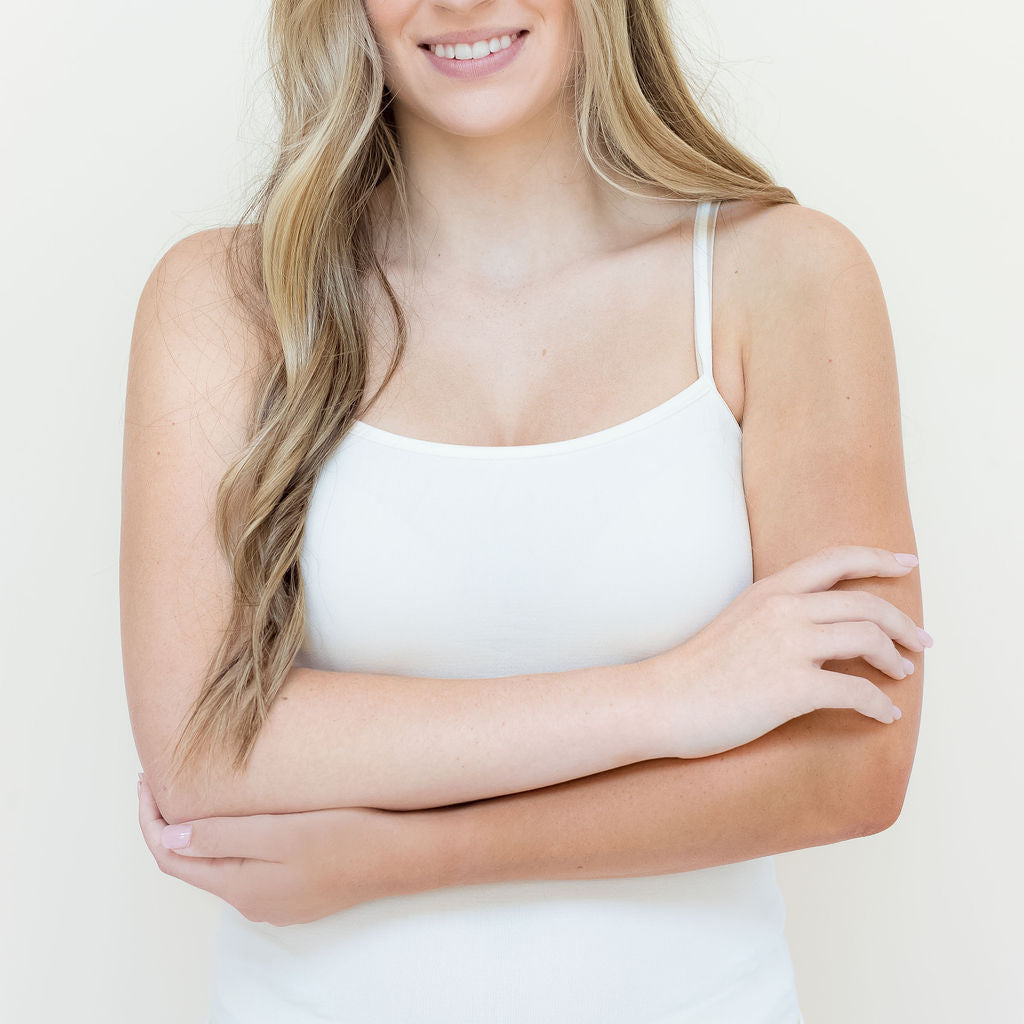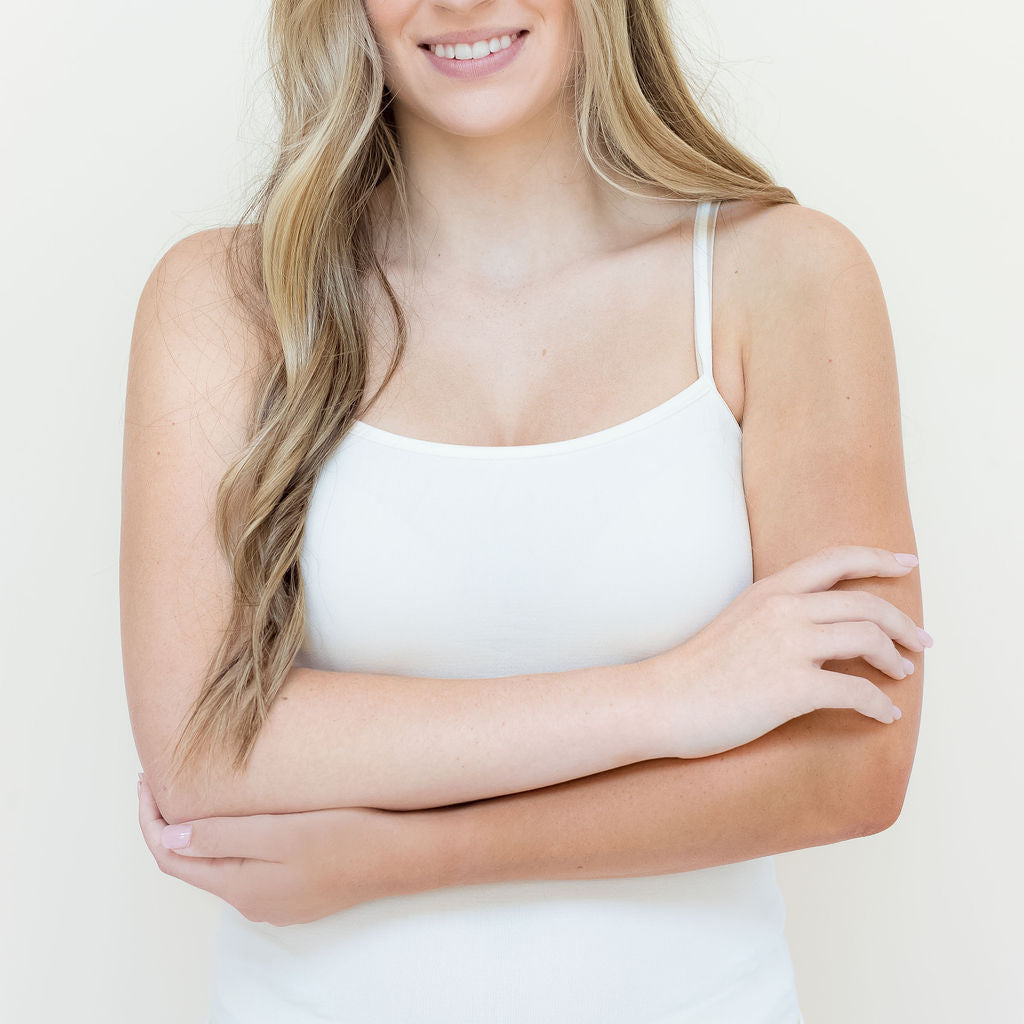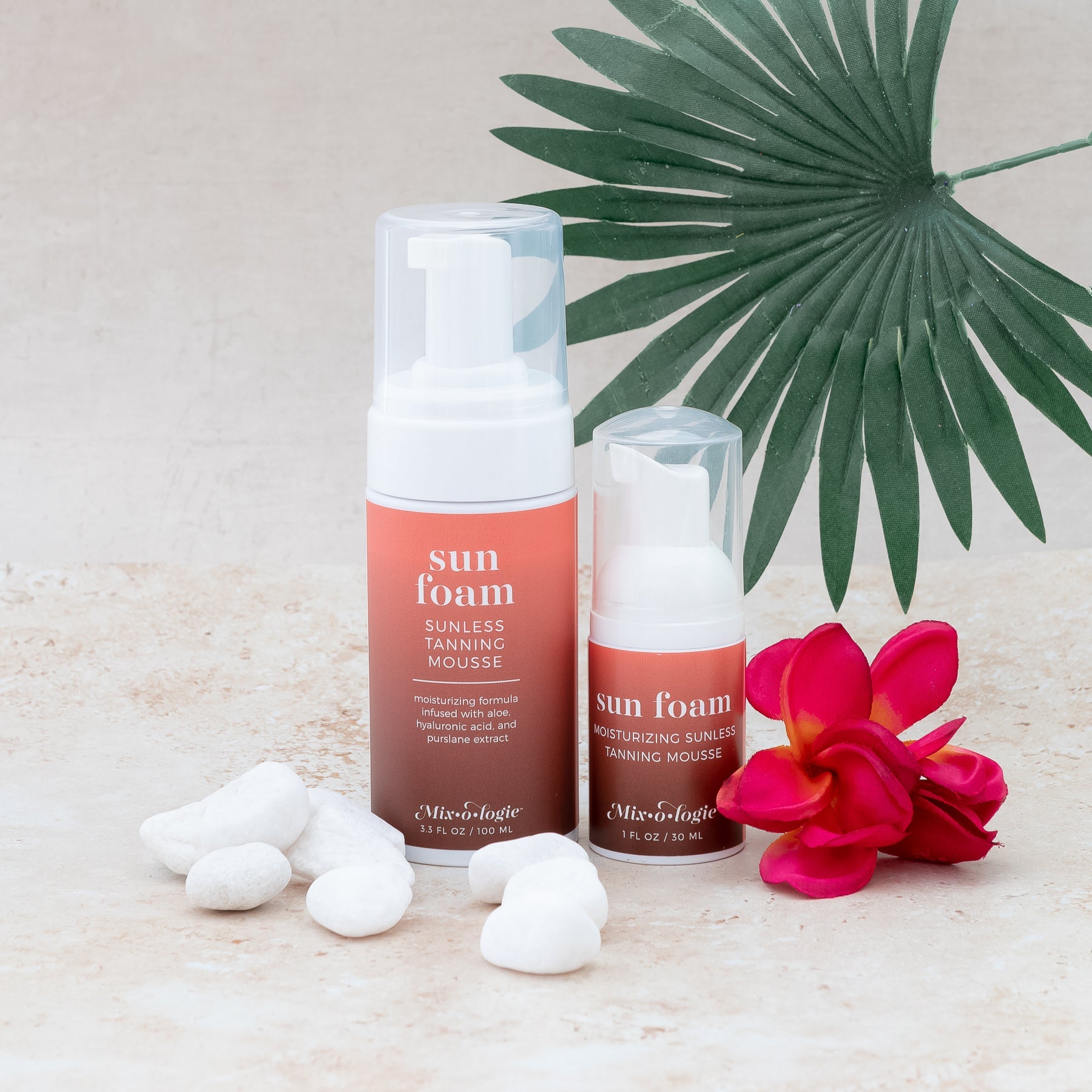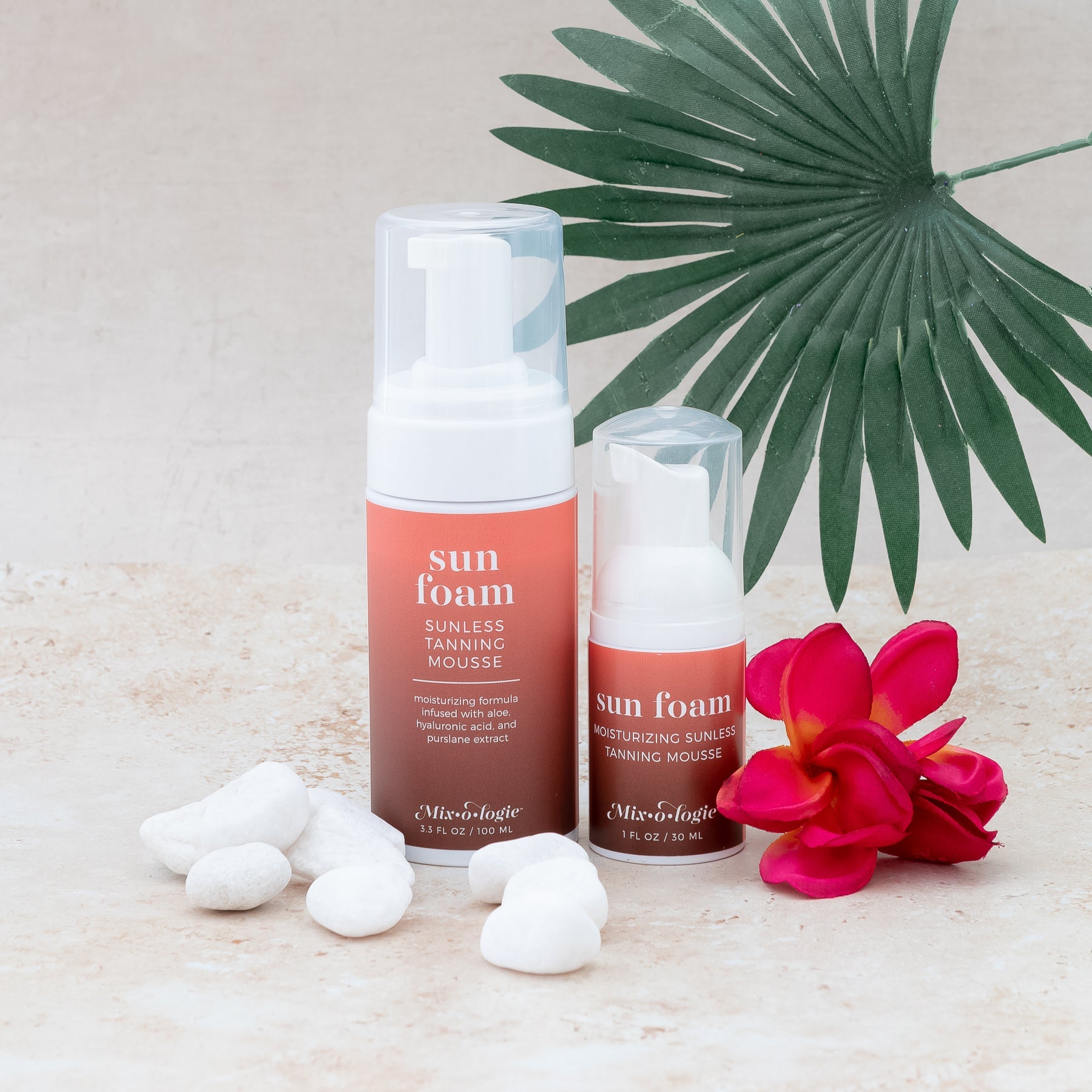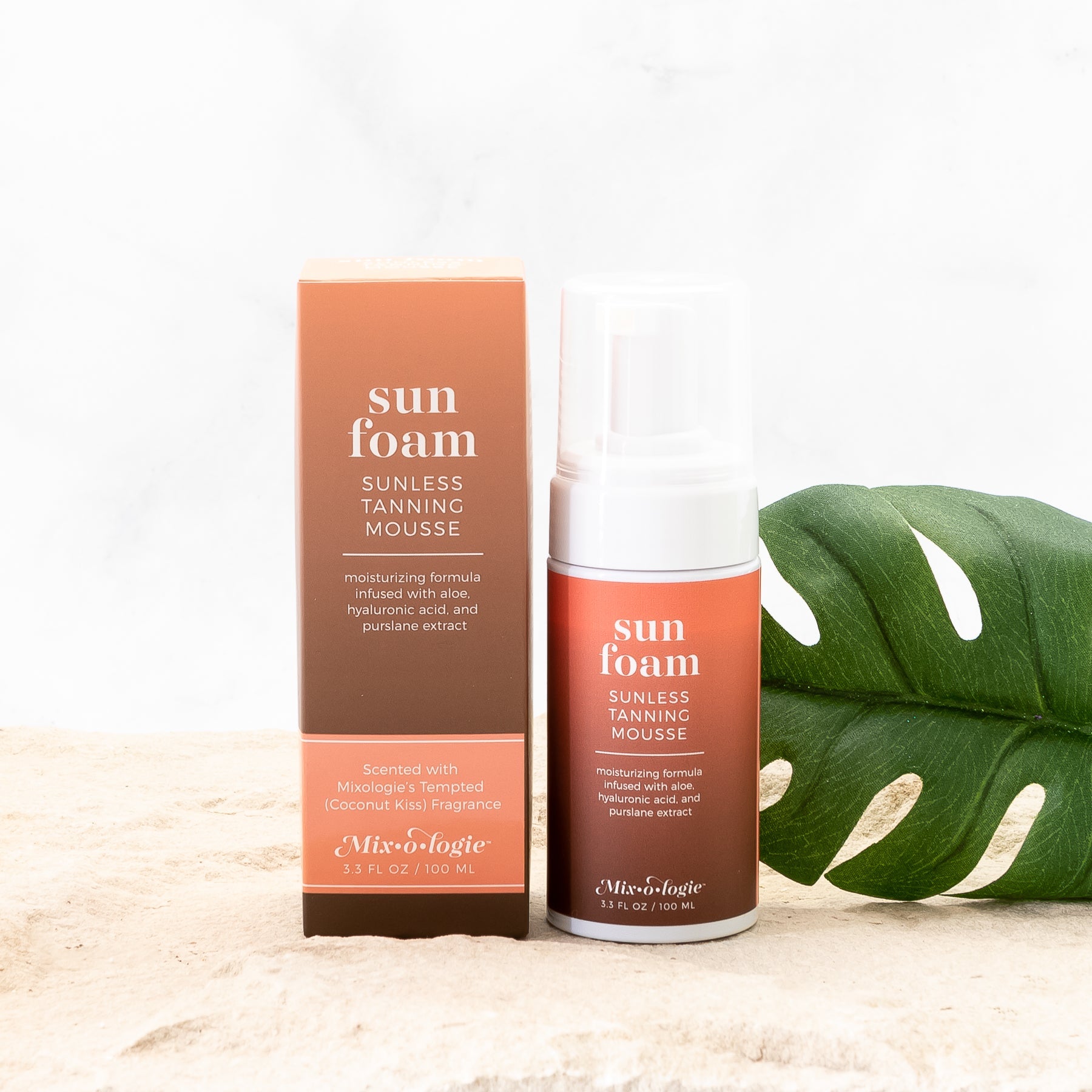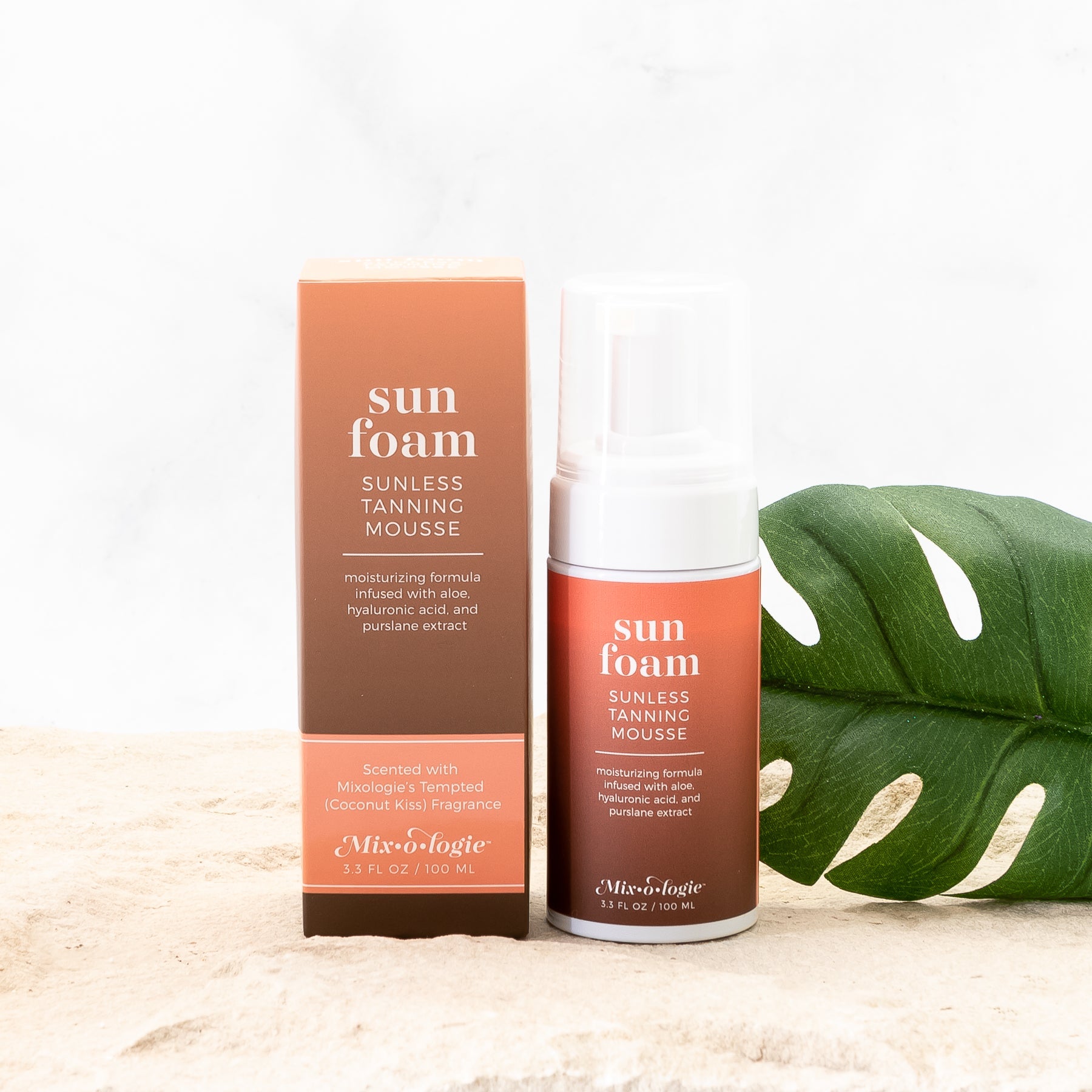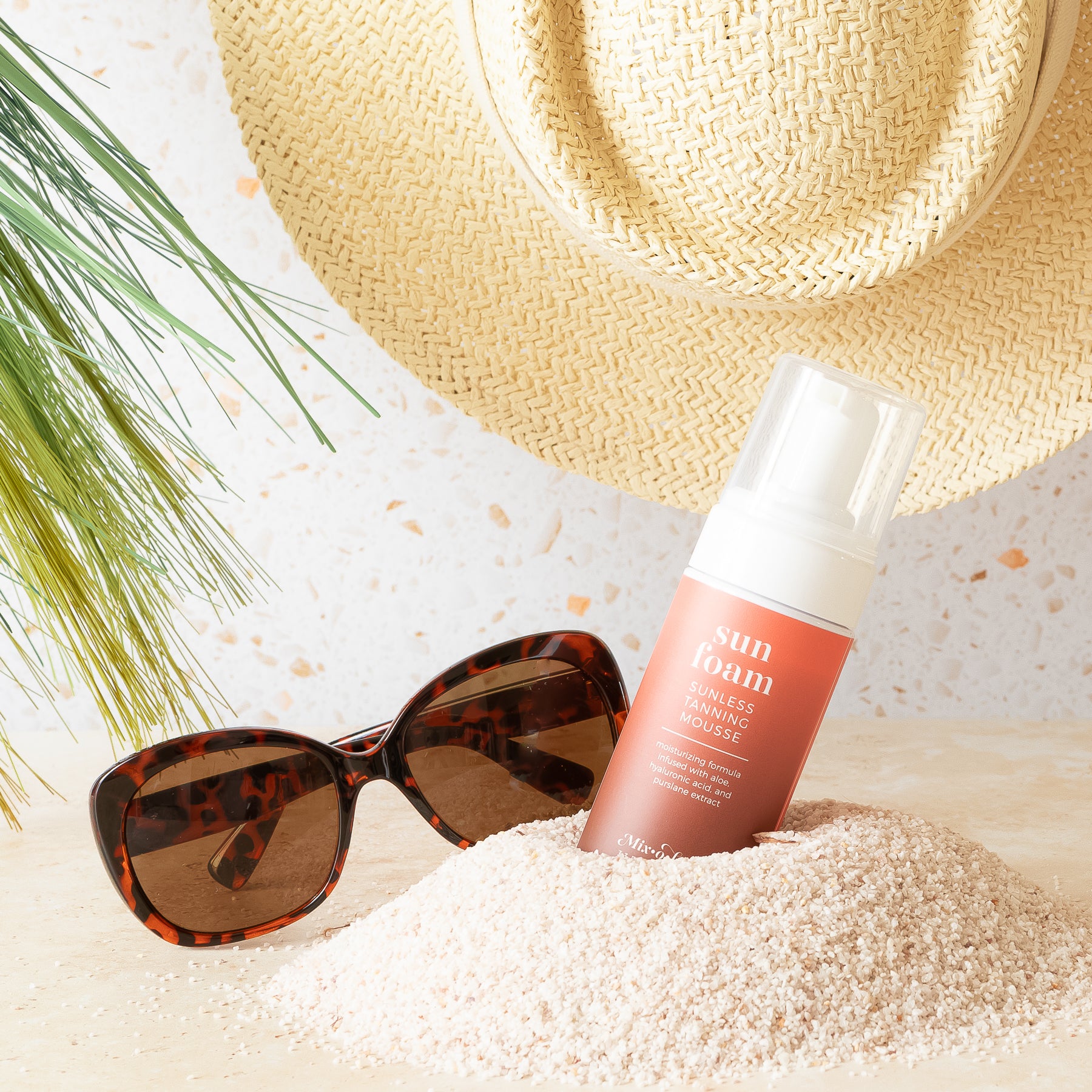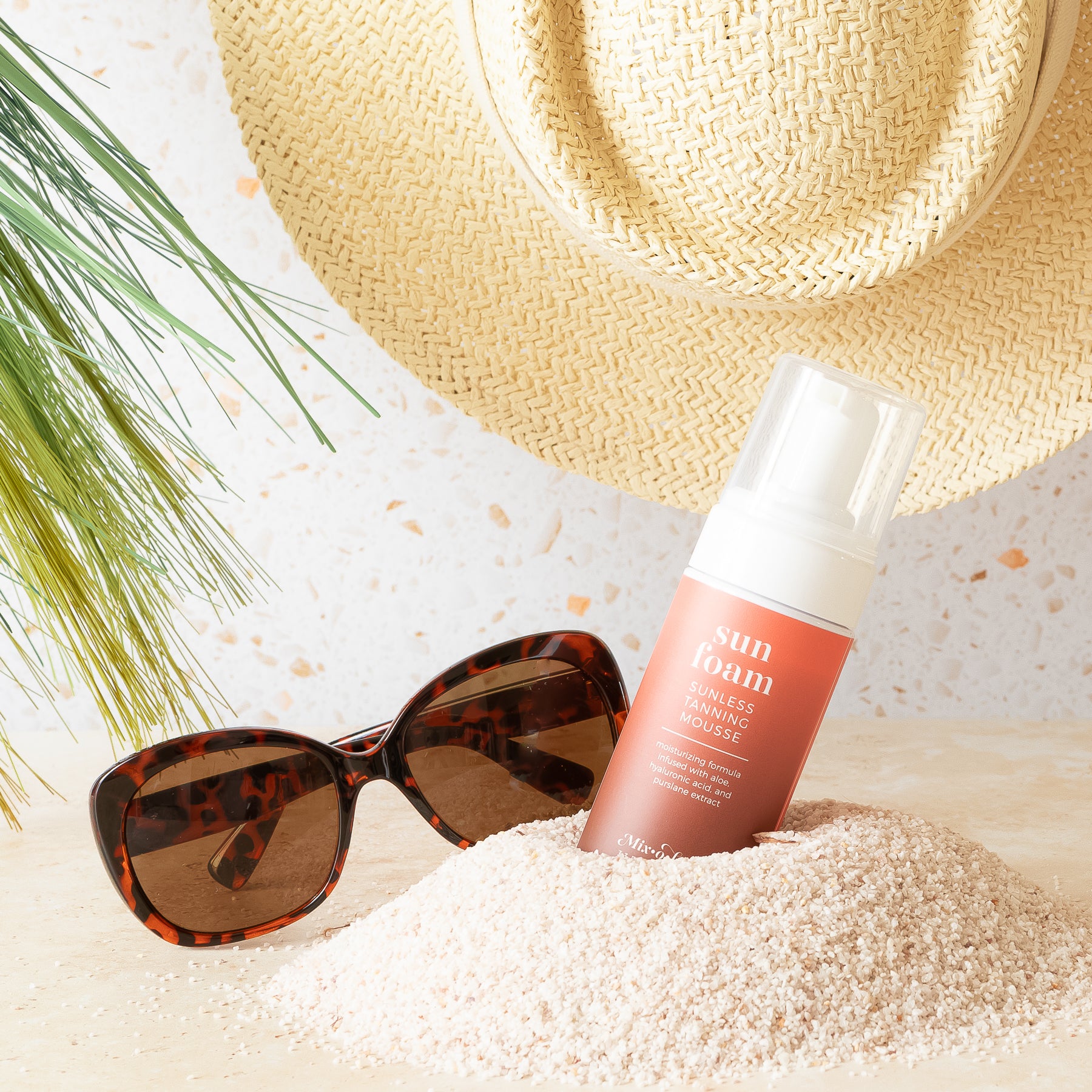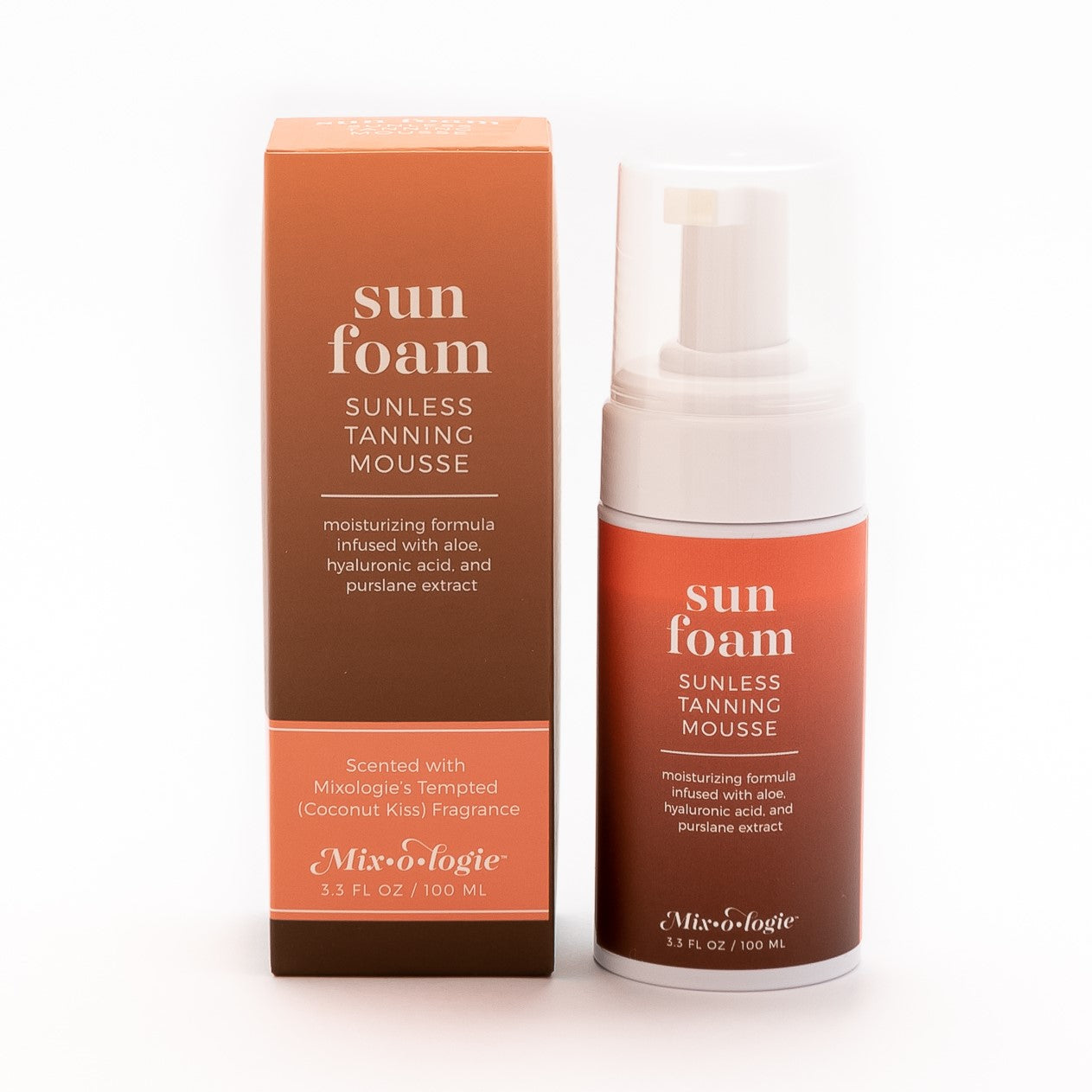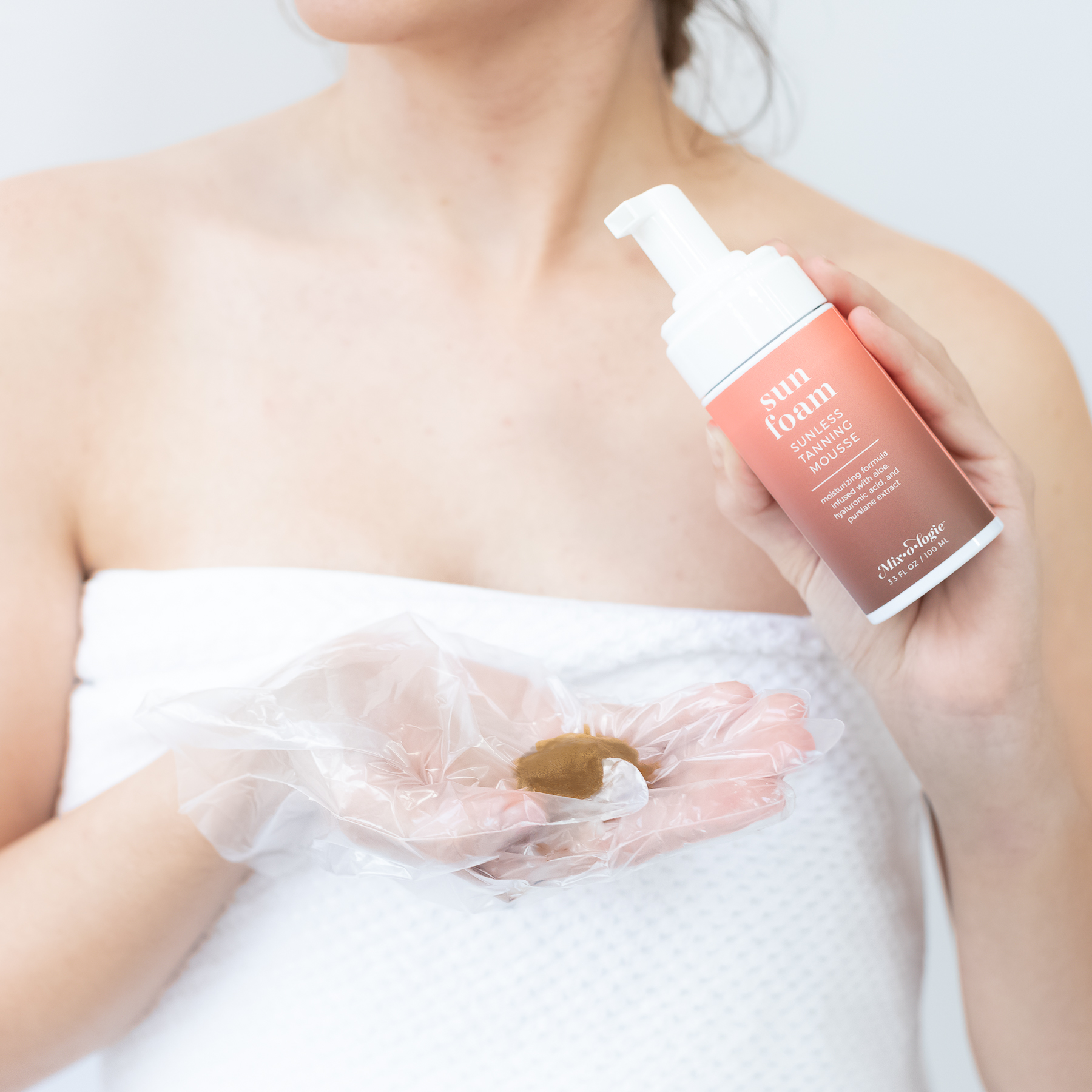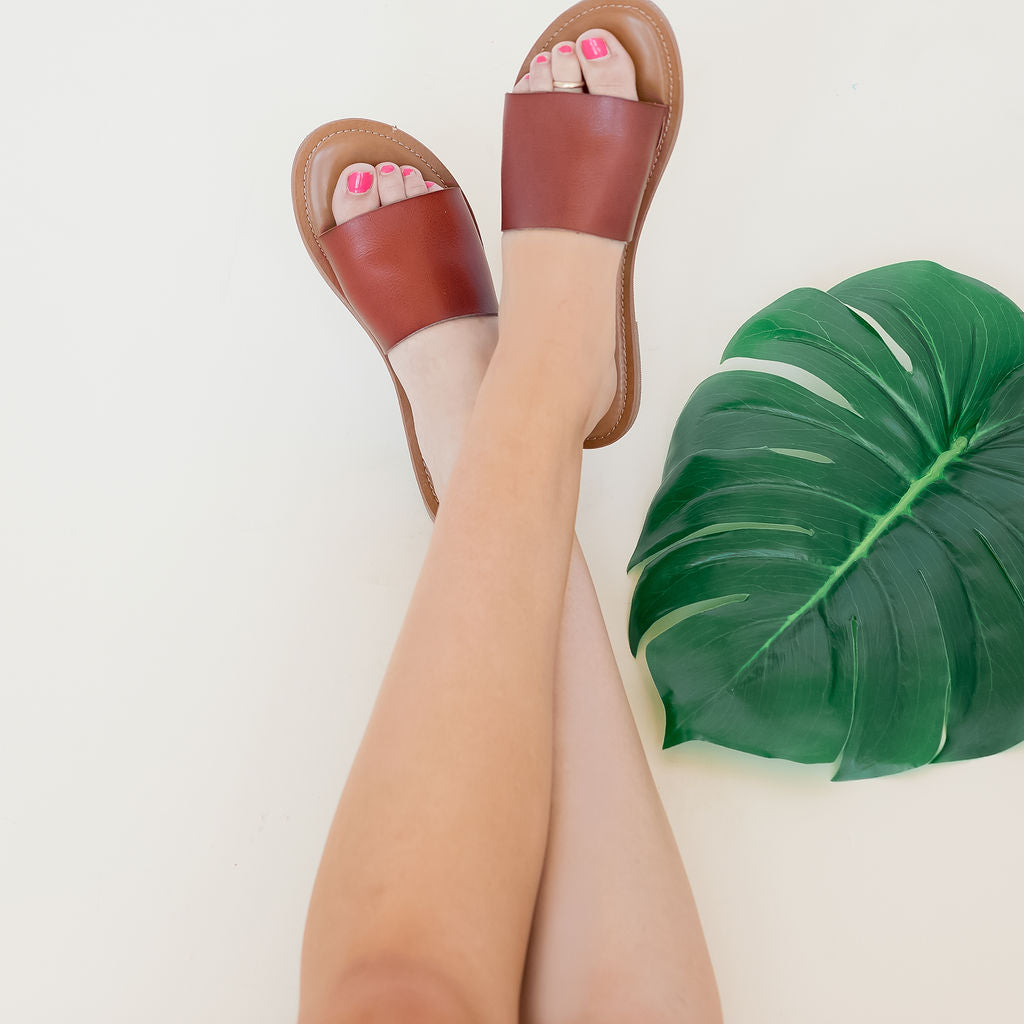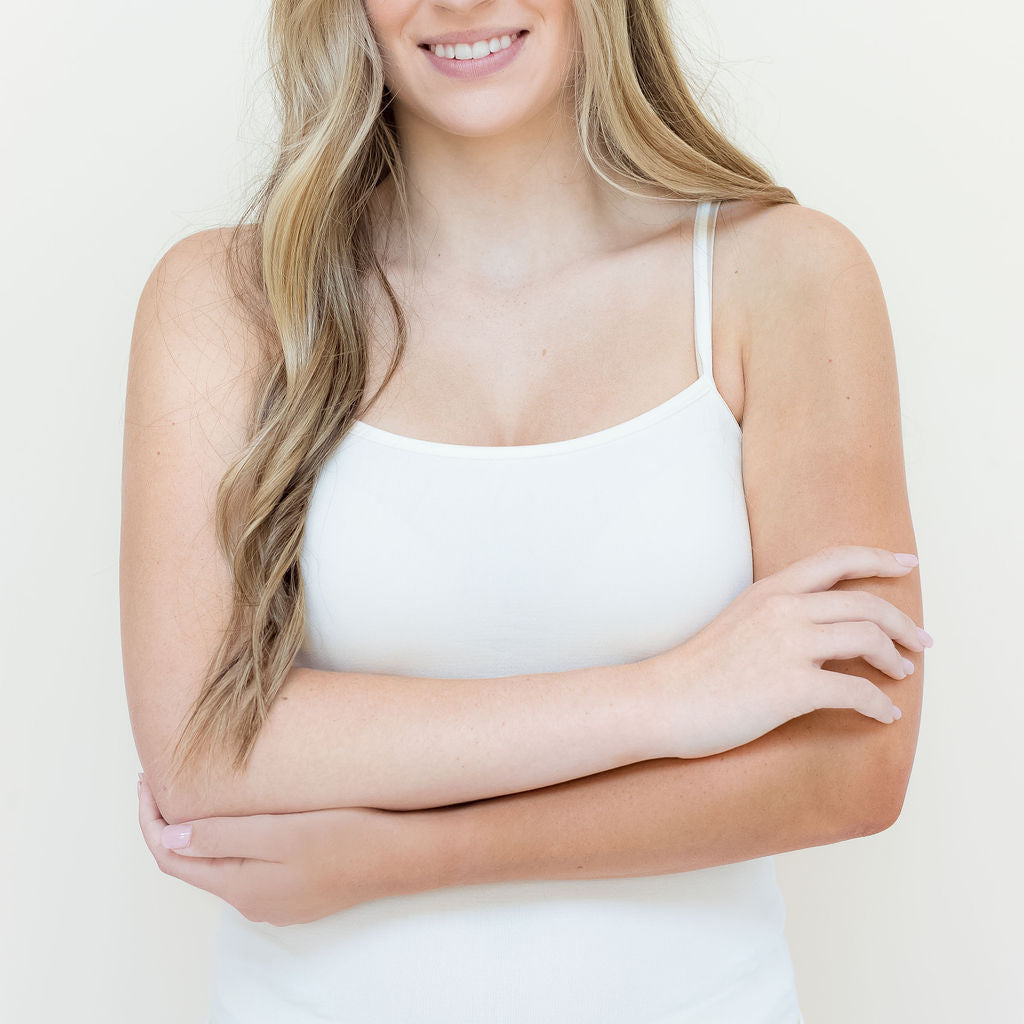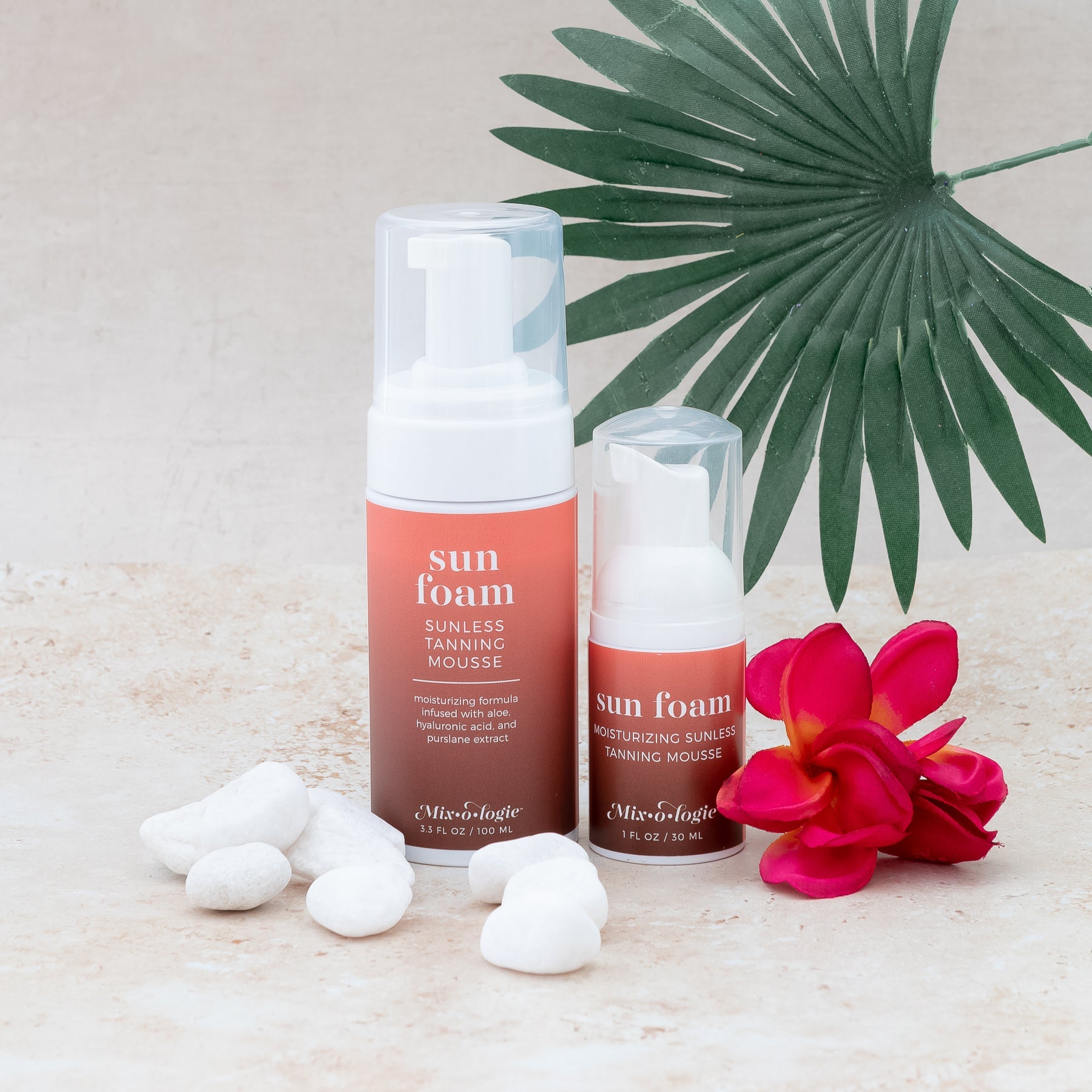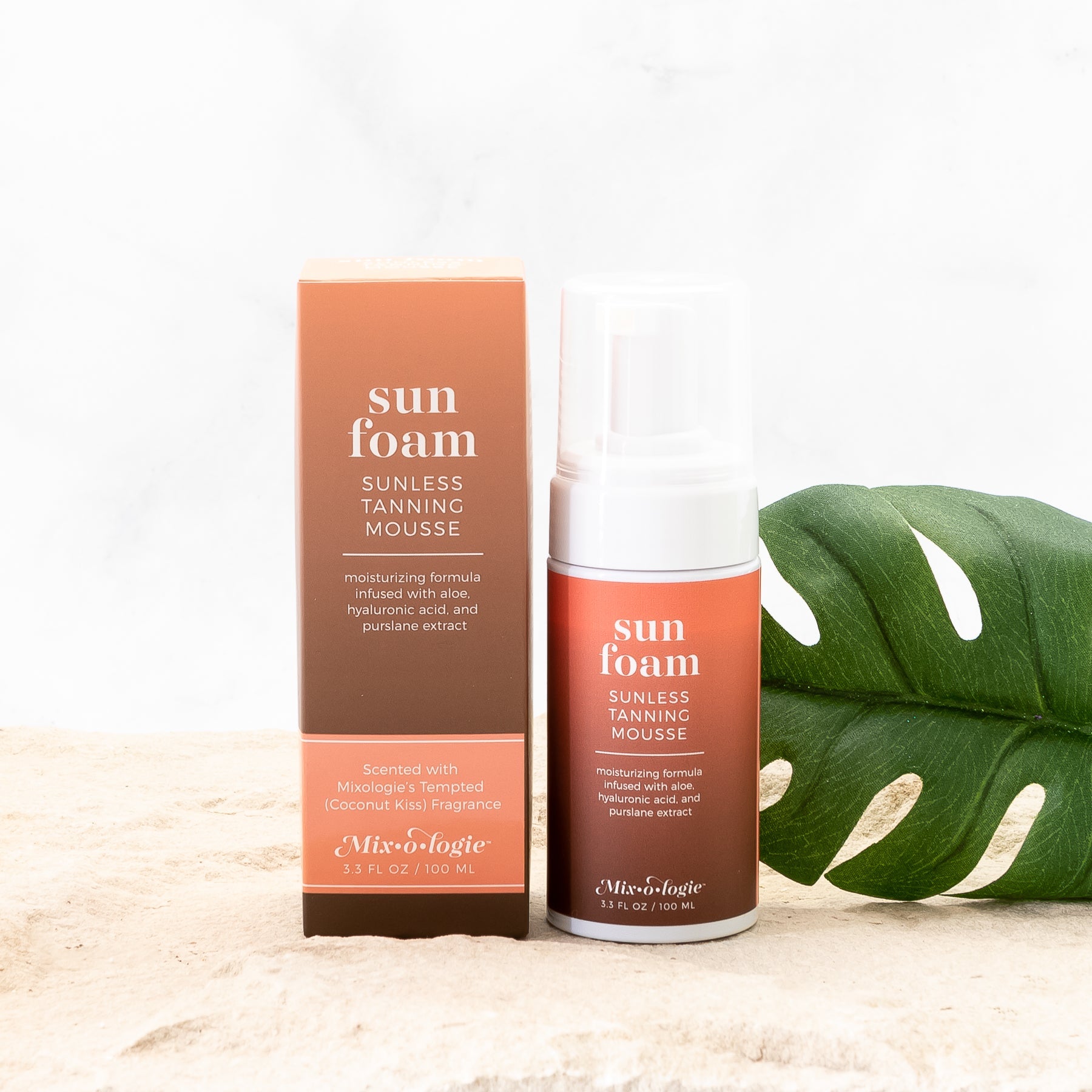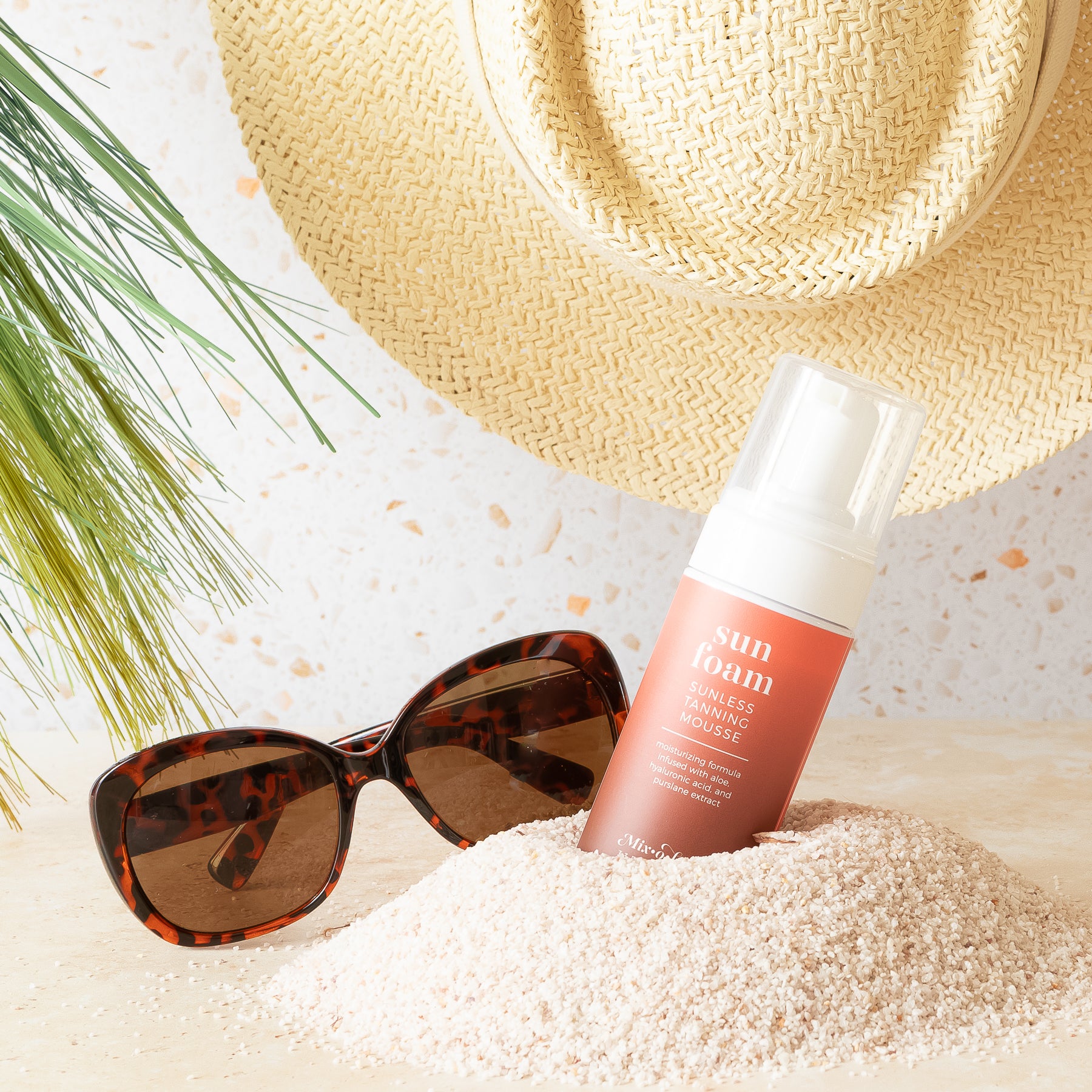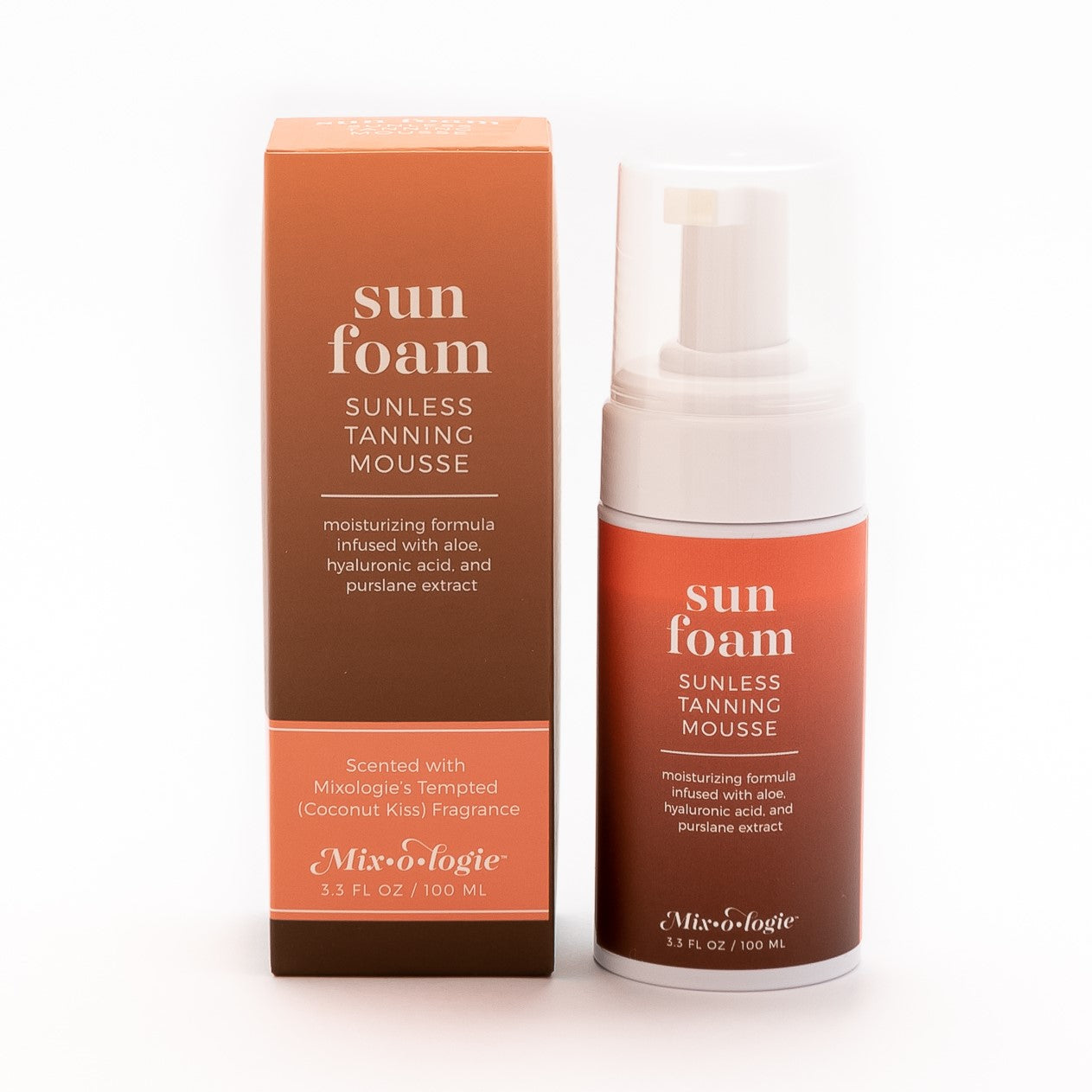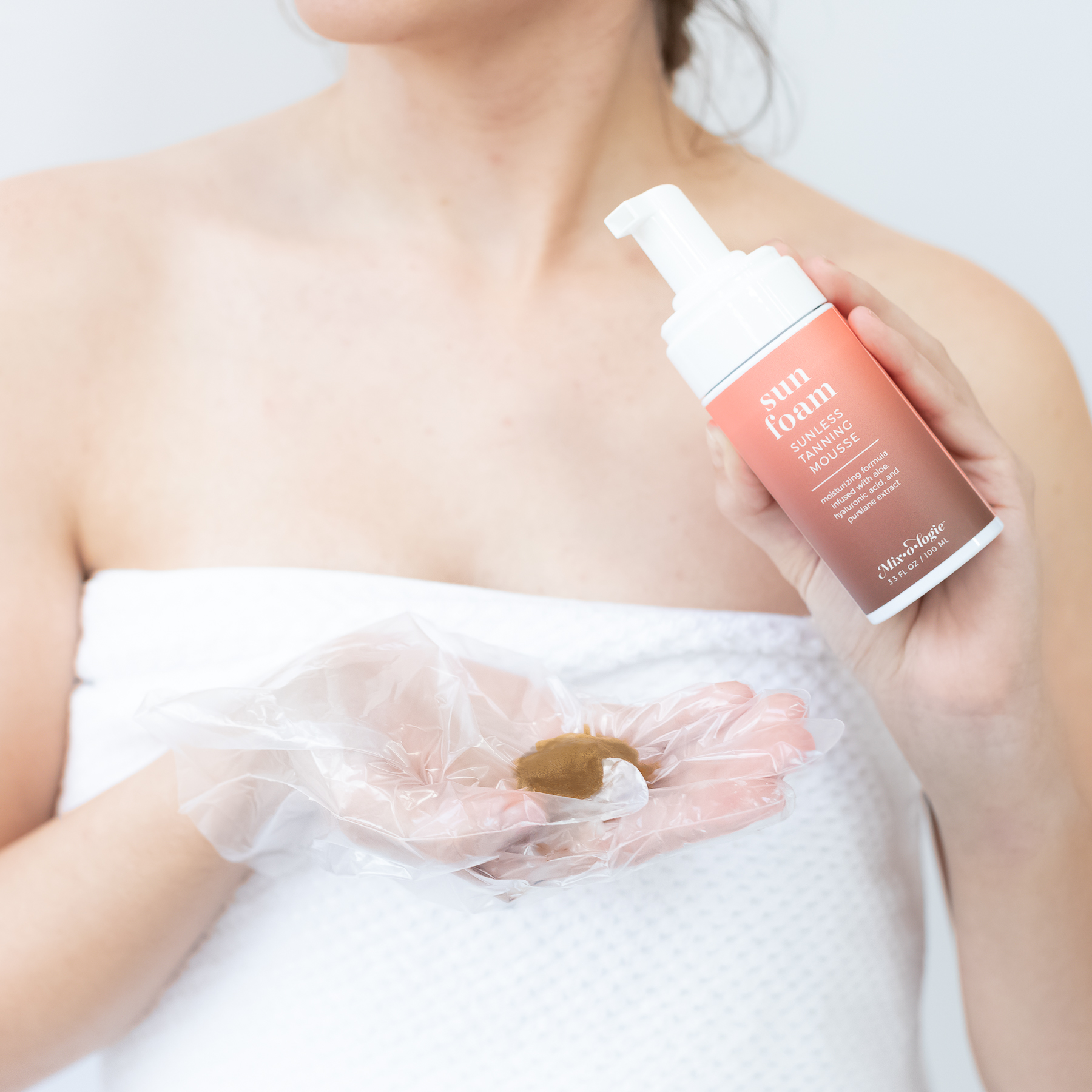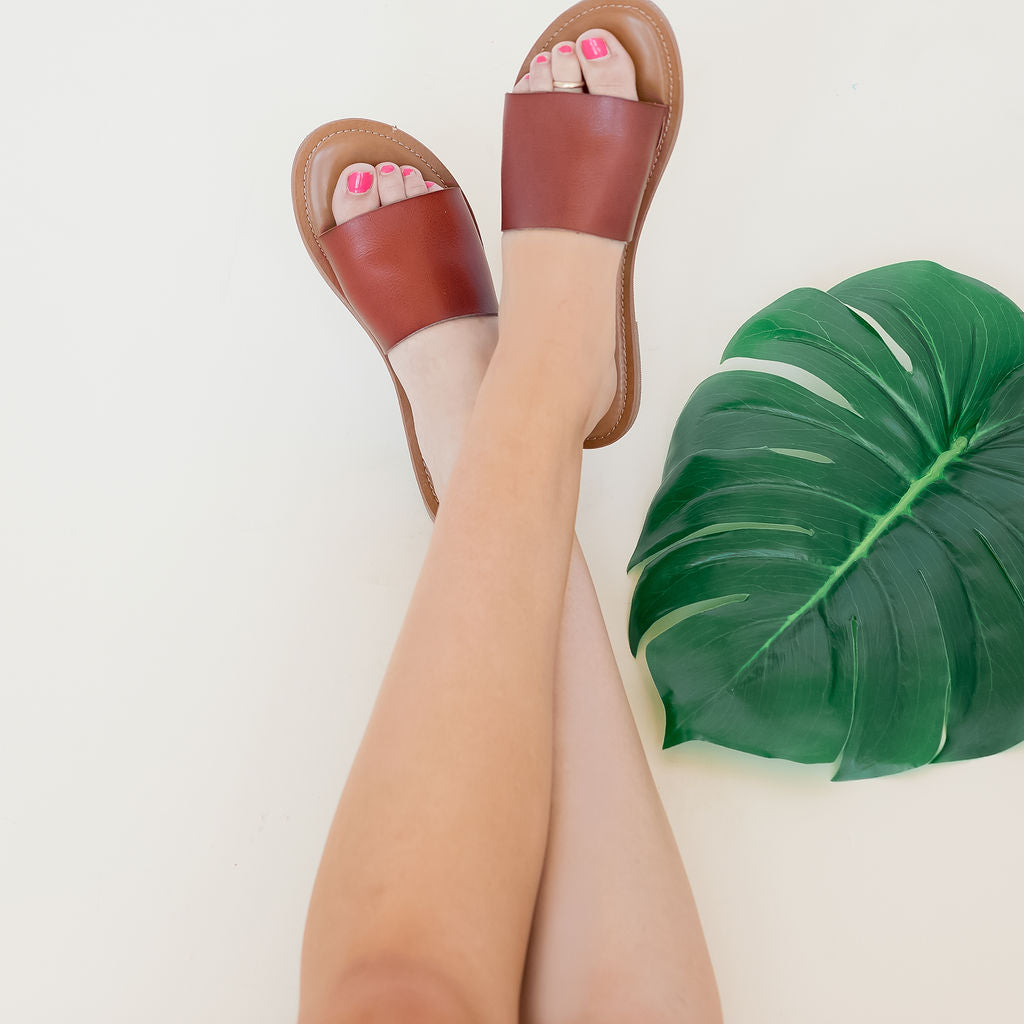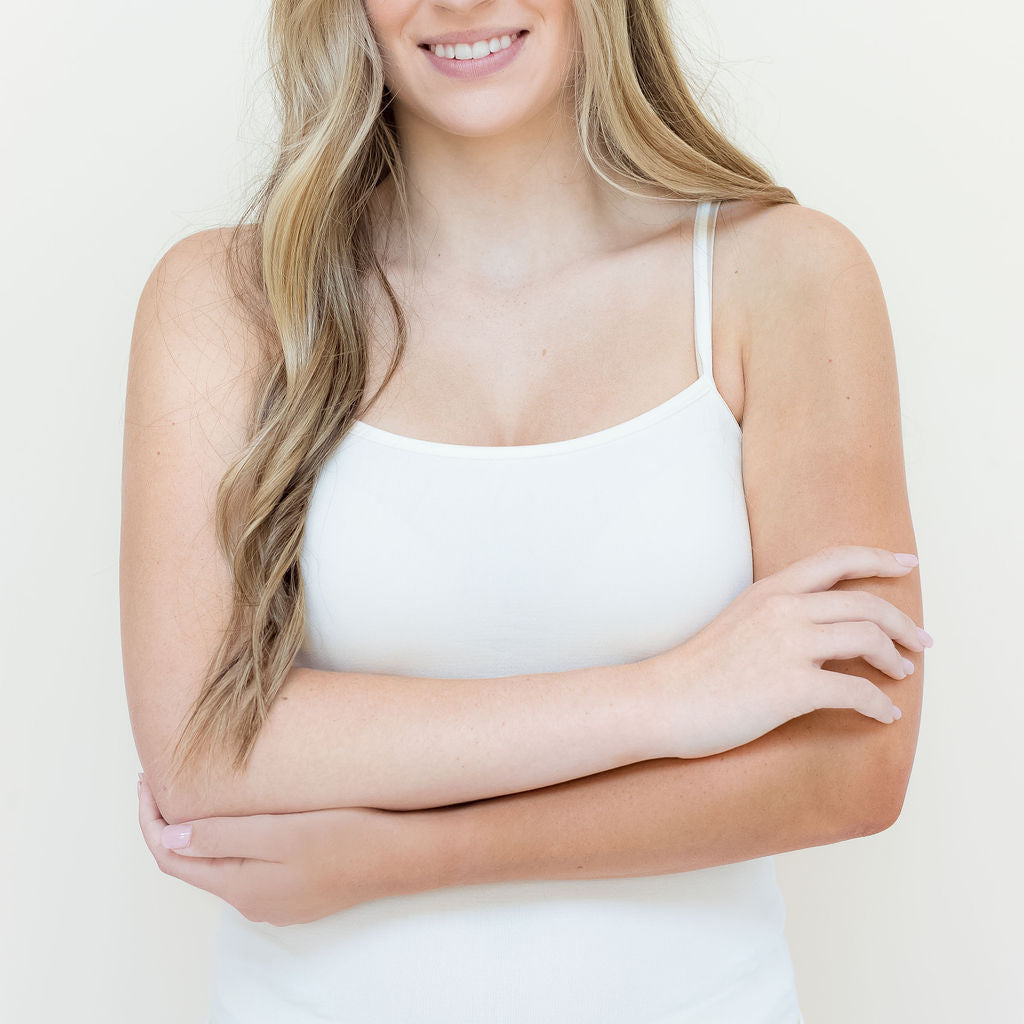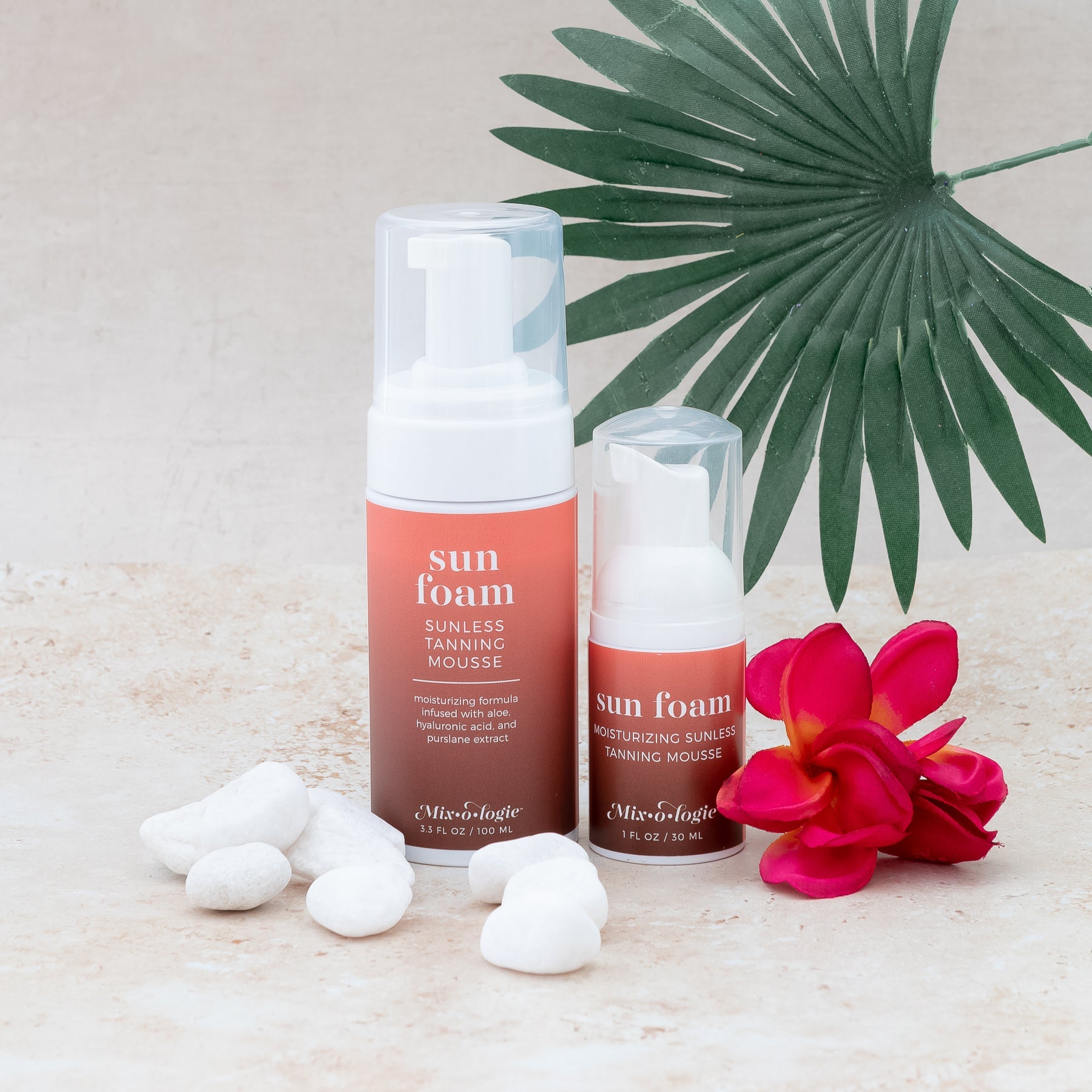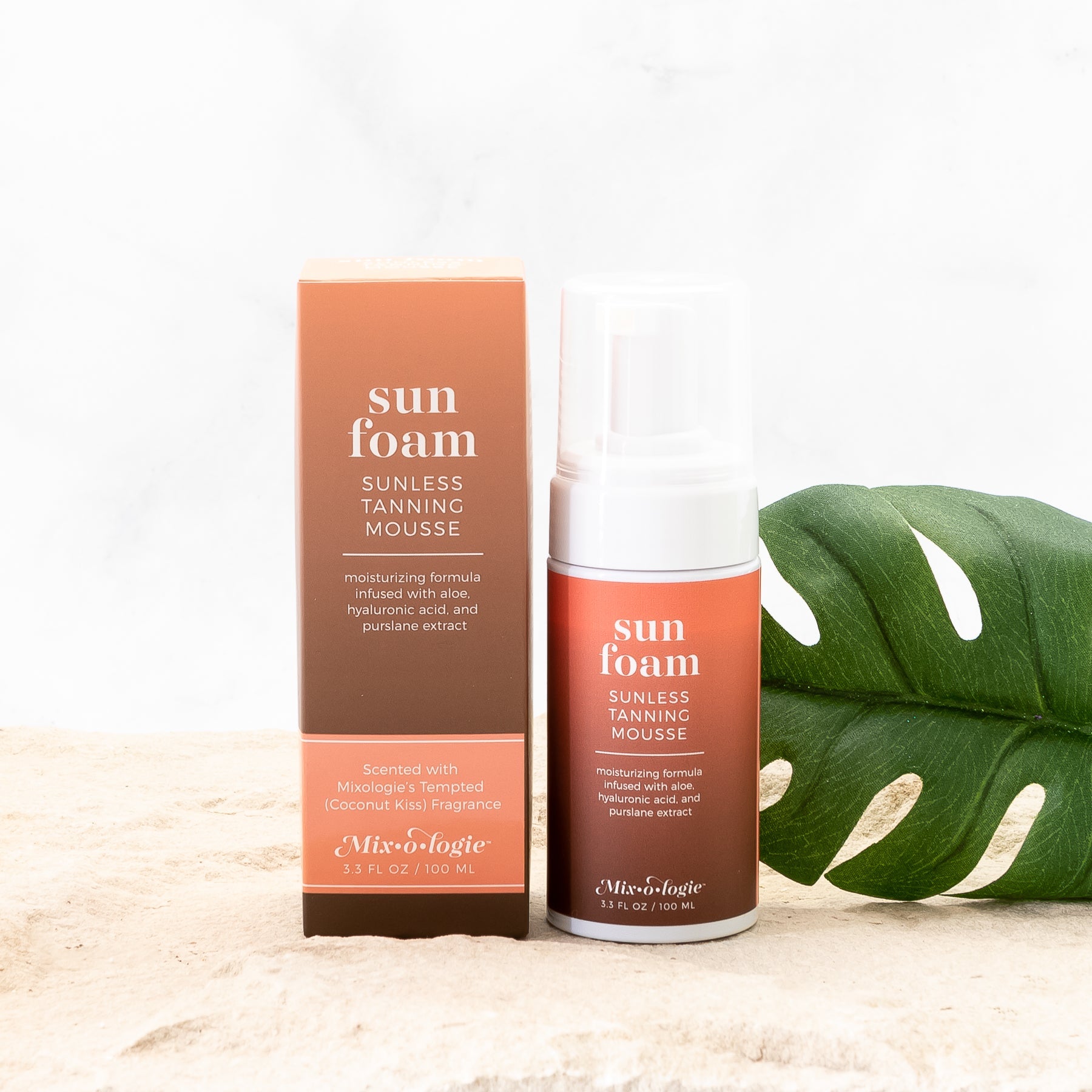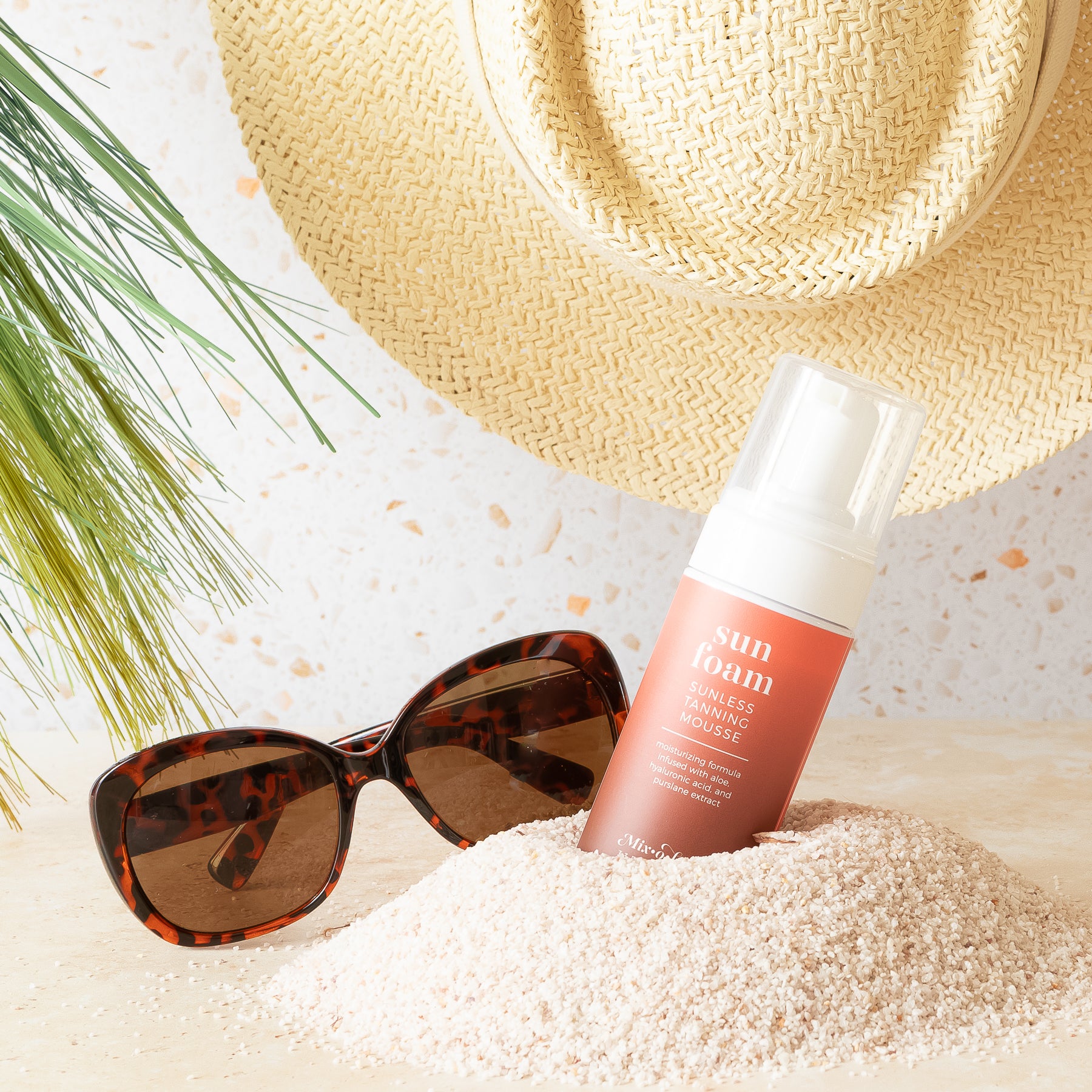 SunFoam Sunless Tanning Mousse - Full Size - 100mL
Love a bronze look without the damaging effects of UV rays? 
Introducing SunFoam, a MOISTURIZING tanning mousse that will leave your skin with a hydrated, sun-kissed look.  Formulated with Hyaluronic Acid, Aloe, and Green Purslane Extract to sooth, protect, and moisturize your skin.  Why the focus on moisturizers?  Because sunless tans look better and last longer when your skin is hydrated.  Since it's scented with Mixologie's Tempted (coconut kiss) fragrance, it smells AMAZING.
Smells AMAZING
Moisturizing Formula
Streak-Free
Dries Fast
No Orange Tones
Travel Friendly
Apply to clean, dry, exfoliated, and moisturized skin for best results.  Temporary colorant shows where you are applying.  Tan will develop over the next 1-8 hours.  For a light color, shower after 1-2 hours.  For a deeper & darker tan, leave on for several hours or overnight.   For hands feet, elbows, and knees, a coat of lotion before and after application will ensure a natural look.  Use a latex glove or wash hands with soap and water thoroughly after applying.
Ingredients:
Aqua, Dihydroxyacetone, Sodium Cocoyl, Sarcosinate, Acetyl Hexapeptide-1, Dextran, Glycerin, Propylene Glycol, Aloe Vera Extract, Sodium Hyaluronate, Portulaca Oleracea Extract, Citric Acid, Potassium Sorbate, Sodium Benzoate, Fragrance, Caramel
I'm a believer
I have never been successful with sunless tanning before MIXOLOGY! I'm not super skilled - but this product is great EASY to work with & I don't look like I did it myself!
We're so happy to hear this, Lisa! Easy application AND a natural glow~ Mission Accomplished!! ;) Thank you so much for the awesome review!
SunFoam Sunless Tanning Mousse - Full Size - 100mL
The SunFoam Sunless Tanning Mousee is the best product for sunless tanning!
I have used many different sunless tanning products over the years. After following the instructions for SunFoam, I noticed the difference in the color of my skin and it looks natural. Also, in the past, I would notice an unpleasant odor from the product. This SunFoam does not have any lingering scent. That is also a fantastic feature. Thank you!!
We love hearing that you love the Sun Foam as much as we do! Thank you so much for your review! :)
Best tanner ever.
Easy to use. No orange color and smells good. Fast delivery. First tried this from a boutique and took a month to receive the product. After ordering directly from manufacturer had within the week in my mailbox.
Sunless Tanning Mousse
High rating! Great for travel or beach.
Refreshing Coconut scent.
Next time will order large one. Lasts a long while!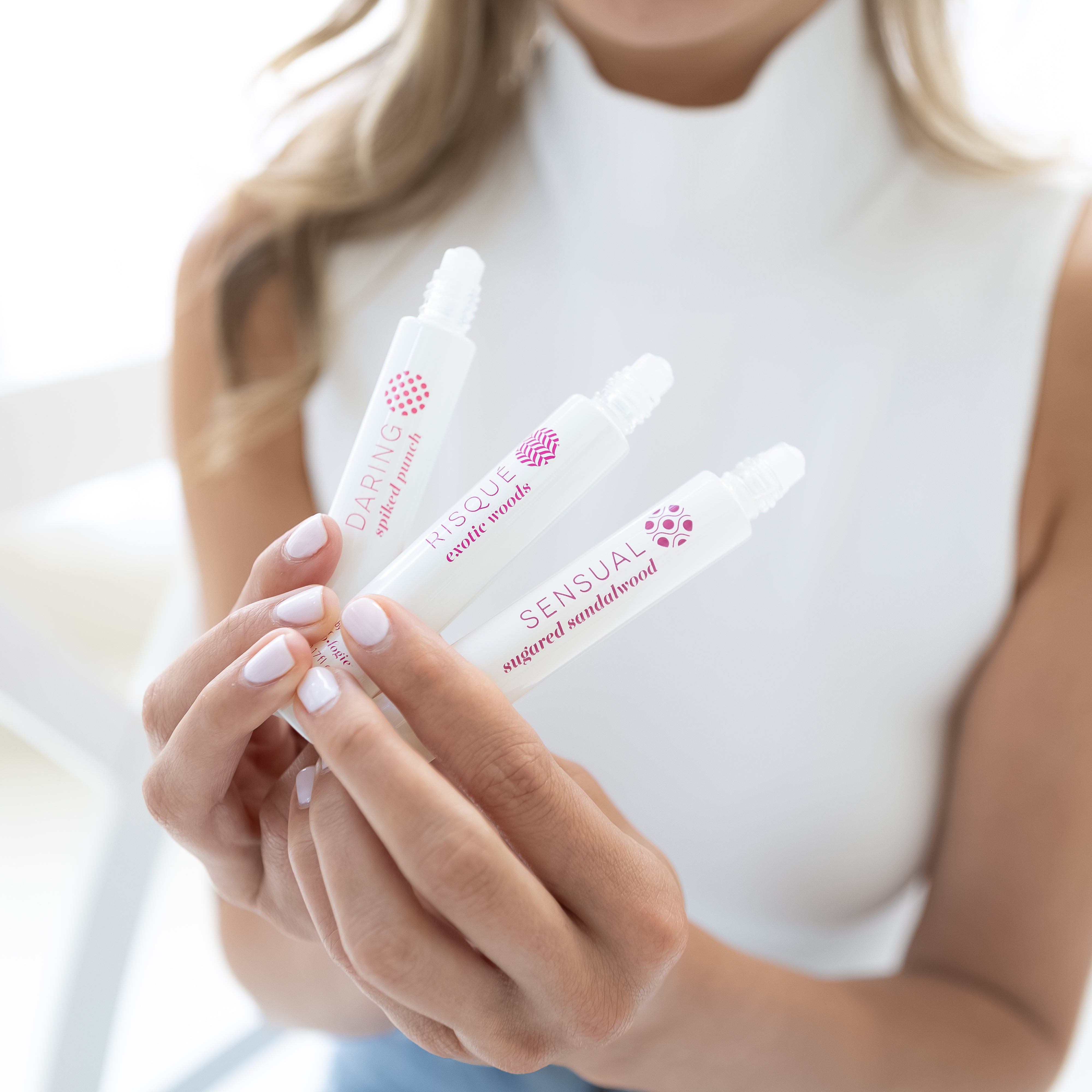 Mix & Match
The Art of Customization
With Mixologie, you hold the palette to your personalized scent masterpiece. Blend, mix, and find your signature.
⭐⭐⭐⭐⭐
See Why Our Customers Love Us
I love the scents, they're beautiful, fresh and light. Every time I order 1 rollerball I get samples of other scents that I fall in love with so my collection is growing!
-Roxanne
This is either my 9th or 10th order of this. To say I love it is an understatement. You have a light fresh scent all day! I love and I mean I love the sultry fragrance!!! Thank you Mixologie!!!!
-Lea
I'm obsessed with this fragrance, it's not too overpowering but still smells so amazing! I've been spraying it on all of my clothes and the scent lasts for so long - especially if you pair it with the rollerball perfume! If you want to smell amazing and get a million compliments, do yourself a favor and buy this!!!
-Colleen
Smells are so great. Ordering is great and mail service is fast!
-Pamela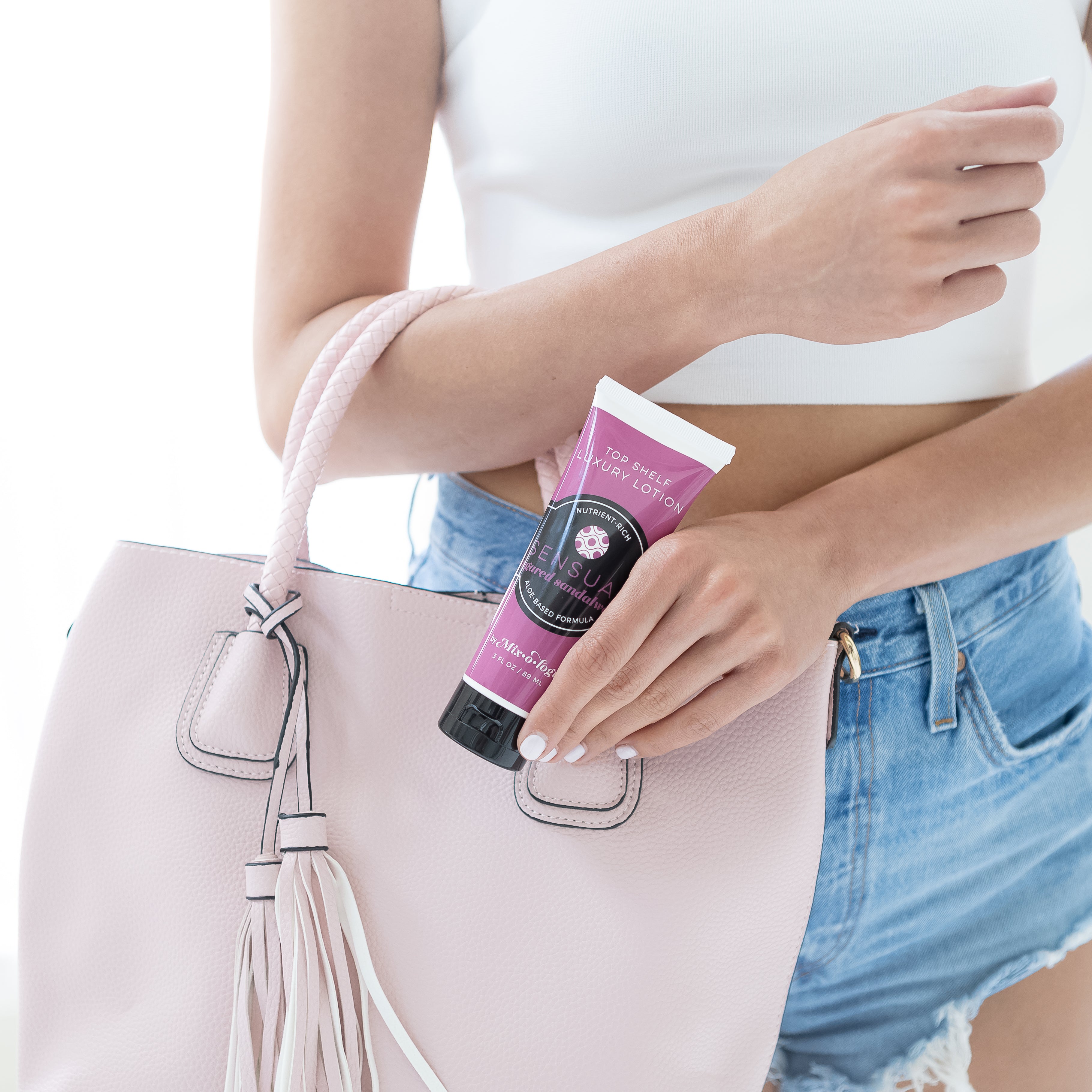 Portable Perfection
Designed for the modern individual on-the-move. Compact, chic, and fits right into your lifestyle.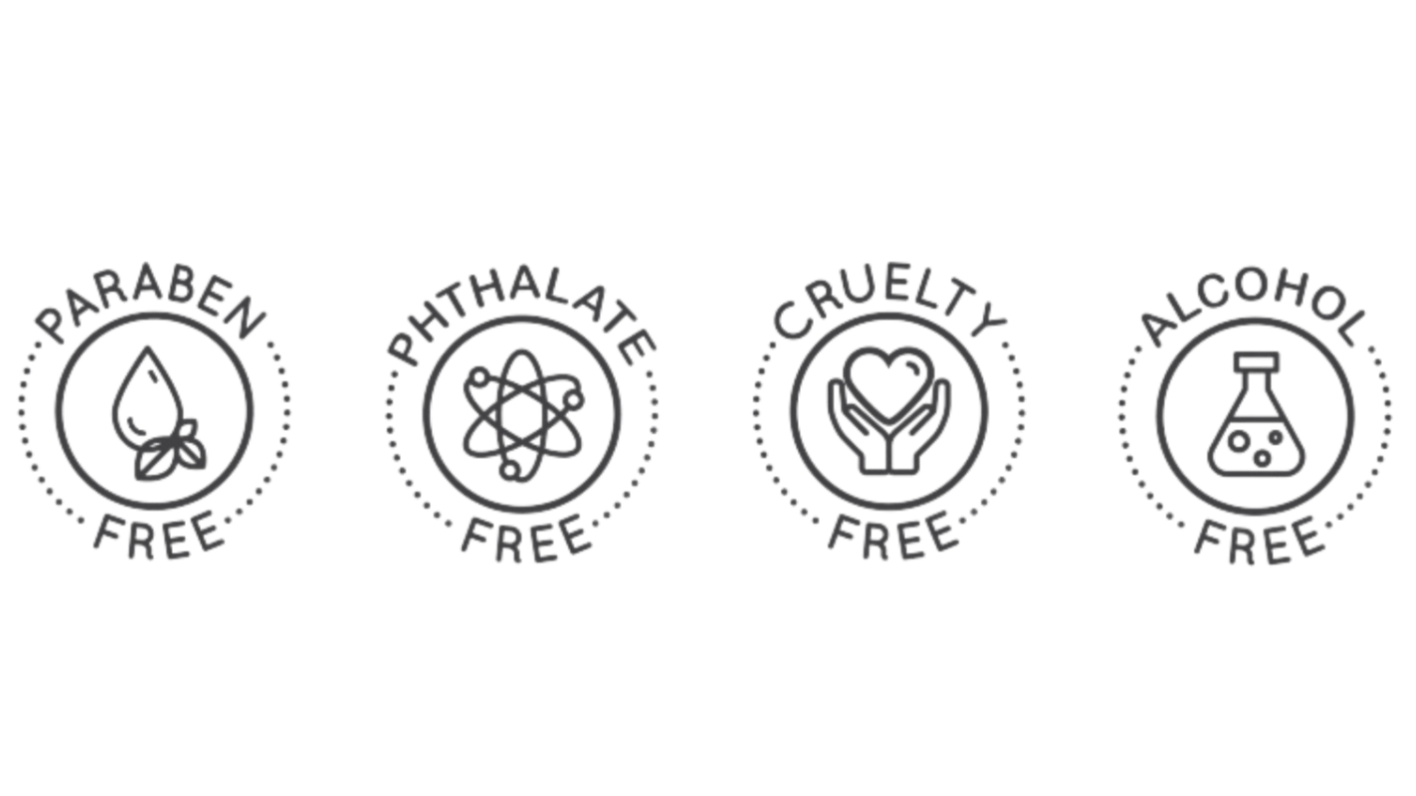 We Care About Our Ingredients, Because we care about our customers
Beauty & Conscience in Every Drop
We're not just about delightful fragrances; we're about making a difference: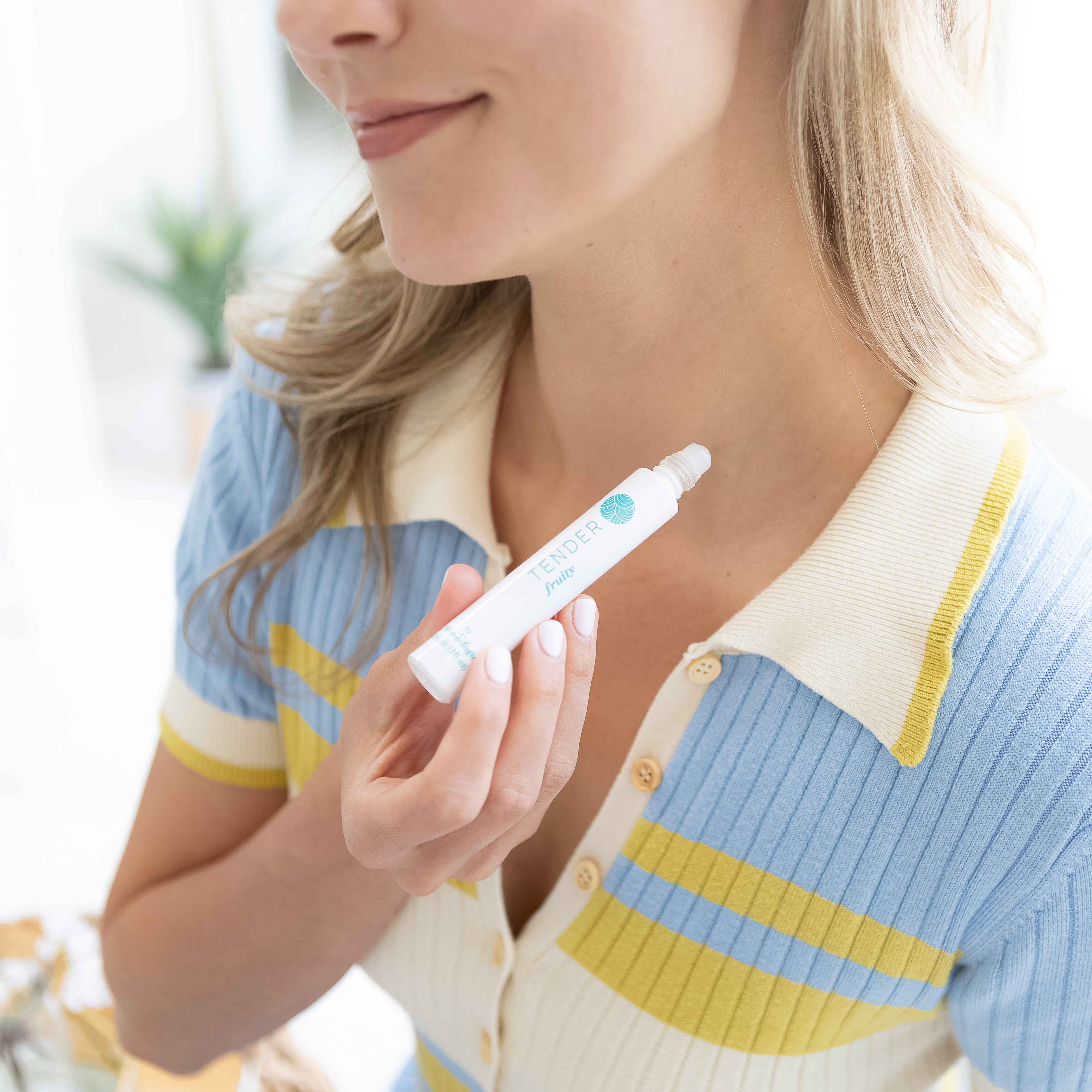 Alcohol-Free Elegance:
Our pure-oil based formula guarantees that you're wearing a scent that stays all day without overpowering the senses.