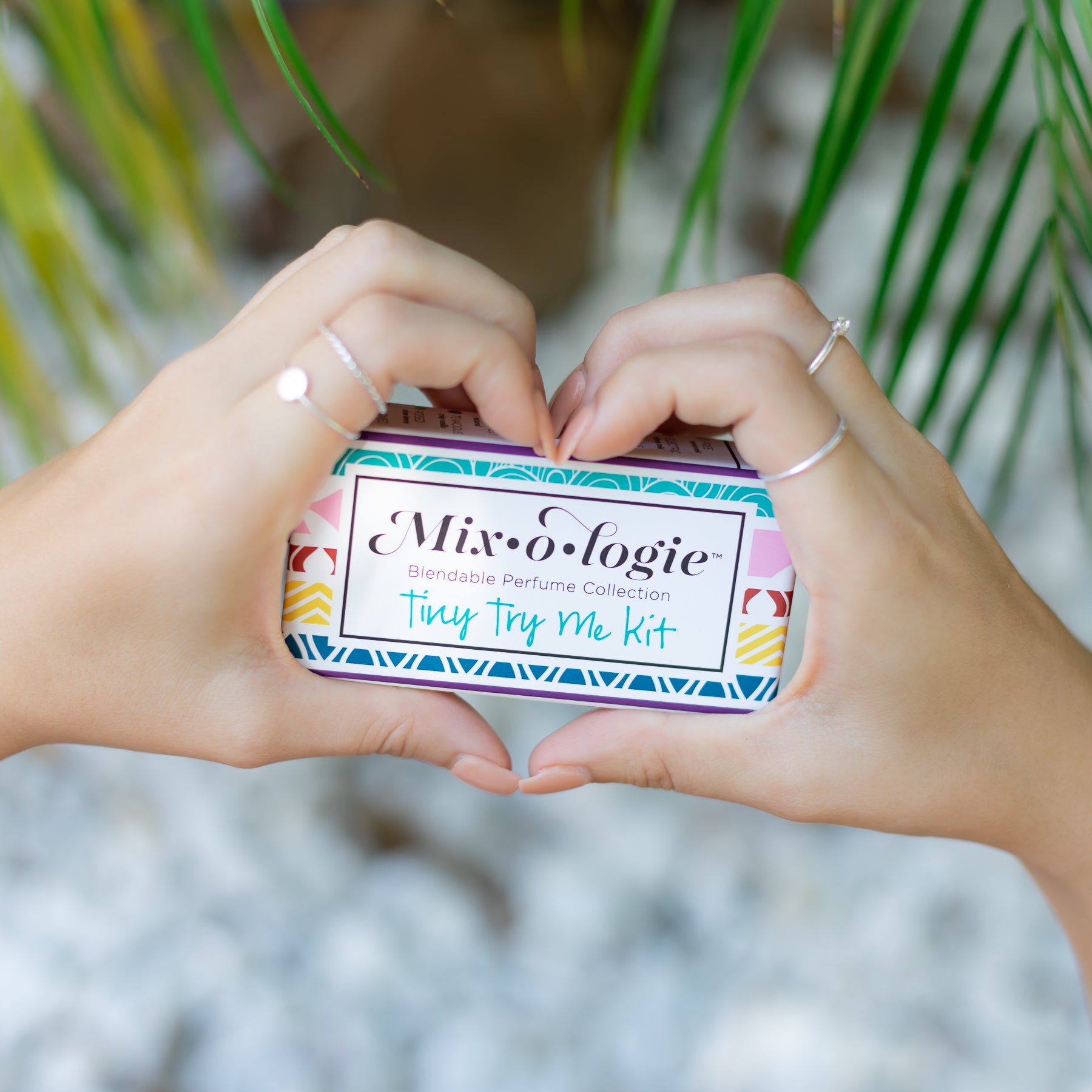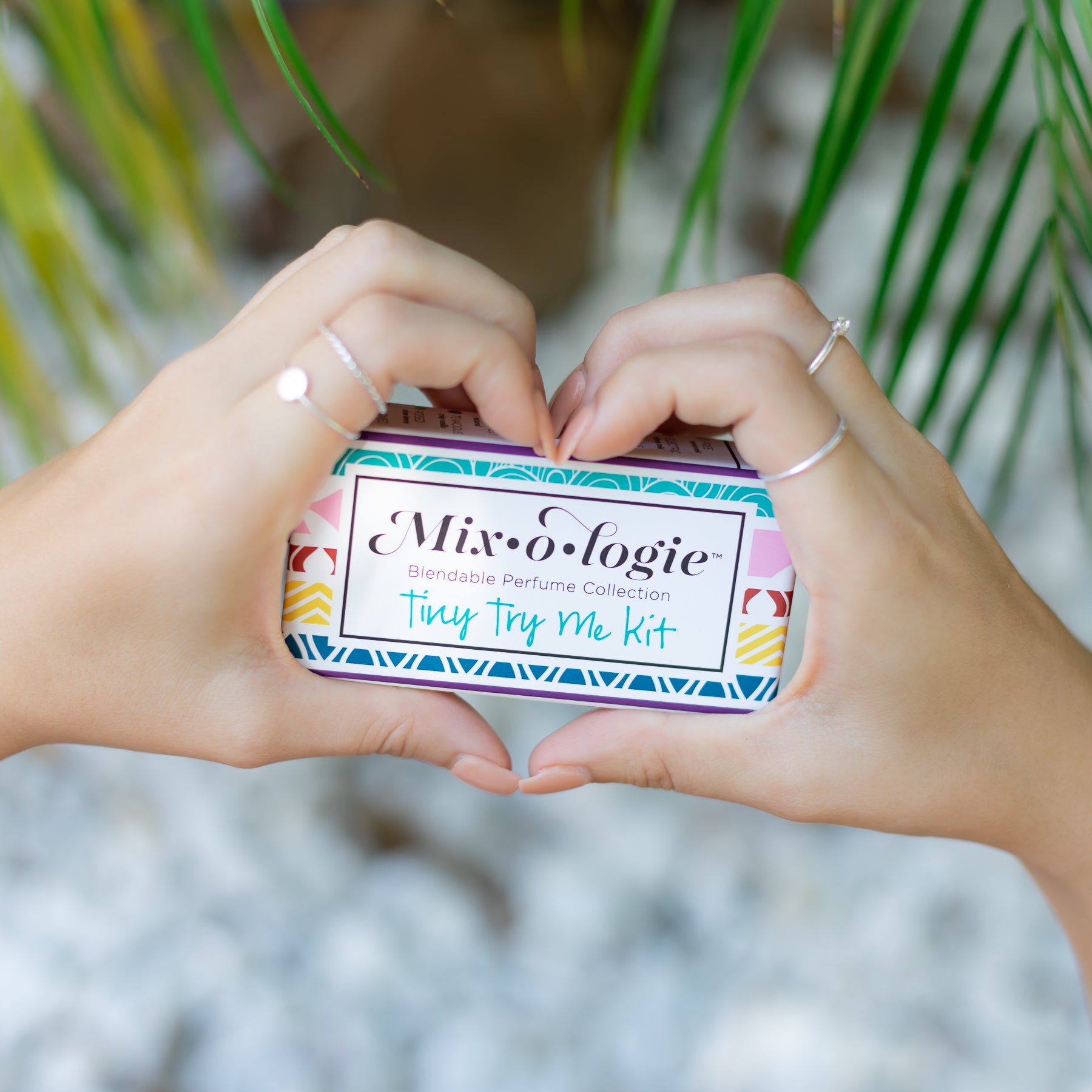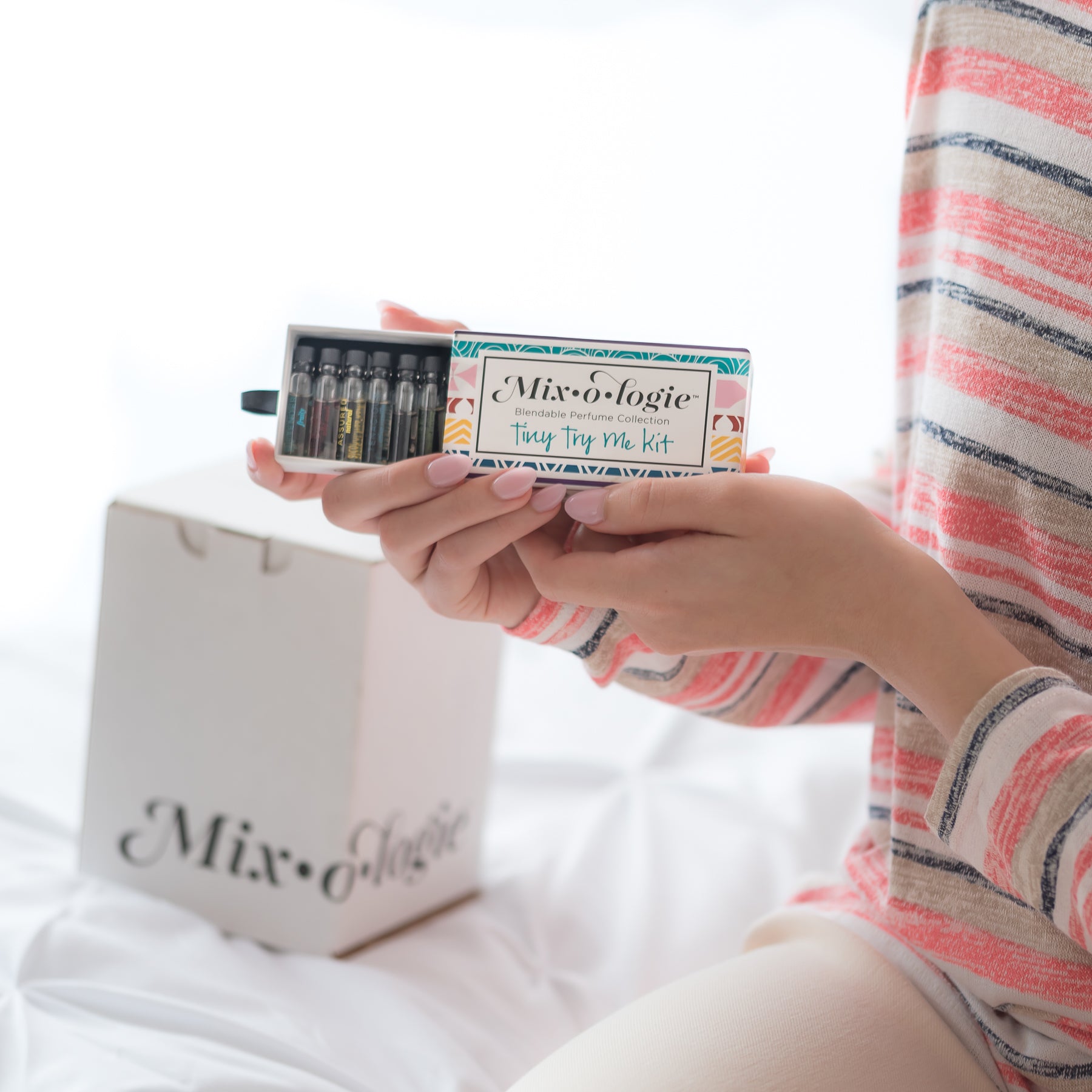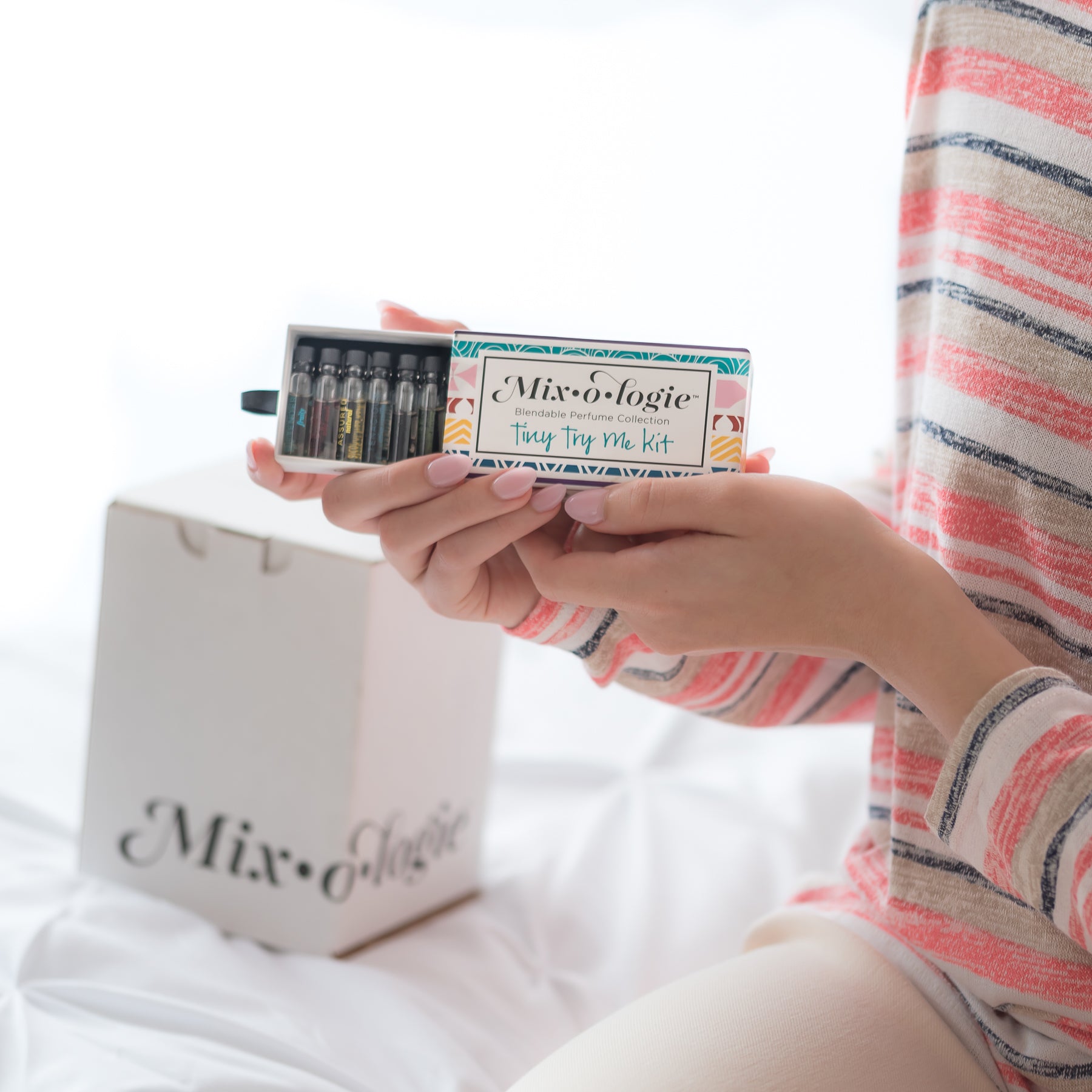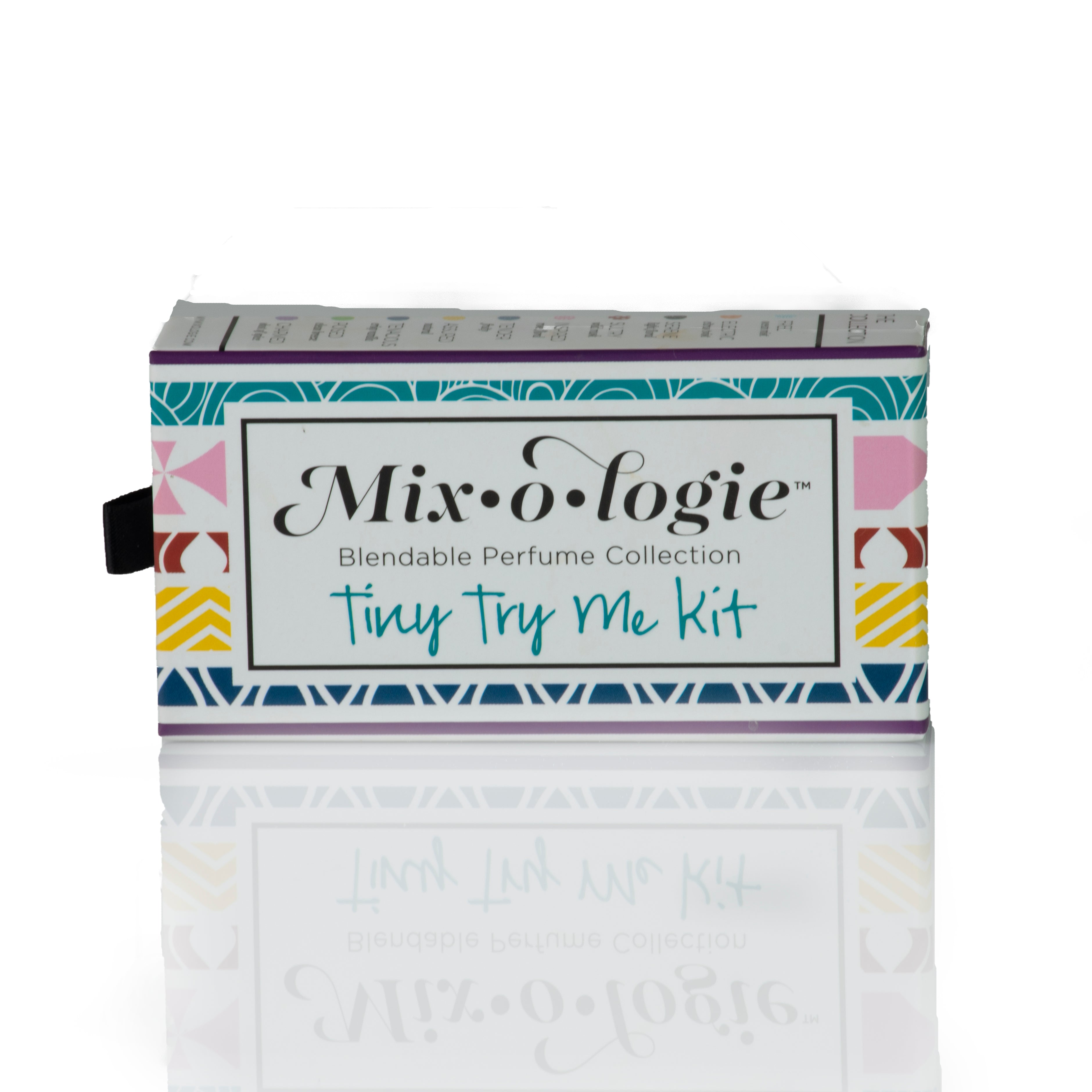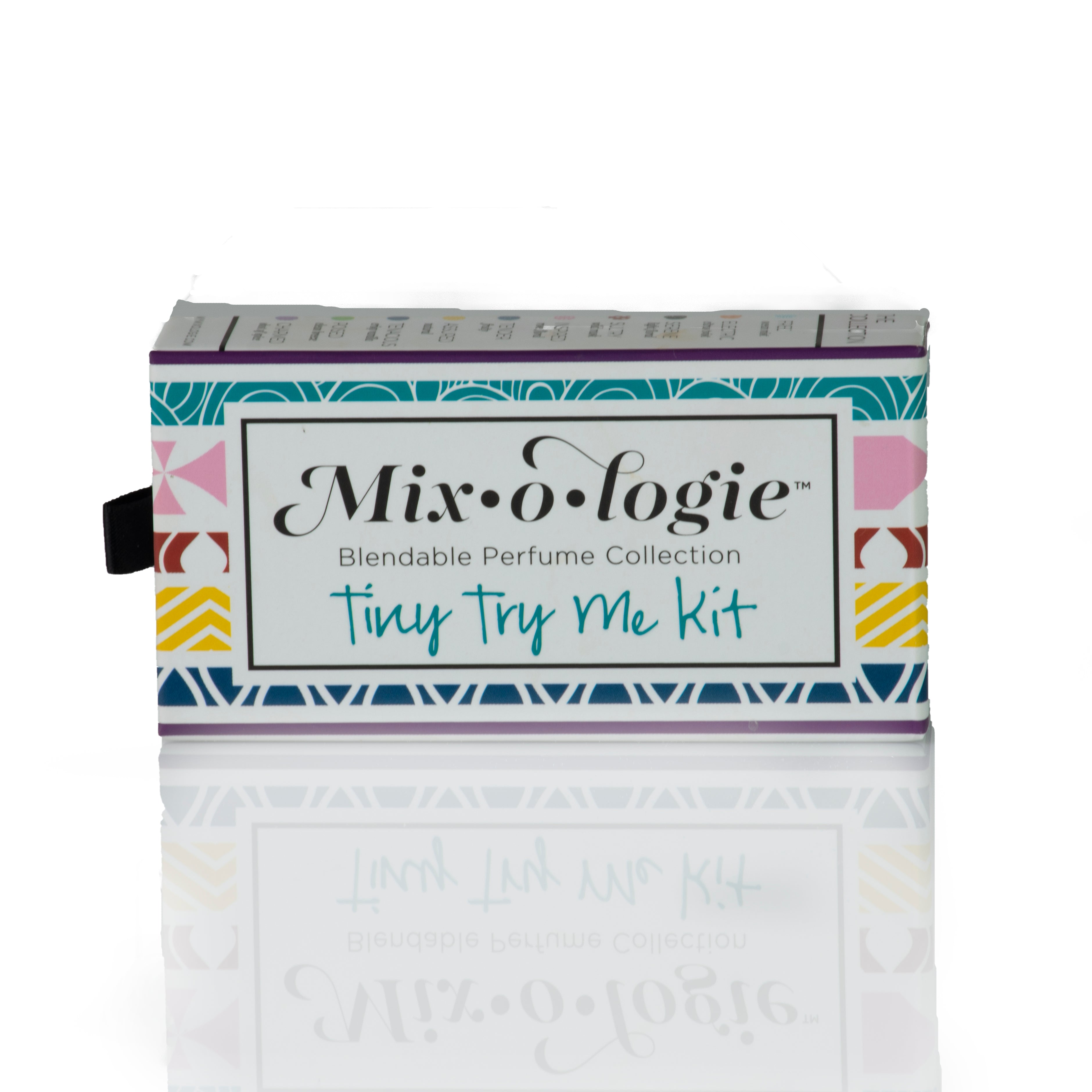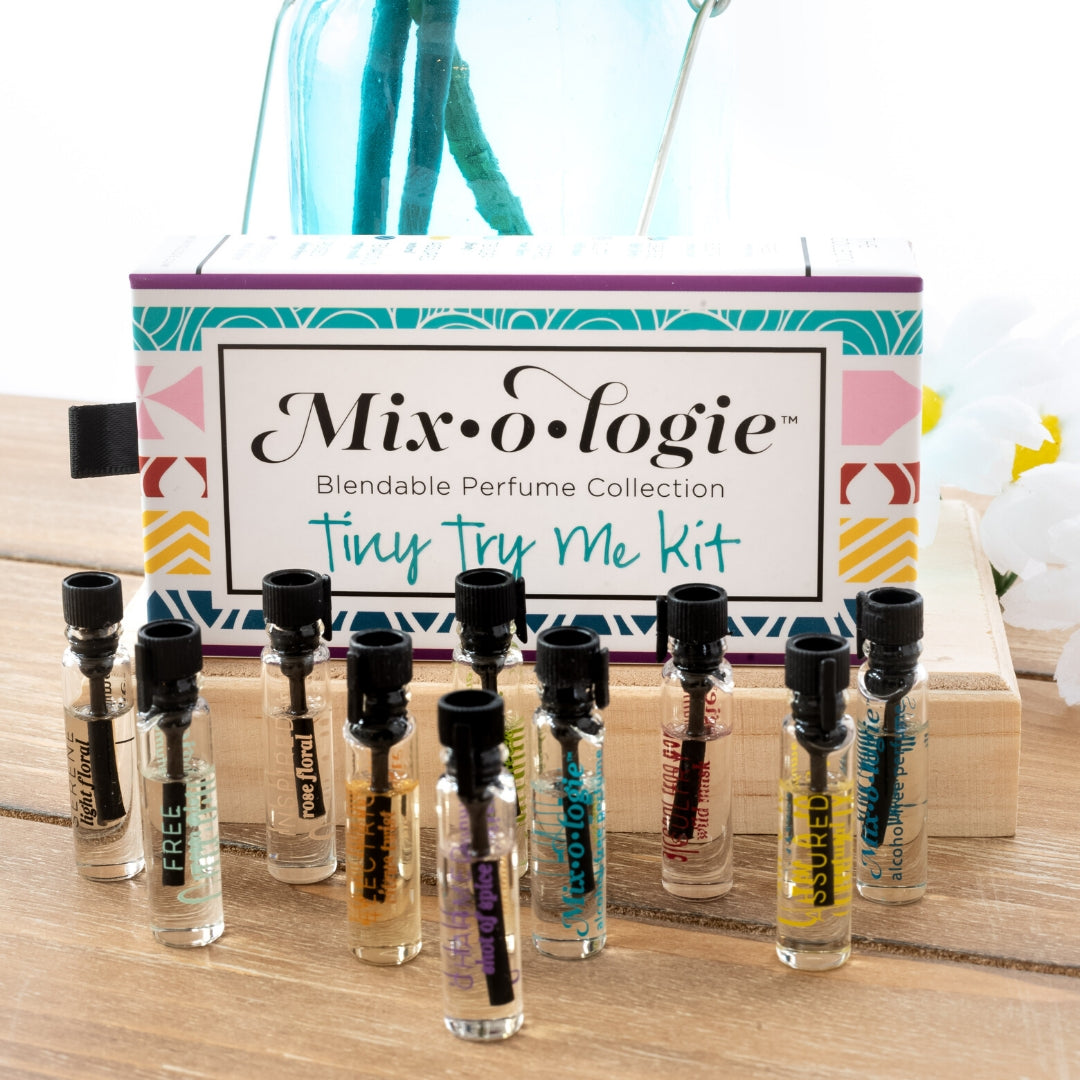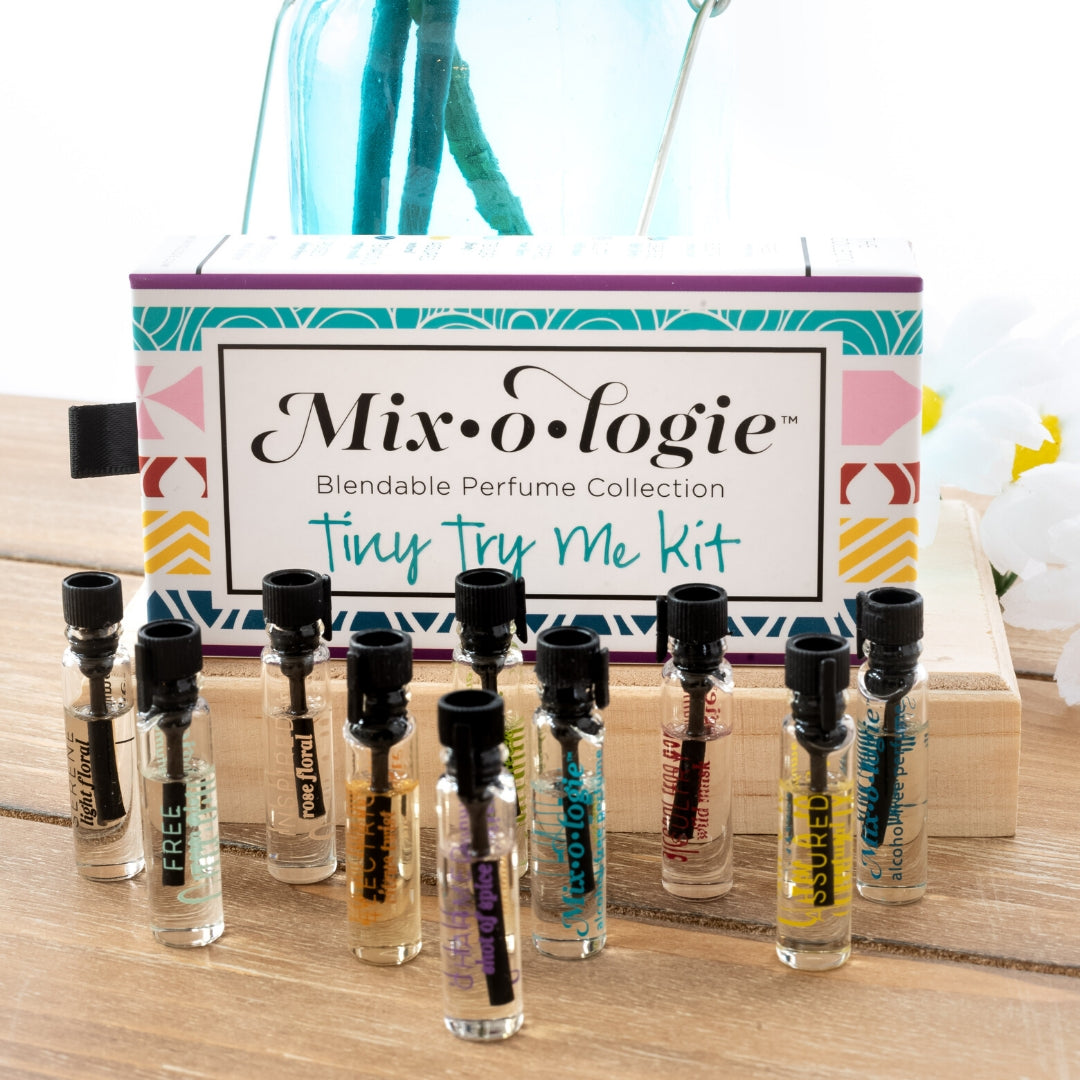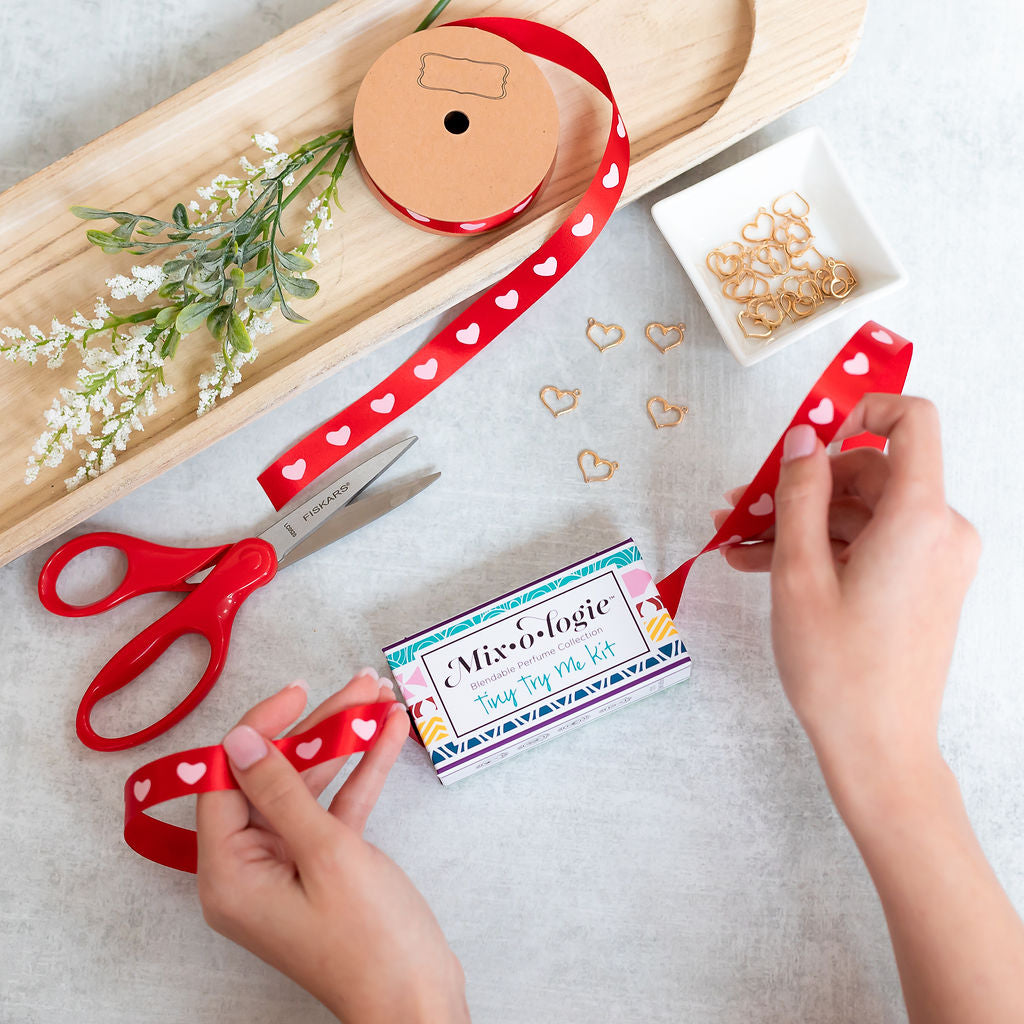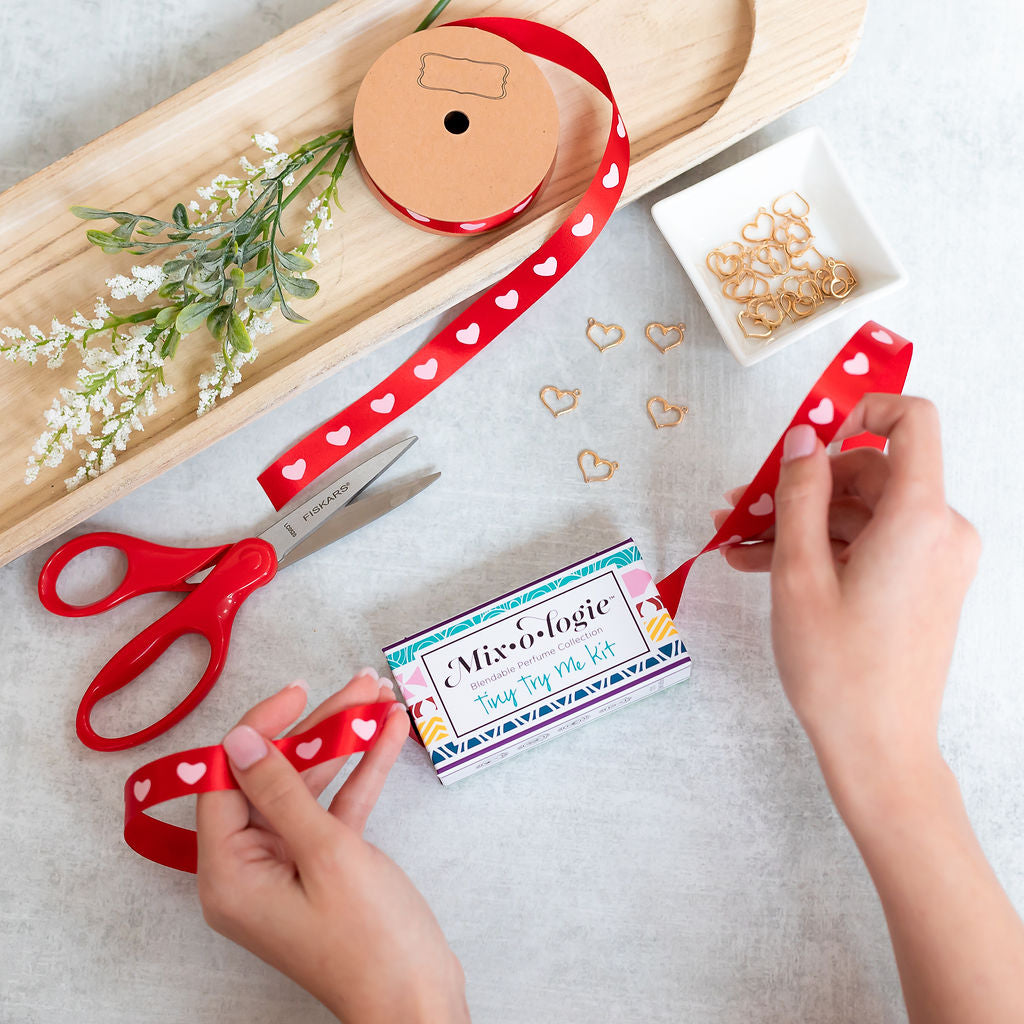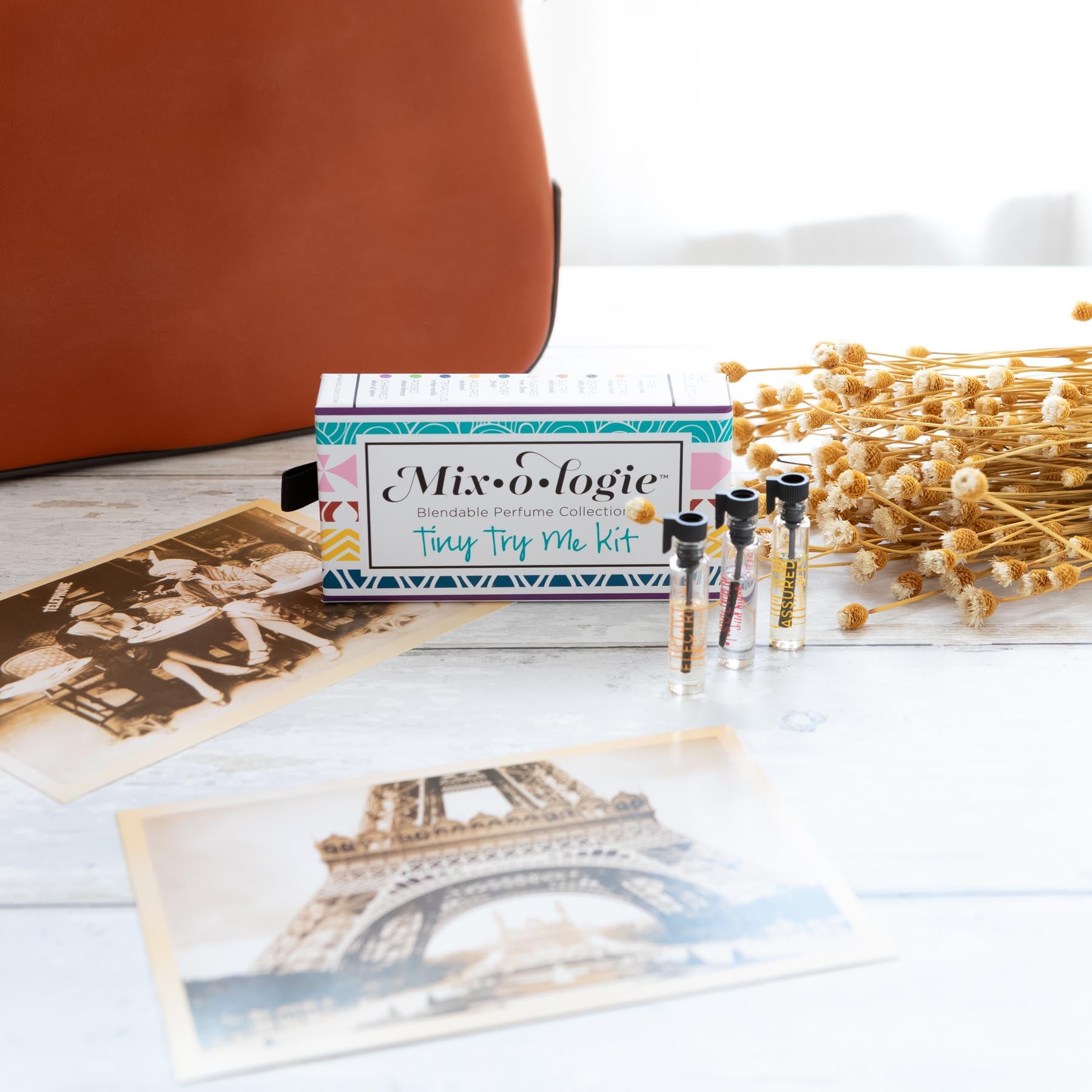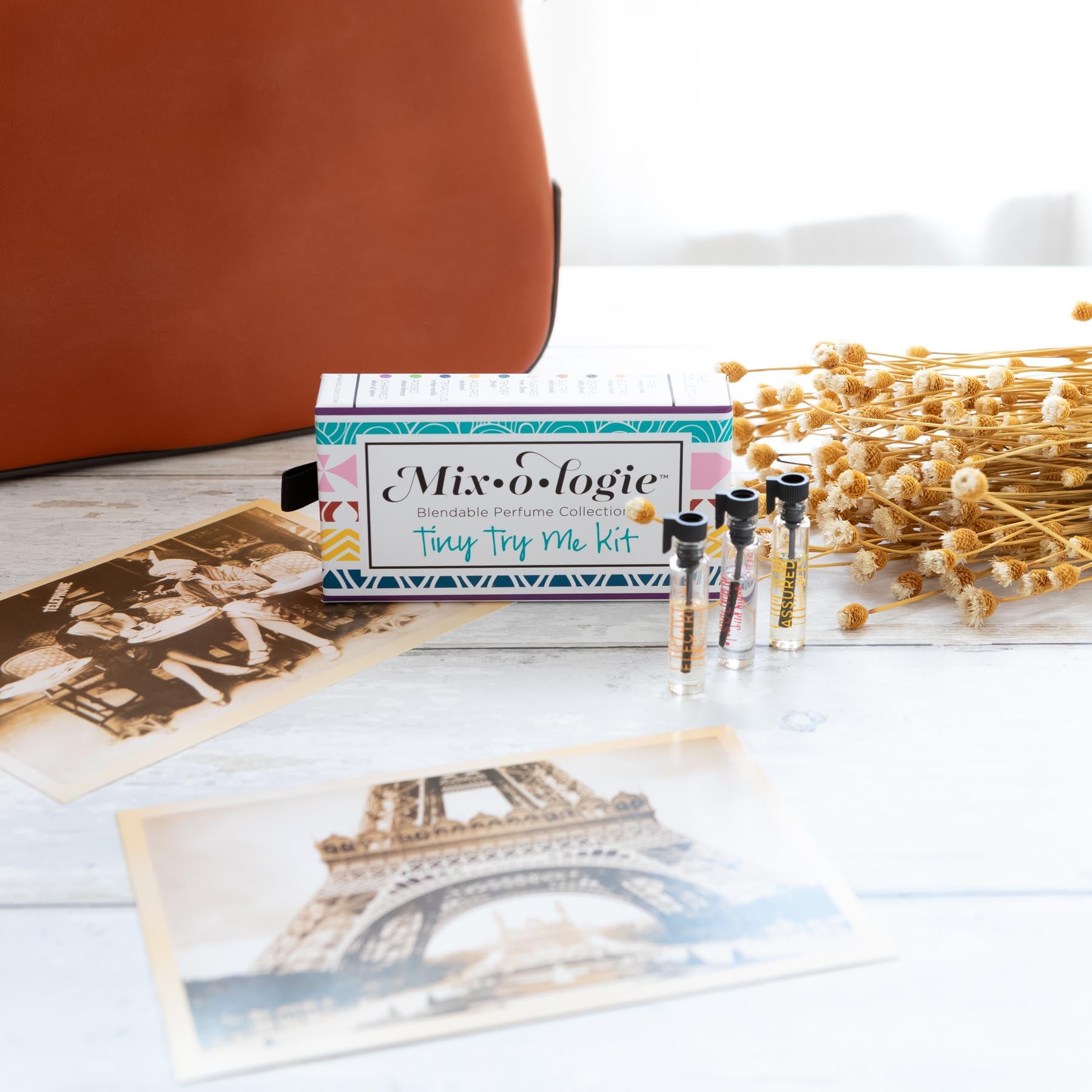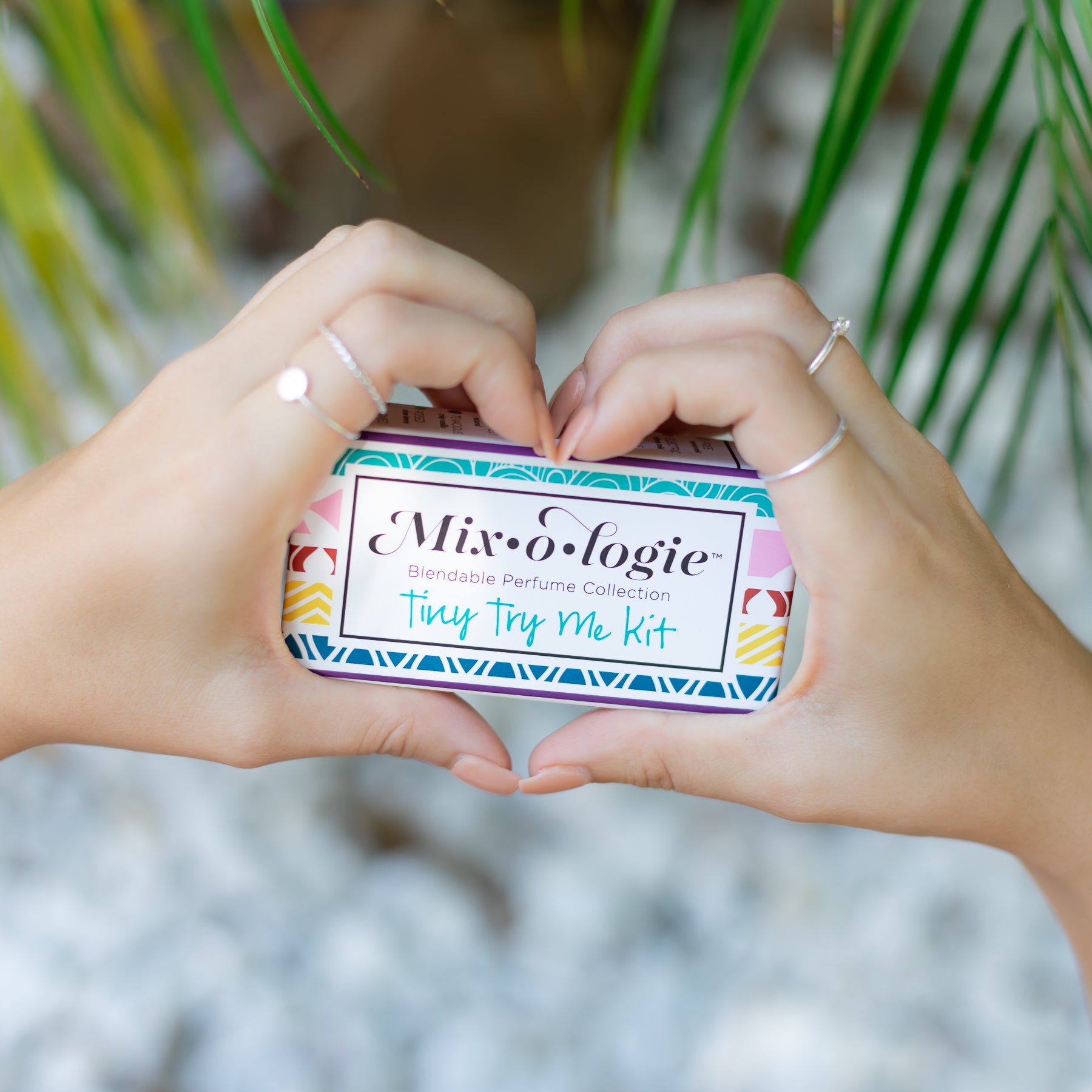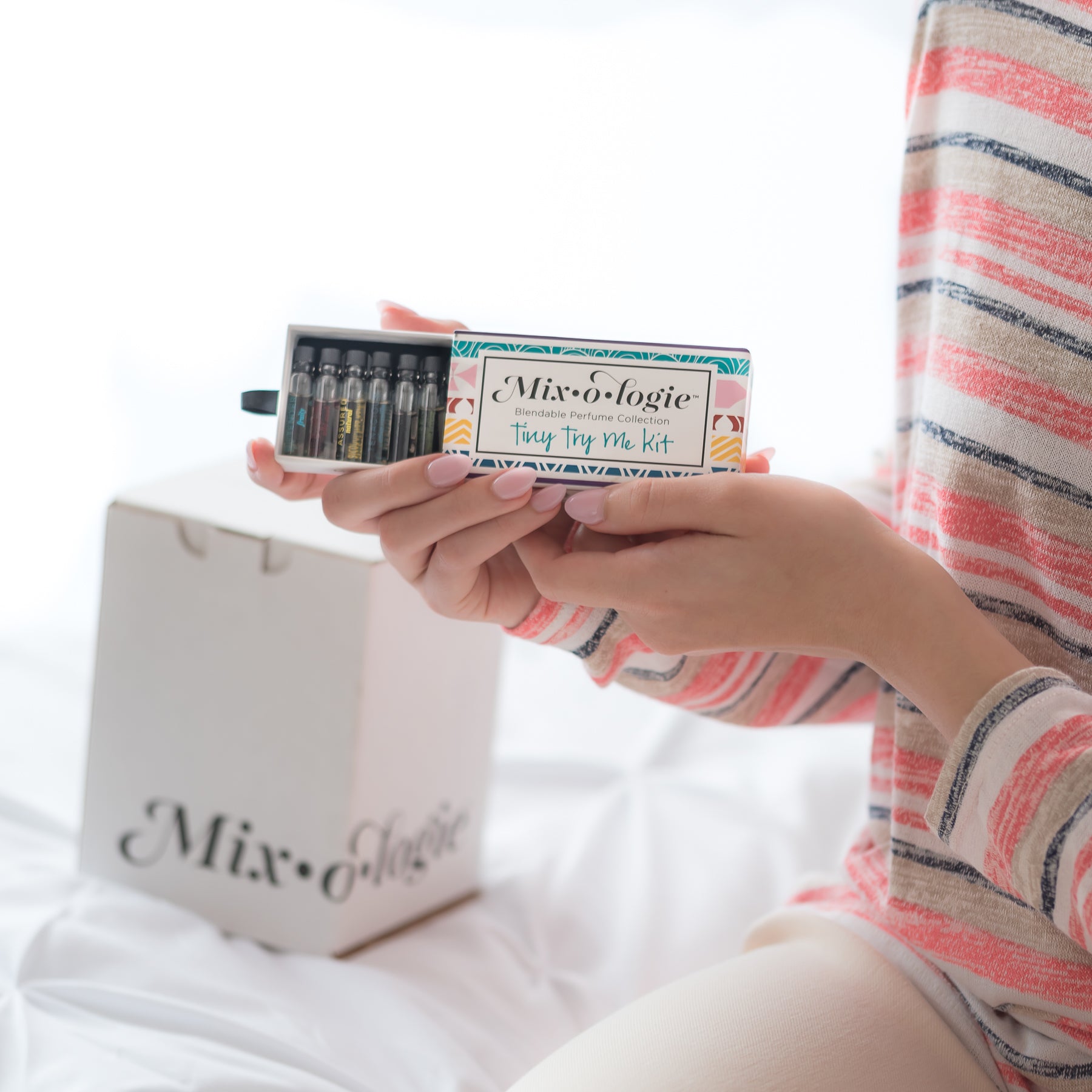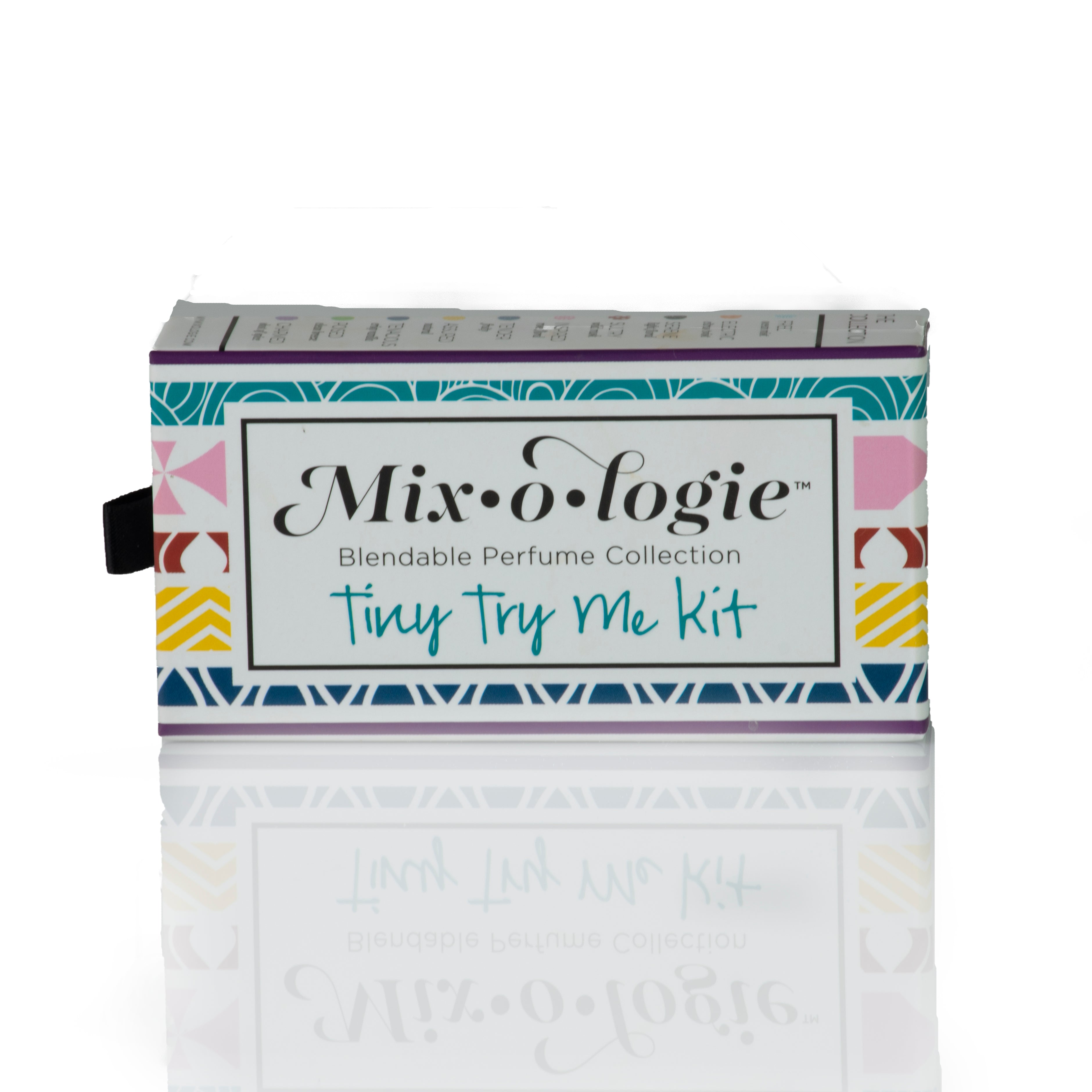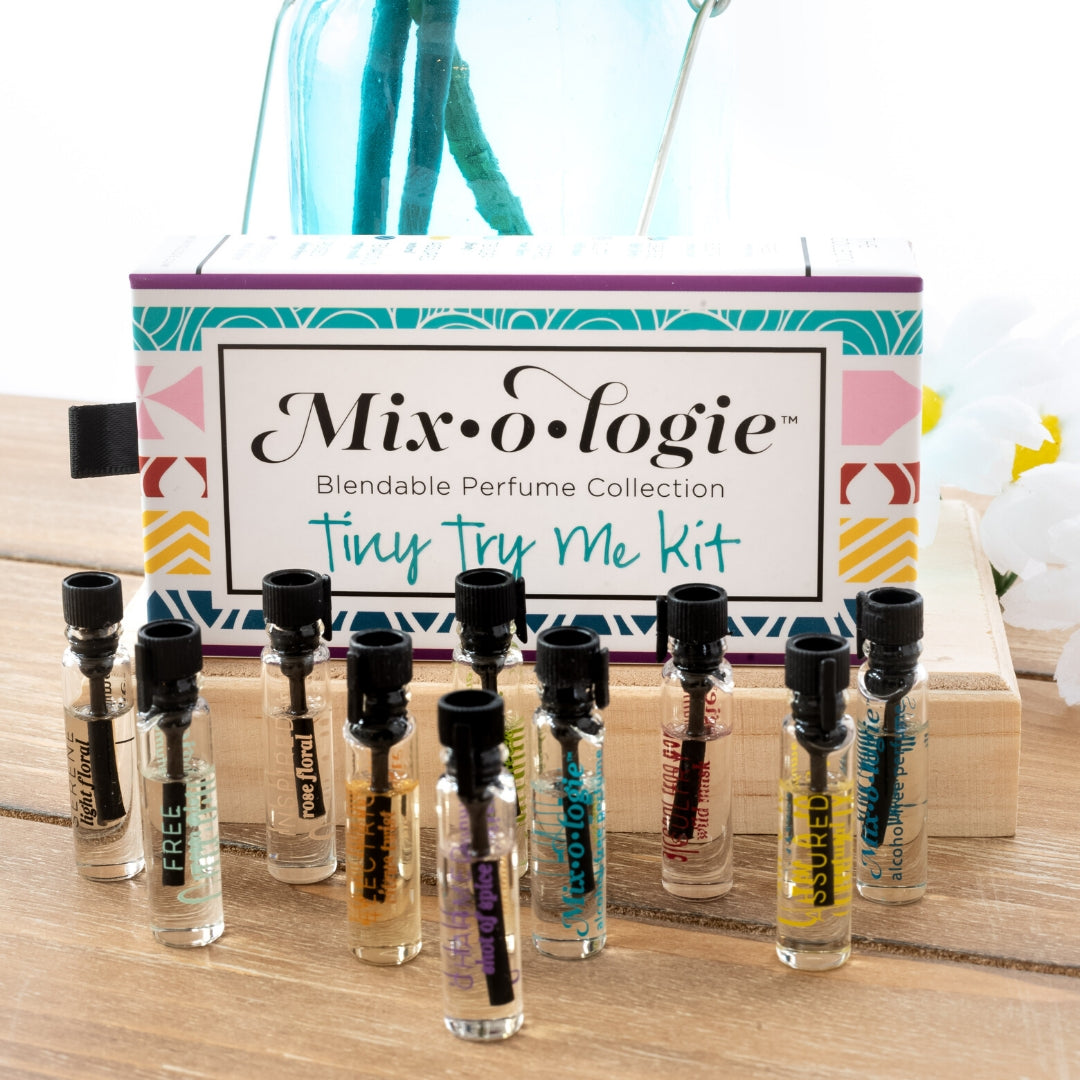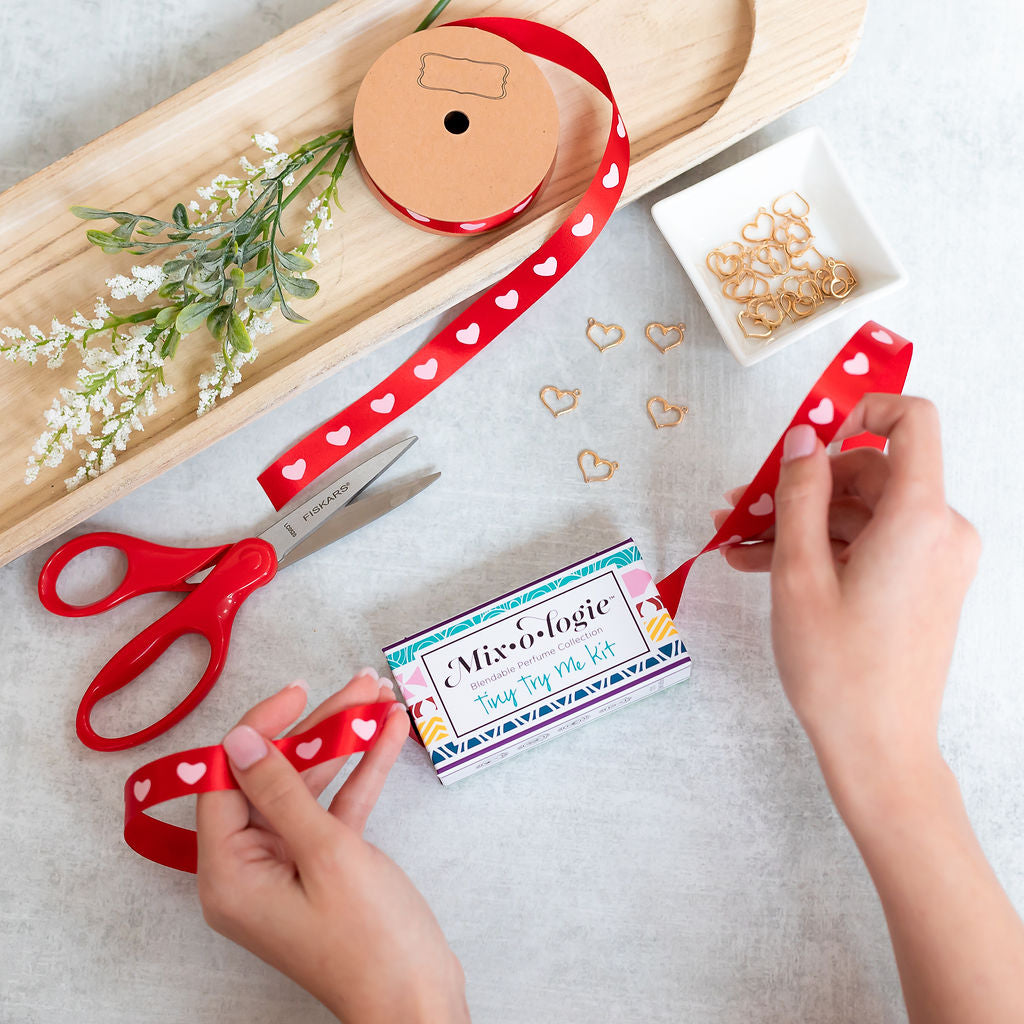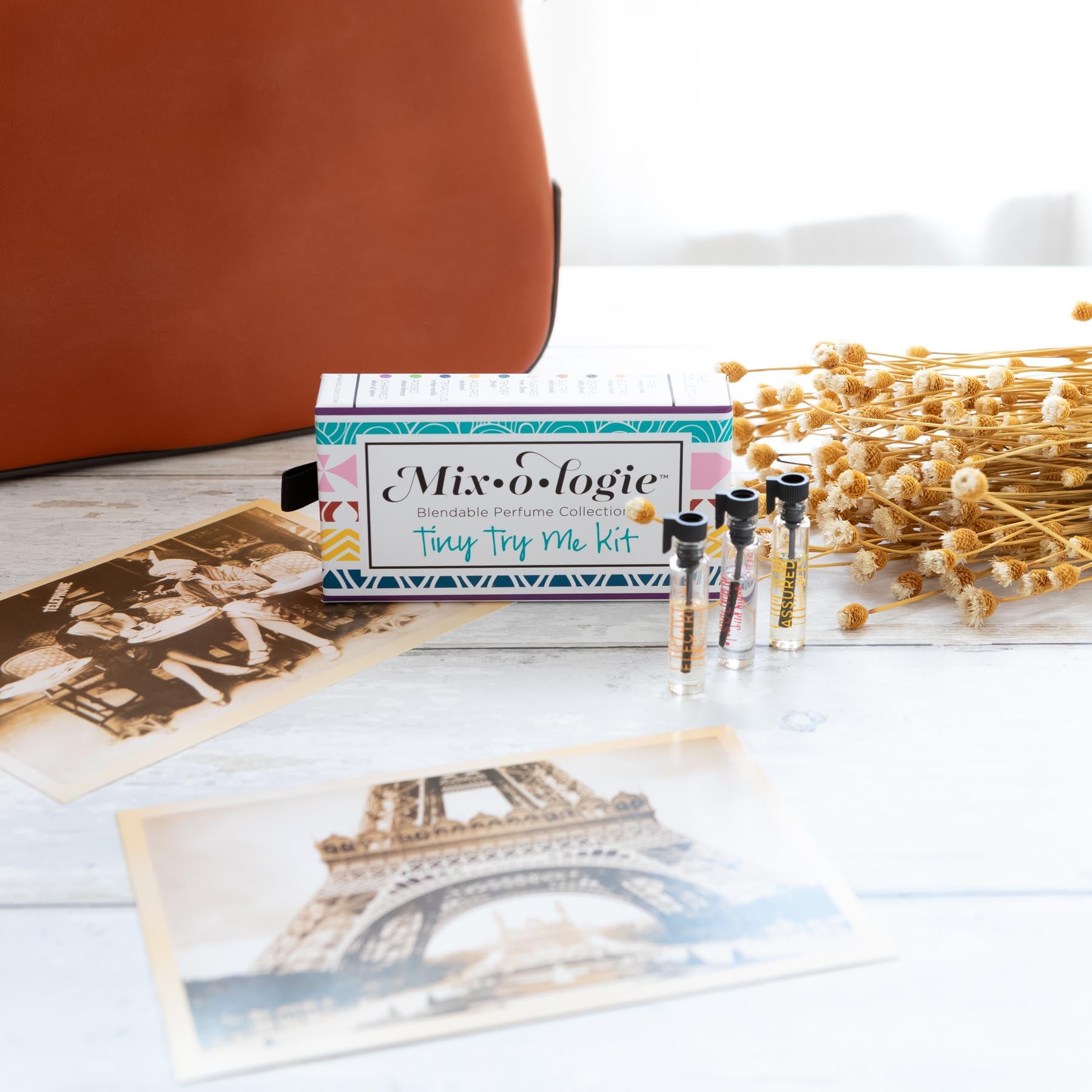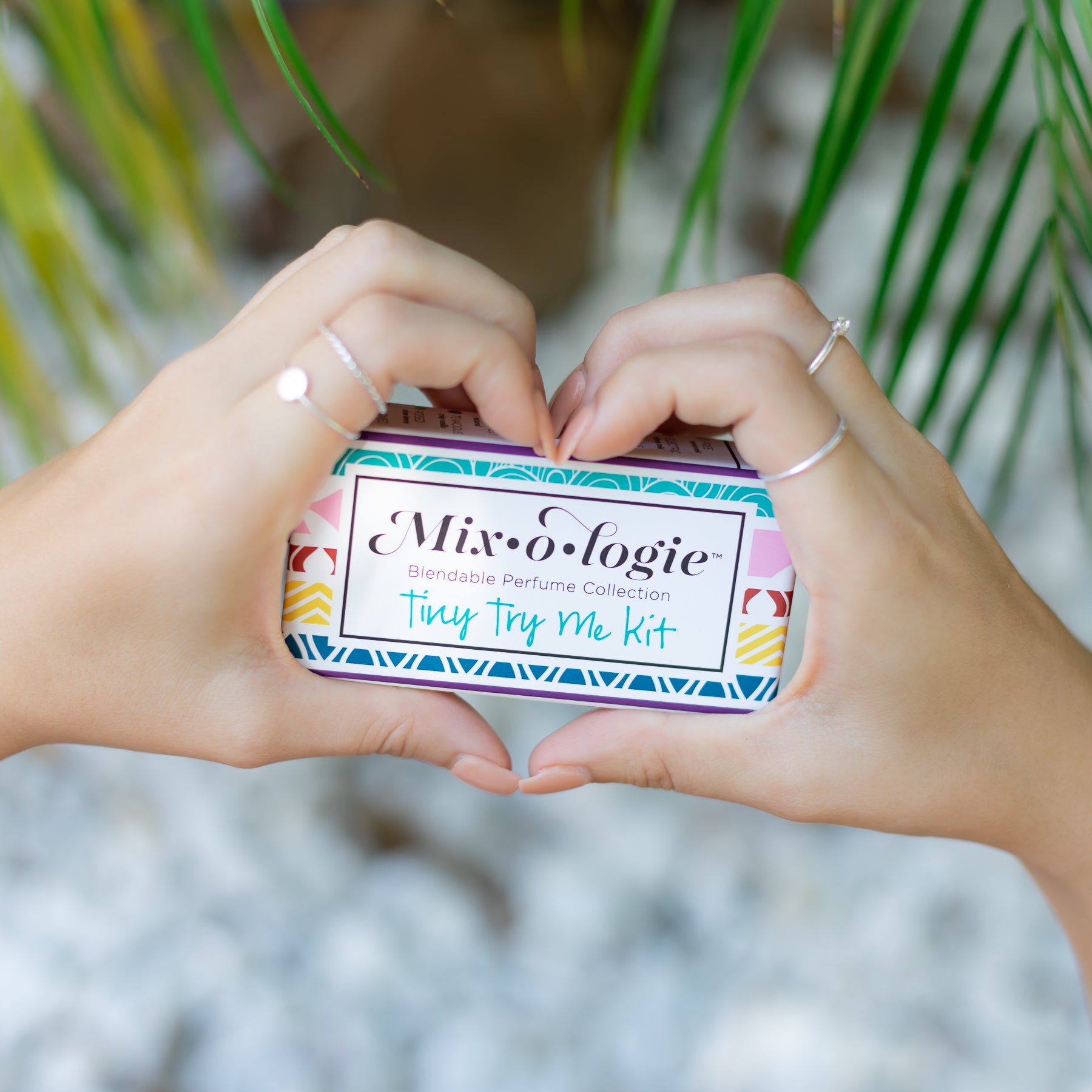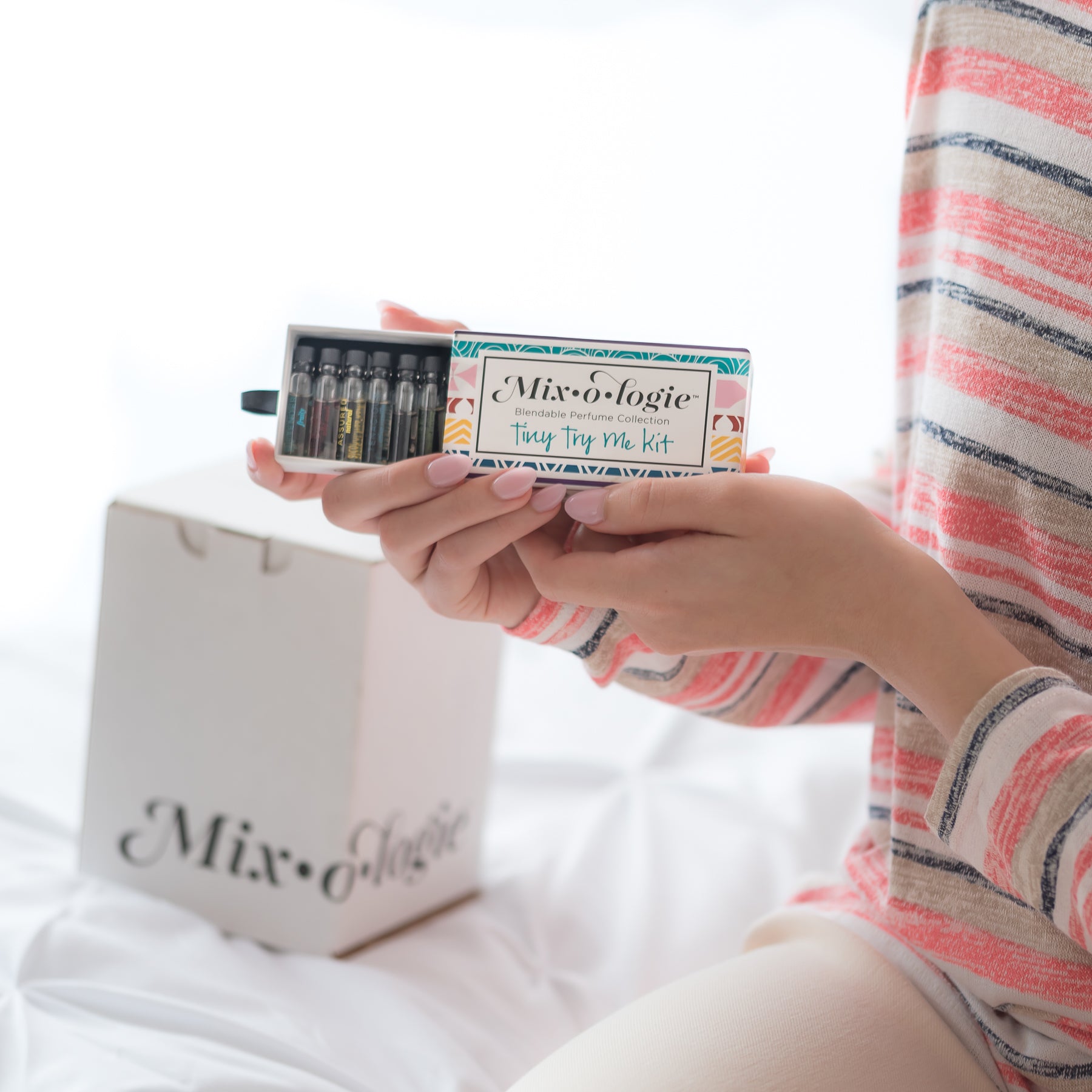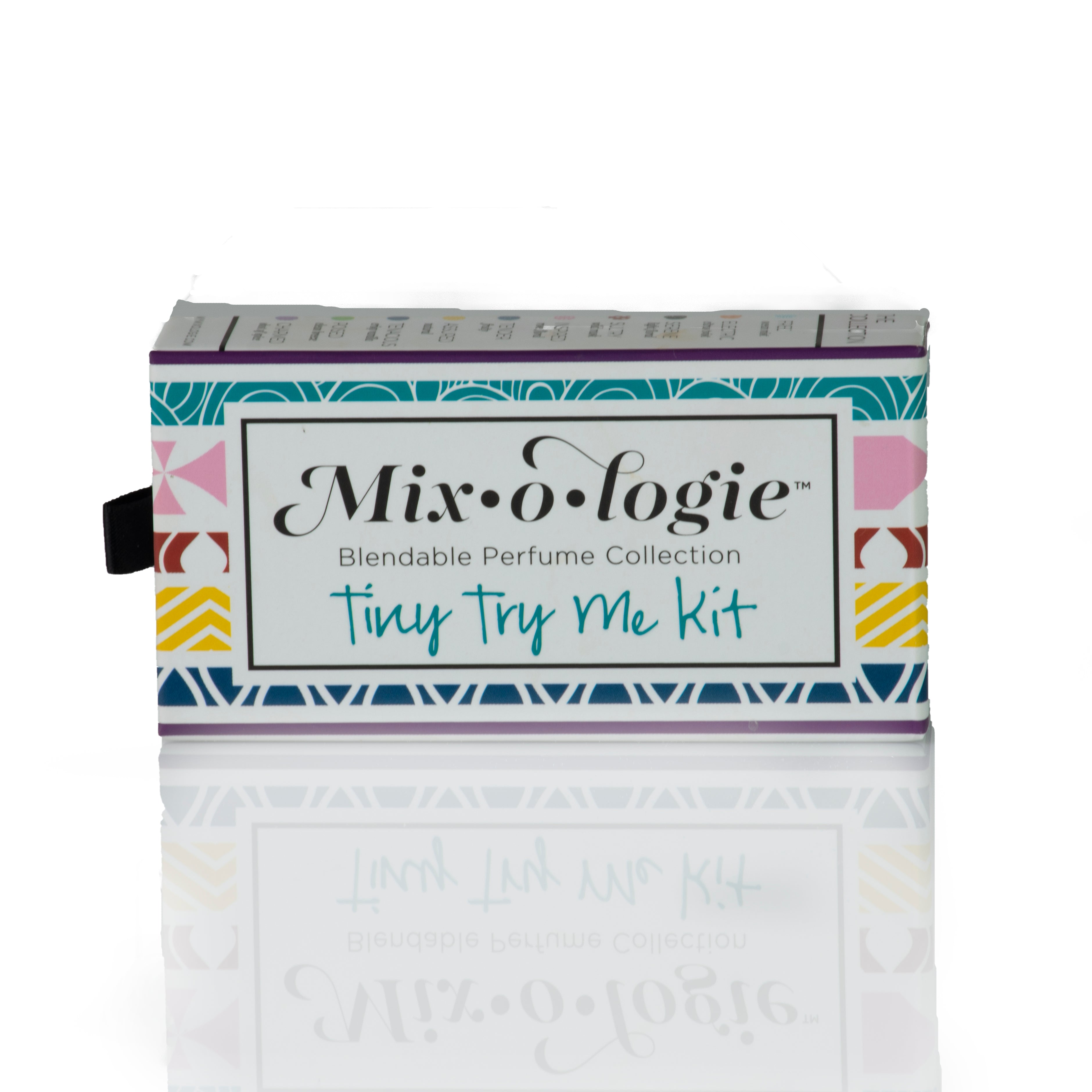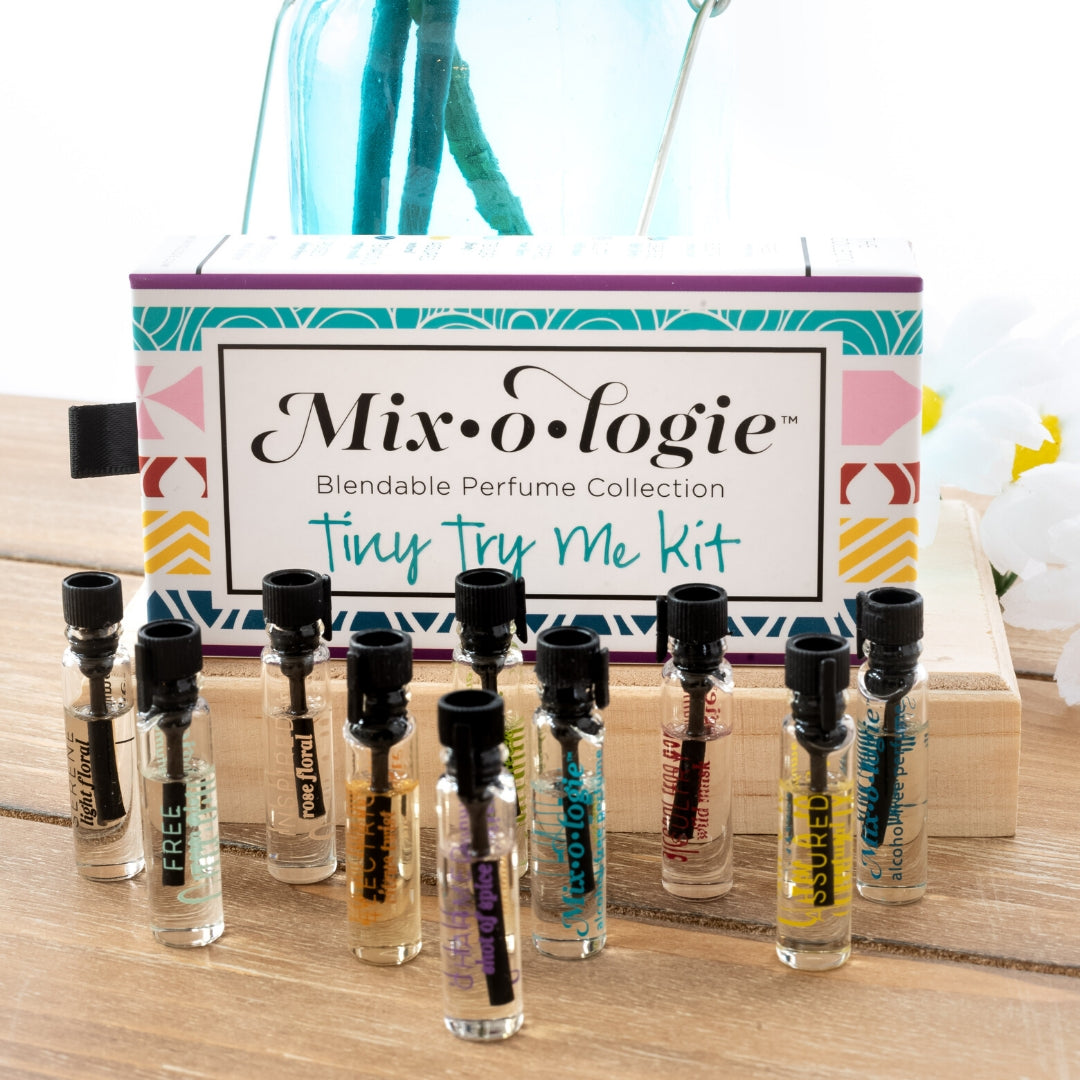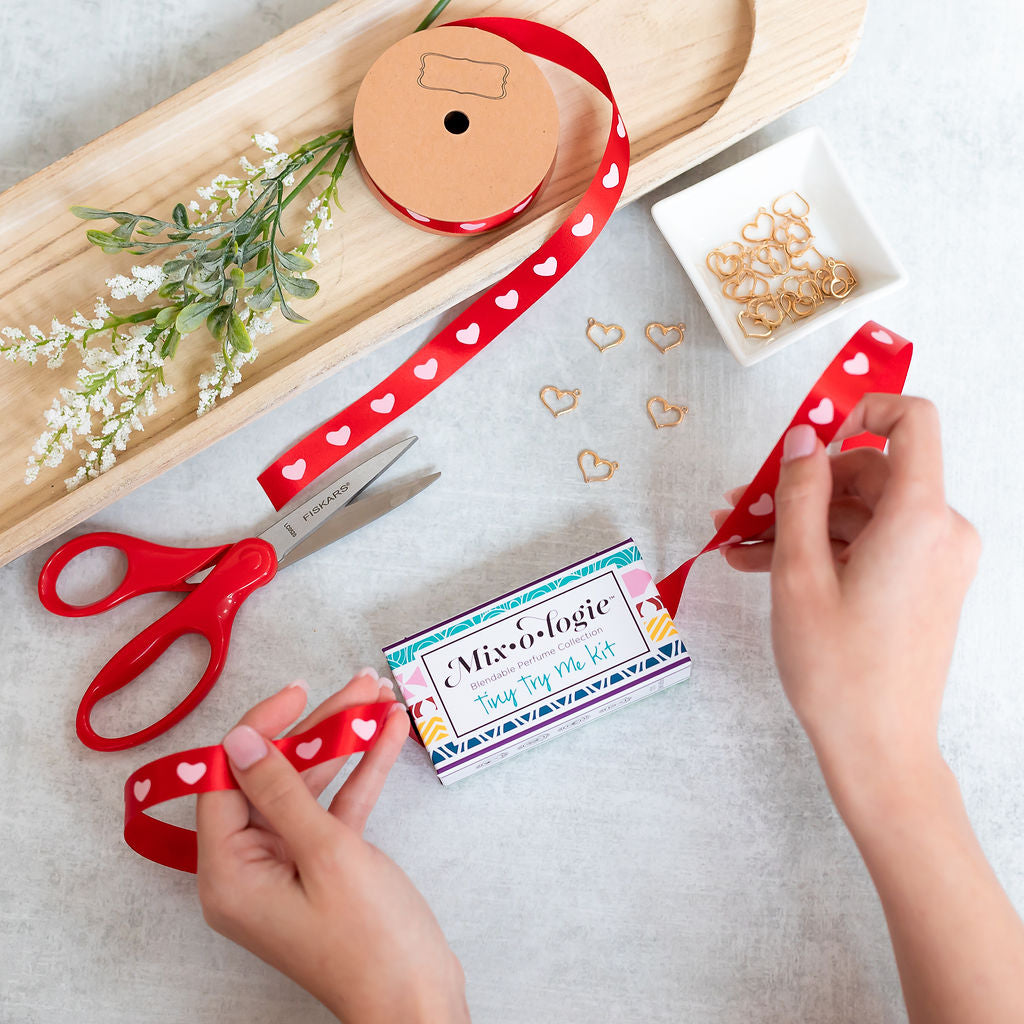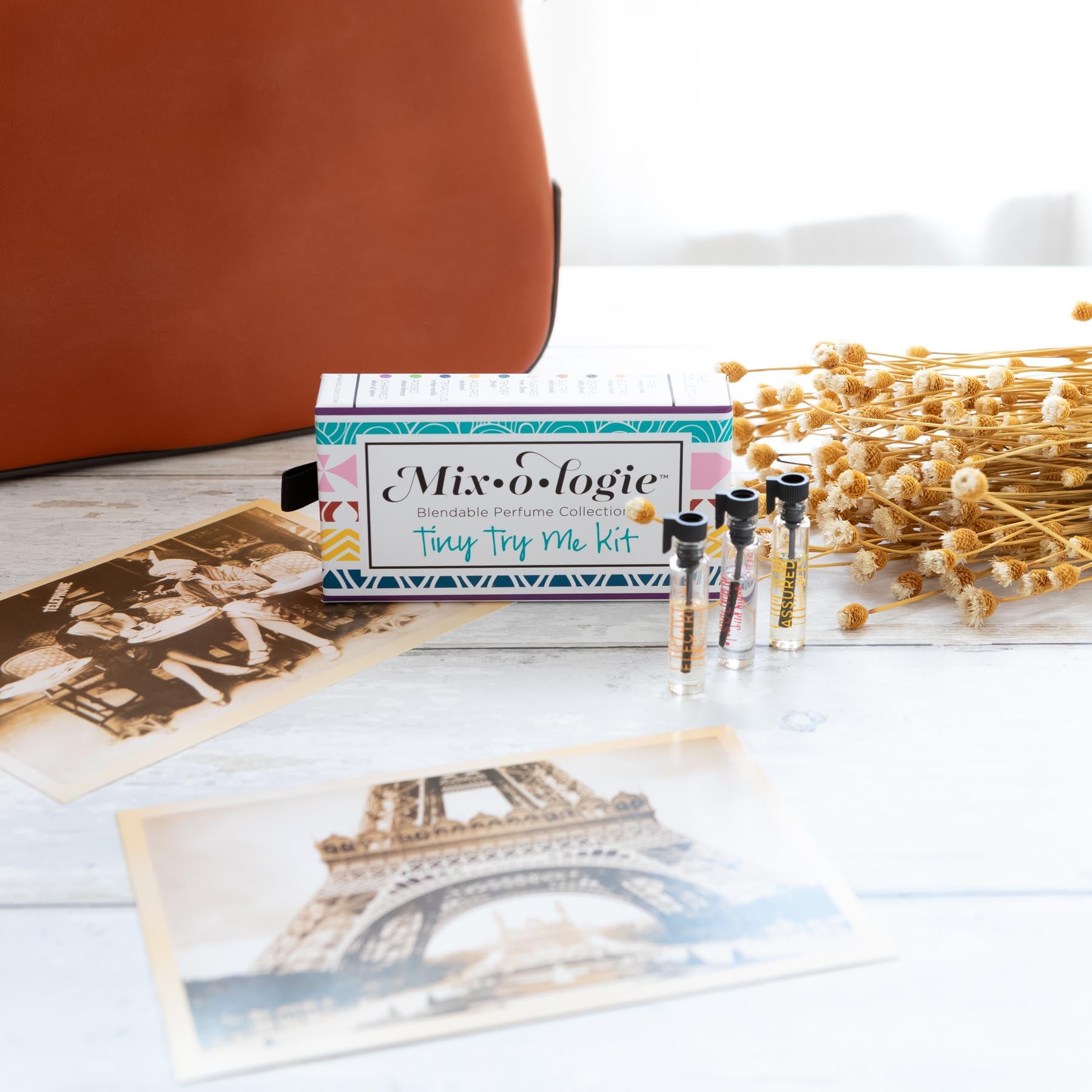 Tiny Try Me Kit
Perfume Oil Sampler Set. - Trial size versions of our top 10 Mixologie fragrances!  Your chance to try the top 10!  Discover what scents work best with your body chemistry.  
Your Signature Scent Discovery Journey Begins When You Open The Box.

Did you know that you can mix different scents together to create a custom blend?  It's like a "mini" perfume lab in a box!  Don't worry, you can't go wrong -- they all smell great together.  Once you discover your favorites, you can get them in the full size (but travel-friendly) roll-ons!
.5 mL each
Includes:
Sultry (wild musk)
Assured (natural)
Adrift (sun & sea)
Bare (seductive saffron)
Free (ocean mist)
Risqué (exotic woods)
Sensual (sugared sandalwood)
Tempted (coconut kiss)
Tenacious (crisp vanilla)
Tender (fruity)
#alcohol-free
Ingredients:  Dipropylene Glycol, Fragrance Oils
Tiny Try Me : Fun Experiments
This company caught my eye since I used to live in the neighboring town. I have been on the hunt for an earthy scent (like essential oils) that lasts, isn't too masculine, and isn't too sweet. Did I find my perfect scent? Unfortunately no, but I have been really enjoying trying all the new scents. so much so, that I bought 2 more sample kits for gifts! I am still sampling. There are a few that I like enough that I might be buying roll ons. The packaging was cute and simple. It arrived quickly, and I loved that extra samples were sent along with the kit.
Love this product
I like the Try Me Kits. I always get compliments.
Thank you Janet! We love to hear that you are experimenting and enjoying the kits! :)
Great smelling perfumes
I really like the different scents of the women's perfume have not been able to try the men Colognes on my husband yet.
So happy to hear that you are enjoying your Tiny Try Me Kit, and can't wait to hear what your husband thinks! Thank you for your review Joeline! :)
Perfect Way To Find Your Signature Scent!
I love this Tiny Try Me Kit because it helped me find my own blended signature scent - sultry + inspired! Being able to mix and match scents was so much fun! I definitely recommend this kit to all!
Kelsey, we are excited for you to have found your signature scent in Sultry and Inspired, what a fun floral blend! Thank you for taking the time to reach out and leave us an awesome review! :)
So many options!
I decided to purchase this because I was looking for something new that I could change up whenever I wanted to. This is the PERFECT purchase to achieve this. I can easily mix & match scents to be completely unique. I imagine it'll be a great conversation starter, too! These scents are all amazing, so it was awesome to get to experience them all, too! I would highly recommend to anyone! It could also be a great gift!
We're so happy that you are experimenting with your own blends, and having fun! Can't wait to hear which ones you like best! Thank you, Shannon, for sharing your experience and leaving an awesome review! :)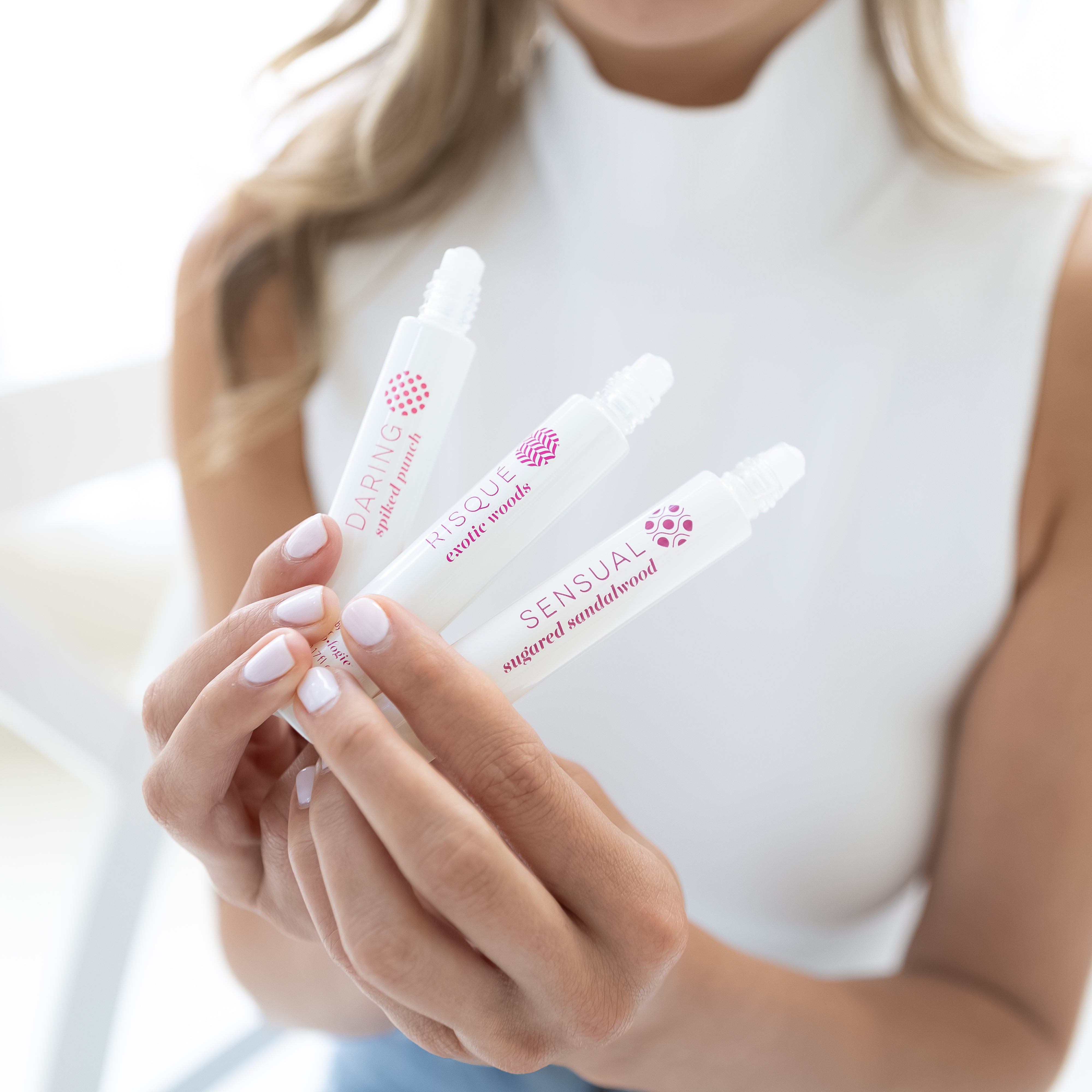 Mix & Match
The Art of Customization
With Mixologie, you hold the palette to your personalized scent masterpiece. Blend, mix, and find your signature.
⭐⭐⭐⭐⭐
See Why Our Customers Love Us
I love the scents, they're beautiful, fresh and light. Every time I order 1 rollerball I get samples of other scents that I fall in love with so my collection is growing!
-Roxanne
This is either my 9th or 10th order of this. To say I love it is an understatement. You have a light fresh scent all day! I love and I mean I love the sultry fragrance!!! Thank you Mixologie!!!!
-Lea
I'm obsessed with this fragrance, it's not too overpowering but still smells so amazing! I've been spraying it on all of my clothes and the scent lasts for so long - especially if you pair it with the rollerball perfume! If you want to smell amazing and get a million compliments, do yourself a favor and buy this!!!
-Colleen
Smells are so great. Ordering is great and mail service is fast!
-Pamela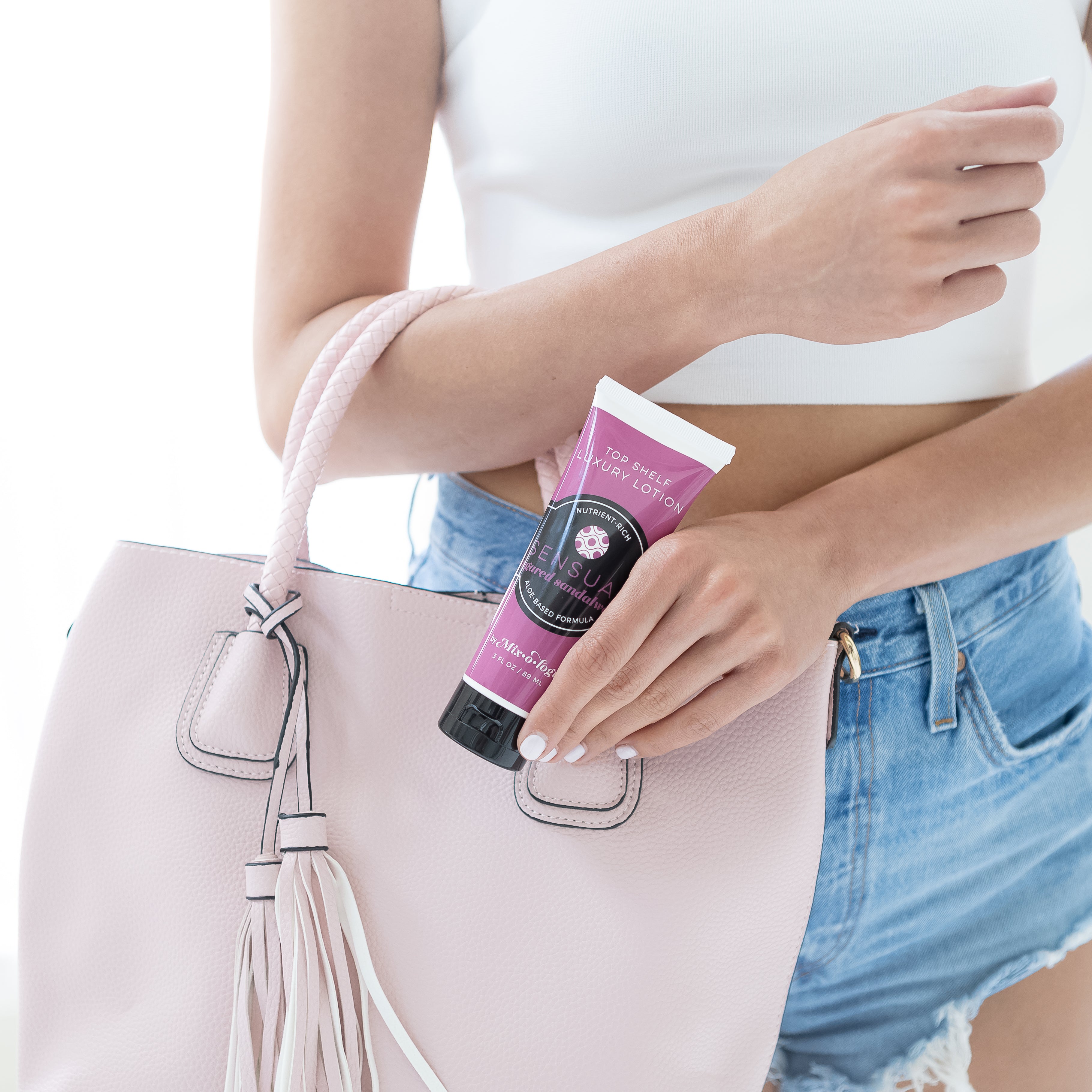 Portable Perfection
Designed for the modern individual on-the-move. Compact, chic, and fits right into your lifestyle.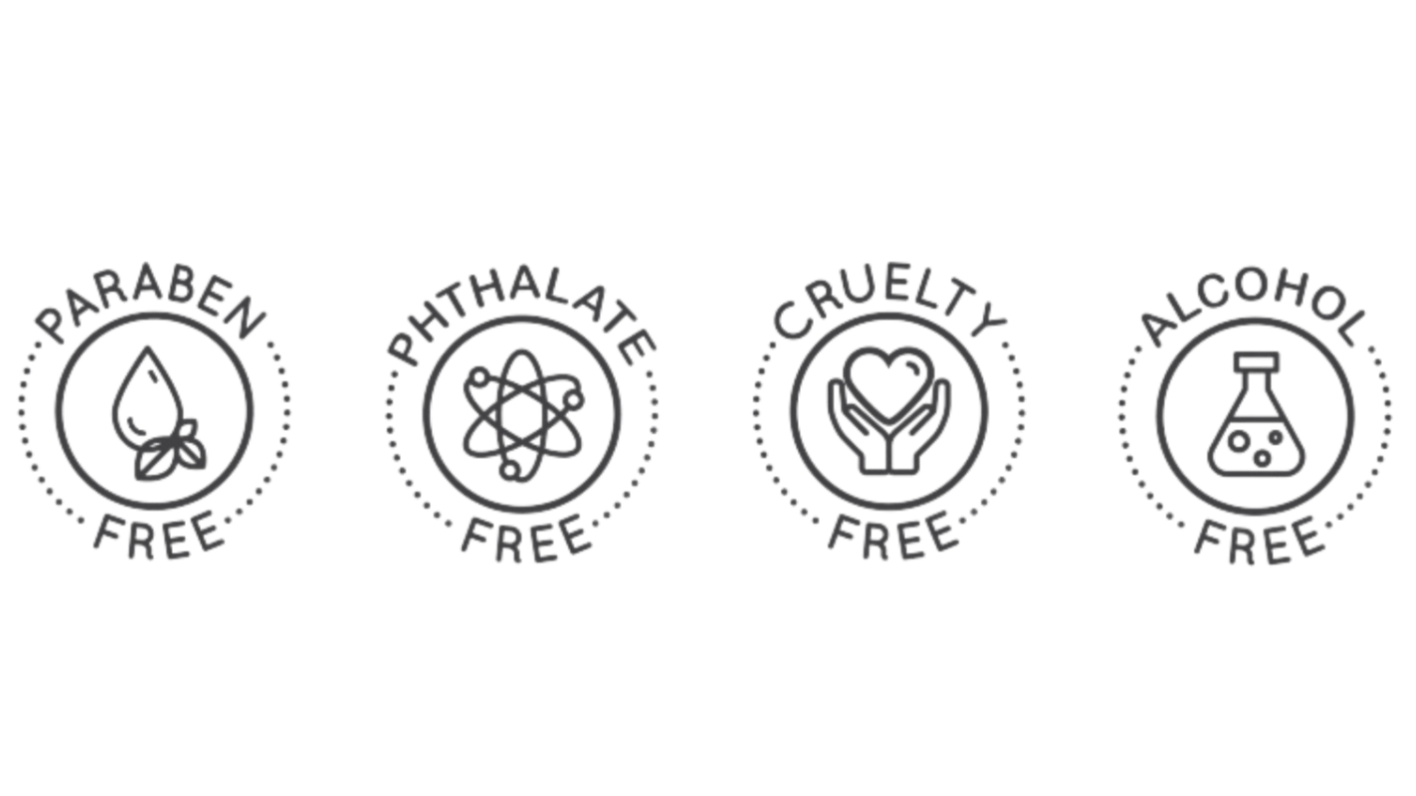 We Care About Our Ingredients, Because we care about our customers
Beauty & Conscience in Every Drop
We're not just about delightful fragrances; we're about making a difference: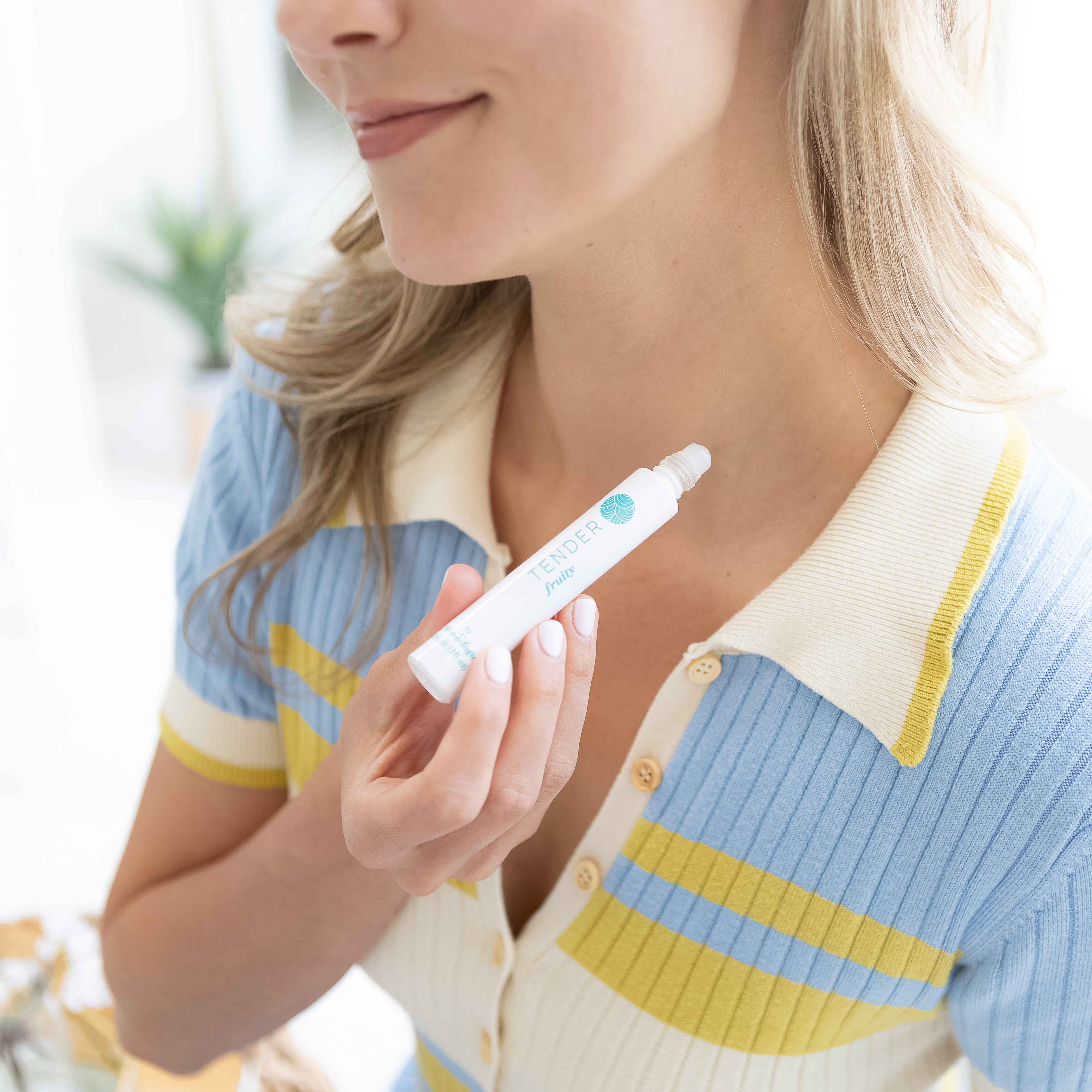 Alcohol-Free Elegance:
Our pure-oil based formula guarantees that you're wearing a scent that stays all day without overpowering the senses.